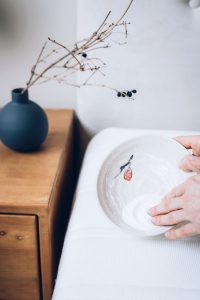 Baking Soda Mattress Deodorizer
Ingredients
8 ounces baking soda
10 drops clove essential oil
10 drops eucalyptus essential oil
10 drops thyme essential oil
Instructions
Dump the baking soda into a small bowl. Add the essential oil drops and stir together, breaking up any clumps.
Strip the linens off the bed and wash them in hot water with a few drops of eucalyptus essential oil.
Sprinkle the entire baking soda mixture on the bare mattress.
Let it sit for at least an hour and up to 48 hours - the longer the better.
Vacuum up the mixture and replace the linens when dry.
Recipe by Hello Nest at https://hellonest.co/how-to-clean-a-mattress/