Kefir, like all fermented foods, has some pretty amazing health benefits—among them a hefty dose of probiotics, the ability to boost immunity, improve digestion and support detoxification. Often made from milk or yogurt, kefir has traditionally been off-limits to those avoiding dairy, but making your own kefir from coconut water is an easy, non-dairy way to get all those benefits. Here's how:
How to Make Coconut Water Kefir
You'll need:
4-cup glass jar with wide opening and strong screw cap or swing-top lid
1/2 cup water kefir grains (available at Cultures for Health) – make sure to buy water kefir grains
2 to 4 cups fresh young coconut water
Plastic sieve
Bottles for storage
Directions:
Fill jar with coconut water, and add water kefir grains. Stir with a non-metal spatula or spoon (metal will damage the grains)
Close the jar, make sure it is airtight and let it stand for 24 to 48 hours (the longer the brew, the more healthy bacteria you have cultured)
Strain through a plastic sieve and fill bottles with the cultured coconut water. Make sure the bottles are airtight.
Refrigerate for 1-2 days, and serve chilled.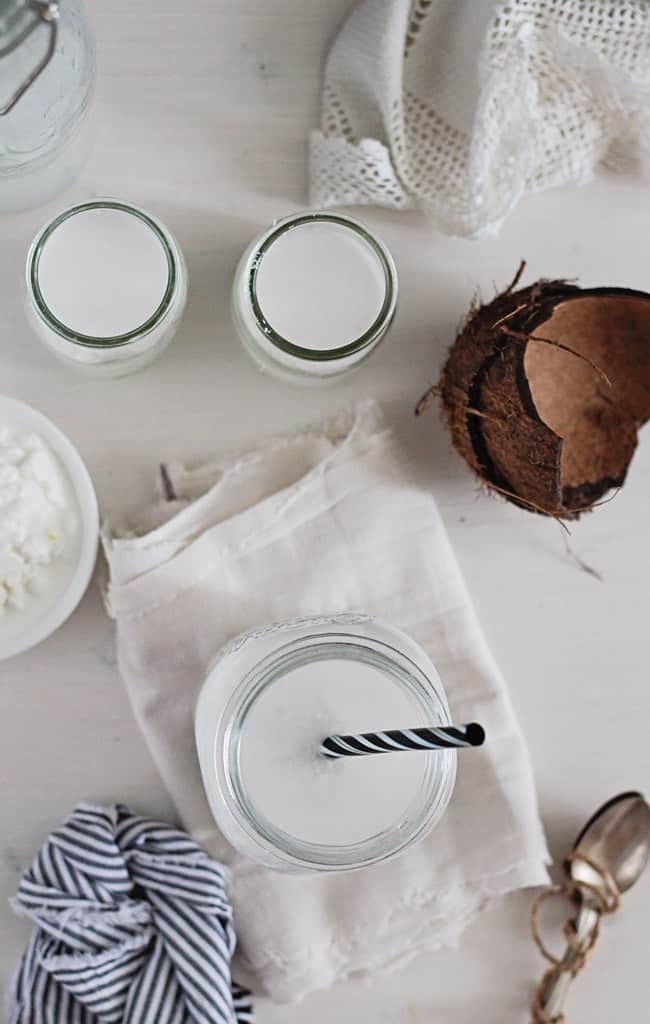 Variations:
To make lemon or lime coconut water kefir, add ¼ cup lemon or lime juice to 1 quart of coconut water kefir.
To make cherry coconut water kefir, add ½ cup cherry concentrate to 1 quart of coconut water kefir.
Which one of these versions would you try first?