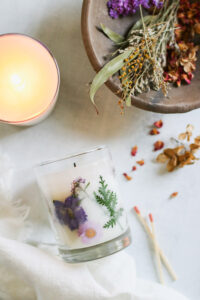 DIY Dried Flower Candles
Yield 1 candle
These pressed flower candles are a great way to bring flowers and greenery inside for the cooler months ahead.
Ingredients
Soy wax (optional)
Clothespins or chopsticks (for holding wicks)
30-40 drops essential oils of your choosing
8-ounce glass or see-through container
A slightly narrower glass container with straight sides (it doesn't have to be the same height, but this vessel should fit inside your 8-ounce glass and still leave a little breathing room around the sides)
Pyrex measuring cup and a small saucepan (or a double boiler)
Instructions
Put 1-2 cups of wax flakes (if using soy wax for the center, melt that one now) in a Pyrex measuring cup and place it in the center of a small saucepan. Add enough water to the saucepan so that it reaches 1-2 inches up the side of your measuring cup. Simmer on low until the wax is completely melted. (If adding essential oils, add them now and give it a good stir.)
Place a wick in the center of the narrower glass container and hold it in place with a clothespin. Pour the melted wax into the vessel and put it in the freezer until completely cool (45 minutes to an hour). The wax should shrink slightly, making it easy to pop the candle out of the vessel.
Place the candle in the center of your 8-ounce container and use a clothespin to hold the wick in place. Sandwich dried flowers and greenery in between the candle and the glass.
Re-melt your wax (if you used soy wax originally, use paraffin for this second pour) and pour it overtop the candle, making sure to thoroughly coat the flowers. 
Notes
Allow your candles to cool completely (I let mine sit overnight) before lighting.
Courses Candles
Recipe by Hello Nest at https://hellonest.co/how-to-make-dried-flower-candles/