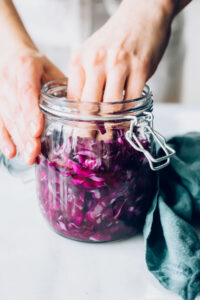 How To Make Sauerkraut
Yield 2 pounds
Learn how to make sauerkraut at home, without any special tools. The fermented cabbage has multiple health benefits, from boosting the immune system to maintaining the brain health.
Ingredients
1 large red cabbage head (about 2 pounds)
1 tbsp unprocessed salt (Celtic or Himalayan salt work best)
Instructions
Thinly cut the cabbage using a very sharp knife.
Transfer into a large bowl.
Add the salt, then use your hands to massage the cabbage until it release its juices.
Set aside for 20 minutes, to allow the cabbage to release most of its juices, which act like a brine.
Transfer the cabbage and the juices into a very clean airtight jar, press well to submerge the cabbage into brine.
Top with a small bowl to keep the cabbage under brine and create an anaerobic environment.
Lid the jar and keep on the countertop away from direct the sun light for at least 2 weeks.
Open the jar and check the cabbage - if it tastes and smells pleasantly sour, you can transfer in the refrigerator and start consuming it. If the smell is unpleasant, or molds have developed inside the jar, it means that something went wrong and you need to start the process with a new cabbage batch.
Store in the refrigerator for up to 6 months.
Recipe by Hello Nest at https://hellonest.co/how-to-make-red-cabbage-sauerkraut/