It's always wonderful when you realize that something you've wanted forever is actually within your reach – and a DIY no less! I've been mesmerized with the idea of a hanging dining table for years but never actually thought I could pool the resources (or DIY gumption!) to have one of my own, until I started thinking about it on another level. Sure, I can't go whole hog and get a giant hanging dining room table -but what about a side table?! Totally doable – and almost 100% recycled.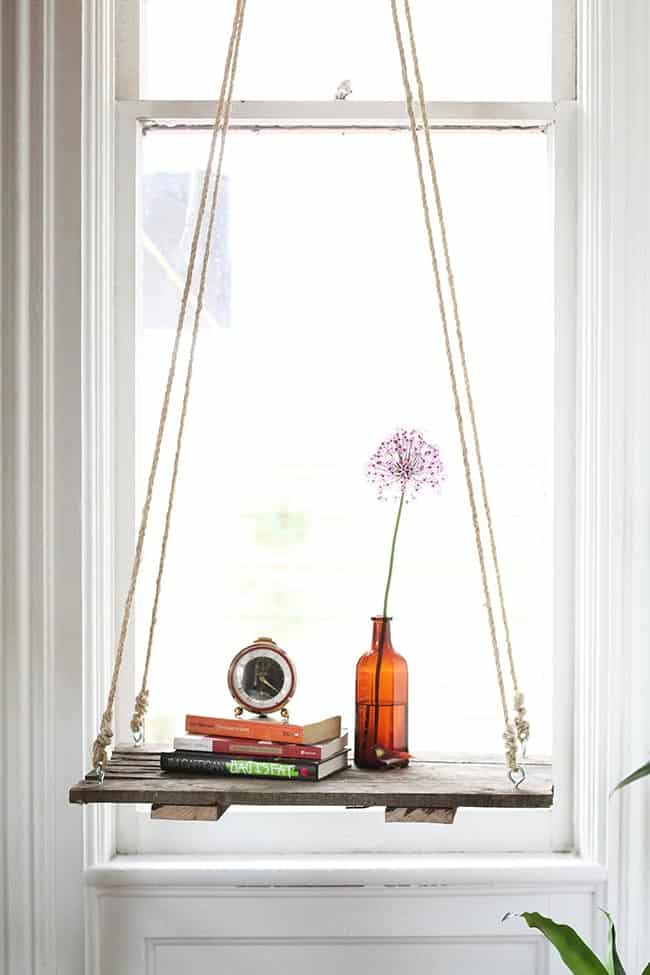 Want to give it a try? Here's how:
How To Recycle a Pallet Into a Hanging Side Table
SUPPLIES NEEDED
Pallet
8 wood screws
Rope
4 Screw eyes (I used 1 15/16″)
TOOLS NEEDED
Power drill
Drill bits
Pry bar
Hammer
Saw
Dismantle the wood from your pallet. This part can be tricky, so flex those muscles, grab a hammer and a pry bar and get to work. After you've pulled at least four wood slats from your pallet, tap down, or remove the nails.
To construct the tabletop, cut four pieces of wood to 18″ lengths. Save the scraps from two of the 18″ cuts (you might need to trim these just a bit depending on the width of your slats) to use underneath the table top as supports.
After you've cut four 18″ pieces for your tabletop, line them up so that they are nice and snug next to each other, facing upside down. Place your two "scrap" cuts vertically, equal distance apart, making sure they fit over every board and secure in place with 1 1/4″ wood screws.
Pallets come in all sizes, so you might have to adjust the length of your screws accordingly. When finished, you should have drilled in 8 screws. Be careful not to drill through to the top of your table!
Next, we need to add the hardware to make hanging the table possible. Turn your table right side up and measure in 1″ from each edge. Drill a hole for your screw eyes using the same size drill bit as your screw eyes.
Thread the screw eyes into each hole, making sure it's a really tight fit. After cutting four lengths of rope, begin to tie one length each around the screw eye.
I left a sizable tail on the end of my knot so I could twist it around and up the rope for a more decorative, finished look.
Grab a friend to help you hang the table. Level the table by pulling up or letting out the various ropes. Once you've got a level table, twist all four strands together in a triple knot. Hang from the ceiling using a ceiling hook.
Enjoy your lovely, one of a kind, recycled side table!