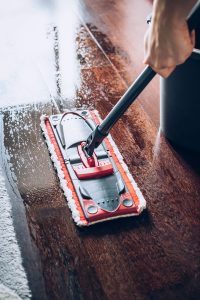 DIY Hardwood Floor Cleaner
Ingredients
1 cup water
1 black tea bag
1 gallon warm water
1 tablespoon olive oil
1/2 cup vinegar
For refillable mops, use 1 tablespoon vinegar for every 16 ounces of liquid.
Instructions
Bring 1 cup of water to boil and steep the black tea bag, allowing it to cool to room temperature.
Fill a bucket with 1 gallon of warm water.
Add the black tea, olive oil and vinegar.
Use with a mop to clean floors.
Dry mop after cleaning if floors are too slippery.
Don't use this on waxed or untreated hardwood. The best way to clean those floors is with a wet cloth.
Recipe by Hello Nest at https://hellonest.co/how-to-safely-clean-hardwood-floors-with-a-diy-hardwood-floor-cleaner/