The Aloe vera plant is a beautiful, spiky succulent, a member of the lily family. Aloe is not only easy to care for (and lovely to look at) but has also been used for thousands of years as a multi-purpose medicinal plant. The earliest reports of aloe as a healing plant date back to the 4th century BCE!
Seventy-five potentially active constituents have been identified in the plant, including vitamins, minerals, amino acids, and enzymes, and it has been well-reported to have anti-inflammatory, anti-bacterial, and anti-viral qualities.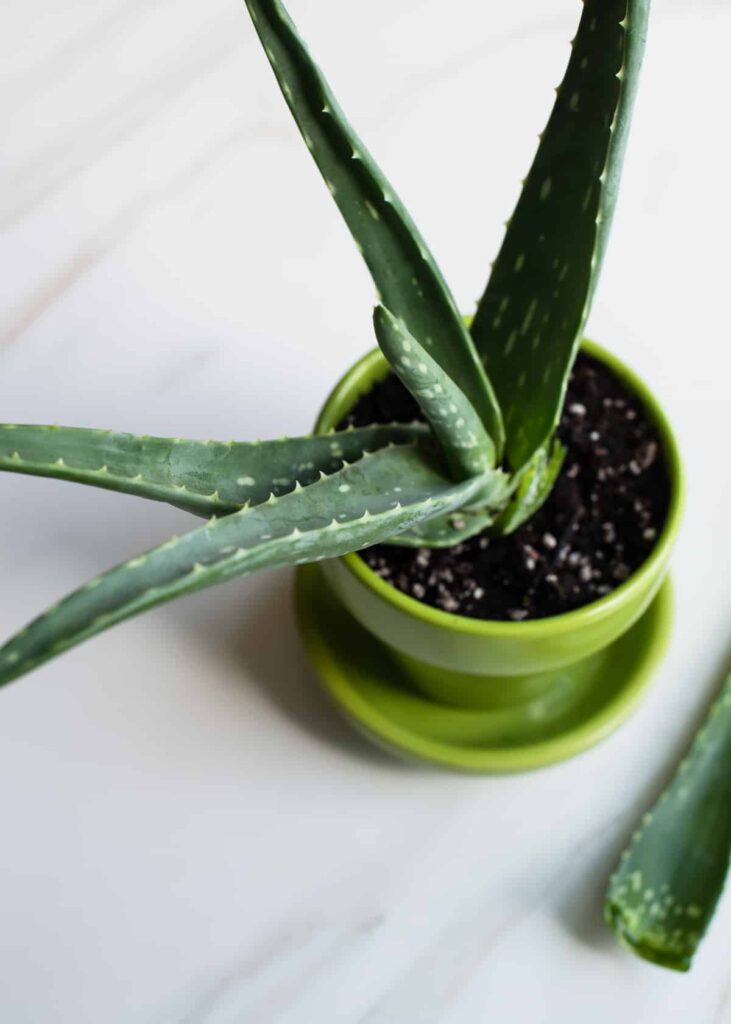 You will most likely be able to find aloe gel in your local pharmacy, though buyer beware–there have been reports of imposter aloe hitting the shelves!
While shopping for aloe gel at your natural apothecary is an option, it really is such a simple plant to keep alive. I've had the same plant in the same pot for about 6 years now which, despite being completely neglected, continues to thrive. So why not skip the plastic bottles and unnecessary packaging and make some of your own?
Here are some things you'll need to know:
How to care for your Aloe vera plant
Find aloe at your local nursery, and plant it in a natural, unglazed clay pot with soil meant for succulents so that it will receive the drainage needed to prevent root rot. You'll want to keep the soil dry for 2-3 weeks at a time, followed by a heavy and thorough watering (this will mimic the conditions of the desert—drought followed by brief but torrential rains.)
Place your plant in a bright spot in your home, but out of harsh direct sunlight. The aloe plant will eventually create "offset" plants, smaller shoots which can then be cut off, dried for a day or two, and then repotted in the same way as your original plant. Wait a few days before watering your newly potted aloe.
How to prepare the plant for use
Lining the inside of the leaf is a gooey yellowish substance called latex; the thick, clear jelly found at the center of the leaf is the gel. The latex (and juice from the green outer leaf) is sometimes cultivated and sold as a laxative, though it is no longer FDA approved as it can cause gastrointestinal upset or even be toxic if consumed in sufficient quantities. The aloe gel is what we're looking to use.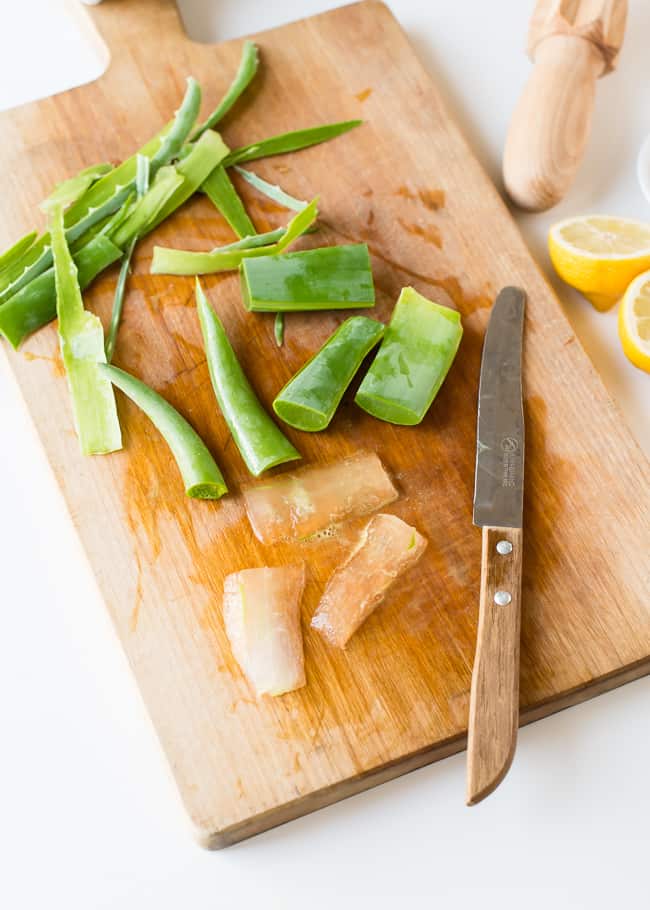 You can either cut off a leaf and slice it open to apply directly to the skin (wrap a bandage around to keep it in place), or you can prepare the gel to be used when needed. To make your own gel, cut off a few large spears of aloe at the base of the plant, and set them cut-side-down in a bowl to drain away the latex.
Remove one side of the leaf with a vegetable peeler, and then use a small spoon to scoop out only the clear jelly remaining inside of the other half. Place the gel pieces into a blender with a little bit of water if you like it to be smooth, or just scoop out the gel and place for use into a sterilized jar.
You can add in a drop of your favorite skin-safe essential oil if you aren't a fan of the natural smell (lavender is great), depending on what you are using the aloe for. Keep refrigerated for up to 2 weeks. 
How to use aloe gel
So you've potted your plant, you've cultivated the gel, now what do you do with it? According to the book Herbal Medicine: Biomolecular and Clinical Aspects, Aloe vera gel is sometimes taken internally as a laxative, and is used in different cultures to treat diabetes, gastrointestinal disorders, hypertension, inflammation, and fungal diseases.
While the gel is generally considered safe to eat and is available commercially for ingestion, for those making their own, it's best to play it safe and use it externally, or topically. As a salve, aloe is very effective as it stimulates healing and growth of new skin cells, and provides vitamins and nutrients that skin needs for healing, though it is not to recommended that it be used in place of treatments that may have been prescribed by your doctor.
11 Topical Uses for Aloe Vera
Once you've whipped up a batch of gel or prepared a leaf, here are some suggestions on how you might use it:
apply liberally to sunburns, or other skin burns, boils, or skin ulcers to speed healing and help reduce inflammation and irritation;

as a topical treatment to assist in healing and relieving pain from burned skin affected by radiation therapy;

to sooth diaper rash and other acute forms of skin inflammation such as psoriasis, eczema, and rosacea;

as a topical treatment for oral herpes, or cold sores;

as a salve to reduce the pain and severity of frostbite;

apply to the scalp after shampooing to relieve the itch and intensity of dandruff;

as a moisturizer to soothe itchy/irritated, or dry skin;

as a rinse after shampooing to detangle or condition your hair;

as a gentle makeup remover;

slather on as a shave gel; it has great "slip," which means less nicks and cuts from the slide of the razor;

apply to the face as skin toner, or dab on acne or blemishes.
Bringing an Aloe vera plant home hits so many targets at once: you get a beautiful, verdant accent to set near your window, a little purifier to help clean the air, and a supply of all-natural skin salve/shave gel/conditioner at the ready.
And it's also a gift that keeps on giving–remember those little baby offset plants? Repot the cuttings and pass them on to friends along with a little note outlining how to care for the plant and use the gel!
Are you a fan of this wonder plant? Let us know how you like to use your aloe!
5