Ah, summer. It's the time of year when I want to eat salad for every meal. I hate being stuck in the kitchen over a hot stove (who doesn't, right?), so this chicken-topped salad is a great solution. It's filling, flavorful and incredibly delicious. Tender lettuce is topped with sliced chicken, mangos, avocado and almonds then drizzled with the simplest of vinaigrettes. It's perfectly paired with a dry, crisp white wine, like one of Cambria's unique wines. Plus you can make a huge batch of it and eat it throughout the week without ever stepping foot near the stove. It's a win-win-win.

Jalapeno Lime Chicken Salad
I wish I could say I picked these ingredients for their health benefits (of which there happen to be many), but I really picked them because the flavors just meld so well together. Tart mango is complemented by spicy jalapeno and creamy avocado. They're then tossed with butter lettuce, a mellow, dreamy, superstar of a lettuce that seriously steps up any salad's game. Lastly, it's topped with sliced almonds and shallot for crunch, and a sweet and sour lime vinaigrette.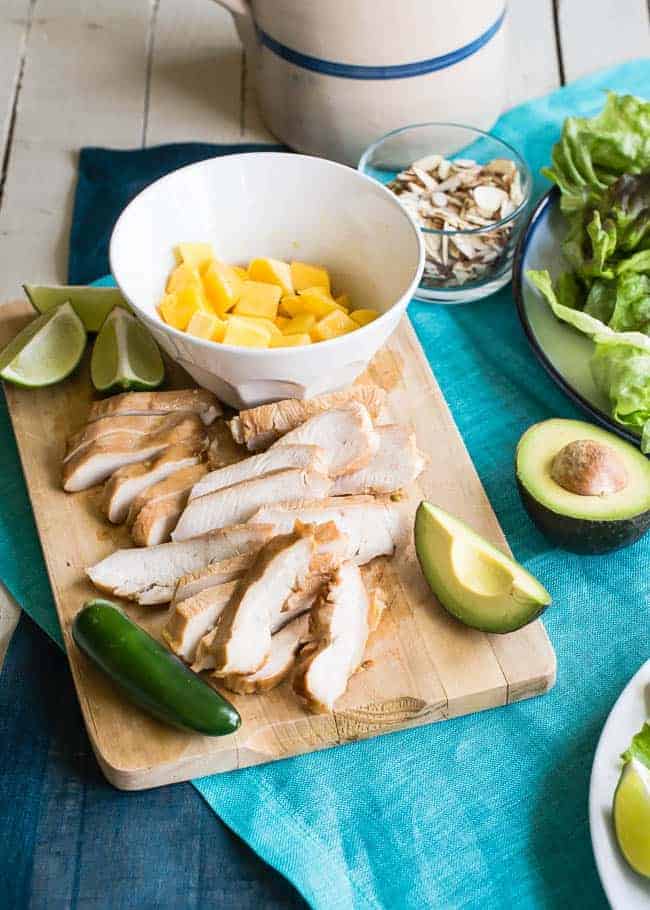 See? Dreamy, right?
While I mainly make this salad for the taste, it's also loaded with health benefits thanks to ample amounts of protein, vitamins, minerals and healthy fats. Because it's such a well-rounded meal, it will keep you feeling satiated well past lunch time and hopefully keep pesky snack cravings at bay.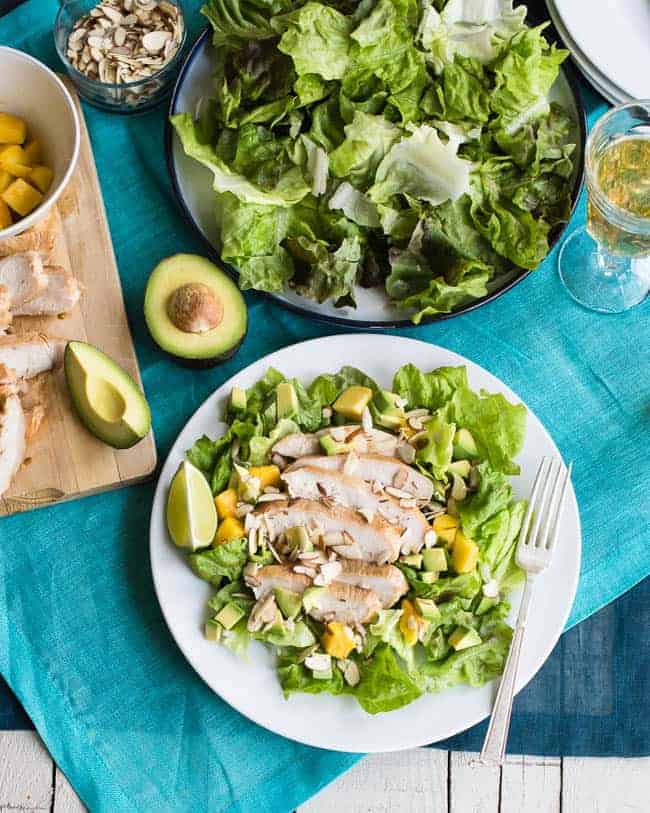 Jalapeno Lime Chicken Salad with Avocado and Mangoes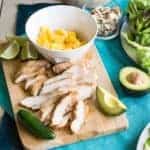 A refreshing summer salad topped with flavorful chicken and tropical fruit.
For brine:
1 quart water
1/4 cup kosher salt
1/4 cup sugar
juice of 1 orange
1 large jalapeno (sliced)
juice of 2 limes
1/2 teaspoon cumin
1 garlic clove (thinly sliced)
For chicken:
2 teaspoons olive oil
4 boneless (skinless chicken breasts (about 2 pounds))
For salad:
6 cups torn lettuce
1 avocado (diced)
1/2 cup diced mango
1 shallot (thinly sliced)
Sliced almonds (optional)
For vinaigrette:
2 Tablespoons fresh lime juice
1/4 cup olive oil
honey (to taste)
salt and pepper (to taste)
Combine brine ingredients in a large bowl. Stir to dissolve salt and sugar. Add chicken to brine. Let soak for 15-30 minutes, but not any longer. If you need to brine for longer, add another quart of water so the chicken doesn't get too salty. Lightly rinse the chicken and pat dry before cooking.
Heat a large cast iron or grill pan over medium-high heat. Add a little olive oil to coat. Place the chicken in the pan and let it cook for 7 minutes then turn and cook the other side for an additional 7-10 minutes. (Cooking time may vary depending on the thickness of the chicken.) Let cool completely. Thinly slice.
Arrange lettuce on serving plates and top each with one sliced chicken breast. Divide the avocado, mango, and shallot over the plates.
Whisk together lime juice, olive oil, and honey. Season well with salt and pepper. Drizzle the salads with a little vinaigrette and serve immediately. Pass remaining vinaigrette alongside.
0