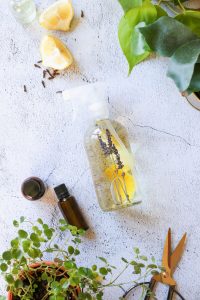 Essential Oil Bug Spray for the Patio
Yield 15 ounces
Ingredients
1 cup water
1/2 cup lemon juice
4 tablespoons vanilla extract
30 drops each citronella, clove, lavender and tea tree essential oils
16-ounce spray bottle
Instructions
Combine all ingredients in a spray bottle, then screw on the top and give it a good shake.
Spritz liberally on patio furniture, railings, pillows, clothes or wherever you need extra insect protection. 
Use up or make a fresh batch every 2 weeks to prevent the mixture from going bad.
Recipe by Hello Nest at https://hellonest.co/keep-your-patio-bug-free-with-an-essential-oil-bug-spray/