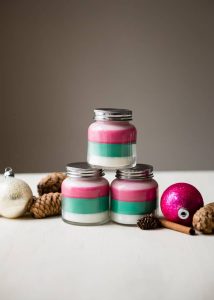 Layered Scent DIY Candle
Ingredients
Crayons in assorted colors
Small heat-proof jars
Essential oils
Instructions
Choose the number of layers you want to create for each candle. Divide the wax evenly. I used about 3/4 to 1 cup wax flakes per layer (so about 1/3 to 1/4 cup per layer, per jar.) Remove the papers from the crayons and break into small pieces. Melt soy wax flakes and crayons in a pan. Slowly stir in 5-10 drop of the desired essential oil.
Adhere the wicks to the bottoms of the jars using a little melted wax. Wrap the wick around a skewer or toothpick to keep it centered.
Pour the first color layer into the jars. Let cool completely. You can speed up the process by placing them outside or in a cool place.
Repeat the process with more wax, crayons, and essential oils. To keep the new layer from melting the previous layer, it is helpful to let the wax cool slightly before pouring into the jar.
After the last layer is poured into the jar, let the jars sit undisturbed for several hours or overnight. Trim the wicks, top with the lids, and package up to give away.
Recipe by Hello Nest at https://hellonest.co/layered-scent-diy-holiday-candles/