Meal prep bowls are nothing short of lifesavers, am I right? Long the darlings of fitness buffs and other clever people, prepping your meals ahead of time not only saves time and money, but also your sanity and helps keep you on the healthy eating track.
You don't have to look much further than the frozen food aisle to see that we are bombarded with all kinds of products to help us eat healthy when we are short on time. (And also not-so-healthy. It's all about choices!) However, I'm here to tell you that spending an hour or so once a week to make meals you can eat all the other days is not a luxury, it's a necessity!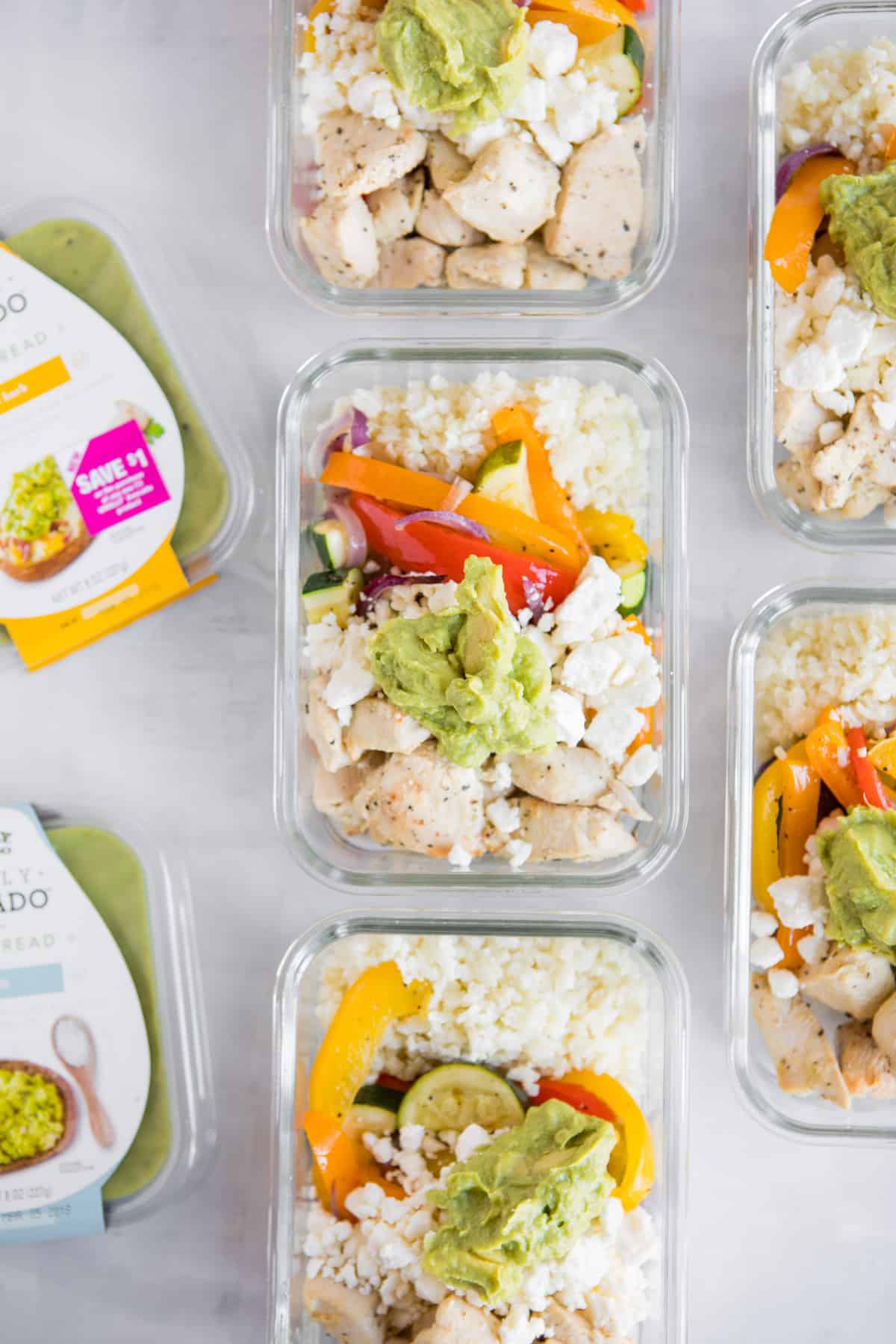 How To Make Chicken & Veggie Meal Prep Bowls
Years ago when I worked outside of my home (and didn't know about bowl meal prep!) I made sure my lunch was amazing because it gave me something to look forward to. I did a lot of salad. A LOT of salad. I love salad, don't get me wrong, but I wish I'd thought to do something more filling like meal prep bowls.
Even now that I work from home, I still like lunch to be something I look forward to. And eating bowls like these gives me the energy to push through the rest of my day, especially if I've loaded up with healthy proteins, fats, and plenty of veggies. My favorite source of healthy fats is avocados.
When you're doing meal prep, sometimes it can be a pain to make every component from scratch, which is what makes pre-made guac so fabulous–it's ready to go! No longer do you have to wait for a perfectly ripe avocado, just pick up a package in the produce department.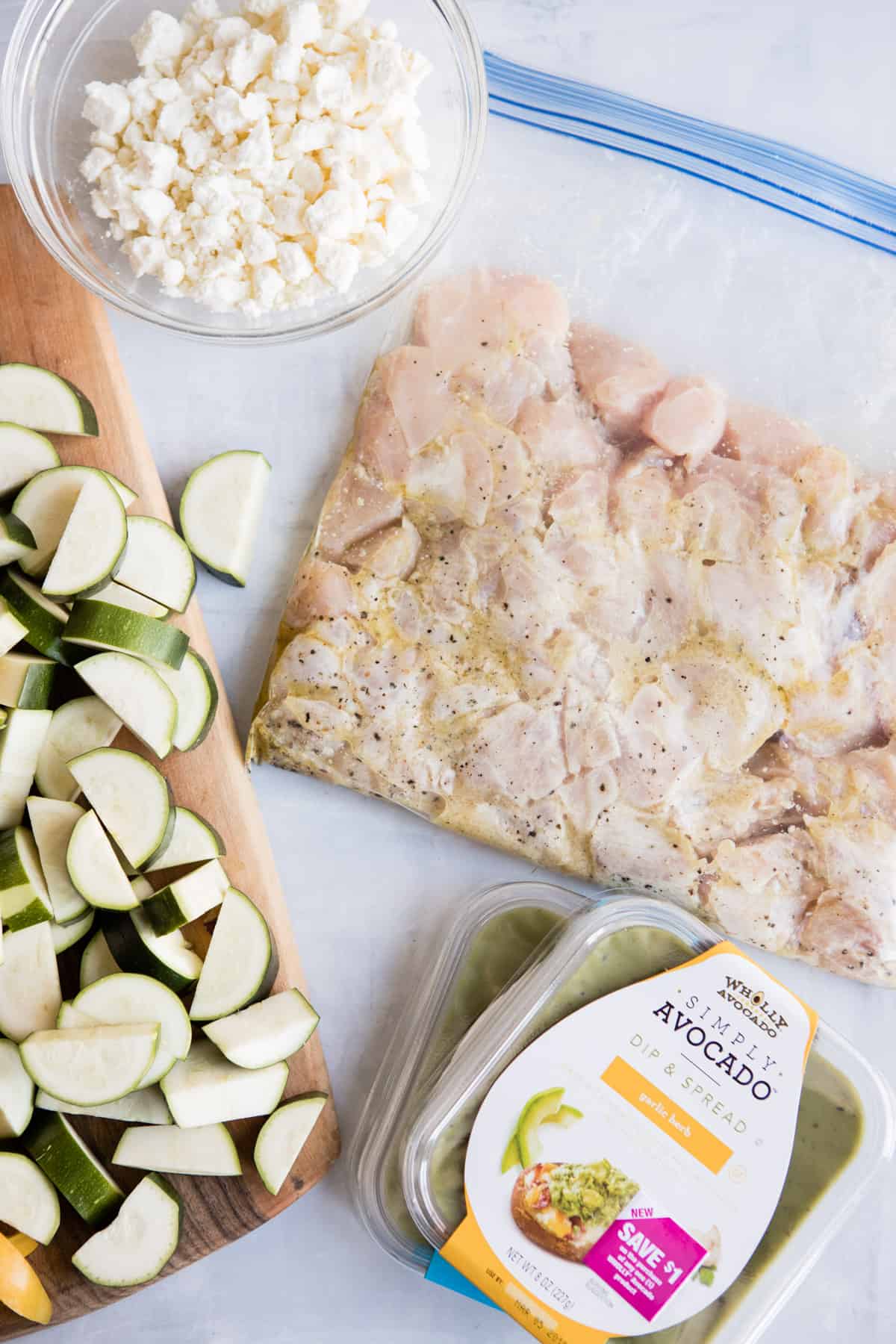 The key to awesome prep-ahead chicken is to marinate it first. I haven't decided which I like better for prep bowls—chicken thighs or chicken breasts. Thighs tend to be juicier and more tender when reheated. It's totally up to you! I do like to cut them into cubes or strips. This helps with even cooking, better flavor, and tenderness too.
The chicken and veggies are cooked at the same time on different baking sheets. The reason for this is that the chicken may need a little longer in the oven or vice versa, so I like to keep them separate to make it easy to remove one component from the oven if the other needs a bit more time. This whole bowl meal prep can be completed, start to finish, in about an hour.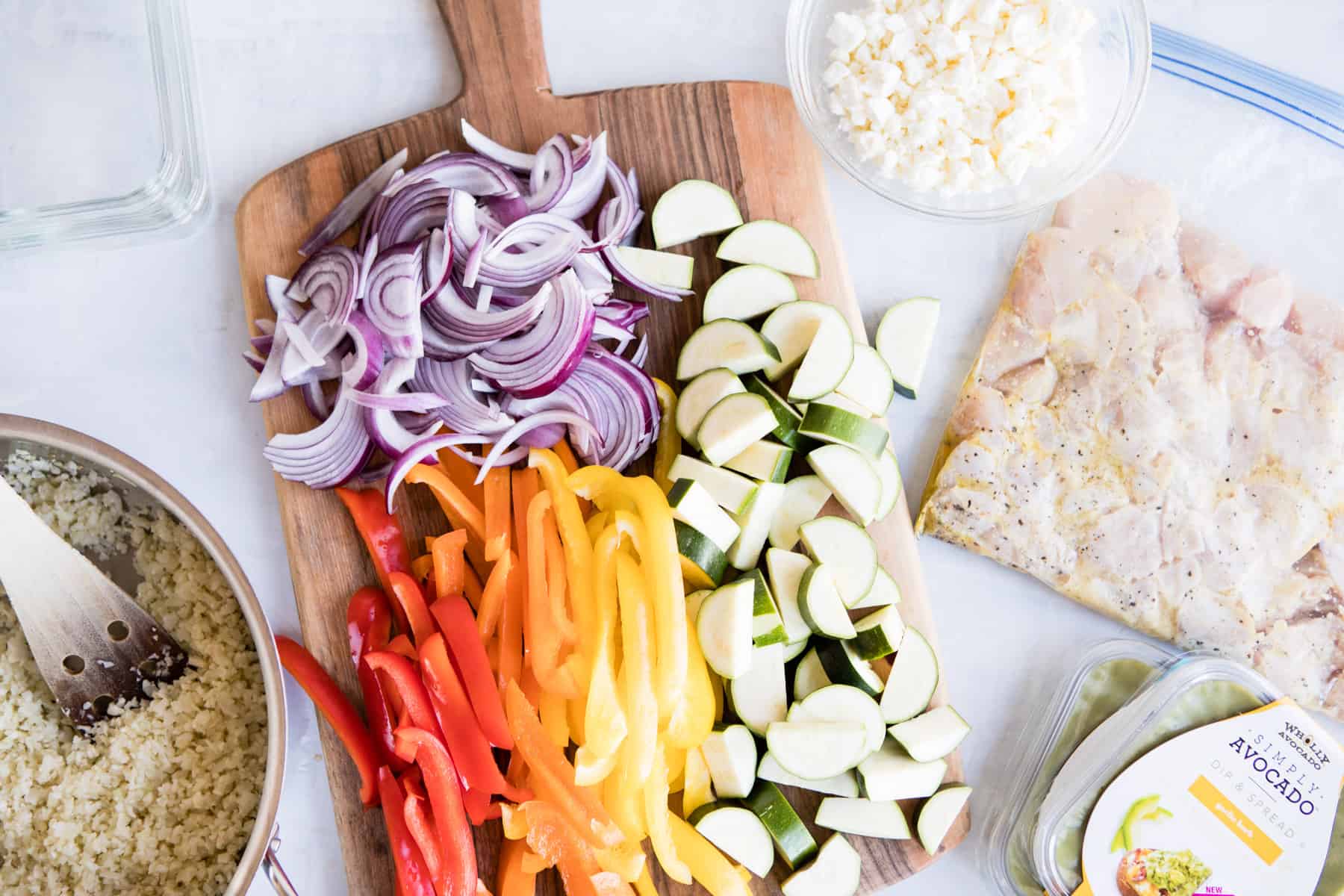 If you're eating a special diet, it's very easy to swap ingredients in and out depending on your needs or preference. To make it low-carb, use cauliflower rice instead of brown rice. It can be made meatless by using vegetarian proteins. If you're dairy-free, use extra avocado instead of feta. (You'll never hear me complain about extra avocado—ha!)
Once the meals are prepped, go ahead and refrigerate until ready to reheat. I also like this served cold or at room temp, so it's totally up to you how you want to eat it!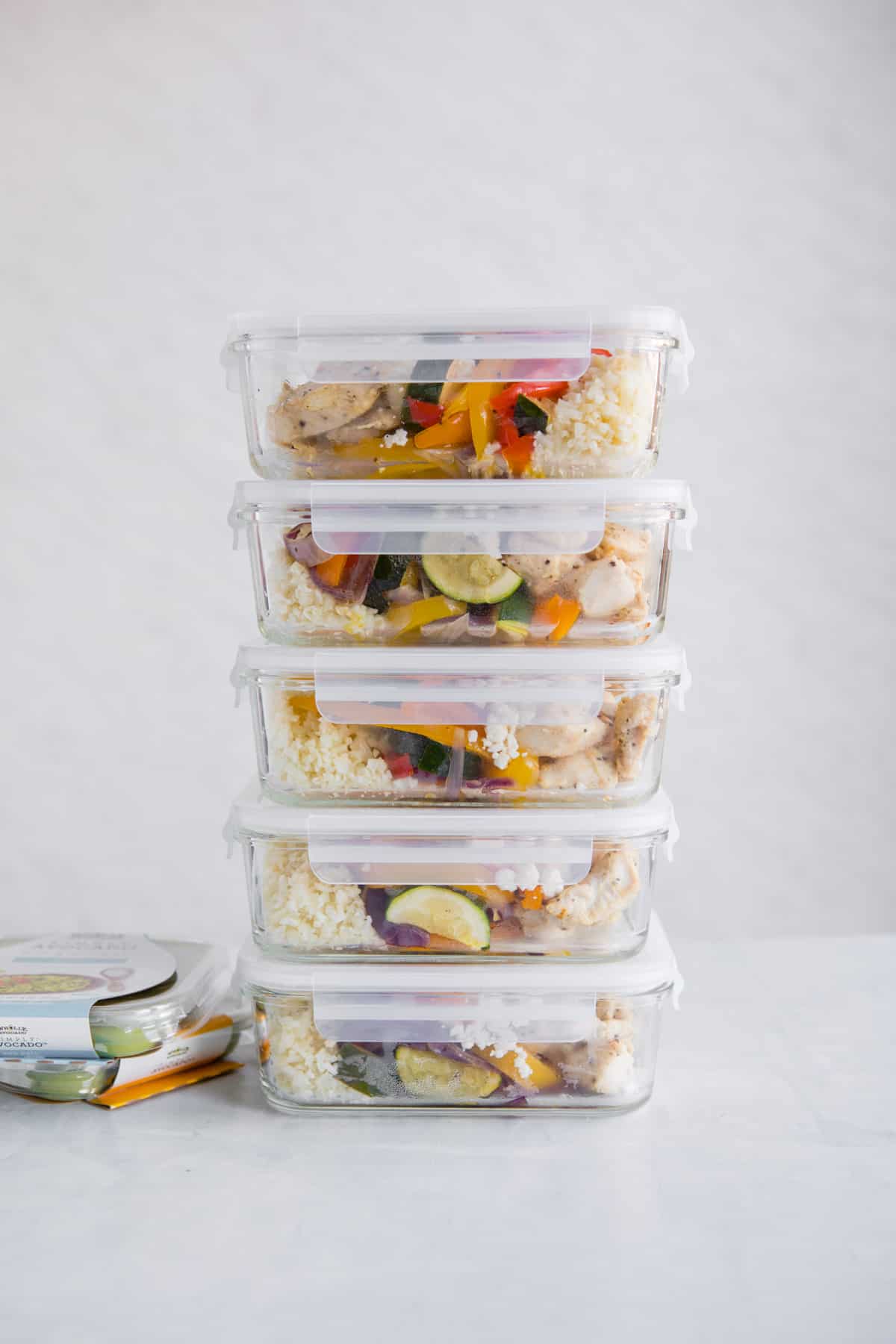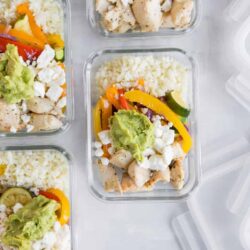 Roasted Veggie and Lemon Garlic Chicken Meal Prep Bowls
Ingredients
For marinade and chicken:
1/4

cup

fresh lemon juice

1/4

cup

olive oil

3

garlic cloves

minced

1

teaspoon

sea salt

1/2

teaspoon

freshly ground black pepper

2 1/2

pounds

boneless skinless chicken breast or thighs

cut into 1" chunks or strips
For bowls:
3

bell peppers

any color, sliced into 1/2-inch strips

1

medium red onion

sliced into 1/4-inch half moons

16

ounces

asparagus

cut into 2-3-inch pieces

2

tablespoons

olive oil

Sea salt and black pepper

to taste

2 1/2

cups

cooked brown rice or cauliflower rice

1 1/4

cups

crumbled feta cheese

1

8-ounce package Simply Avocado, any variety

Fresh cilantro sprigs

optional

Equipment needed: Five 3-4 cup resealable containers
Instructions
Combine marinade ingredients in a bowl or resealable bag. Add chicken and allow to marinate in refrigerator at least 30 minutes, or up to overnight.

Preheat oven to 425°F. Line two baking sheets with parchment paper or lightly brush with oil.

Remove chicken from refrigerator and allow it to come to room temperature while preparing the veggies.

Combine the peppers, onion, and asparagus in a large bowl. Drizzle the veggies with the olive oil and season well with salt and pepper.

Arrange the chicken in a single layer on one of the baking sheets. Discard the marinade. Do the same with the veggies on the second baking sheet.

Place the baking sheets in the oven and roast for 15-20 minutes or until the chicken pieces are cooked through and the veggies are tender. One tray may be done before the other and need to be removed from the oven earlier. Allow the veggies and chicken to cool slightly before assembling the bowls.

To assemble prep bowls, place 1/2 cup rice into each of the five prep containers. Divide the chicken and veggies between the bowls. Add 1/4 cup crumbled feta to each. You can also add a spoonful of Simply Avocado now, or add it when eating, depending on preference. (I like to add a scoop in the morning I'm going to eat the meal.)