If you're hosting friends this summer, there's no better way to celebrate the season than with a bright punch filled with edible flowers, especially one that's flavored with rosewater. We made this strawberry lemonade with rosewater at the peak of strawberry season, which just so happened to coincide with the bloom of these lovely flowers at one of our favorite local farms.
While you don't have to actually eat the flowers — we certainly haven't figured out a polite way to snack on a marigold — be sure to use only organic, edible flowers, even if they'll only be your garnish. We used organic fresh marigolds, zinnia, cosmos, and stock flowers to add a summery touch our drinks.
Your local grocer or flower farmer should be able to point you in the right direction, but you can also buy edible flower mixes where you typically find herbs in your natural grocer's produce section.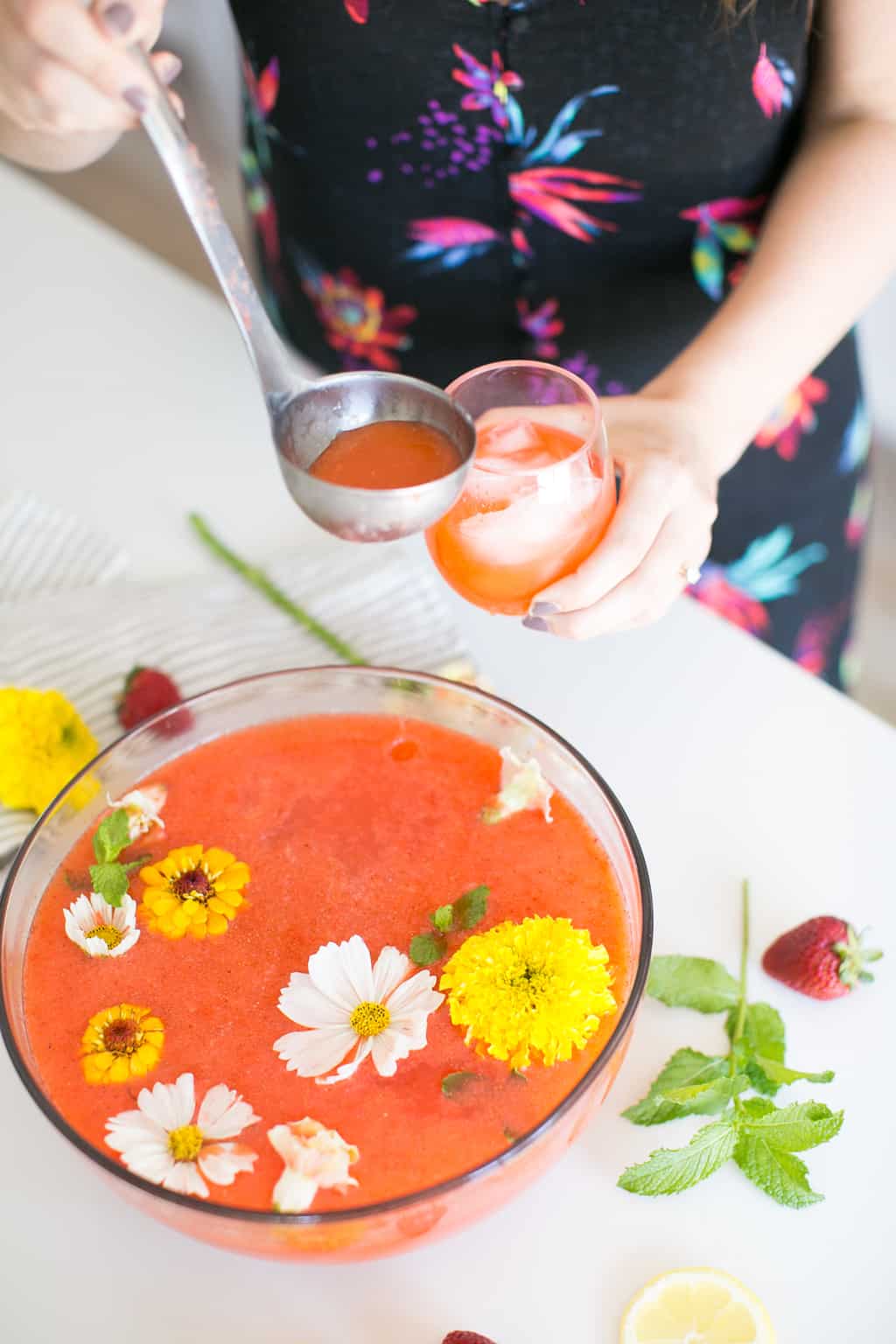 As for the punch itself, we skipped the sugar found in most lemonades. The punch is sweetened using a simple syrup made with local honey, which you can always store in a jar and use for teas, coffee, and of course, cocktails. We used a wildflower honey that beautifully complemented the floral notes of rosewater. While we like our lemonade tart, you can certainly adjust the amount of simple syrup to suit your taste.
The result is a freshly-squeezed lemonade with rosewater and strawberries that is as refreshing as it is beautiful. And the floating flowers are sure to wow your guests!
However, if you think you'll be pressed for time on the actual day of your party, you can squeeze the lemons and puree the strawberries the night before, storing each in individual containers in the fridge overnight. Then you can just whip the whole punch together before guests arrive, it only takes moments.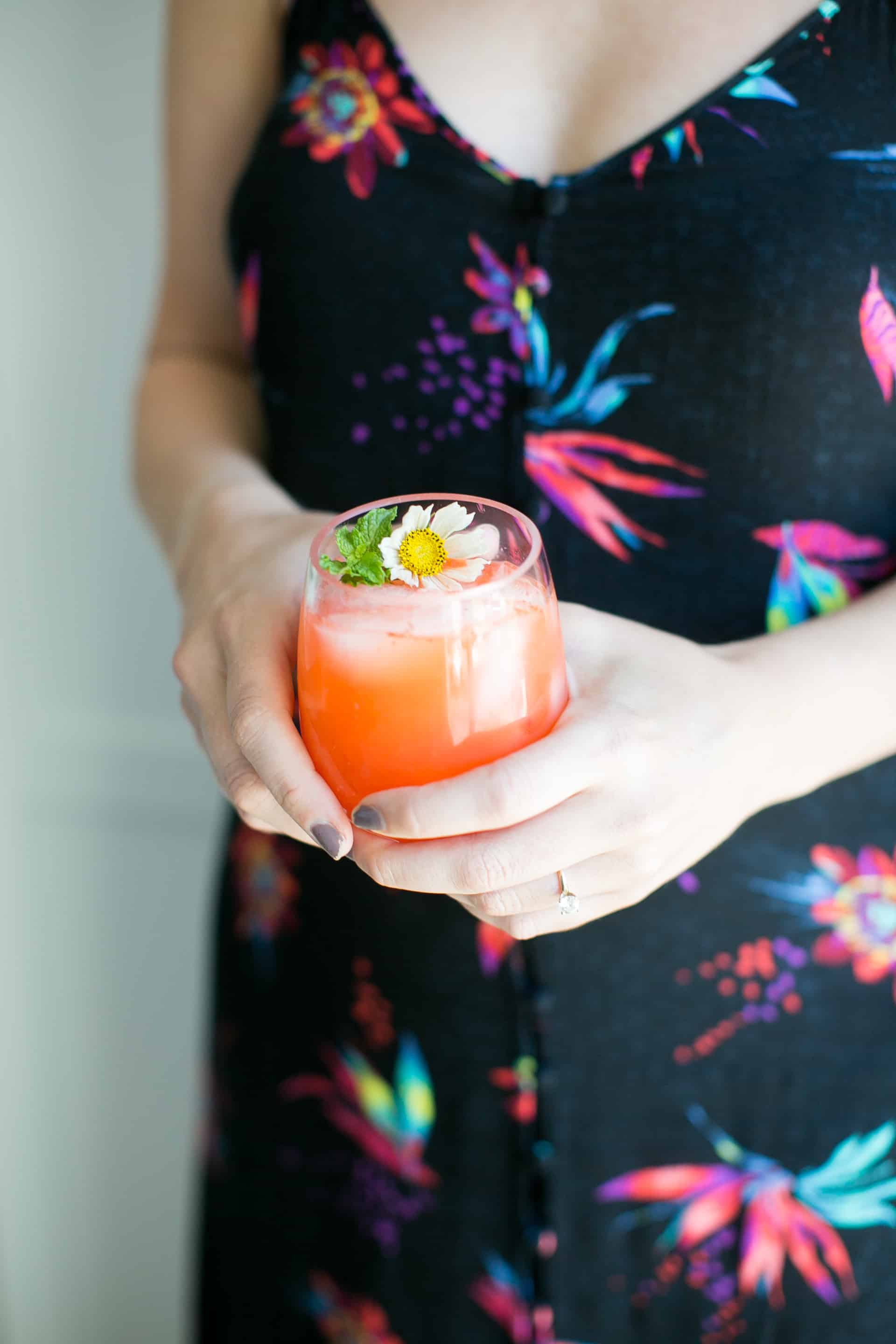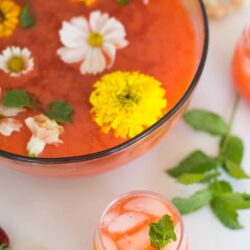 Fresh-Squeezed Strawberry Lemonade with Rosewater and Edible Flowers
Ingredients
2

cups

freshly squeezed lemon juice

about 12 large lemons 

2

pounds

fresh strawberries

hulled

1

teaspoon

rosewater

1

cup

honey 

1 1/2

cups

water 

1

liter

sparkling water

Organic edible flowers

for garnish 

Fresh mint leaves

for garnish 
Instructions
Using firm pressure, roll lemons on countertop with hands before slicing to ensure you get the most juice out of them. 

Slice lemons in half and juice over a bowl, using a fine mesh strainer to remove seeds and pulp. Set aside.

Hull strawberries and puree using a blender or food processor. Add a few teaspoons of water as needed to ensure that a smooth, pourable puree forms. Set aside.

In a small sauce pan over medium heat, combine 1 1/2 cups water with 1 cup of honey, stirring until honey dissolves. Do not boil — just heat enough to melt honey.

Combine lemon juice, strawberries and sparkling water in pitcher. Add the honey mixture and rosewater. Stir to combine ingredients. Refrigerate.

Pour chilled lemonade into punch bowl and garnish with flowers and fresh mint leaves. Use ladle to serve drinks over ice.