Ah, the dreaded meal plan! So many times I have sat down with my paper and pen and planned out the week's meals only for my careful planning to fall apart. Or I may be good for the first day or two, then by Wednesday we're back to peanut butter sandwiches and cold cereal…and a fridge full of ingredients.
I wish I was kidding. But hey, it's real life. And being a working mom means I'm a little shorter on time to prepare meals than I'd like. Even when I wasn't working, I sometimes had a hard time getting dinner on the table. Batch cooking with a make ahead meal plan like the one below is what has saved me.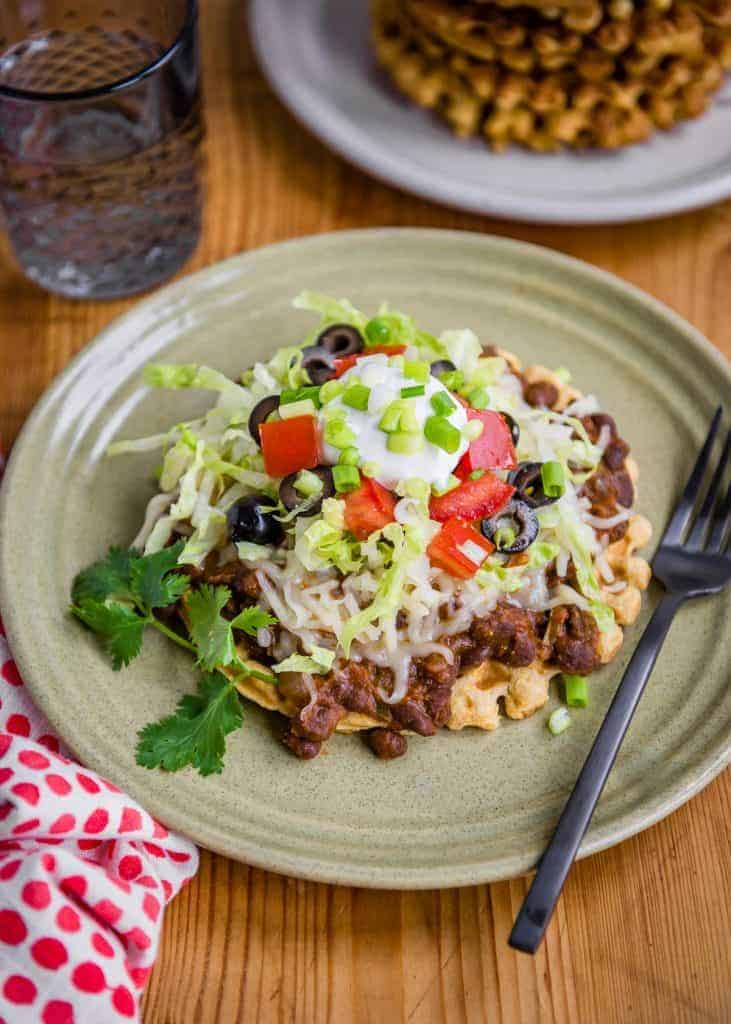 The weeks when I have my ducks in a row, and I'm utilizing my weekend to meal prep are the weeks when dinnertime is a breeze. (Okay, not a breeze, but at least it's easier.) Never is this more important than right after the holidays.
With all the rush of school plays and concerts, holiday parties, and other functions, life gets in the way of our sacred family dinnertime together. So, meal planning it is! I hope this saves you time and mental energy like it does for me.
I'm sharing a simple, kid-friendly meal plan that uses four main prep-ahead recipes that are used throughout the week. It's perfect for busy weeknights and even the nights that are more relaxed. It's nothing too fancy and manages to please just about everyone in my family.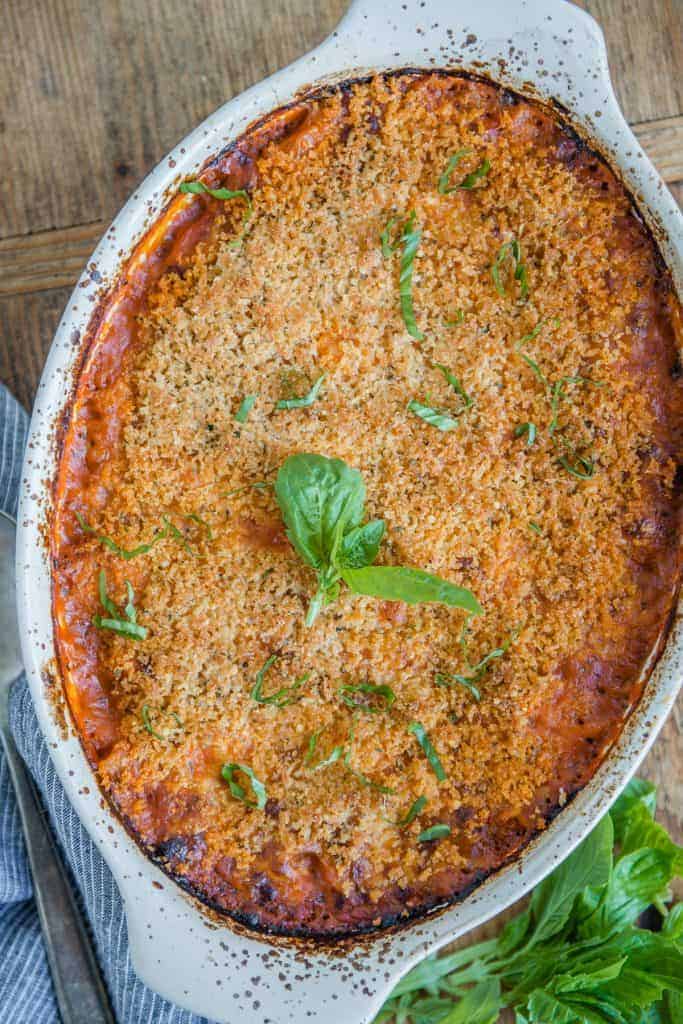 Turn Leftovers into a New Meal
Sunday is shopping and prep day. Most of the hard work is done on Sunday and the other days have some minimal prep work like mixing things together and turning on the oven. One day's leftovers become another meal later in the week. All of these meals are made with kids and picky eaters in mind, and are easy to change up according to your family's dietary needs, i.e. they're fairly easy to make gluten-free, vegetarian, and dairy-free.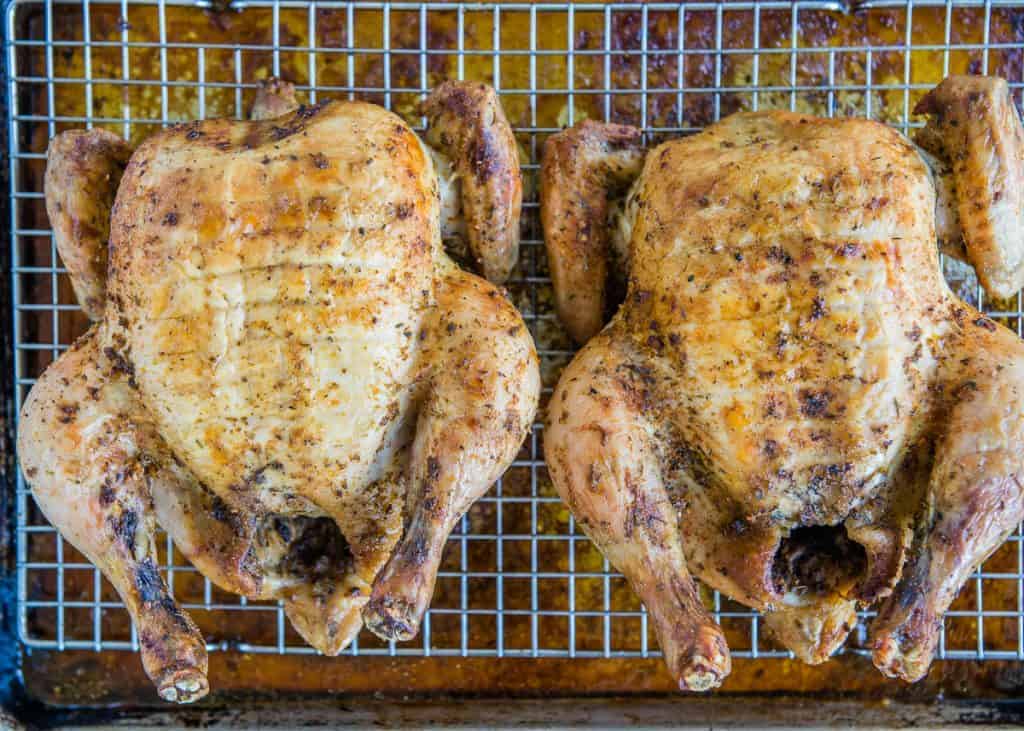 I have a family of five, and we use leftovers for lunches too. If I'm going to roast a chicken, I may as well roast two. One chicken becomes a meal in itself and the other is used for several dinners throughout the week. I also like cooking up a big batch of slow cooker black beans and rice. They make a great side dish together or separately. (My husband is Brazilian – beans and rice are eaten daily when possible.)
For the sake of this weekly menu, I'm turning black beans into a simple, delicious Slow Cooker Black Bean Chili that will be used twice during the week: on top of cornmeal waffles like a taco salad and then stuffed into baked potatoes.
My other go-to is a big batch of marinara sauce. One night it's part of a tasty baked pasta, and later in the week it's used as pizza sauce. We do flatbread or pita pizzas several times a month for dinner because they are so easy and everyone can create their own personalized pizza with their favorite toppings.
The fourth make-ahead recipe I rely on is nothing more than roasting a tray or two of veggies. Veggies always seem to be the last thing on my mind and if they aren't already made or prepped, chances are we skip them. (Doh!) Roasting them ahead helps tremendously.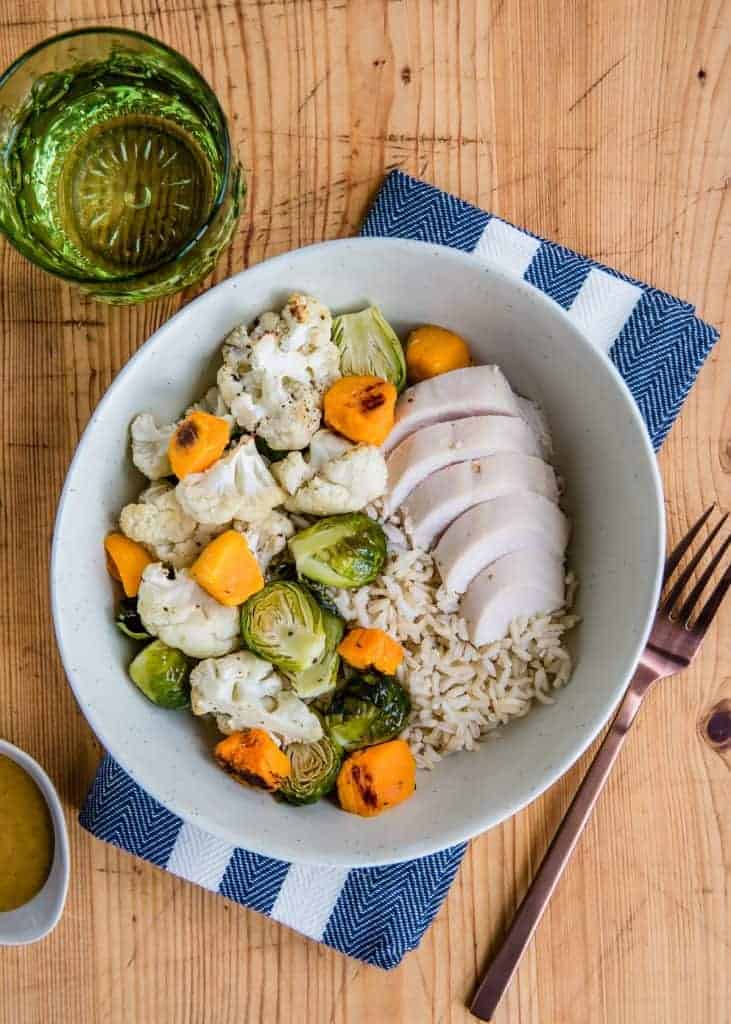 The Menu
Here's the menu. Note that the first two recipes will be used in other meals later in the week, so make sure you start with them.
Roasted Chicken with Vegetables and Brown Rice
Slow Cooker Black Bean Chili and Cornmeal Waffle Stacks
Chicken Cobb Salad Pitas with Fruit
One Pan Pasta Bake with Green Veggies
Chili-Stuffed Baked Potatoes with Green Salad
Pita Pizzas with Green Salad
Kitchen Sink Brown Rice Bowls with Peanut Sauce
Make ahead recipes:
Marinara (or purchase this for even easier prep)
Roasted chickens
Roasted veggies
Slow cooker chili
Baked potatoes
Cornmeal waffles (prep the dry ingredients and store until ready to mix up)
Parmesan ranch spread (use half for pita sandwiches, mix remaining half with buttermilk for salad dressing)
Peanut curry sauce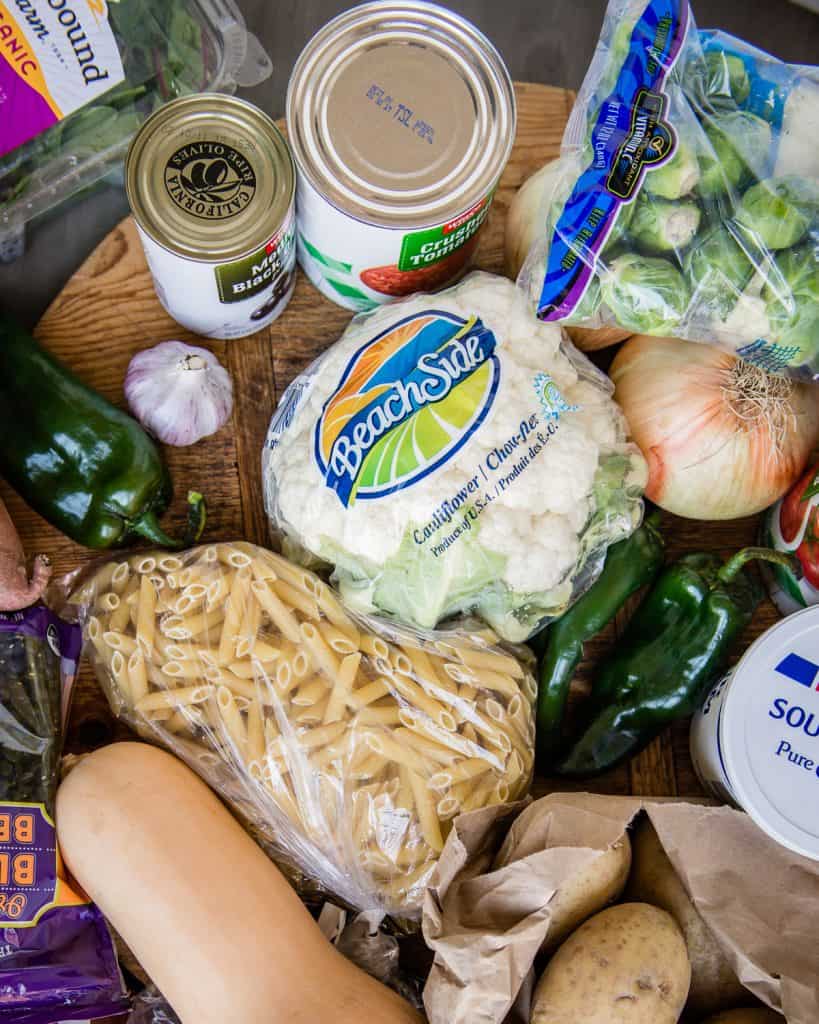 Shopping ListClick here for a printable PDF.
Time Saving Tips
To save time, I've included pre-shredded cheese, sliced olives, etc. But other items on the shopping list can be substituted with the following to further save time.
buy salad packs that include a dressing and other add-ins
buy two rotisserie chickens from the deli section instead of making your own
buy packs of pre-cut veggies and fruit in the produce section (you'll really pay for it though!)
buy bottled marinara sauce (you'll need two 28-ounce jars for the week)
Money Saving Tips
I'm always thinking about my budget and will adjust my recipes and shopping list according to what's on sale or in-season. If I only need a small amount of an ingredient I don't use very often, I try to get that in the bulk section. I also love to restock my spice cupboard from the bulk spice section of my grocery store. It's a better price than the little bottles, and I can make sure my spices and herbs stay fresh by buying only what I know I'll need.
I shop at Costco for non-perishable pantry items like oils, dry beans, rice, peanut butter, honey, maple syrup, etc. I also buy artisan bread, flatbread and pita bread there and freeze half to use later. Costco has the best price for rotisserie chickens, too.
A lot of times grocery stores will sell poultry and other perishable items at a reduced price if they are close to their sell-by dates. I often find organic, free-range chickens for 50% off the original sticker price so I'll pick up several at a time and freeze them to use later.
Things to Prep Ahead
Chop all veggies, including onions, ahead of time and store in small containers in the fridge. This is the very first step I do when I'm meal prepping.
Prepare chili using the slow cooker
Prepare marinara sauce on stovetop (or in slow cooker after chili is finished cooking)
Roast chickens
Roast veggies
Mix up Parmesan ranch spread and dressing
Make peanut curry sauce
Mix up dry ingredients for waffle batter and store in resealable bag or container until ready to prepare batter OR make waffles and freeze or refrigerate until ready to use during the week.
If making homemade chicken stock, see recipe notes under recipe for Roasted Chicken and make the stock overnight in the slow cooker.
The Recipes
Grab the printable recipes by clicking on the links below.
Meal 1: Roasted Chicken with Vegetables and Brown Rice
Rotisserie-style chicken times two that can be made in about an hour to use for meals throughout the whole week!
Roast up a few baking sheets of assorted veggies to use throughout the week to make dinnertime a snap.
Meal 2: Slow Cooker Black Bean Chili and Cornmeal Waffle Stacks

An easy to make, flavorful chili made in a slow cooker. Serve on top of cornmeal waffles loaded up with toppings.
Whole grain cornmeal waffles lightly sweetened with honey that are perfect for any meal, anytime of day. You can mix up the dry ingredients on meal prep day to save a bit of time. Top with Slow Cooker Black Bean Chili for a delicious dinner.
Meal 3: Chicken Cobb Salad Pitas with Fruit

This creamy ranch spread combines parmesan cheese with herbs and spices. Use as a spread or dip.
A great way to use up leftover roasted chicken for a fun, take on the classic Cobb salad and a quick dinner. Serve with Parmesan Ranch.
Meal 4: One Pan Pasta Bake with Green Veggies

Cook up a batch of this easy marinara sauce to use as a pasta sauce, pizza sauce, or dip–and in the pasta bake you'll be eating later this week. Recipe can be doubled or tripled and frozen for up to 6 months.
A cheesy, easy and completely irresistible casserole the whole family will devour.
Meal 5: Chili-Stuffed Baked Potatoes with Green Salad

Use up leftover chili and turn it into another fantastic, easy dinner by serving atop baked potatoes. To round out the meal, serve with a green salad and crusty bread.
Meal 6: Pita Pizzas with Green Salad

Quicker than delivery (and better for you!), these pita pizzas are fun and could not be easier to make. Add marinara sauce and your favorite toppings for a personalized meal.
Meal 7: Kitchen Sink Brown Rice Bowls with Peanut Sauce

The ultimate way to use up odds and ends and leftovers. These curry bowls could include any of your favorite veggies. The peanut curry sauce is so delicious and brings the dish together.
And then after the week is over it's time to start over again on Sunday with new recipes!
2