Do you have a signature appetizer? Something you bring to every get-together you go to–because if you don't, everyone will be disappointed? For me, it's this Mango Jalapeño Cucumber Salsa. Served with Mission Strips Tortilla Chips, it's the perfect combination of sweet and salty, with crisp cucumbers, melt-in-your-mouth mangoes, and tangy lime juice to bring it all together for Cinco de Mayo. Oh, and a little jalapeño too. Because every salsa needs a bit of a kick, right?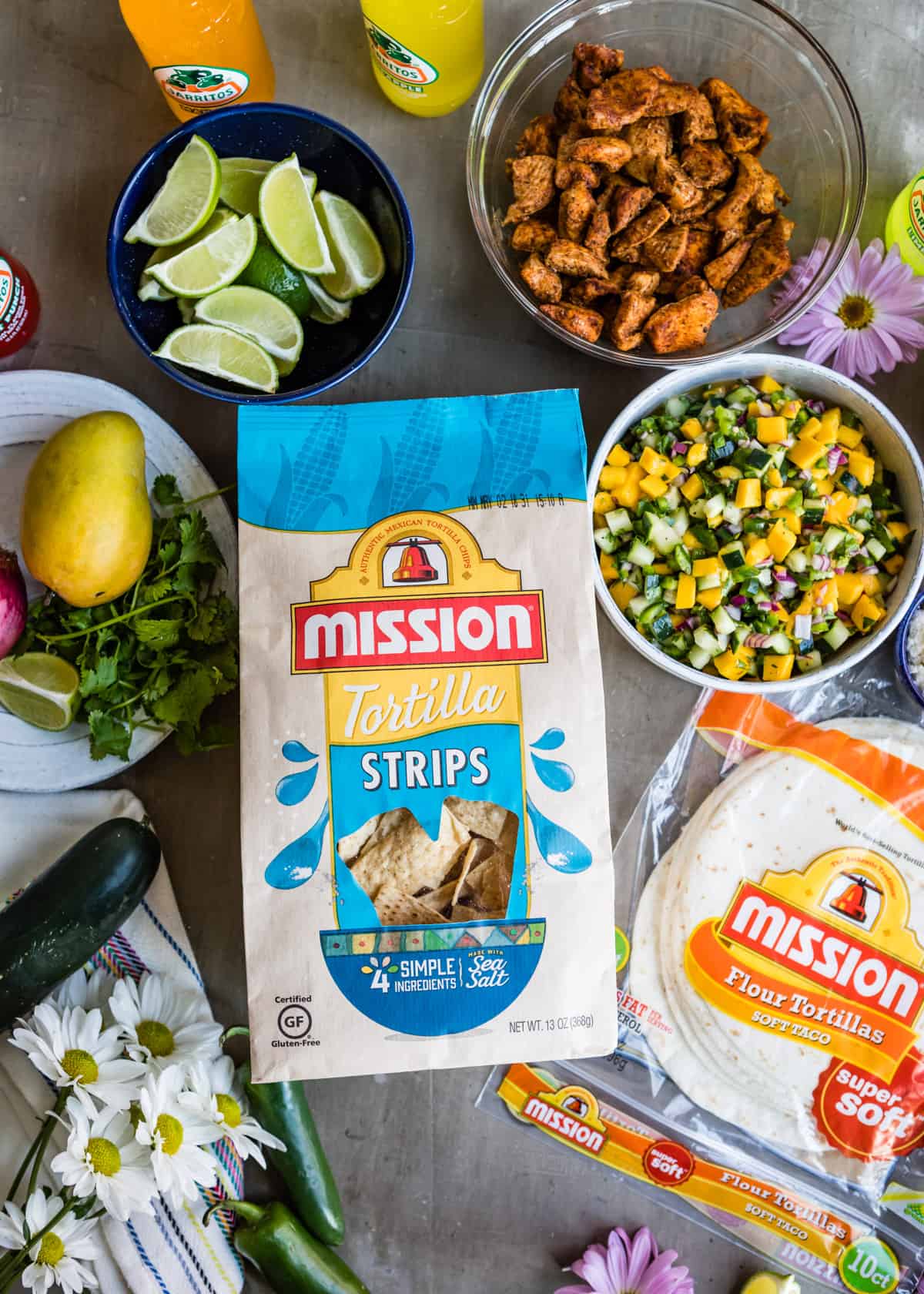 With Cinco de Mayo quickly approaching (seriously, how is it almost May?!), this salsa is exactly what you need for your holiday celebration. And Mission is giving you even more to celebrate this Cinco de Mayo, with their Instant Win Piñata Game. You can play the Instant Win Piñata Game once every day until Cinco de Mayo. Prizes may include a Mexico cruise, Google Home, Uber gift cards, Mission coupons and more! I don't know about you, but a cruise to Mexico is sounding awfully good right about now.
And while you're on the Mission website, be sure to peruse all of their recipes too. Grab my salsa recipe below and a few additional recipes from Mission and boom, your celebration is planned. (Oh, and you definitely need some margaritas too–Blackberry Mint, perhaps?)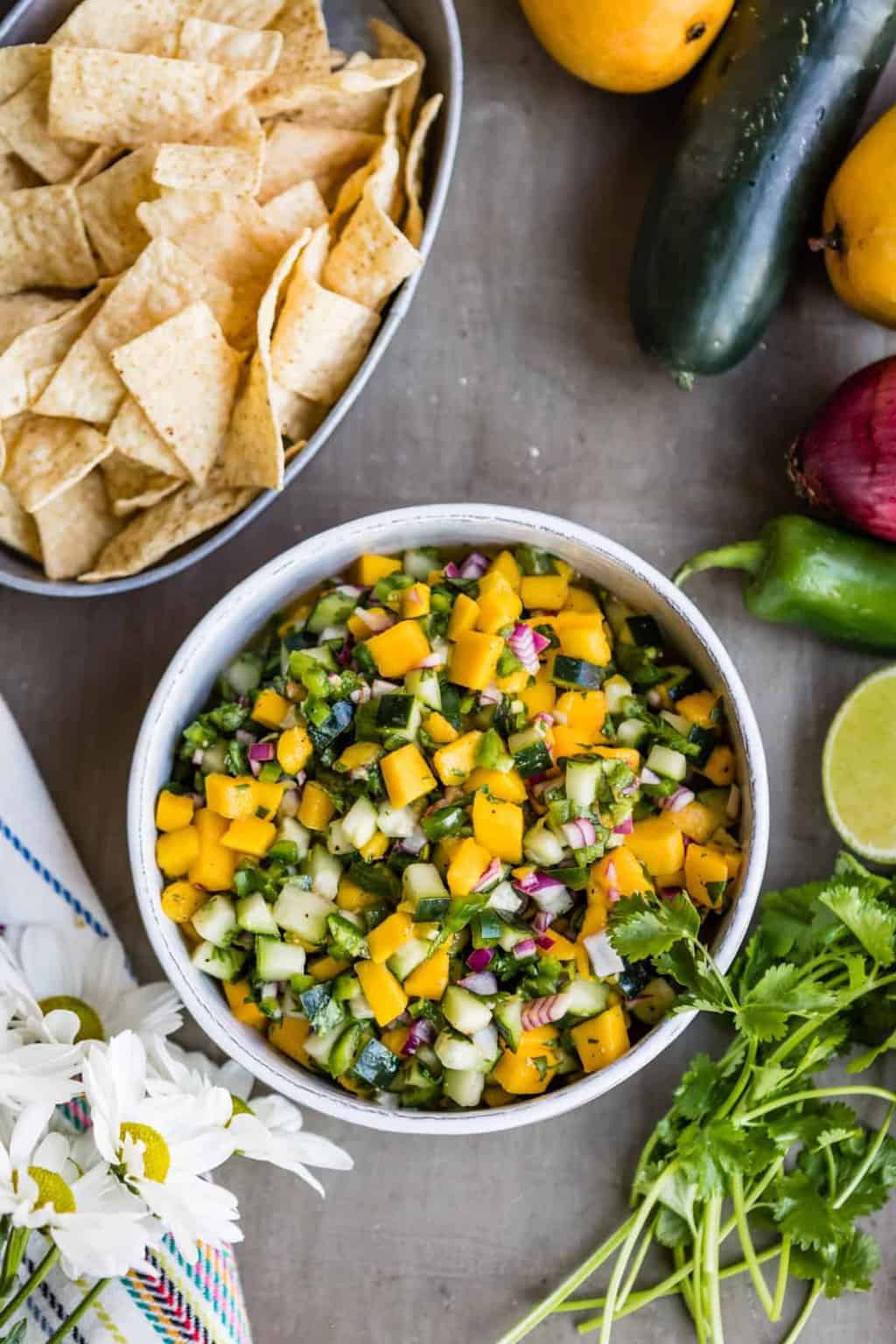 Mango Jalapeño Cucumber Salsa
The great thing about this Mango Jalapeño Cucumber Salsa is that it's not just for dipping. Because it's so easy to put together, I often make it for taco night at our house–we love it on Beer-Battered Tofu Tacos, always with Mission® Super Soft Flour Tortillas because when they're warmed up, they are just like the soft, pliable tortillas you find at your favorite Mexican restaurant. The salsa is also amazing paired with fish tacos. A scoop of this salsa brightens up a burrito bowl or salad too–and it's so good that sometimes I eat it with a spoon. No shame!
Because this is a chunky salsa rather than saucy, you need a chip that's good for scooping, which is why Mission Strips Tortilla Chips are perfect for the job. Made with only four simple ingredients (we love that!) and sea salt, they're a great accompaniment to the salsa–and they're gluten-free so everyone at your get-together can enjoy them.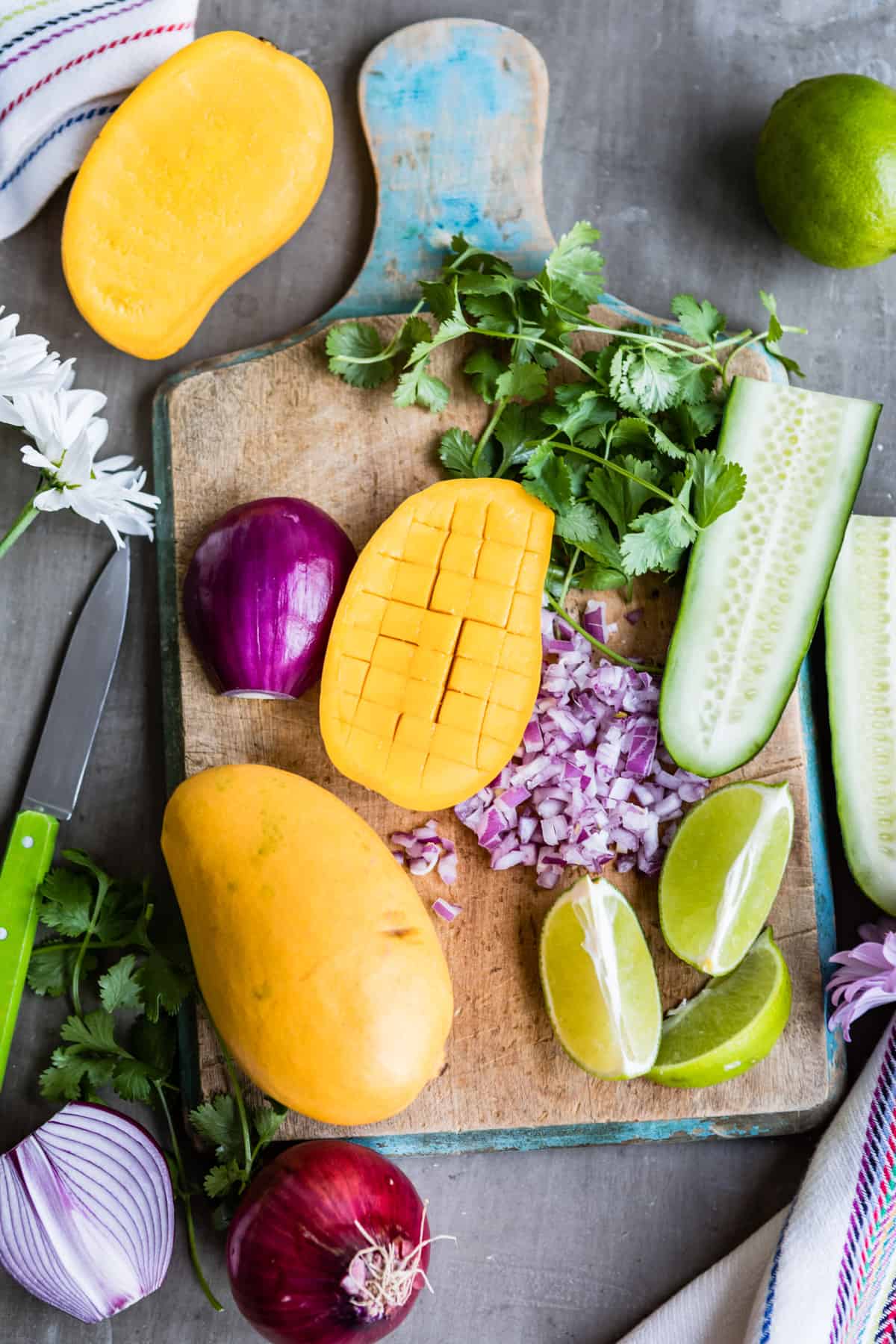 The recipe calls for champagne mangoes, also known as Ataúlfo mangoes, because they tend to be sweeter and less stringy than more common varieties that are available year-around. So if you can get your hands on them, do it! But if not, no worries–any variety of mango will work here as long as it's perfectly sweet and ripe. Even frozen mangoes will work as long as you thaw and drain them first.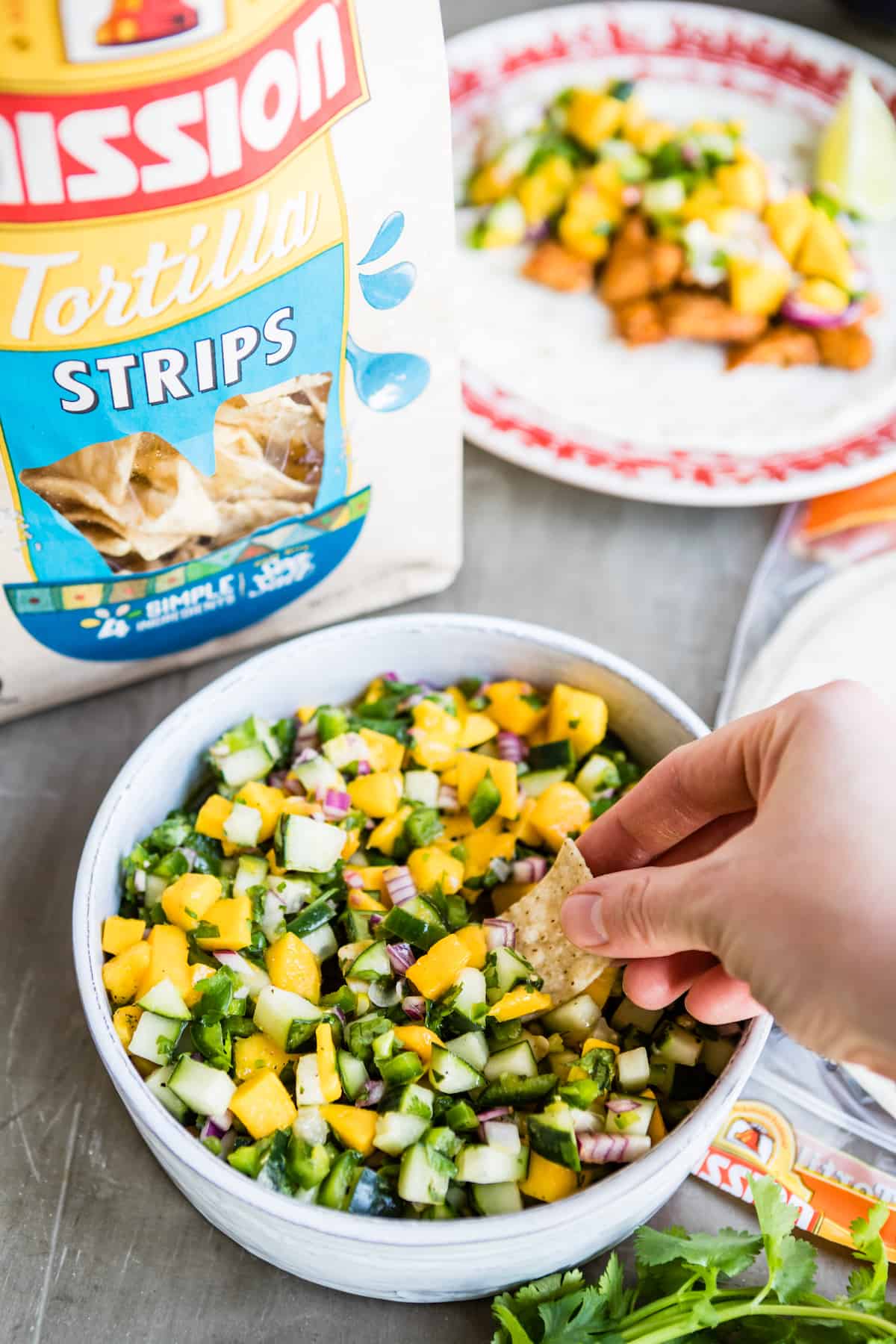 Mango Jalapeño Cucumber Salsa
A sweet and spicy salsa that will be the hit of any celebration.
Ingredients
Mission® Strips Tortilla Chips (for serving)
1 cup diced champagne mango
1 cup diced cucumber (scoop the seeds out and discard before dicing)
1/3 cup minced red onions
1/3 cup chopped cilantro
1 jalapeño pepper (seeded and diced)
Juice from 1 small lime
Salt to taste
Instructions
Toss all of the salsa ingredients in a large bowl. Serve with Mission® Strips Tortilla Chips.
Notes
Not a fan of cilantro? Try using mint instead.
1