Meal prep pretty much saves my bacon, as it were. I tend to get pretty hangry if I don't have my meals planned out and ready to go. That's especially important when it comes to lunch time! If you've got an awesome mid-day meal awaiting you, those candy bars in the lower drawer of your desk won't be quite as tempting.
Can I be totally honest with you? (Just between us friends?) As much as I like the whole meal prep trend, it can get a little boring to eat the exact same meal every single day for an entire week. Amiright? So I've got 5 easy ways to change up a basic marinated chicken recipe so each day's lunch feels a little more exciting to dig into.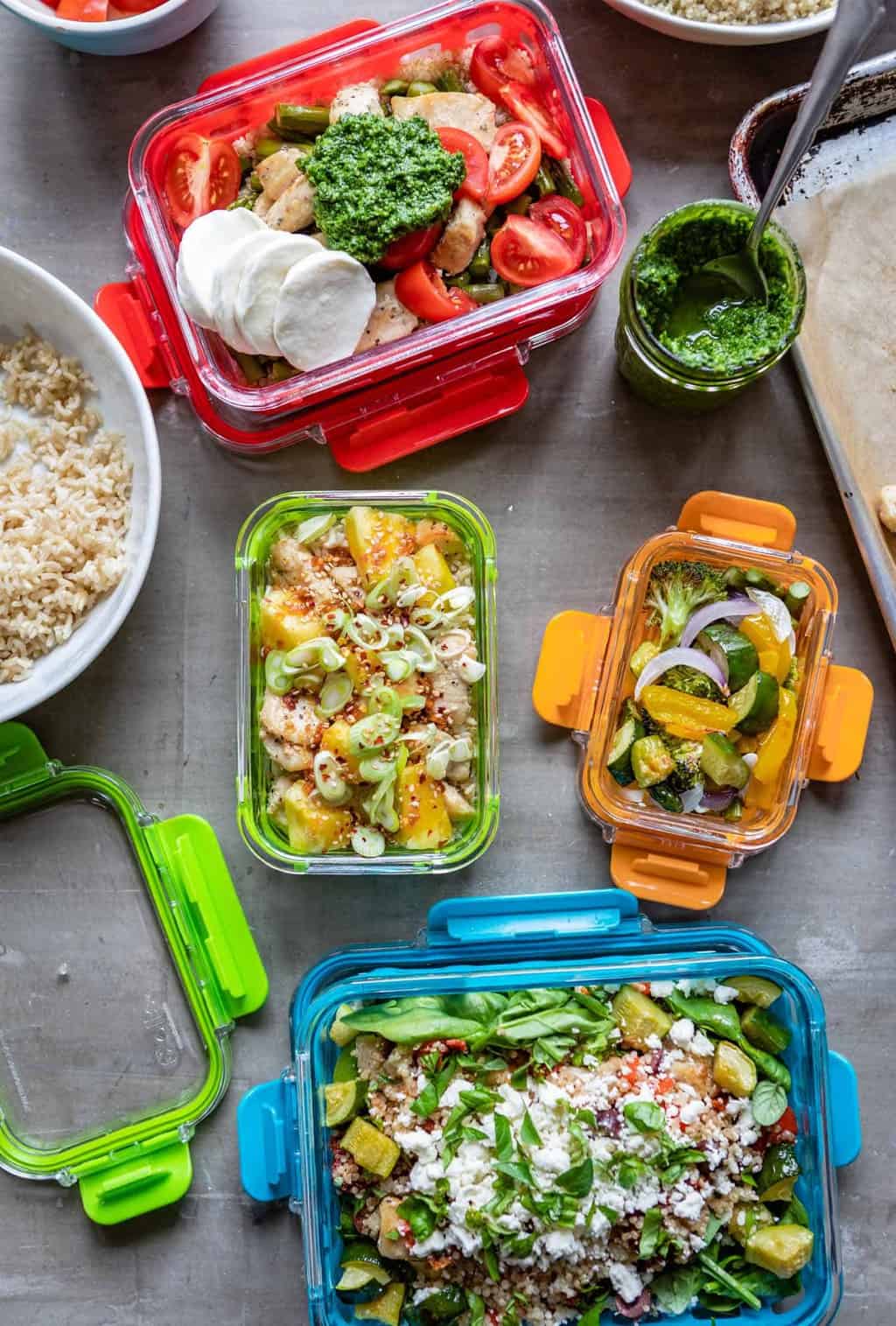 If you haven't been using glass storage in the kitchen, now's the perfect time to start. Ello DuraGlass Food Storage containers take it a step further with their silicone sleeves to help protect the containers from chipping and scratching—genius!
Now let's get to the prep bowls!
Marinated Chicken Meal Prep Bowls 5 Ways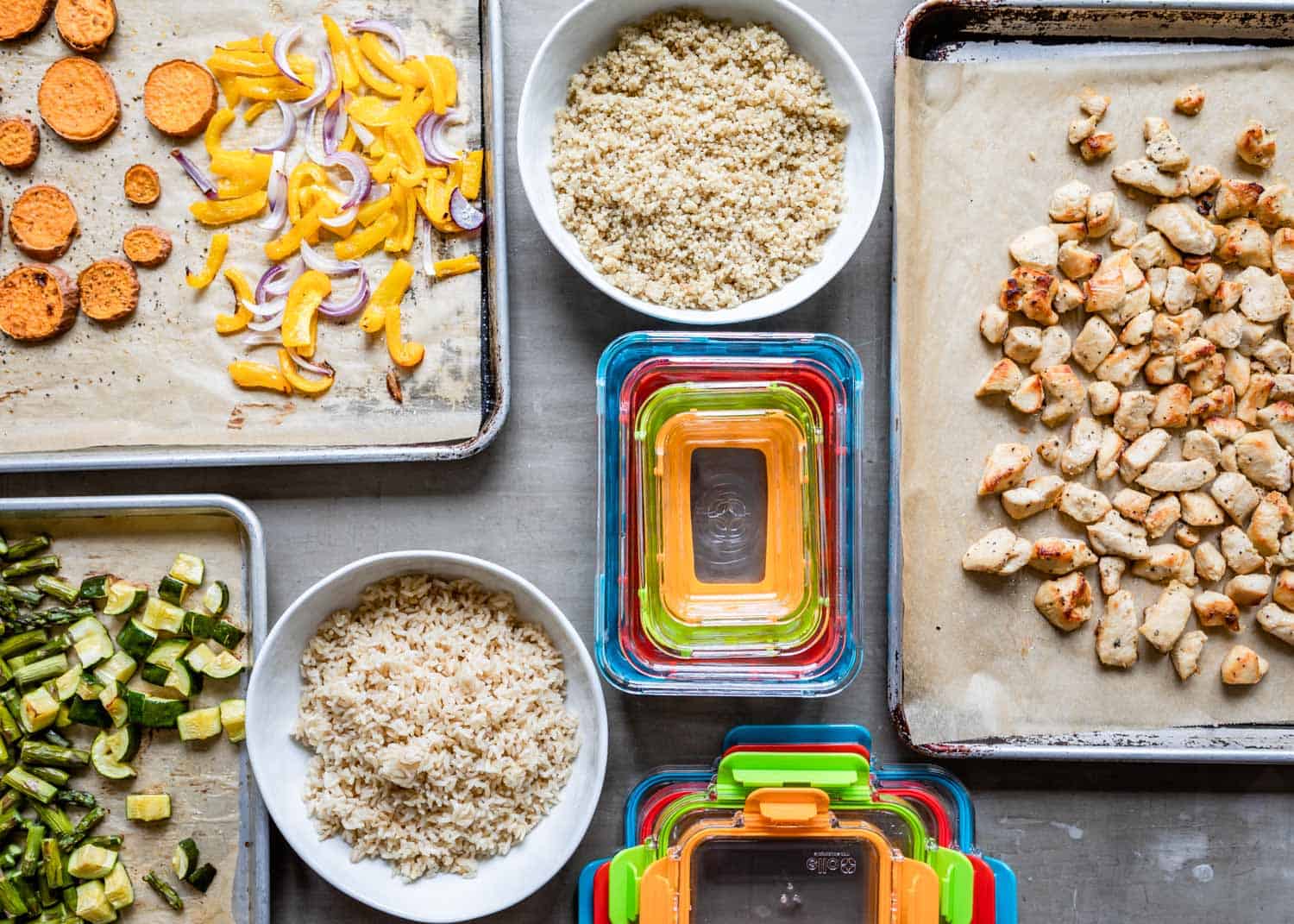 Start With
-2 1/2 pounds marinated chicken breasts, whole or cut into cubes or strips
-5 (3/4-cup each) servings of cooked brown rice, quinoa, or your favorite grain, or a little of each
-5 good-sized servings of veggies (see variations below)
I like to use a very basic chicken marinade, which I've shared below, but feel free to use your own favorite. It's up to you if you'd rather use a whole chicken breast or cut it into smaller pieces. I like cubing the chicken because cubes cook evenly and are easier to eat—no knife needed!
My Go-To Chicken Marinade
1/2 cup olive or avocado oil
1/4 cup fresh lemon or lime juice, or light-tasting vinegar (white wine vinegar is great here)
1/4 cup onion, thinly sliced (or substitute 1 teaspoon onion powder)
2 garlic cloves, smashed (or substitute 1/2 teaspoon garlic powder)
2 teaspoons honey or sugar (optional, but helps balance flavors and tenderize chicken)
2 teaspoons sea salt
1/2 teaspoon ground black pepper
Whisk the marinade ingredients together and place in a large bowl or other container (like Ello DuraGlass). Add the chicken, cover, and marinate for at least 30 minutes or up to overnight.
Bake the Chicken
Preheat oven to 400°F and line a baking sheet with parchment paper. Transfer the chicken to the baking sheet, leaving any extra marinade behind.
Bake for 20-25 minutes if using whole chicken breast, or 10-15 minutes if using cubes or strips. Check to make sure chicken is cooked through. If not, bake for 5-10 additional minutes. Allow to cool completely before assembling the bowls.
5 Meal Prep Bowl Ideas
I use a mix of homemade and store-bought items here to make things easy. (You may already have some of these items in your fridge or pantry!) Items in the bowls can easily be swapped for other veggies or fruit, condiments, etc., depending on personal preference. These are five options I really like and rely on when I'm meal prepping.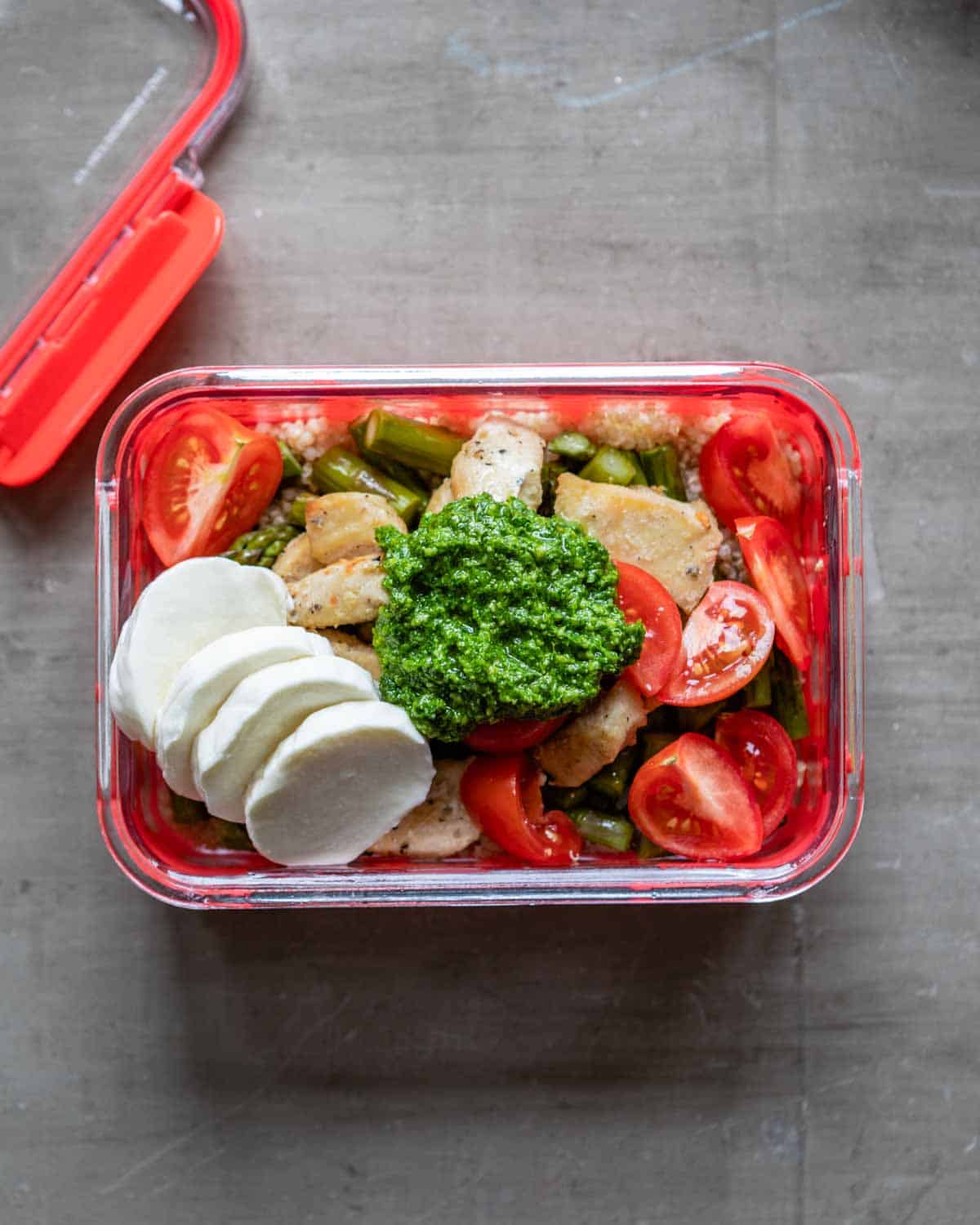 1. Pesto Chicken Bowls
Quinoa, cubed chicken, roasted asparagus, cherry tomatoes, fresh mozzarella, and pesto (store-bought or make your own).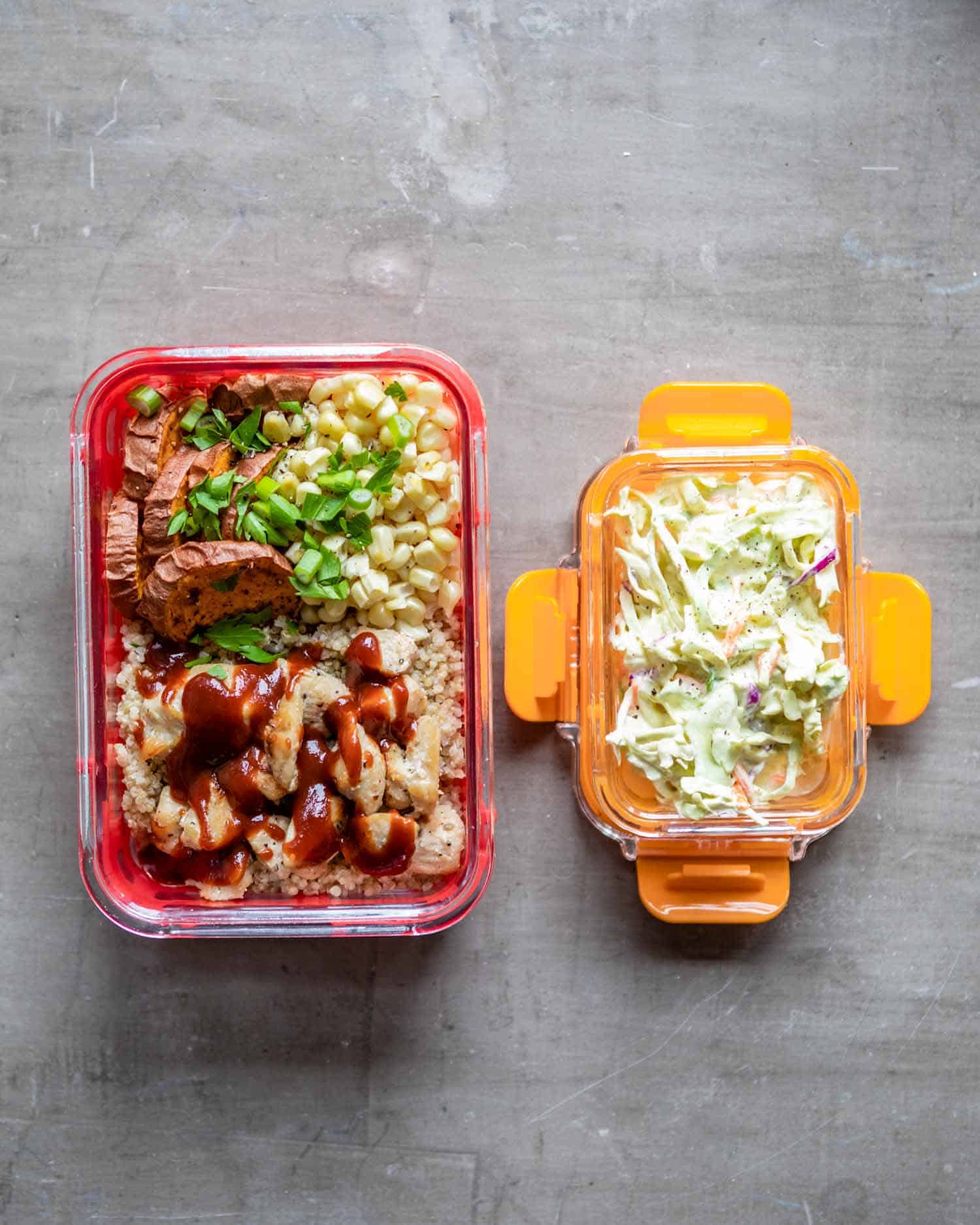 2. BBQ Chicken Bowls
Quinoa, chicken cubes, BBQ sauce, corn + roasted sweet potato rounds, green onions + parsley garnish, coleslaw on the side.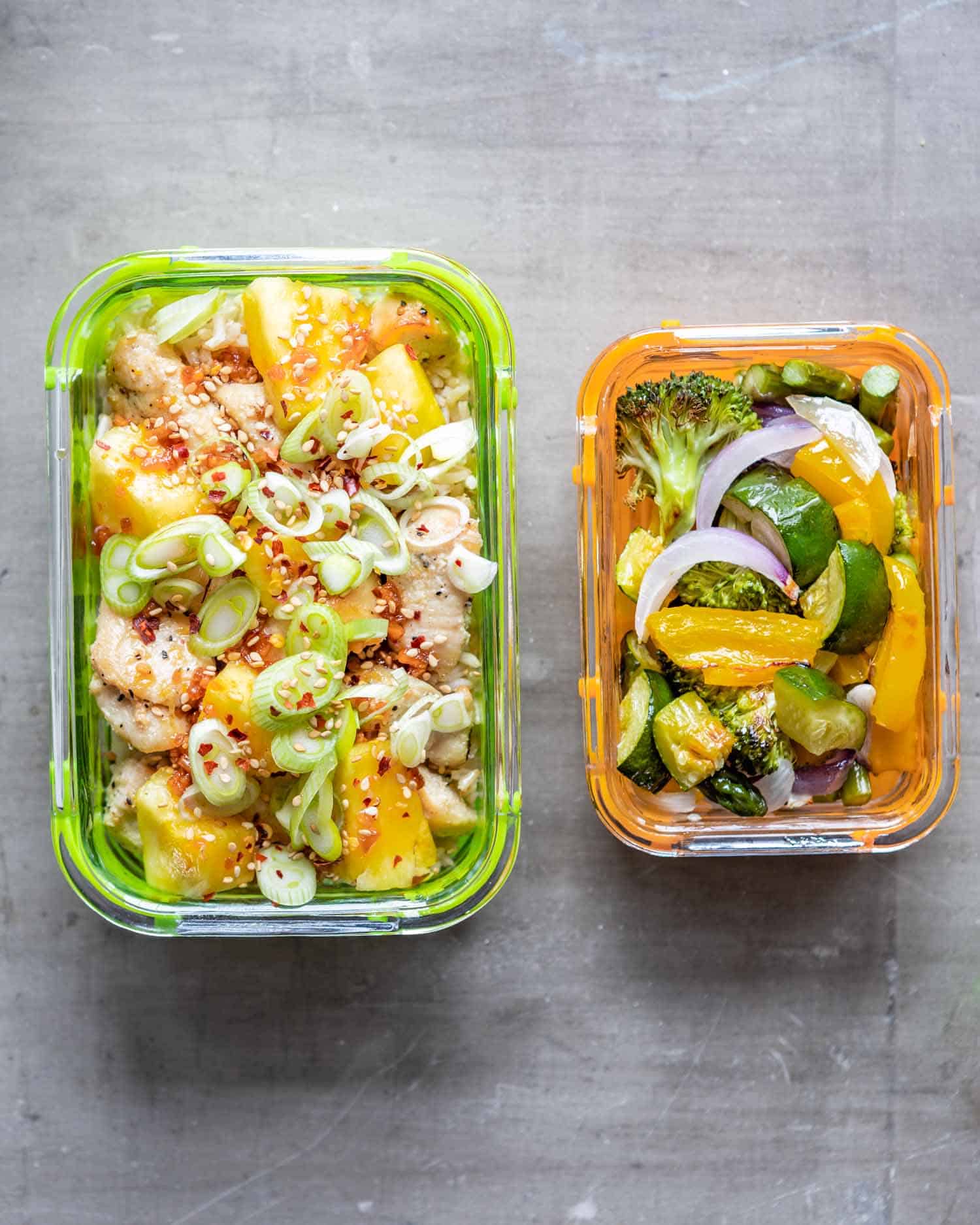 3. Pineapple Teriyaki Chicken Bowls
Rice, cubed chicken + pineapple chunks (fresh, frozen, or canned), teriyaki sauce, green onion, crushed red pepper flakes + sesame seeds for garnish; roasted broccoli, zucchini, asparagus, peppers, and onions on the side.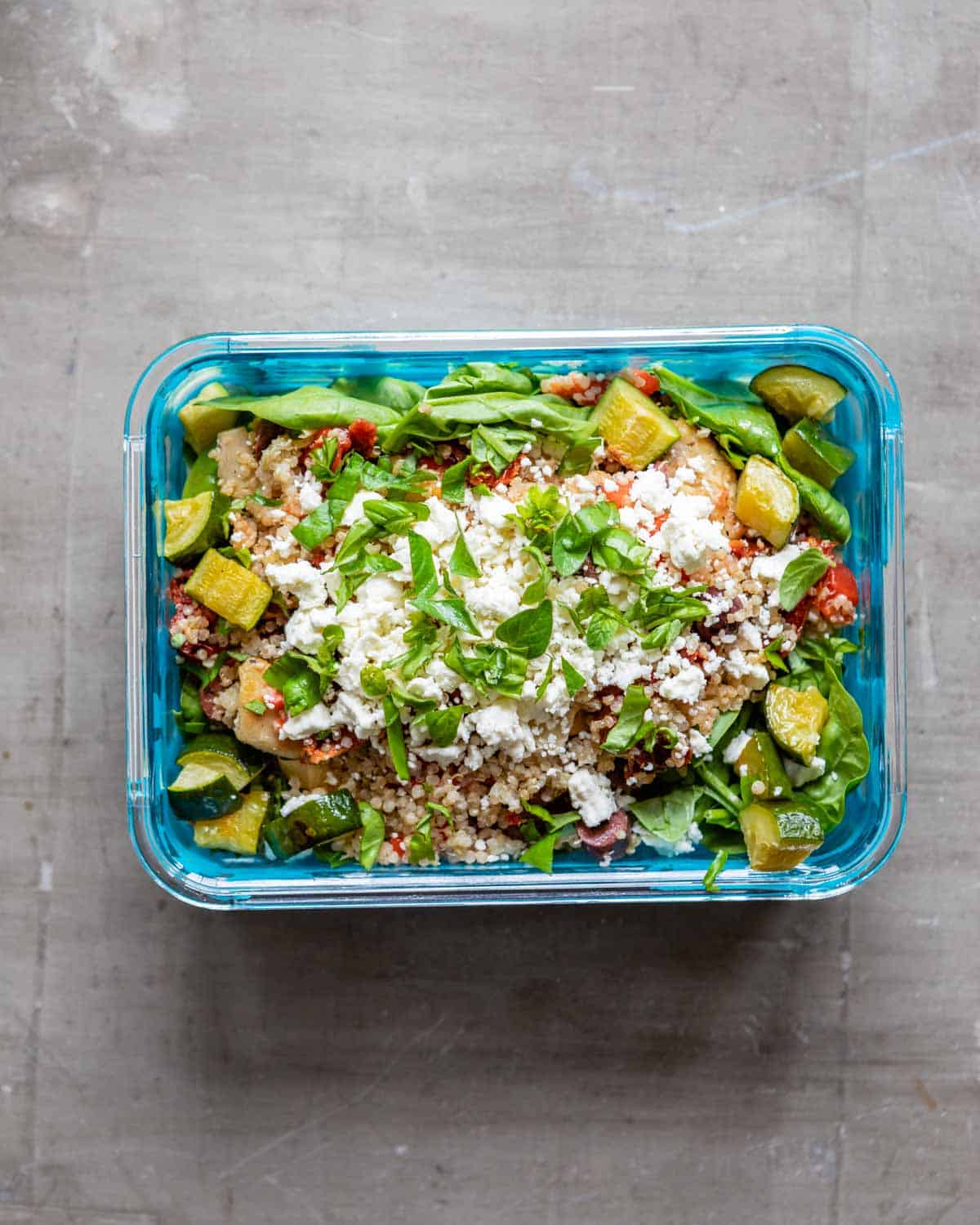 4. Mediterranean Chicken Quinoa Salad Bowls
A bed of baby spinach topped with quinoa, chicken cubes, diced roasted red pepper, chopped marinated artichoke hearts, sliced kalamata olives, sun-dried tomatoes, roasted zucchini chunks, crumbled feta cheese + oregano and basil.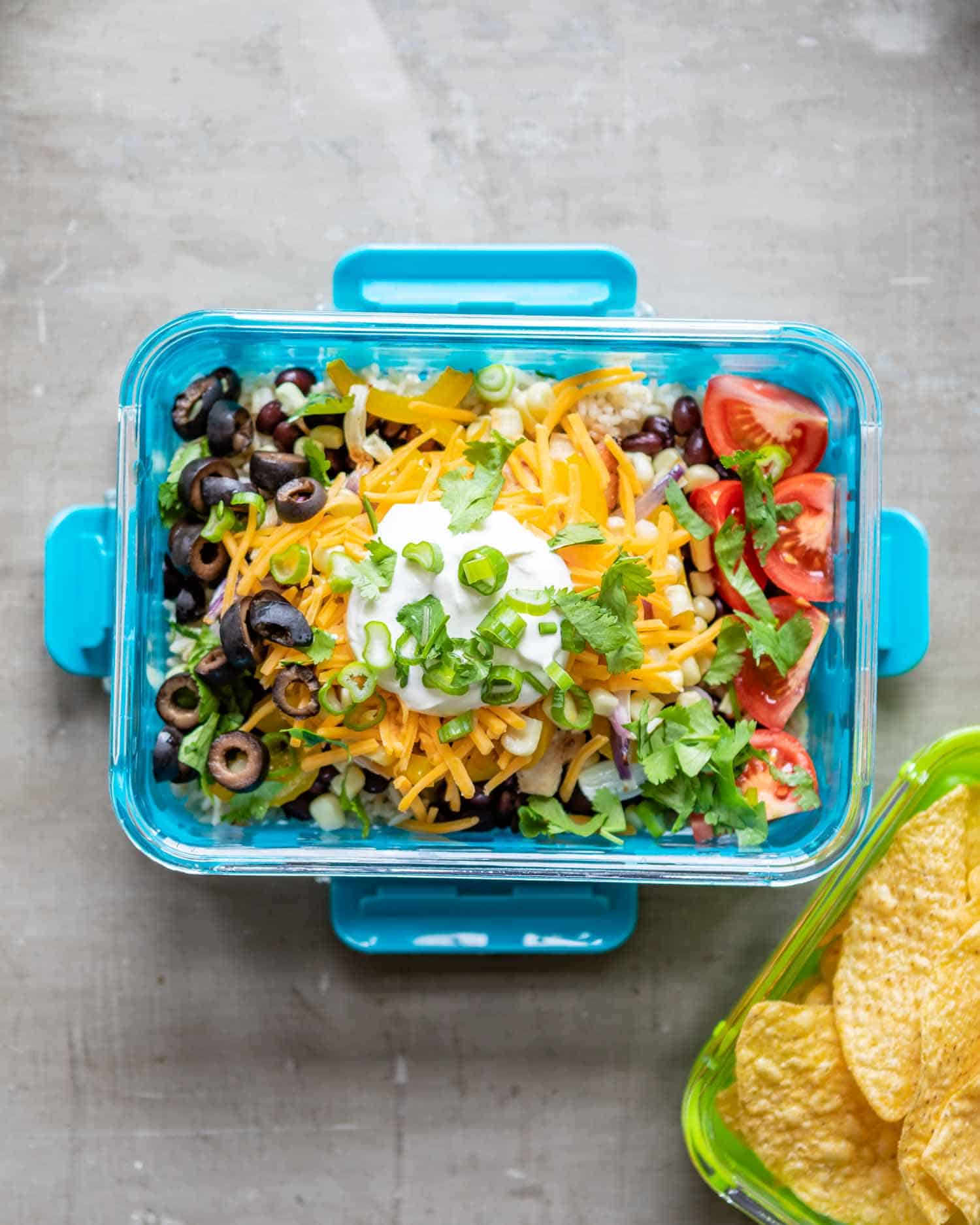 5. Southwest Chicken Rice Bowl
Chicken, rice, black beans, roasted bell peppers + onions, corn, tomatoes, sliced black olives, shredded cheddar, sour cream, and green onion + fresh cilantro; serve with tortilla chips on the side
Other meal prep tips:
Roast the vegetables on a separate parchment-lined baking sheet at the same time as the chicken.
Store salads like coleslaw, sauces and cheese separately until ready to eat.
If you add avocado to any of your meals, don't add it until the day you plan on eating it and toss with lemon or lime juice to help prevent browning.
Keep your meals properly refrigerated or frozen until ready to reheat.
Follow safety and care precautions for your containers, such as: avoiding sudden temperature changes which could cause containers to crack or chip; not placing the hot glassware on a wet or cool surface, handling with oven mitts (they can get hot!), not using on stovetop or under a broiler, and allowing any contents to cool to room temperature before sealing the container and transferring to fridge or freezer.
1