Can you believe it's already time to start thinking about back to school season? Summer always seems to fly by, and soon those easy mornings and late nights will be replaced by AM chaos and early bedtimes. Are you ready for it?!
Maybe not!
My problem when it comes to back to school routines is that I'm just not a morning person. I always have trouble waking up on time, and I'm really at my best in the afternoon and evenings. That was fine before I had my daughter, but now, I don't really have a choice; I have to be up and at 'em in the morning whether or not I feel like it.
6 Morning Routine Hacks for Back to School
These morning routine hacks have helped me get my act together in the mornings, making our school day routine so much easier:
1. Have a Staging Area
Specifically: have a convenient staging area. I bought one of those fancy organizers with hooks and baskets and shelves to hang next to our front door… but we always enter and leave the house through the garage, so it's useless!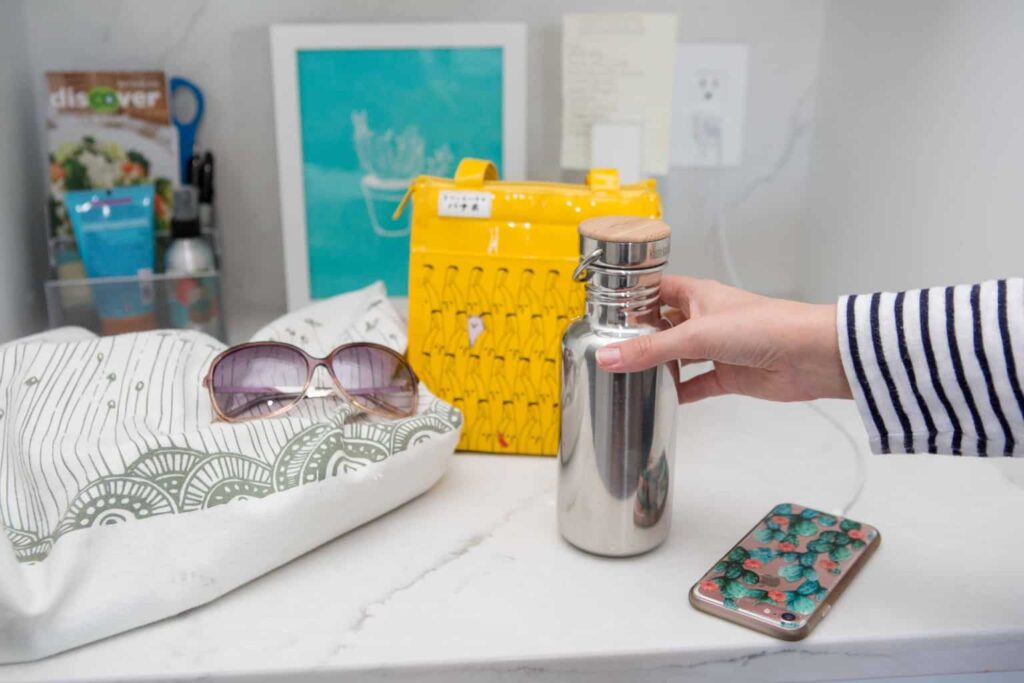 Now, I've designated a small countertop next to our fridge as my staging area. Or command center. Landing place. Whatever you want to call it! Backpacks, lunch boxes, keys, phones, sunglasses, water bottles, our everyday vitamins —they all "live" here. It might not be pretty, but having everything in one place so we don't have to run around the house looking for stuff before leaving each morning makes things a whole lot easier.
2. Make Healthy Choices Easier
Let's be honest, unhealthy choices are often the easiest ones to make. We don't pick up a sugary latte at the drive-thru on the way to work because it's good for us. We do it because it's easy. So I'm all about making healthy options even easier.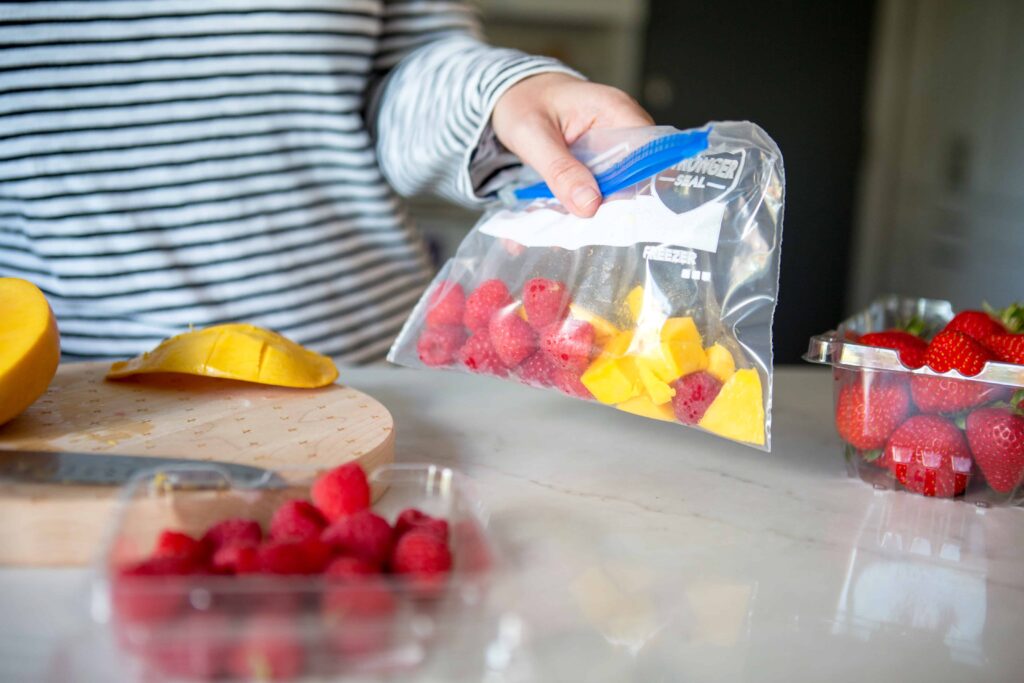 I always had trouble making morning smoothies work out for me because I didn't feel like (or have time for!) prepping all that fruit in the morning. Make-ahead smoothie packs have been a game-changer!
I throw everything into the blender while my daughter's eating breakfast, and then I've got lots of vitamins and nutrients to start my day off right.
Another little trick I've learned is to use a pillbox. I picked up this huge one when I was pregnant because I had a prenatal to take 3 times a day, plus DHA, plus calcium and vitamin D which couldn't be taken within 2 hours of my prenatal; –it was a lot of bottles and a lot to remember!
But I still love this thing because instead of taking out a bunch of bottles every morning, I fill it up once a week.
3. Focus on Your Evening Routine
Like I said, I'm not a morning person. But I'm always ready to get things done in the evening. (It helps that my daughter is in bed by then!) So I do as much as I can the night before so I don't have to do it in the morning.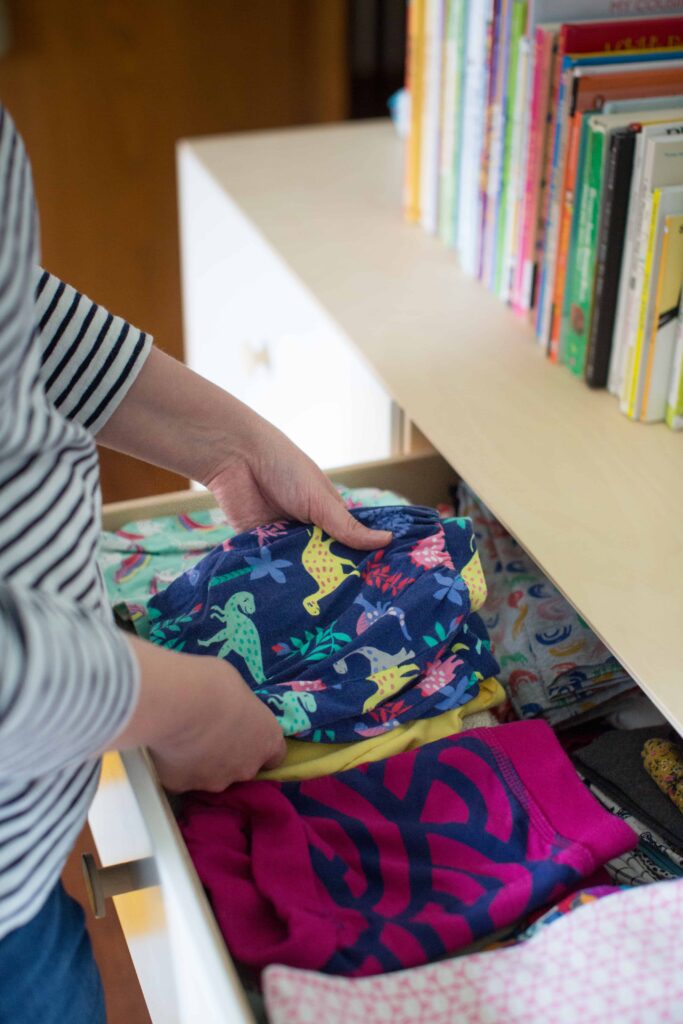 Before my daughter goes to bed, I lay out her clothes for the next day. Then, after she's asleep, I make her lunch, decide what breakfast will be, lay out my clothes for the day, and make sure everything we need in the morning is in our little staging area in the kitchen.
4. Put Some Pep in Your Step
If mornings are a drag for you and your kiddos, I've found a few simple ways to help everyone wake up: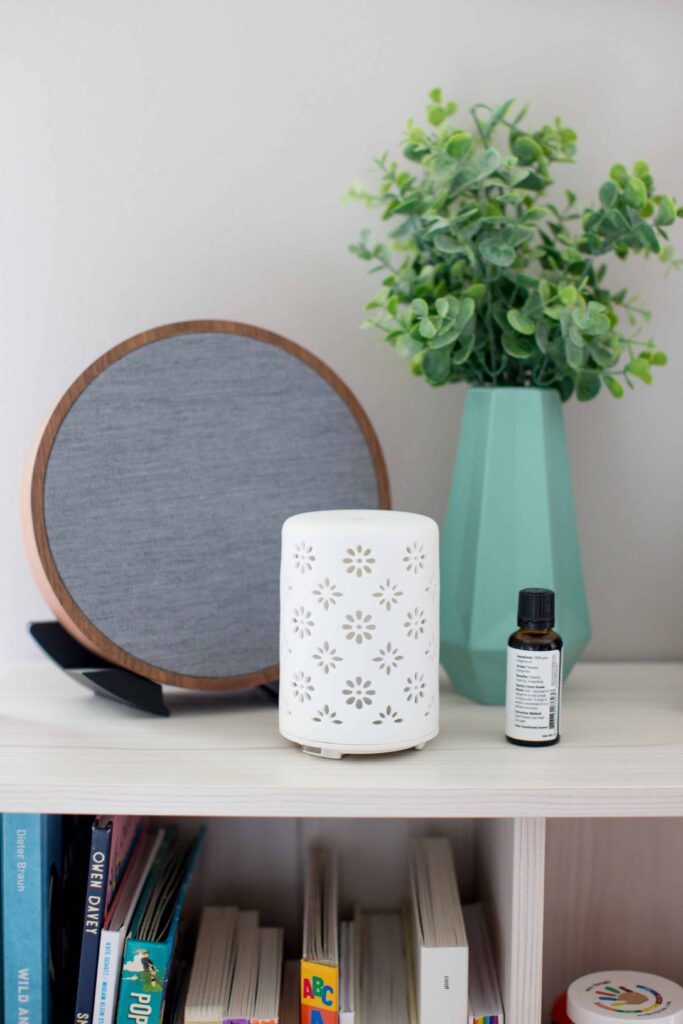 Do some energizing yoga. Of course, this only works if you have time! But it does help to get your body moving in the morning—even a few push-ups or stretches will work.
Diffuse some essential oils. Citrus scents are especially good for boosting alertness or you can make your own energizing blend.
Play some music. My 3-year-old insists on listening to "Burning Down the House" every morning, and we all sing along and dance.
If you need coffee, choose cold brew. That way, it's ready to go in the fridge and you don't need to spend your time making it in the morning.
5. Make Meal Prep Work For You
We love meal prep. If you're not into prepping your lunches and dinners, at least prep your breakfasts!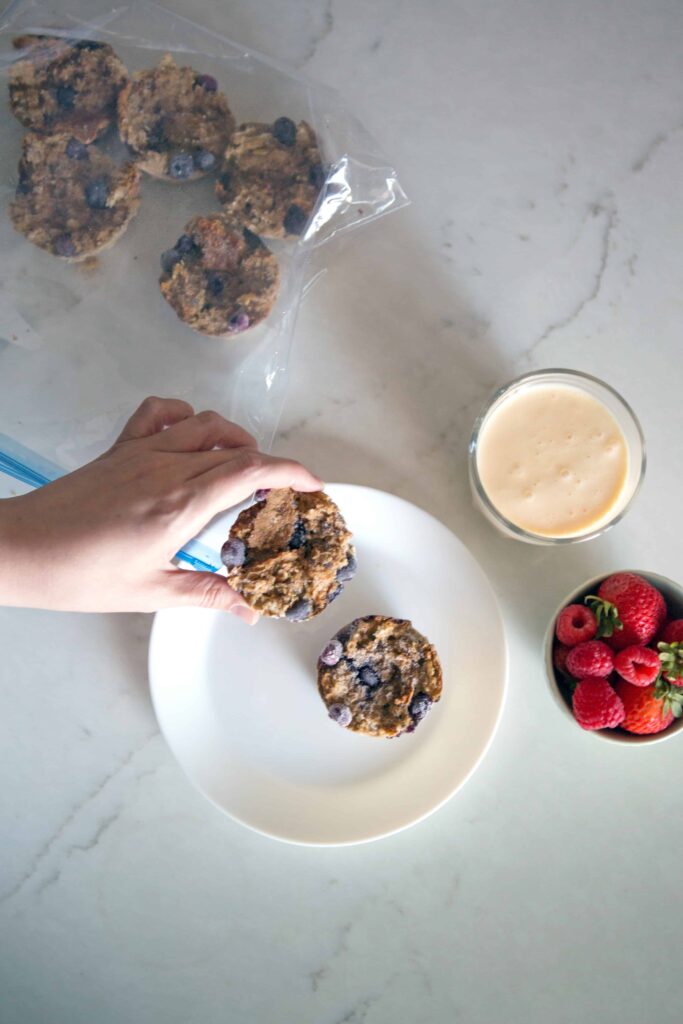 In my household, we have a big stockpile of kid-friendly frozen breakfast options for my daughter to choose from each morning. I cut up fruit in advance, so all I have to do in the morning is heat up some French toast cups or breakfast cookies and spoon some fruit into a bowl.
6. Get in a Good Groove
Young children have no concept of time, so I've found that consistency is key in getting my daughter into a routine. If your kids haven't been on a routine over the summer, make sure you start your back-to-school routine a week or two before school actually starts to give them time to adjust.
We do things in the same order every single morning, so my daughter instinctively knows that after she wakes up, she eats breakfast; after breakfast, she washes up; after washing up, she gets dressed; etc.
She doesn't even have to think about it at this point, which means there are fewer opportunities for meltdowns over not wanting to brush her teeth or wanting to play instead of getting ready for school.
Do you have any tips for making back-to-school routines easier?
Photos by Sharon Vanorny