With spring almost here, all I can think about is filling my house with plants. I love customizing pots with fun designs or colors and using nail polish makes everything much more fun. After trying stenciled mini pots, I used old glitter nail polish to 'drip' a few more.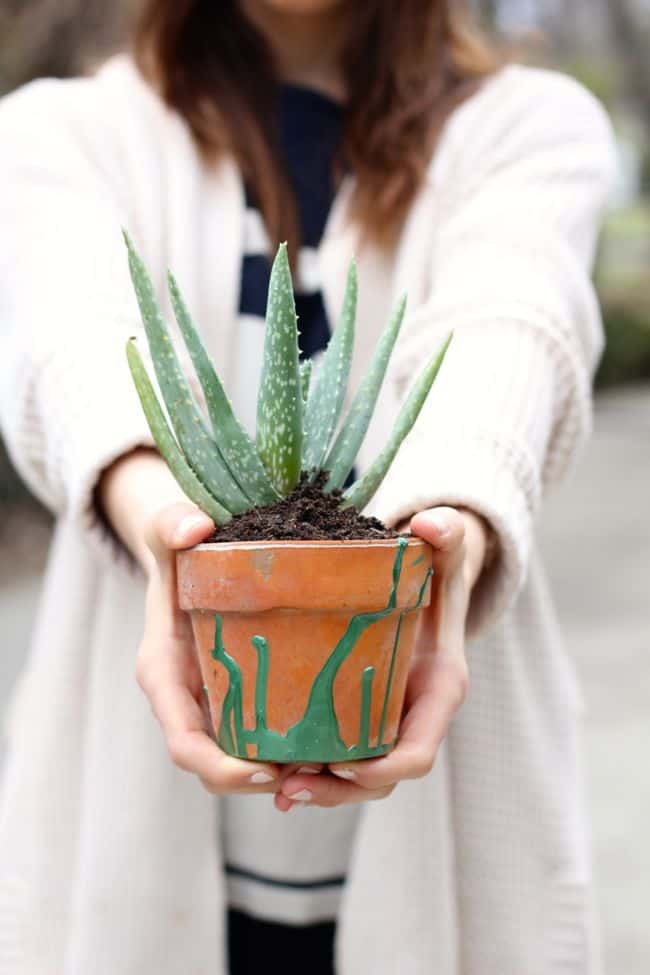 I've seen dipped planters with more of a clean line of paint around the edges, but I decided to use a "spilling" technique with the nail polish to get an edgier effect. Nail polish gives it a perfect hint of girly sparkle.
Since I have a bit of a black thumb, I was thrilled to discover Miracle-Gro Gro-Ables. These little pods are filled with the growing materials, plant food and seeds already placed at the right depth in the soil, which is perfect for a plant killer like me. They come in a bunch of different types of vegetables and herbs, but I chose tomato and basil (my favorite!).
DIY Nail Polish Drip Pots
Supplies Needed
Small ceramic or terra cotta pot
Nail polish
Newspaper
Soil
Plants
Instructions
Gather all of your supplies on a flat surface. Spread out some newspaper to avoid no paint drips on the table.
Flip the pot upside down on the newspaper. In a slow, steady motion, start dumping the nail polish around the bottom of the pot, creating long drips up to the top of the pot. If the polish isn't spreading go heavier with to get gravity on your side. The polish comes out pretty slowly, so don't worry too much about being exact.
If the polish starts to run too fast or goes off the edge of the pot tip it on the side to slow things down.
Once the paint dries, fill the pots about 1/2 to 3/4's full with some all-purpose potting soil, and then make a well about halfway down using your fingers. Finally, stick the plant in and you're good to go!
I can't wait to make my favorite dish for summer, a basil and tomato caprese salad. There is nothing like layers of juicy tomato and fresh mozzarella topped with basil, olive oil and a little salt. It is heaven on a plate, I tell you.
13