I'm not ashamed to admit it: I was that obsessive mom. Okay, I am that obsessive mom. I'm a worrier by nature and a researcher by training (library school, holla!) so the combination of those two things, plus pregnancy hormones, had me spending an obscene amount of time shopping for the best nontoxic baby products when I was expecting my little one.
Now that my baby girl is almost 2, I have the benefit of hindsight—there were some things I bought and loved, and other things that totally weren't worth it. What was worth the cost? What would I buy again? Read on to find out.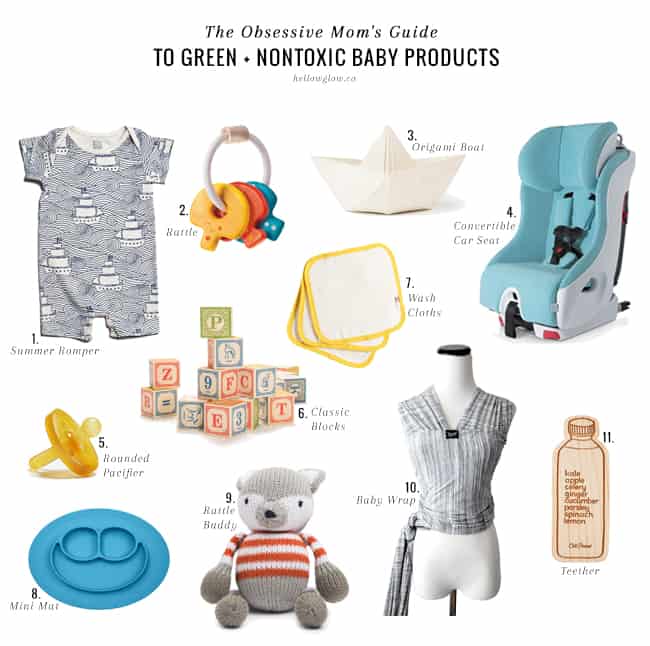 1. Winter Water Factory High Seas Summer Romper // Rompers were my fave when my daughter was little—they're easy like a onesie, but unlike onesies, they look like a complete outfit!
2. PlanToys Baby Key Rattle // This was one of my daughter's most loved toys when she was a baby—and PlanToys is one of my favorite toy brands because their products are nontoxic, colored with vegetable dye, and made from sustainable rubber wood.
3. Oli + Carol Origami Boat // This fun little boat will keep hands busy during bathtime. And it doubles as a teether!
4. Clek Foonf Car Seat // A lot of car seats are made with nasty chemicals, but this one is Greenguard certified, meaning it has low chemical emissions—I also love that Clek products are manufactured in North America.
5. Natursutten Rounded Pacifier // Your kiddo will spend a lot of time with a pacifier in his or her mouth, so you want to make sure you buy a good one! Natursutten pacis are made with 100% natural rubber.
6. Uncle Goose Classic ABC Blocks // Uncle Goose blocks are an heirloom toy that will last for decades. Handcrafted in the US with sustainable Michigan basswood and nontoxic inks, these are a great gift too.
7. giggle Organic Cotton Stripe Wash Cloths // I greatly underestimated how many wash cloths we'd need. Stock up!
8. EZPZ Mini Mat // Unlike most suction cup plates and bowls, this one really sticks—and it's made with silicone instead of plastic.
9. Finley the Fox Organic Rattle Buddy // A lot of stuffed animals are treated with chemical flame retardants. No bueno! This little knitted gray fox is nontoxic and the perfect size for cuddling with.
10. Happy Baby Wrap // I highly recommend going to a store or babywearing class where you can try out different carriers before you buy one, but my absolute favorite was this type of wrap. Bonus: it's a lot cheaper than structured carriers too!
11. Lexypexy Green Juice Teether // Wood teethers for the win—especially when they're cheeky ones like this.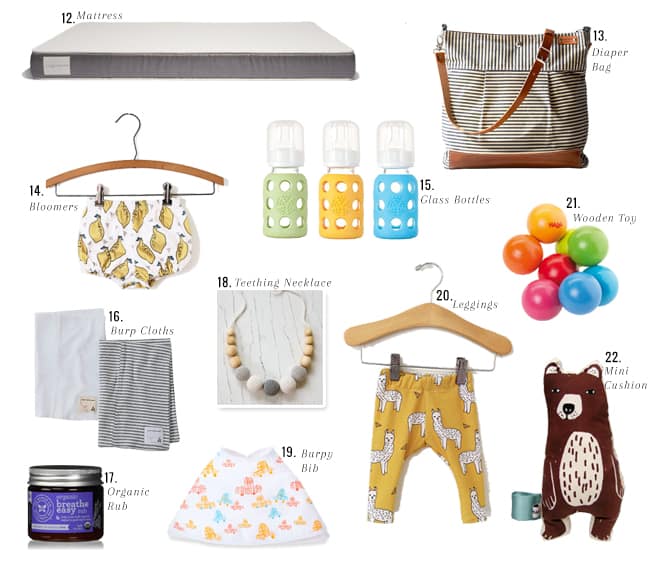 12. Poppy 2-Stage Crib Mattress // Most conventional mattresses are made with harmful chemical flame retardants, so it's important to buy one that's natural. I love that this one has a waterproof cover too—this is essential!
13. Ikabags Waxed Canvas Diaper Bag // This right here is my diaper bag and I get so many compliments on it wherever I go. It's definitely one of my favorite things!
14. Lola & Stella Organic Baby Bloomers // Baby bloomers are perfect for hot summer days. And if lemons aren't your thing, Lola & Stella has a bunch of cute patterns to choose from.
15. Lifefactory Glass Baby Bottles // I didn't want to use plastic bottles, because even if they're BPA-free, it didn't seem like a great idea to be heating up plastic bottles and letting my daughter drink from them several times a day. These bottles are glass, with a silicone sleeve to protect against drops.
16. Burt's Bees Baby Organic Cotton Burp Cloths // Burp cloths! Another thing you should stock up on. Buy yourself enough that you don't have to do laundry on a daily basis.
17. Honest Organic Breathe Easy Rub // I can't even count how many colds my daughter has gotten in the past year. Babies and toddlers can't have cold meds, so this is a must!
18. Freja Toys Babywearing/Teething Necklace // Little hands like to pull hair and pinch skin when you're babywearing or nursing—this necklace will keep them occupied.
19. aden + anais Burpy Bib // If you have a baby with reflux—or even if you don't—these bibs will be your BFF. Seriously, they are the best because they cover the shoulders and back too. (Yes, babies can get spit up on their backs. Ask me how I know.)
20. Organic Cotton Leggings // Baby jeans might be totally adorbs, but little ones need to be comfortable so they can move freely! Stock up on soft, cotton leggings.
21. HABA Magica Clutching Toy // HABA manufactures many of their toys in Germany and this one is oddly soothing for adult hands to play with too. (Don't judge!)
22. Normadot Mini Cushion // This pillow is adorable on a rocker or glider, but it's also great for babies to play with since there's no fur, eyes, or buttons to pull off.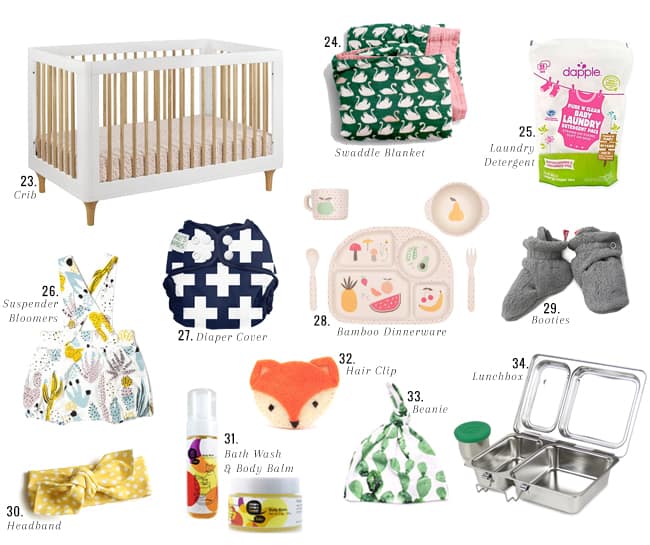 23. Babyletto Lolly 3-in-1 Crib // Once your baby starts to stand up in the crib, they'll be gnawing on the rails. Buying a crib made with safe paints and finishes is a must.
24. Organic Baby Swaddle // I bought lots of bedding and blankets for Baby Girl from New Mom Designs and 2 years later, they're still holding up well.
25. Dapple Baby Laundry Detergent // You'd be surprised at the harsh ingredients in some "baby" and "sensitive" laundry detergents. Use one that's formulated with natural, safe ingredients and opt for fragrance-free.
26. Suspender Bloomers // This handmade, organic line of kids clothes is a favorite of mine.
27. Nicki's Newborn Diaper Cover // If you're planning on doing cloth diapers, you must familiarize yourself with Nicki's! They're a fantastic resource for everything cloth.
28. Bamboo Dinnerware // Sustainable bamboo, nontoxic, and free of BPA and phthalates—and totally adorable to boot!
29. Zutano Cozie Fleece Booties // These were the only booties we could keep on our daughter's feet.
30. Organic Cotton Baby/Toddler Headband // I always feel bad for babies with tight little elastic bands around their heads. Ouch! Soft, thick bands like this, that tie, are a better option.
31. Meow Meow Tweet Baby Bath Wash + Body Balm // Use natural, gentle baby care products, like these from Meow Meow Tweet. Babies are prone to all kinds of skin woes—eczema, acne, and assorted rashes (so many rashes!)—and the body balm is great for soothing them.
32. One Little Hippo Wool Felt Fox Hair Clip // If your baby was blessed with a thick head of hair, this cute clip will keep that hair out of her eyes.
33. Cactus Newborn Beanie // You'll get a sweet little beanie from the hospital, but let's be real: this one is way cuter.
34. PlanetBox Shuttle Lunchbox // Once your baby is old enough to chow down on solids, you'll be bringing snacks with you everywhere you go. I love PlanetBox lunch boxes because they make it easy to bring a few different options for finicky eaters and they're made with safe stainless steel, not plastic.