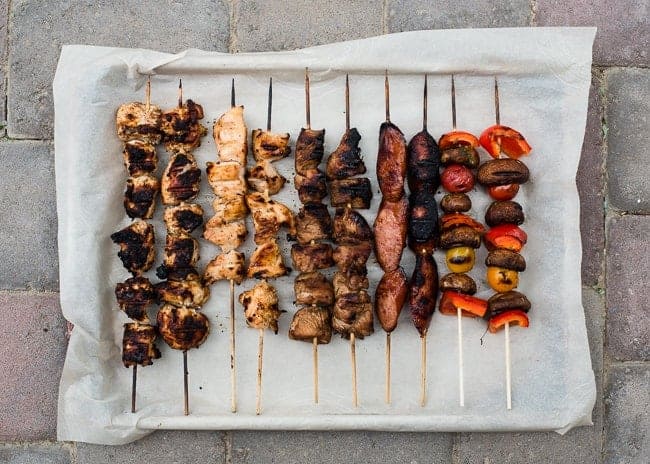 Grilling is quickly becoming my favorite way to cook – no oven required! I love that I can throw together dinner and make the entire meal on the grill—meaning the mess (mostly) stays outside, and so does the heat. Grilled kabobs are one of our favorites; they cook quickly and are easy to put together, not to mention they are totally customizable. That means everyone can more or less make their own, which comes in handy for a BBQ.
I've come up with four super simple marinades that can be used for any number of different meats or veggies. Marinade add a lot of flavor to the food, but also help keep the meat and poultry tender and juicy. Which one do you want to try most?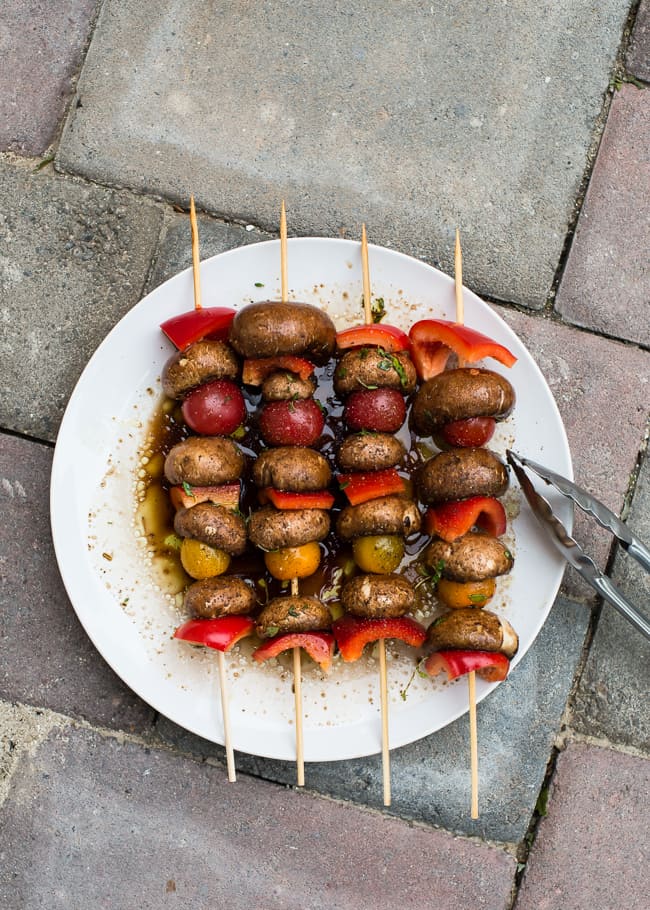 How To Grill Kabobs – 16 Tips
1. Cut the veggies, meat or poultry into small cubes that are more or less the same size
2. Poultry thighs can tolerate the high heat of the grill and longer cooking times than poultry breast meat, but either works well.
3. When choosing pork and beef, use well-marbled tender cuts. Tenderloin works well, as do most cuts of steak. Pork chop cubes could become tough, marinate them well and don't overcook.
4. If using fish, choose firm fish with a higher fat content. Unpeeled shrimp is great on skewers and won't stick to the grill as it cooks.
5. Popular veggies for skewers are summer squash, onions, bell peppers, barely ripe cherry tomatoes, small mushrooms and potatoes. Pair veggies that will cook in roughly the same amount of time or cut them small enough that they will cook through. You don't want half-raw, half-overcooked skewers.
6. Keep foods together that have similar cooking times to limit over or under cooking.
7. Cook veggies and poultry or meat on separate skewers to minimize food borne illness. Veggies cook for a shorter amount of time typically.
8. Let the food marinate, then thread onto skewers for maximum flavor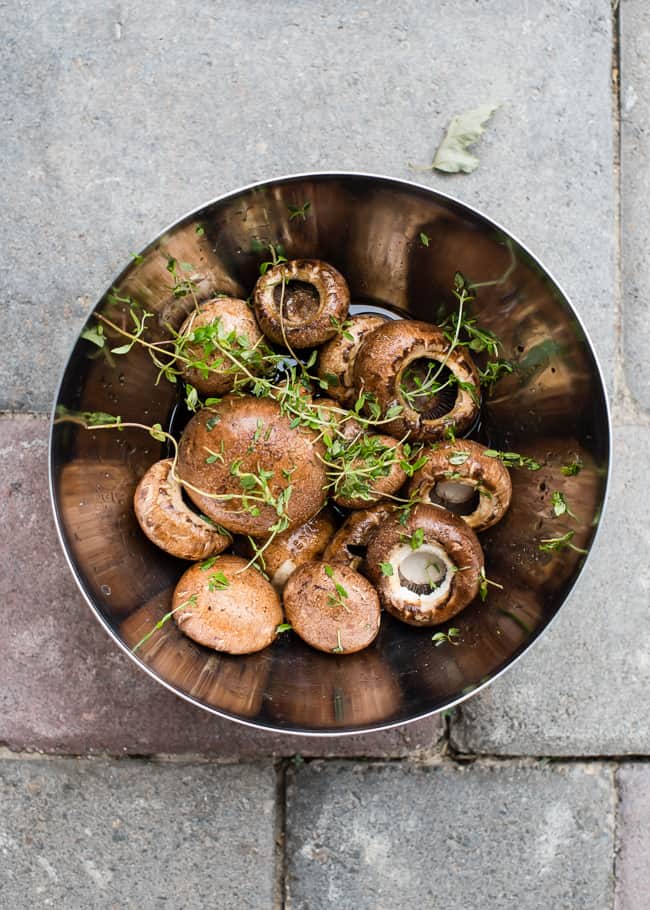 9. Soak bamboo skewers for at least 30 minutes to prevent burning. (Bonus tip: soak a bunch and store them in the freezer in a plastic bag. Always ready when you need them!)
10. Leave a little bit of space between the food so it cooks properly.
11. Discard the marinade. If you want to brush the skewers as they cook, prepare extra or set aside some when you make the initial batch.
12. Use enough oil on the grates and add some to the marinade too – it helps keep the skewers from sticking
13. Don't turn too often – allow kabobs to brown (or blacken a bit) on the first side before turning over
14. Turning is easiest with long handled tongs, but a spatula can also work, particularly if kabobs are sticking to the grill grates
15. Check to see that the kabobs are cooked through by checking the middle cubes; these tend to be the last to cook through
16. Keep skewers warm until ready to eat. I keep them on a rimmed baking tray covered with foil for about 15-20 minutes. Any longer and they'll need to go back on the grill.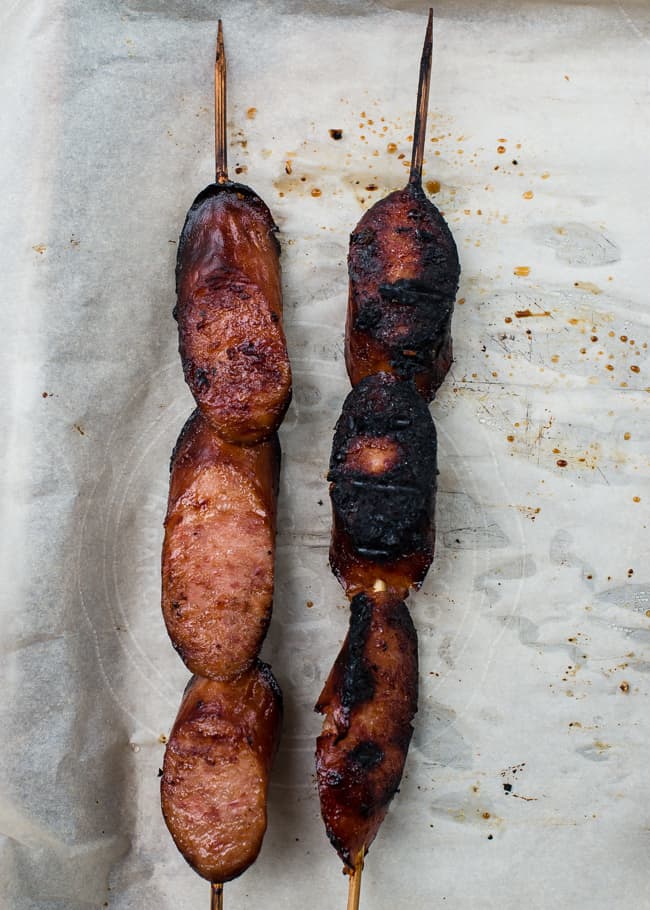 Teriyaki Marinade
This is a tangy, salty, sweet marinade that is versatile enough to marinate veggies, mushrooms, poultry, pork, sausage, fish and beef. Food should marinate at least 30 minutes, or as long as 2-3 hours for maximum flavor. We think it works great on kielbasa.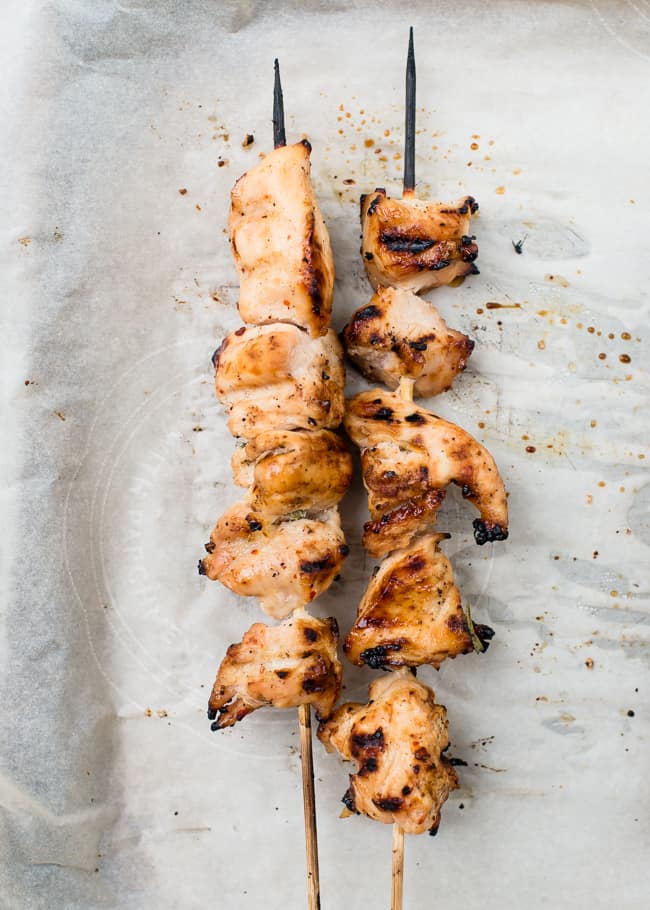 Balsamic Thyme Marinade
Fresh thyme combined with balsamic vinegar and honey makes a perfect marinade for chicken, pork, turkey, mushrooms, veggies or beef. As the kabobs cook, the outside caramelizes, sealing in flavor.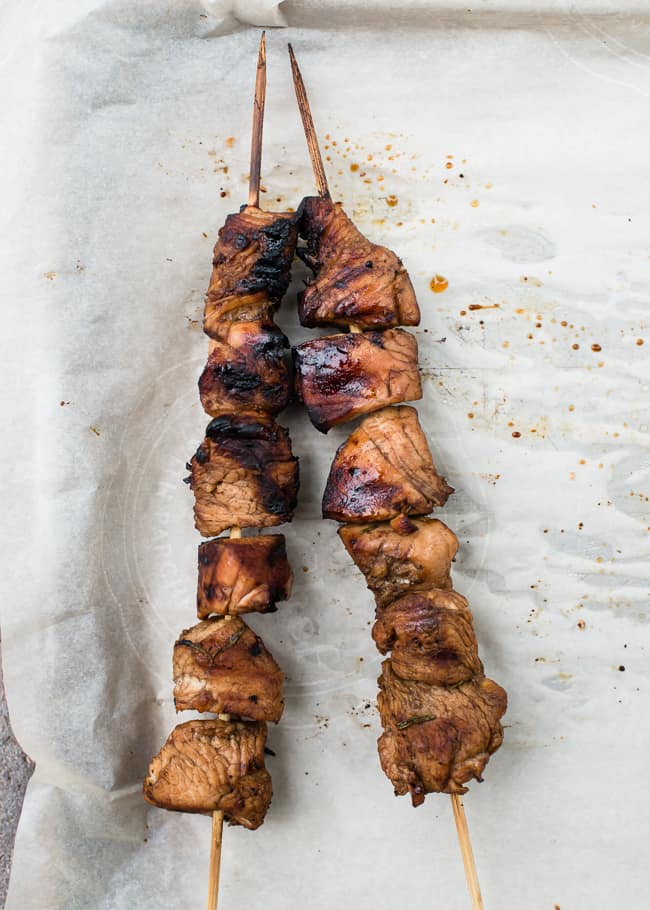 Coconut Lime Thai Marinade
Slightly sweet and spicy with a hint of lime, this is a really tasty marinade. Regular basil can be used if Thai basil is not available. Particularly good with chicken, beef, shrimp or fish.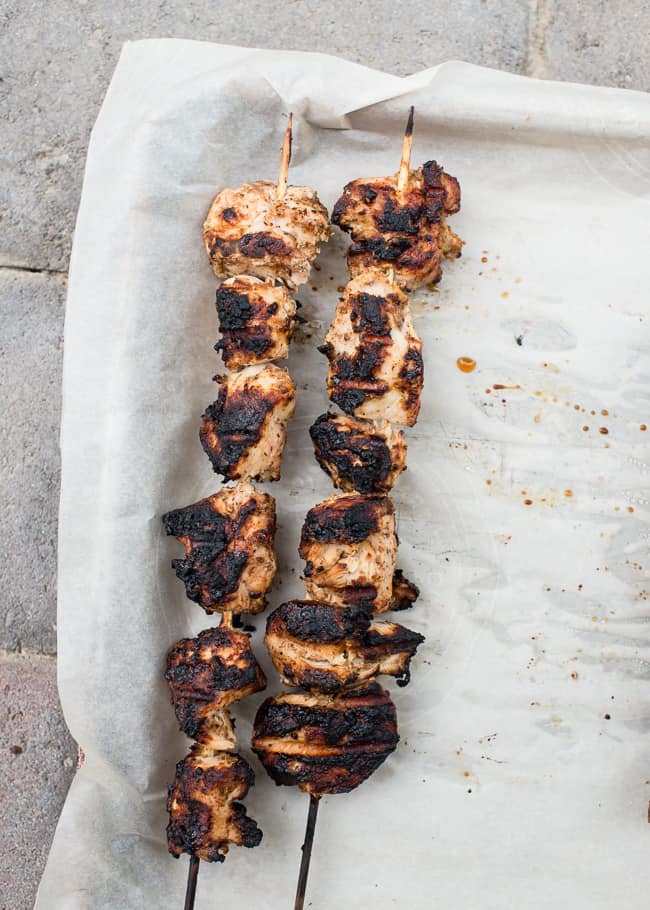 Ras el Hanout Marinade
Yogurt and lemon really tenderizes the meat or poultry. Ras el Hanout is a spice blend from Northern Africa that includes cardamom, cloves, cinnamon, ground chiles, cumin, coriander, peppercorns and fenugreek. Occasionally dried rose petals are also included. It's a very flavorful blend with a kick of spice that's hot enough to be enjoyable without overpowering the other flavors.
All of these are marinades are also fantastic if used on whole pieces of poultry, meat and fish. Marinate for slightly longer if doing so; the cooking time will vary according to the size and weight.