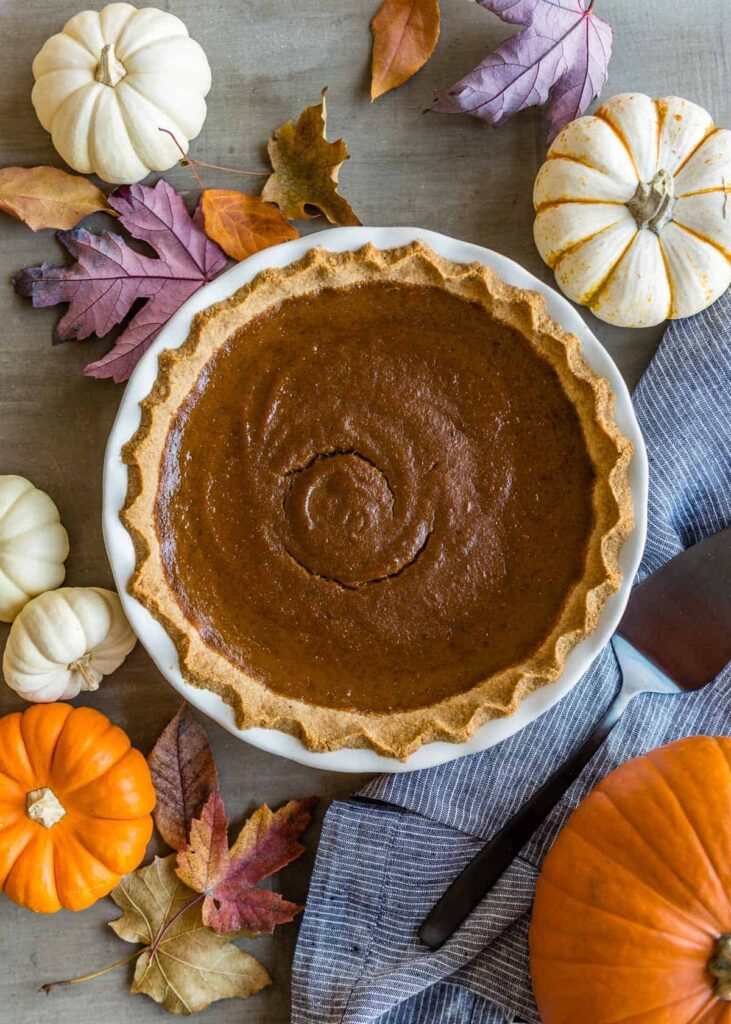 I've lost count how many times I made this Paleo Pumpkin Pie, tweaking this and that along the way until it was perfect. I discovered a few helpful tips for the best pumpkin pie ever. I'm 100% serious. Minimal cracking on top, the ideal custardy texture, just the right amount of sweetness, and the perfect crust that holds up well and lasts for several days of leftovers (if you have any!). It's all there in this Paleo Pumpkin Pie.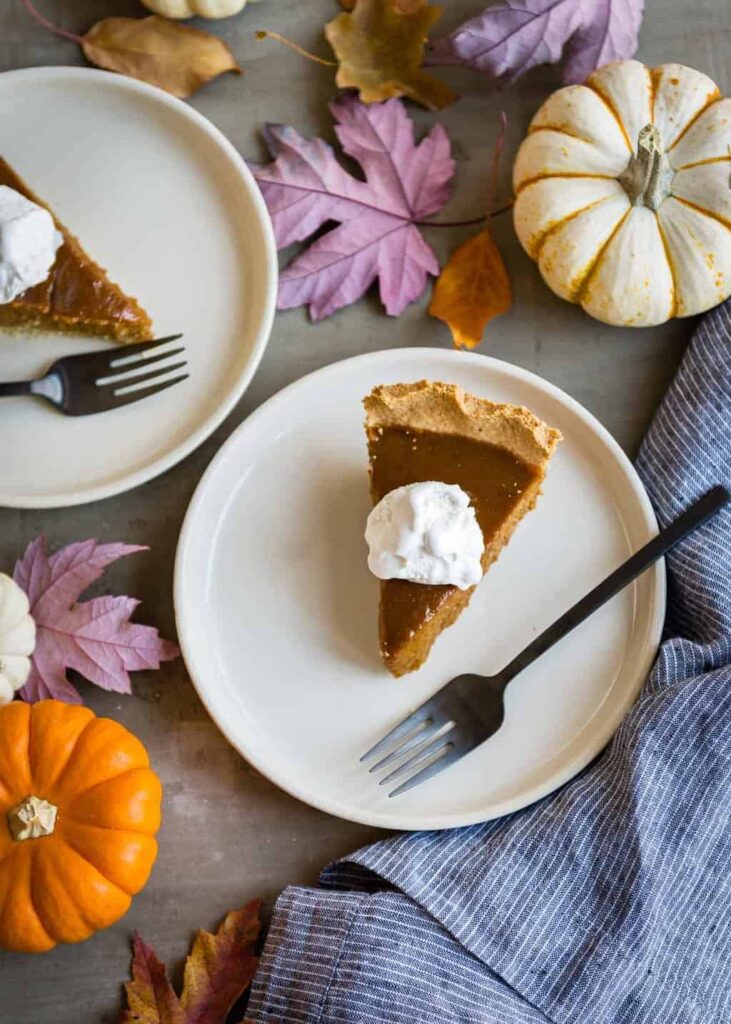 The Perfect Paleo Pie Crust
Just like constructing a building, or well, anything, a pie needs a good foundation. This pie crust is made from almond flour, arrowroot starch, maple sugar (or coconut sugar), coconut oil, egg, and a little sea salt. Almond flour alone didn't cut it for me. It crumbled. It burned before the pie was cooked through. It was a mess. Arrowroot starch works! I have not used coconut flour exclusively for a paleo crust. It's so tricky to work with, so almond flour gets my vote.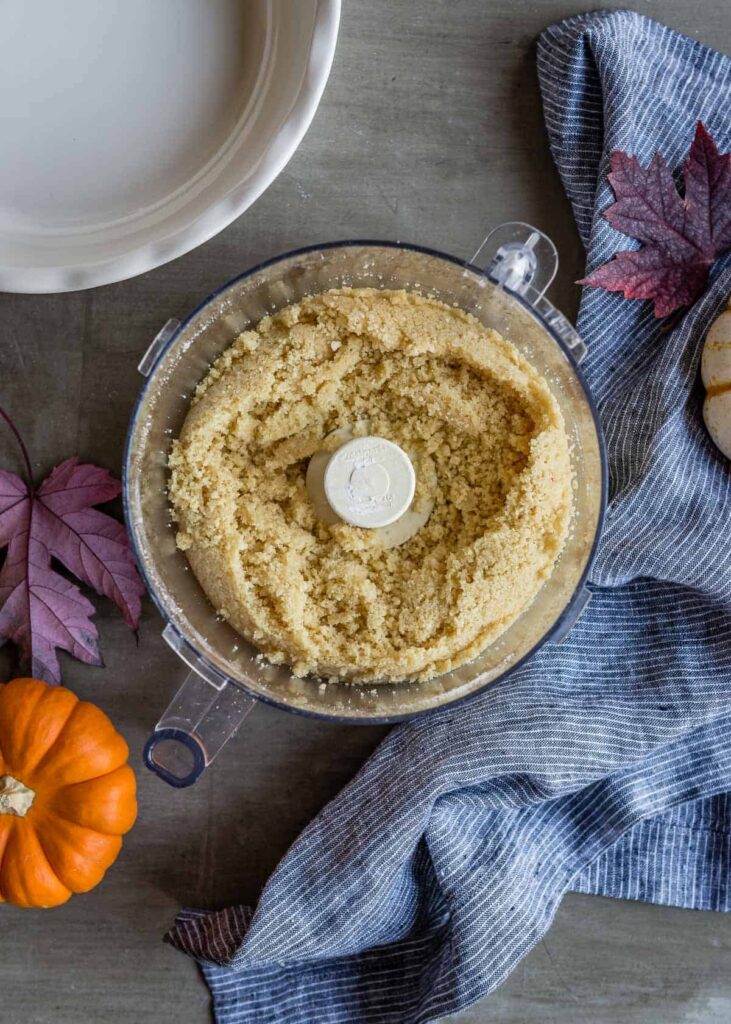 Instead of rolling, this crust is pressed into the pan. I think a lot of pie fails and/or complaints are about the difficulty in making a tender, flaky rollable crust. Bah! Pressing the crust into the pan is the best and only way to go with a paleo crust. This crust is more like a shortbread tart crust. It feels like cookie dough and is very easy to work with. You can even flute the edge.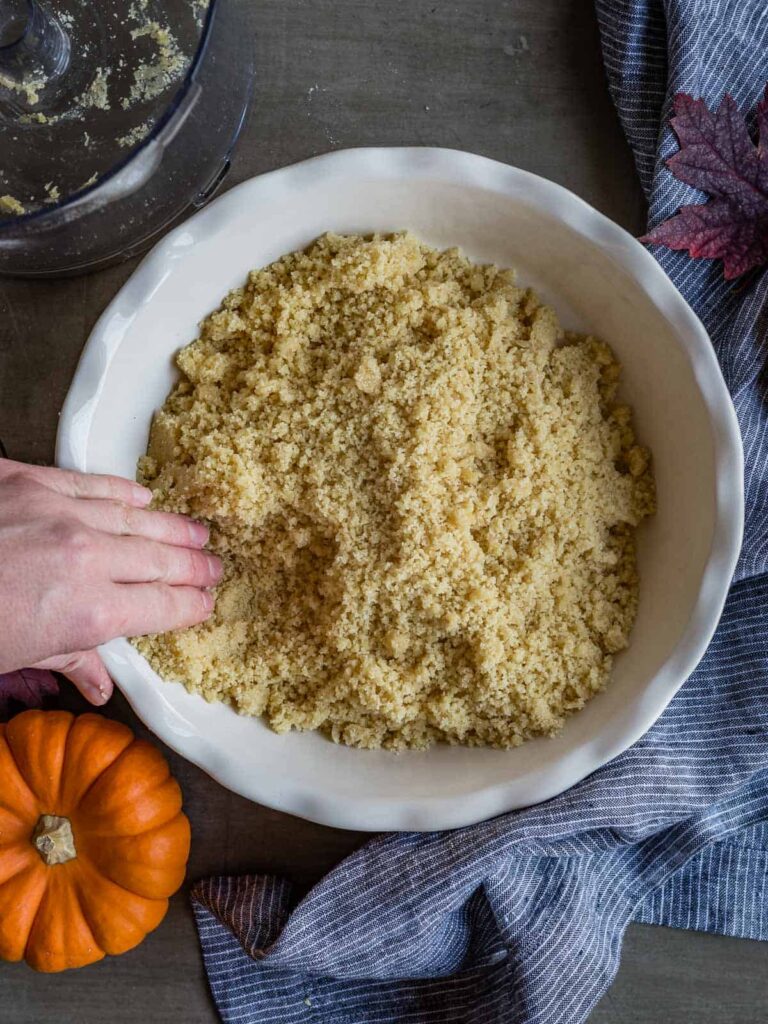 I partially bake the crust for about 10 minutes before adding the filling. Some pumpkin pie recipes use an unbaked crust. This crust needs a head start or it will end up soggy. I don't do pie weights either. Because it's made without flour, there's little danger of it shrinking. It may crack a tiny bit. It does not need to be docked with a fork either. (Trust me on that one. Ugh.) Also, I bake the crust at a higher temperature than the filled pie. And I'll explain more about that in a minute.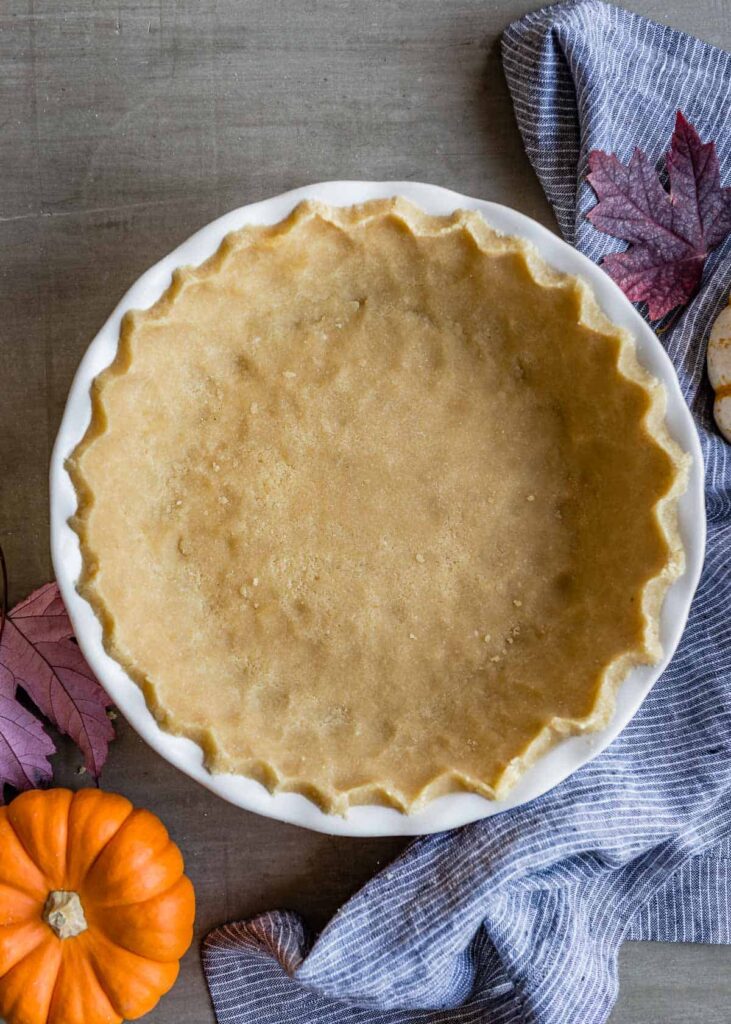 One Filling to Rule Them All
My proudest accomplishment in baking this year is this filling–ha! But let's get real here. I hated pumpkin pie for a long time because I couldn't stand the texture of the filling. I hate the firm, almost-curdled texture some pies take on.
The culprit? Over-baking. It's that simple. I learned a bunch about the other things that can plague an otherwise amazing pumpkin pie–cracks and liquid pooling on top. Some cracks are normal, but they can be greatly minimized (or covered with whipped coconut cream). The liquid comes from…you guessed it, over-baking! More on that further down and why I'm so proud of myself.
But first, the ingredients.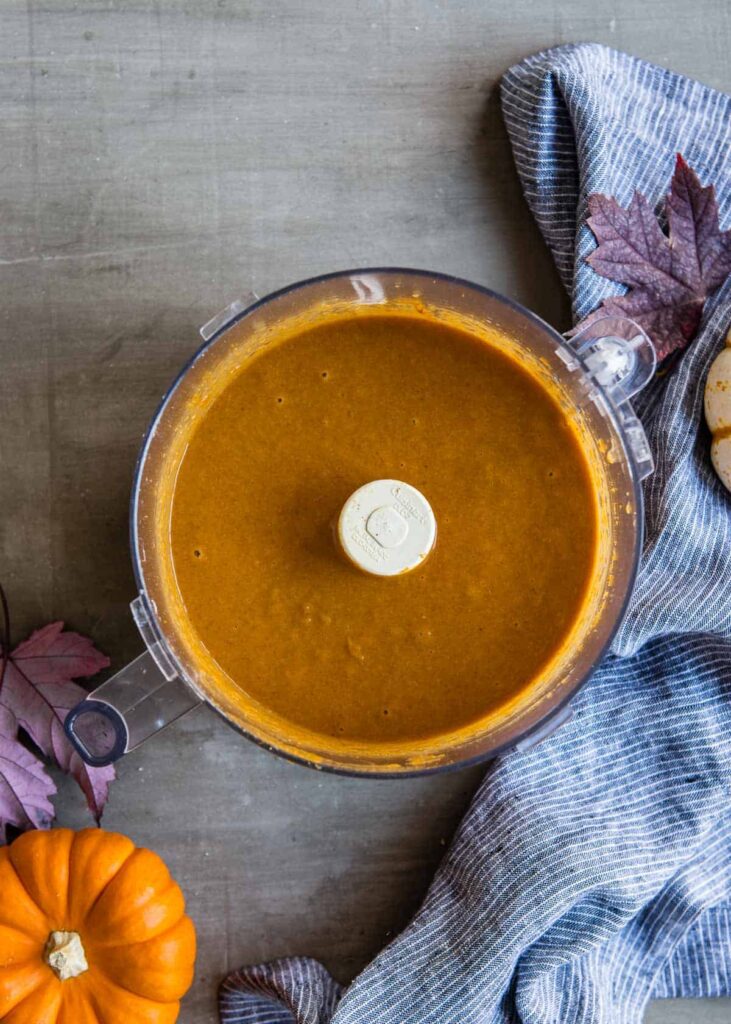 I tend to grab a can of organic pumpkin for the sake of simplicity, but I've also used roasted pumpkin that I've cooked and pureed myself. It tends to have a higher moisture content which can be combatted by placing it in a clean dish towel (like a flour sack towel) or several layers of cheesecloth set inside a fine mesh sieve over a bowl. The excess water will drip down as it sits. If you use the canned pumpkin, you don't need to do that. The color will vary between brands of pumpkin and the fresh will be a lot lighter and more yellow.
I love sweetening desserts with pure maple syrup. Maple syrup is perfect here with the pumpkin filling and almond crust. I've also used honey, though use a mild one or the flavor can be a bit overwhelming.
In place of the traditional evaporated milk or heavy cream, I use full-fat coconut cream. You can't really taste the coconut flavor, but it makes for an extra silky, custardy filling. Carton non-dairy milks will not work. Canned is the way to go.
After trying numerous variations, I settled on two whole eggs and two egg yolks. Using just yolks was delicious, but the filling was a little too creamy and didn't stand up to cutting into perfect slices. The two egg whites really help stabilize the filling.
To keep things simple, I use pumpkin pie spice. Most stores carry that blend, but I really like the blend from Trader Joe's or the one from Frontier Co-Op. (Psst! You can also make your own!)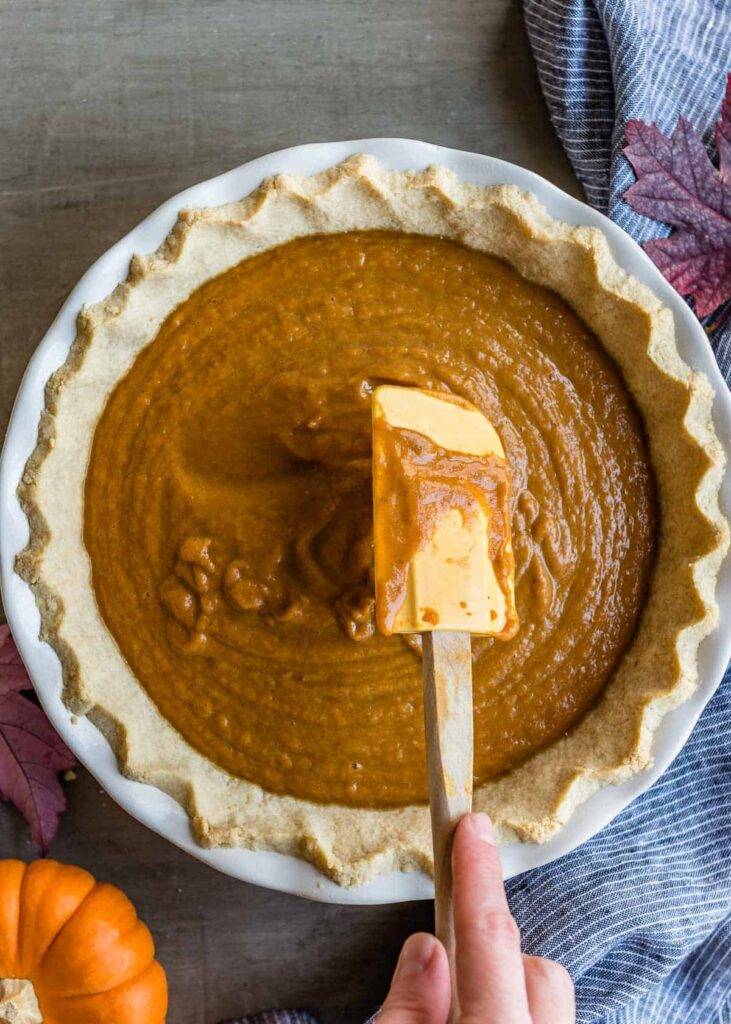 Now We Get to the Troubleshooting
Pumpkin pie is a custard pie. When eggs and other ingredients are mixed together and baked, they solidify depending on how many eggs were used. There's more science to this, so I'm kind of paraphrasing. Essentially the egg proteins, sugar, and fat (from the coconut milk and yolks) work together to create that luscious creamy texture. Eggs are finicky. The same heat that helps create perfect scrambled eggs can also ruin a great custard. It's called curdling. And it's the bane of a custard pie maker's existence. Or at least mine.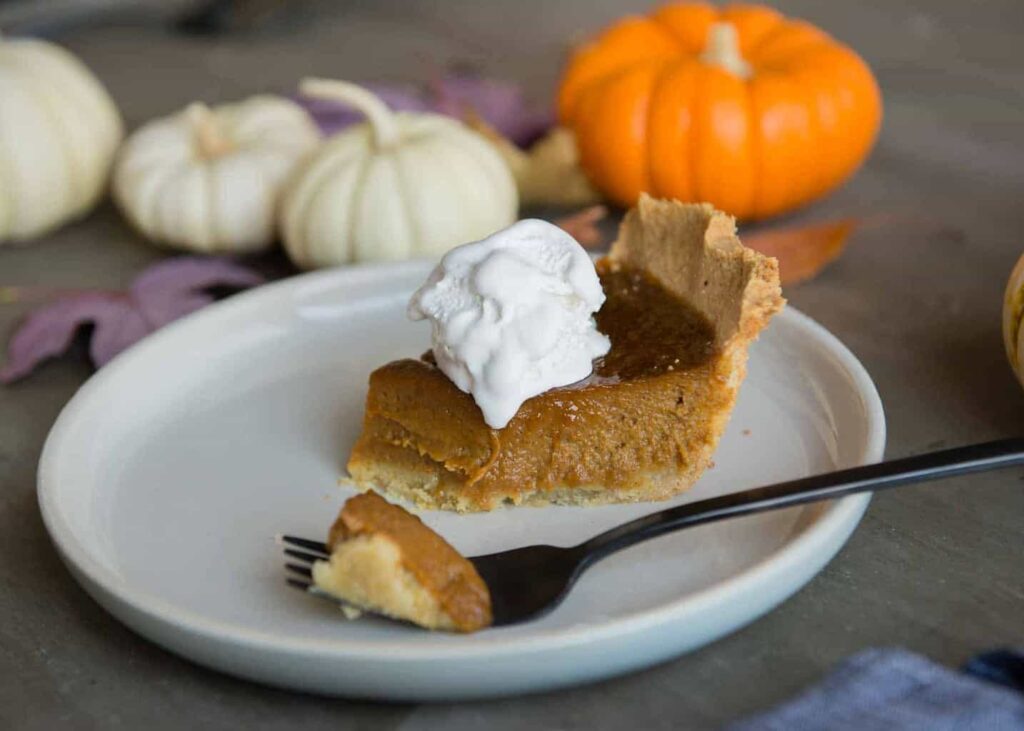 Low and slow is the way to go with pumpkin pie. I lowered the temperature all the way down to 300°F and baked the pie for well over an hour. If it works for creme brulee, it had to work for pumpkin pie. And it did work–brilliantly, I might add. It's worth tying up the oven for the extra time, I promise.
When it comes to the cracking on top, like I said earlier, it's kind of inevitable. But there doesn't have to be a Grand Canyon in the middle either. Some of that comes from the slow, gentle baking time. But after reading some forums detailing pumpkin pie woes, I learned that if you kind of draw your fingertip through the very top of the filling in a circular pattern, if cracks appear, they will follow along those lines and be less devastating. 😉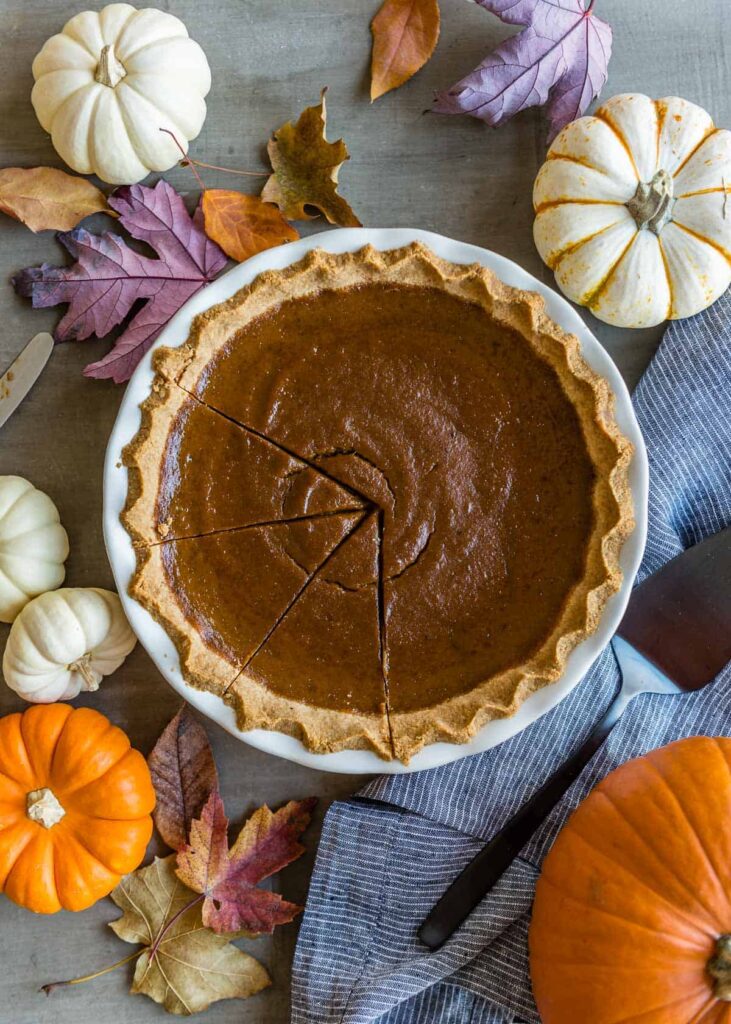 Not All Pie Plates Bake the Same – And It Matters
Another thing to note is the type of pie pan used. So which is the best–metal, stoneware, glass, or ceramic?
Glass seems to be the least temperamental for baking custard pies (pun intended). The glass pie plate heats up nicely and cools down more quickly than stoneware or ceramic. Metal heats up very quickly, but can cause hot spots or leave a crust that bakes more quickly than the filling. Stoneware and ceramic heat up more slowly and bake very evenly, but retain that heat for a loooong time.
I typically only use glass, ceramic, or stoneware for pumpkin pie. I've learned that when using ceramic or stoneware you have to remove the pie when it's a little jigglier in the center. It will continue to cook after being removed from the oven. With glass pans, the pie filling should wobble a bit in the very center. If the filling is completely set, it's most likely over-baked and will crack, liquid will pool on top, and it will still be delicious, but the texture won't be silky-smooth. Start checking at the 60 minute mark and then check every 5-7 minutes.
To further minimize issues with the filling, let it cool to room temperature then refrigerate. I like to bake pumpkin pies first thing in the morning, allow time for cooling, and refrigerate until ready to serve.
Though at its very best the first day or two, this Paleo Pumpkin Pie will keep for about 5 days well-wrapped and refrigerated. The crust will absorb moisture from the filling, but it doesn't affect the flavor or texture too much.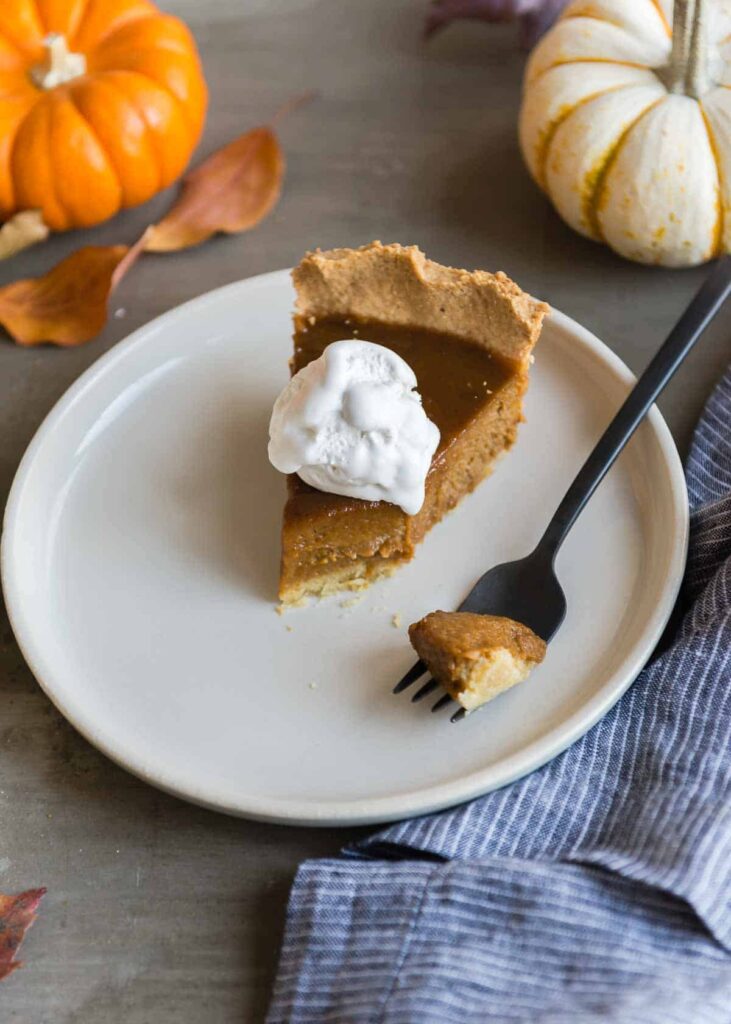 If you're following a paleo or Whole 30 diet, this is the pumpkin pie for you. It's so delicious. And naturally, who could resist a scoop of coconut whipped cream on top? (Not me.)