There's hardly a week when my fridge isn't filled with siggi's yogurt. It's a thick, creamy, tangy Icelandic style yogurt—also known as skyr—with less sugar and more protein than most other yogurts on the market. It's hard for me to choose a favorite flavor, but if I had to? It's probably a toss up between peach and raspberry. The raspberry is like your own personal lightly sweetened snack…that's healthy for you.
What I really love about siggi's is that no matter which variety you choose, you can rest assured that it's made with simple, wholesome ingredients, and not a lot of sugar. No artificial flavors or colors; instead, the flavor and color comes from real fruit. And the milk used to make siggi's comes from family farms that don't use growth hormones, so you can feel good about serving siggi's yogurt to every member of the family.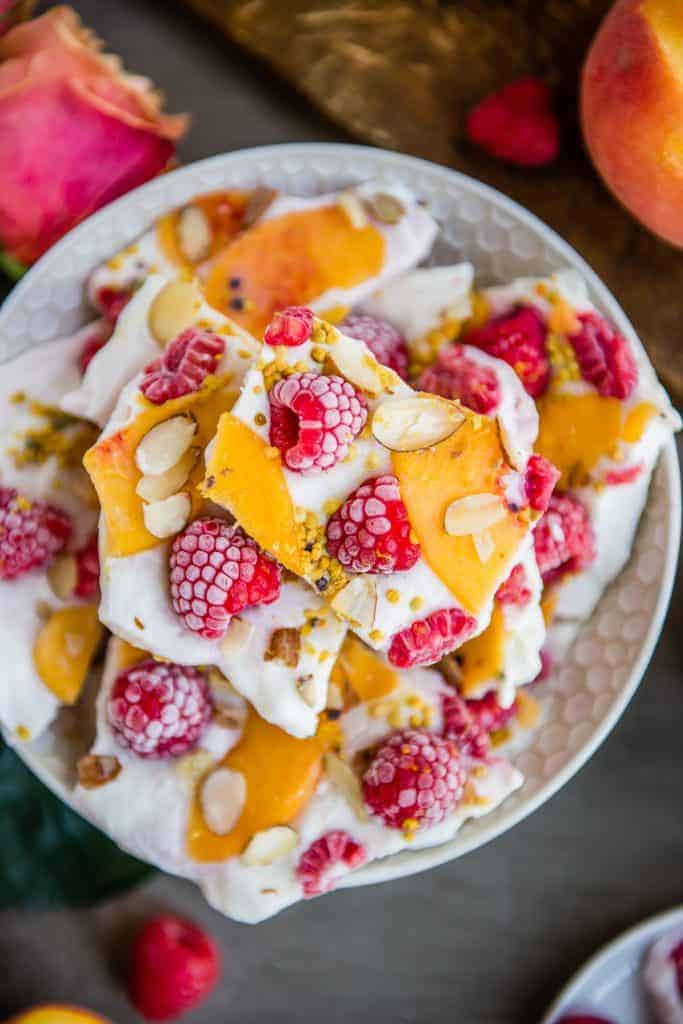 While the cute little yogurt cups are tasty on their own, if you want to go the extra mile try this colorful, delicious Peach Melba Yogurt Bark recipe. It's a fun snack that both kids and adults will love, with the added benefit of protein and probiotics (you know we're all about gut health around here!).
I've always been a snacker, preferring to eat smaller meals more frequently. During the summer, because it's so hot, I really rely on things like cold yogurt to keep me nourished throughout my day and frozen yogurt bark? Even better. If you're going to snack it should be delicious (duh) and satisfying (hello, protein!). It doesn't hurt if it cools you down at the same time.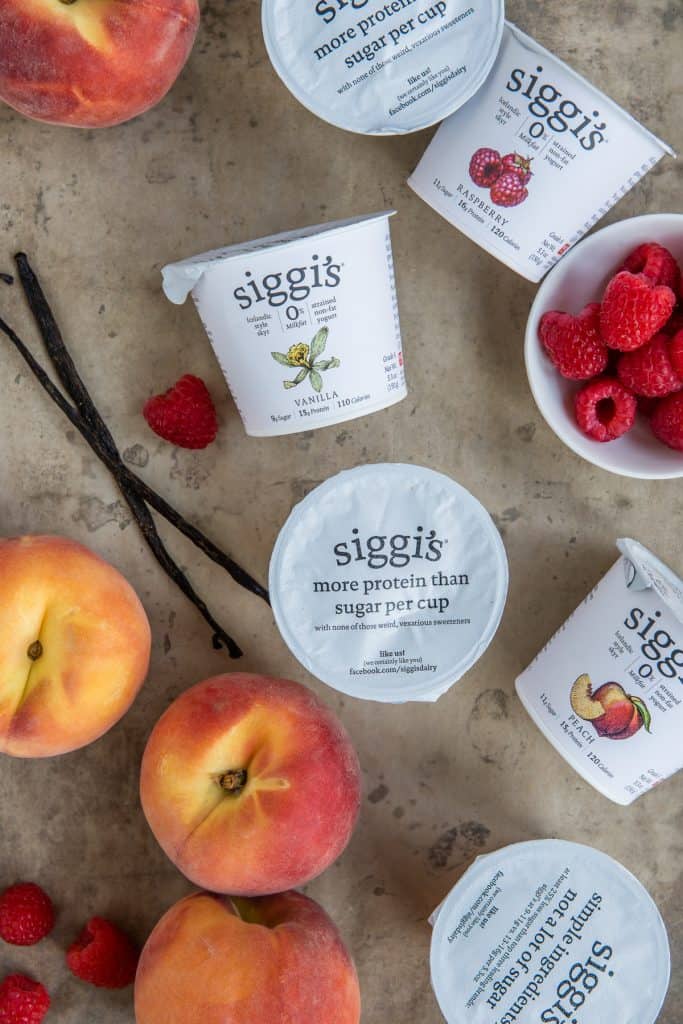 You can use any combination of yogurts, fruit, and toppings to make your own yogurt bark, but since summer produce is at its peak, I decided to use two of my favorite summer fruits for this one: peaches and raspberries. Once the weather gets cooler and summer fruit season is just a memory (sigh), I plan on giving pomegranate arils and cacao nibs on vanilla yogurt a try. Or maybe mango yogurt sprinkled with matcha powder and drizzled with honey? There are so many possibilities!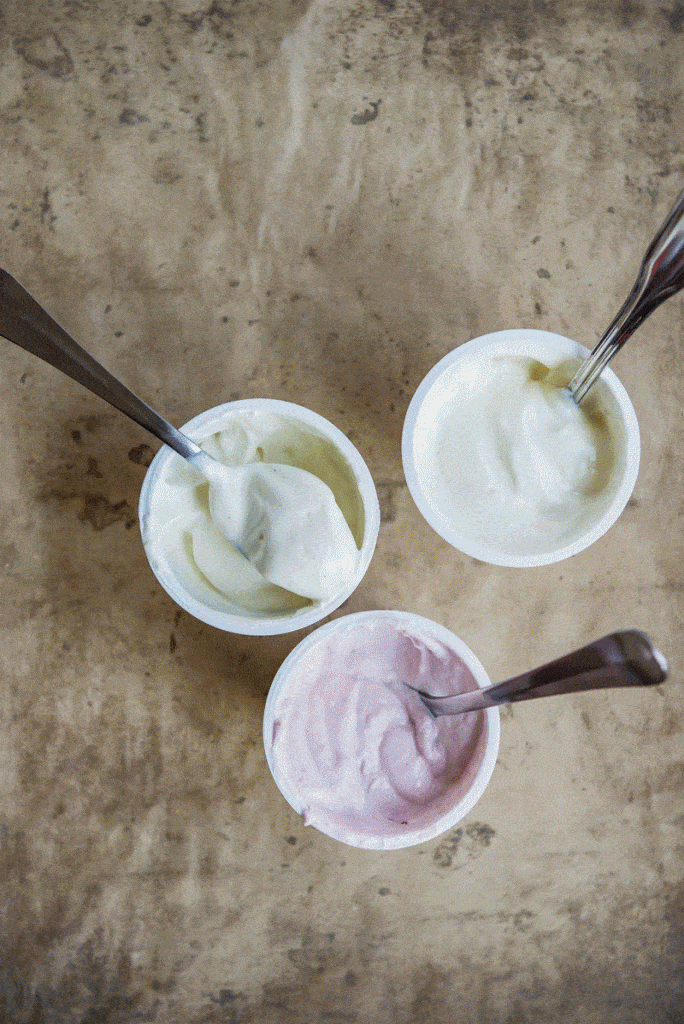 Peach Melba is a classic dessert developed by a French chef Auguste Escoffier to honor the Australian soprano Nellie Melba. It sounds super fancy, but it's simply fresh peach halves topped with a of ice cream and raspberry coulis (fresh raspberry sauce). This yogurt bark recipe takes all of those delicious fruit flavors and pulls them all together in a better-for-you snack that will have you singing.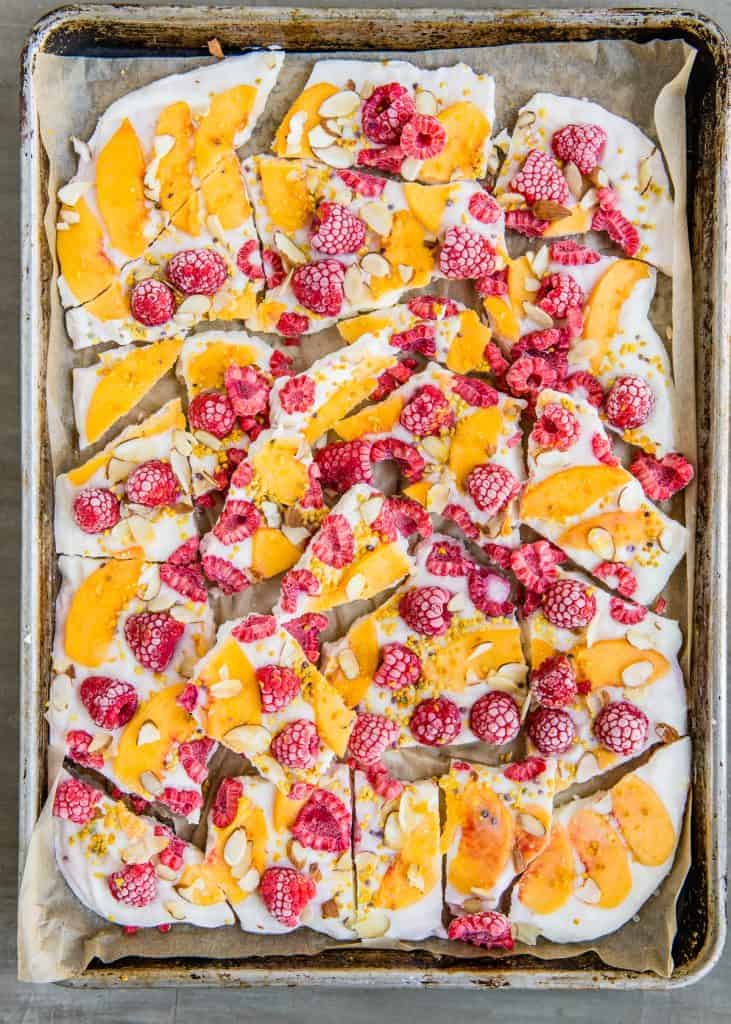 I marble three flavors of siggi's yogurt: peach, raspberry, and vanilla, then top them with fresh peaches and raspberry, and for a fun little twist, I sprinkled the top with bee pollen and sliced almonds. Bee pollen is lightly sweet with a honey-like flavor and it adds a little extra boost of protein, A and B vitamins. A few hours in the freezer, and you've got yourself a delightful snack that's good for your gut and tastes fantastic too!