I'm always going back and forth about what to have for breakfast on Christmas morning. Truthfully, do you know what usually happens? I stash a box of cold cereal in the cupboard to pull out before we open gifts (and maybe delay the temptation to dig in to the chocolate in our stockings) and then make a big breakfast/brunch a few hours later when we're ready to sit down and enjoy a meal together. Ah, Christmas morning is a fun mix of joy and chaos, am I right?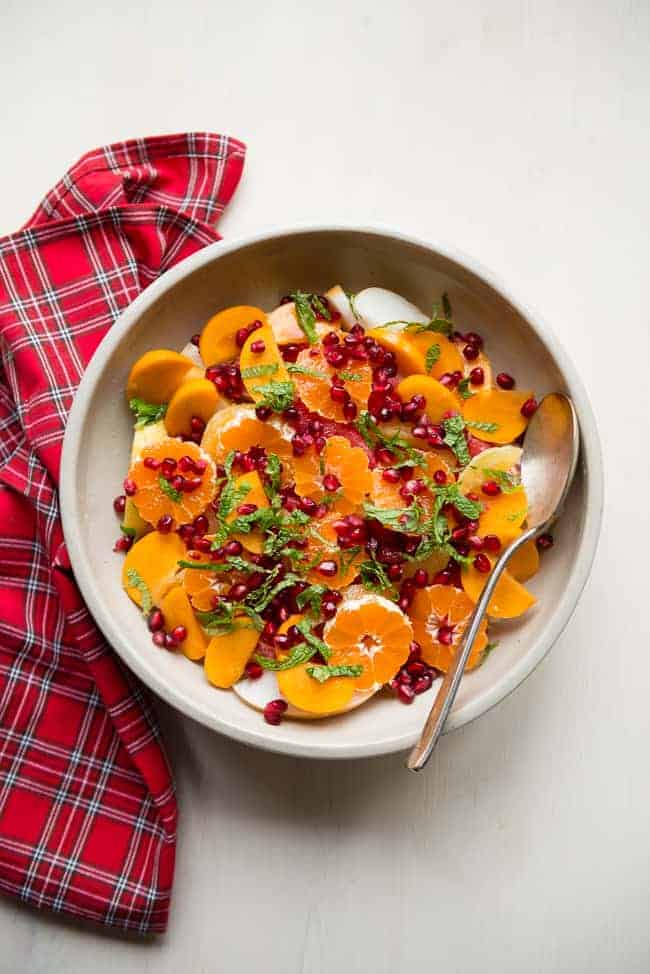 But this year is going to be totally different. This year, I'm making a winter fruit salad that I'll pull out Christmas morning and delight my family with. They'll never see it coming.
Vibrant Citrus + Pomegranate Winter Fruit Salad
We've been expanding our horizons and trying new-to-us fruits, so for this fruit salad I added crunchy Asian pears, sweet and juicy persimmons and pomegranate arils to our usual mix of citrus fruits topped with fresh mint and a drizzle of honey. It's a vibrant, pretty salad that everyone at our house loved.
The best thing about this winter fruit salad is that you can make it up to 3 days ahead of time and it will keep beautifully in the fridge until you're ready to eat it. (Um, could anything be more perfect for Christmas morning when you're doing a million and one things and running off of very little sleep from the night before? I think not.) Simply chop your fruit ahead of time and place it an airtight tupperware container. If you find that it's a little watery, line the container with a couple paper towels to help absorb the extra moisture and keep your fruit crisp instead of soggy. Christmas morning, transfer your salad to a beautiful plate and arrange the fruit slices so they have a little breathing room. Top with extra pomegranate seeds and mint leaves to freshen it up.
Trust me, your family will never be the wiser!