Everyone knows about salads in a jar, the easy and portable office lunch trend that's been all over Pinterest in the past few years. You get to show off all the pretty layers of colorful fruits and veggies salad, while also reusing mason jars you might otherwise throw away. Win-win! But whatever you do, don't throw mason jars away!
They make great containers for plenty of snacks, food gifts, and let's not forget desserts. Because it's desserts that we want to talk about today.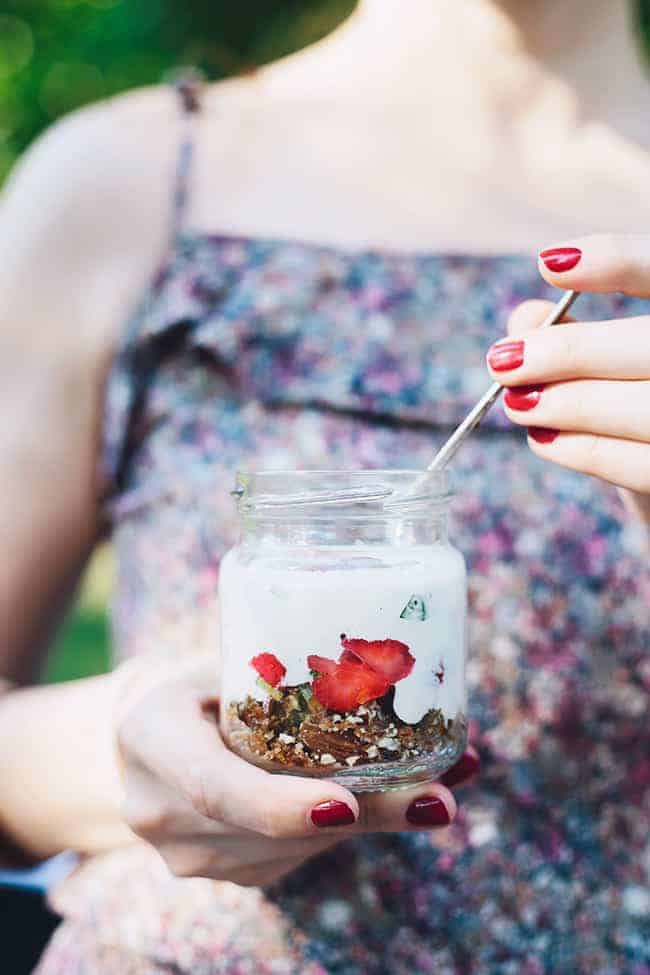 Raw Vegan Cheesecake in a Jar
Mason jars make an ideal container if you're taking your dessert with you to a picnic or even just on the porch. They're also a lifesaver when you're entertaining big crowds for a summer party, and you don't have the perfect set of matching dessert cups. Screwing on the lid will conveniently keep bugs and dust away. And since glass is see-through, you can decorate and play with different layers and colors for a show-stopping dessert.
We made a vegan cheesecake in a jar that is is a simple, yet tasty combination. Light layers of cashew cream cheese, fresh strawberries, mint leaves, and a sweet base layer of dates, oats and almonds. It doesn't need to be fancy to taste great, that's what summer is all about. This recipe is also raw, which you will appreciate if, like me, you'd rather not turn or the oven or even boil anything in the summer heat.
Scroll down for the full list of ingredients and the method for making this raw vegan cheesecake. And feel free to double or triple the recipe for more people to enjoy!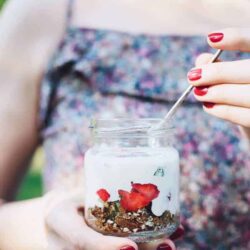 Raw Vegan Cheesecake in a Jar
A very simple and very tasty dessert, these cheesecake jars contain all-vegan ingredients for guilt-free indulgence during summer days.
Ingredients
10-12

fresh strawberries

1

cup

raw cashews soaked for 1 hour into purified water

drained

2

limes

juice only

1/4

cup

SILK cashew milk

1

tsp

maple syprup

2-3

drops

vanilla extract

pinch

sea salt

10

leaves

fresh mint chopped

4

soft pitted dates

1/2

cup

raw almonds

1/4

cup

rolled oats

2

tsp

coconut oil
Instructions
Chop the strawberries and add them into a bowl together with the chopped mint and the juice from one lime. Toss to combine and set aside.

In the food processor add the dates, oats, almonds and coconut oil, and pulse two times to obtain a chunky, sticky mixture.

Divide evenly the mixture into the serving jars.

Wash the food processor and add the cashew, the juice from one lime, cashew milk, maple syrup, vanilla extract and sea salt and process to obtain a creamy paste.

Divide the cashew cream evenly into serving glasses.

Top with marinated strawberries, lid the jars and refrigerate for at least 30 minutes before serving.

*To assemble the jars at the picnic, pack the layers separately into glass containers, and keep them cool inside the thermal cooling bag until serving.