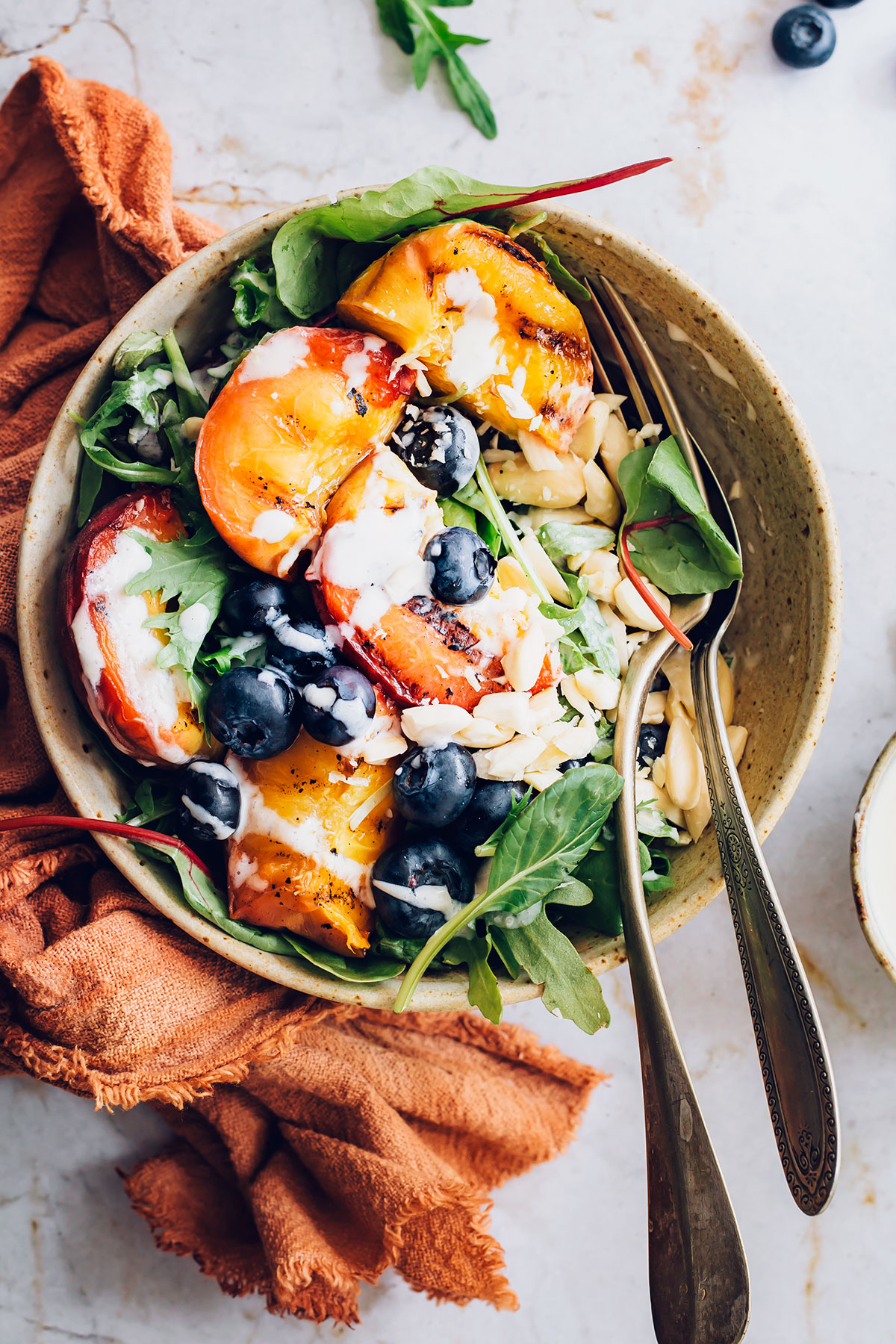 If you're like me, you do what you can to make your summer meals without having to turn on the oven. So it's often Salad City if my other half isn't into firing up the grill. Let's face it: salads can get boring once you've hit July.
But you don't have to suffer through what's left of the season with lame lettuce concoctions. Recently, when my husband was grilling something-or-another, I had him add some beautiful peaches to the flames to toss into this gorgeous, simple grilled peach salad with creamy goat cheese dressing.
Grilled peach salad with creamy goat cheese dressing
I love peaches and there are so many things you can do with them. One of my favorite things is to use peaches (grilled or not) in salsas like this recipe for sweet and-spicy peach salsa. When you grill peaches, they become a little out-of-the-ordinary, with a bit of rustic appeal. They add a wonderful sweet flavor and a pretty presentation to this salad.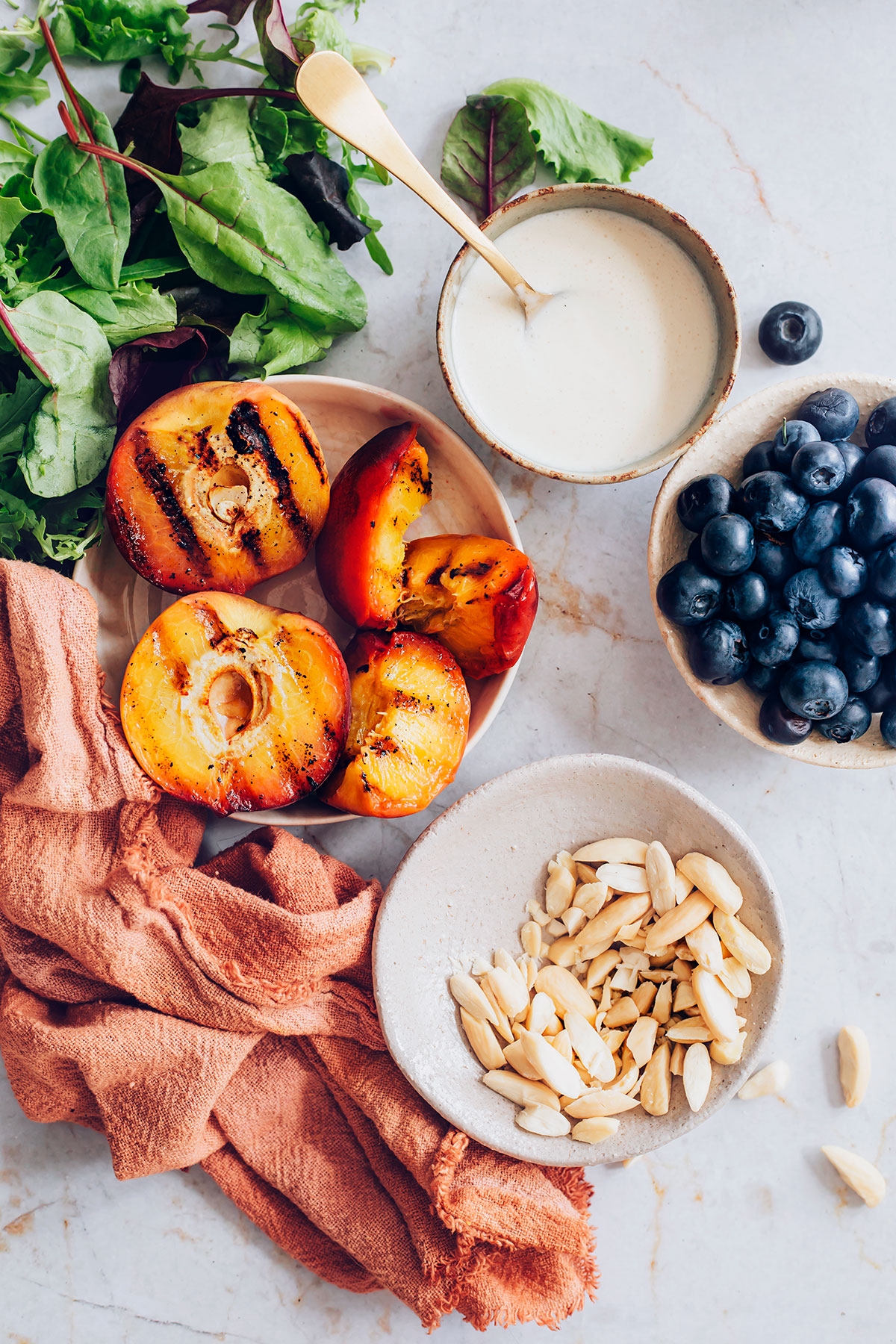 To mix things up, I tossed some blueberries into this salad, too. Aside from adding color and contrast to a standard salad, they add to the good-for-you quotient of this meal. Blueberries rank as the fruit that is highest in antioxidants (research shows their anti-inflammatory properties can help limit things like cardiovascular disease, cancer and other age-related diseases).
They are filled with vitamin C (one cup provides about ¼ of the recommended daily intake), fiber, and at least 100 percent of the recommended dose of great taste.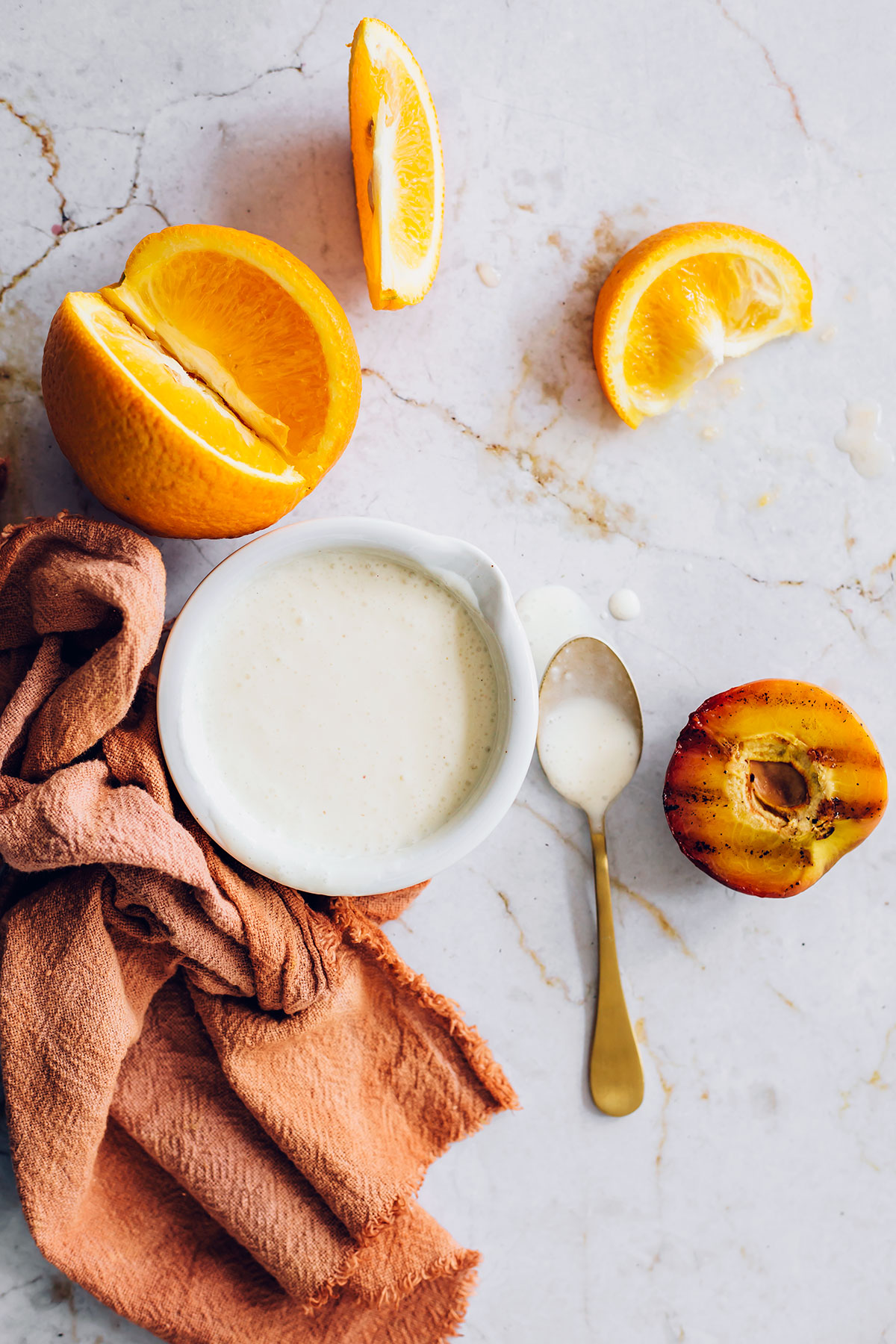 So let me be honest with you. My favorite part about this salad is the dressing. If you like goat cheese, you'll surely swoon over this dressing. I dipped into it long after the salad was gone. I tried to think of anything and everything I could pour it on, and I even drizzled some of it over a few crackers. It really is a perfect match for this salad and helps to take things from drab to fab (yes, I really did just say that).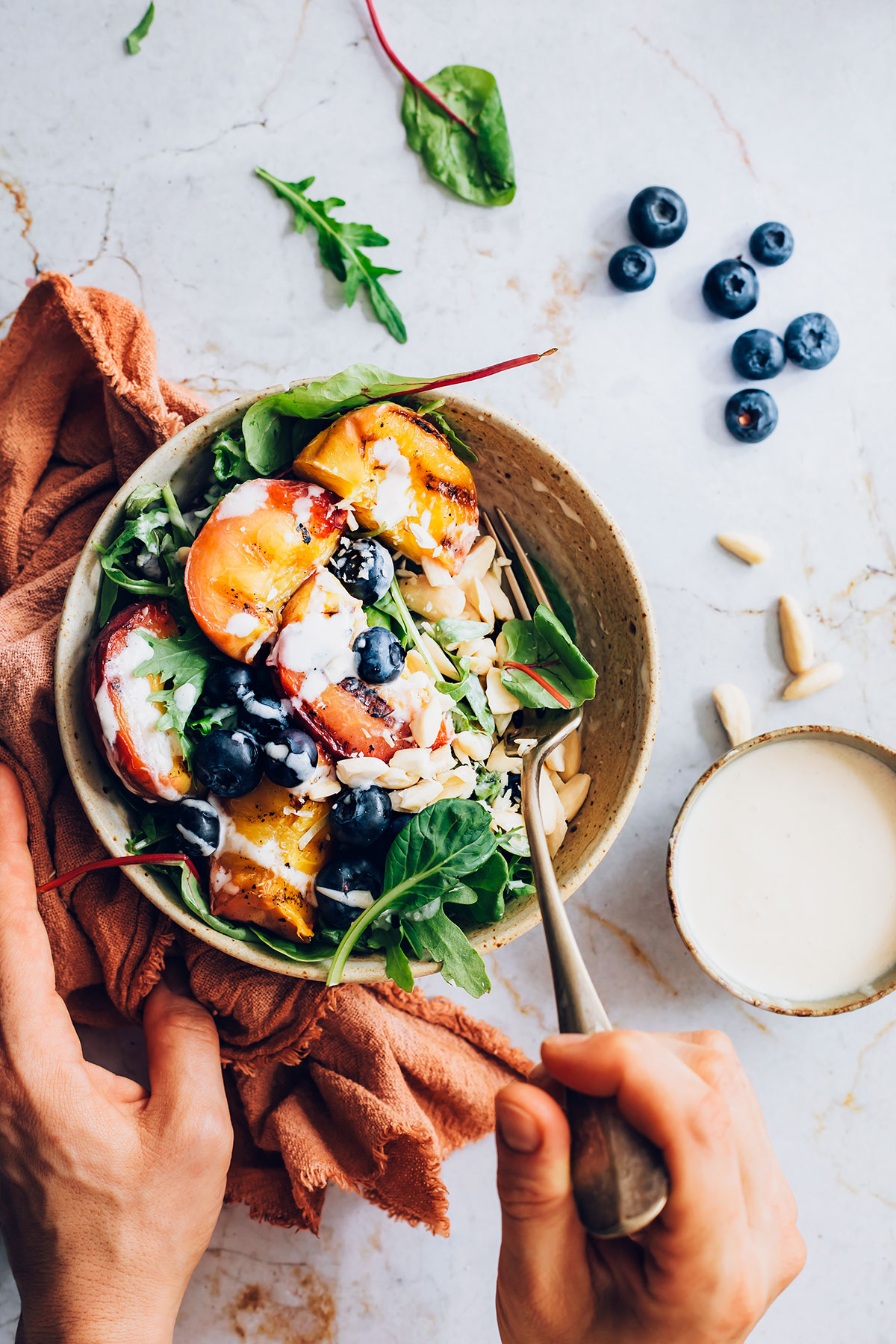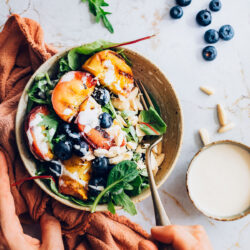 Grilled Peach Salad with Creamy Goat Cheese Dressing
Combine light grilling and a salad for the perfect summer dinner.
Ingredients
For the dressing
1

peach

cut into slices

2

tbsp

apricot preserves

3

ounces

plain goat cheese

1/4

cup

sour cream

1/4

cup

orange juice

juice from half a lime

1/4

tsp

salt

1/4

tsp

ground black pepper
For the salad
3

ounces

mixed salad greens

4

peaches

cut in half, pitted

1

cup

blueberries

1/4

cup

toasted almond slivers

2

tbsp

melted butter
Instructions
For the dressing
Add all the ingredients to a food processor and blend until smooth. Taste and adjust the seasoning as needed. Refrigerate until ready to serve.
For the salad
Heat your grill to medium-low heat. Coat the peach halves with melted butter. Cover and cook the peaches until they're soft with grill marks (3-4 minutes or so). When cool to the touch, you can slice the halves again. 

Divide the salad greens evenly between 4 bowls. Add in a helping of blueberries, and about 4 slices of peaches for each serving. Sprinkle with the toasted almonds, and serve with the dressing on the side.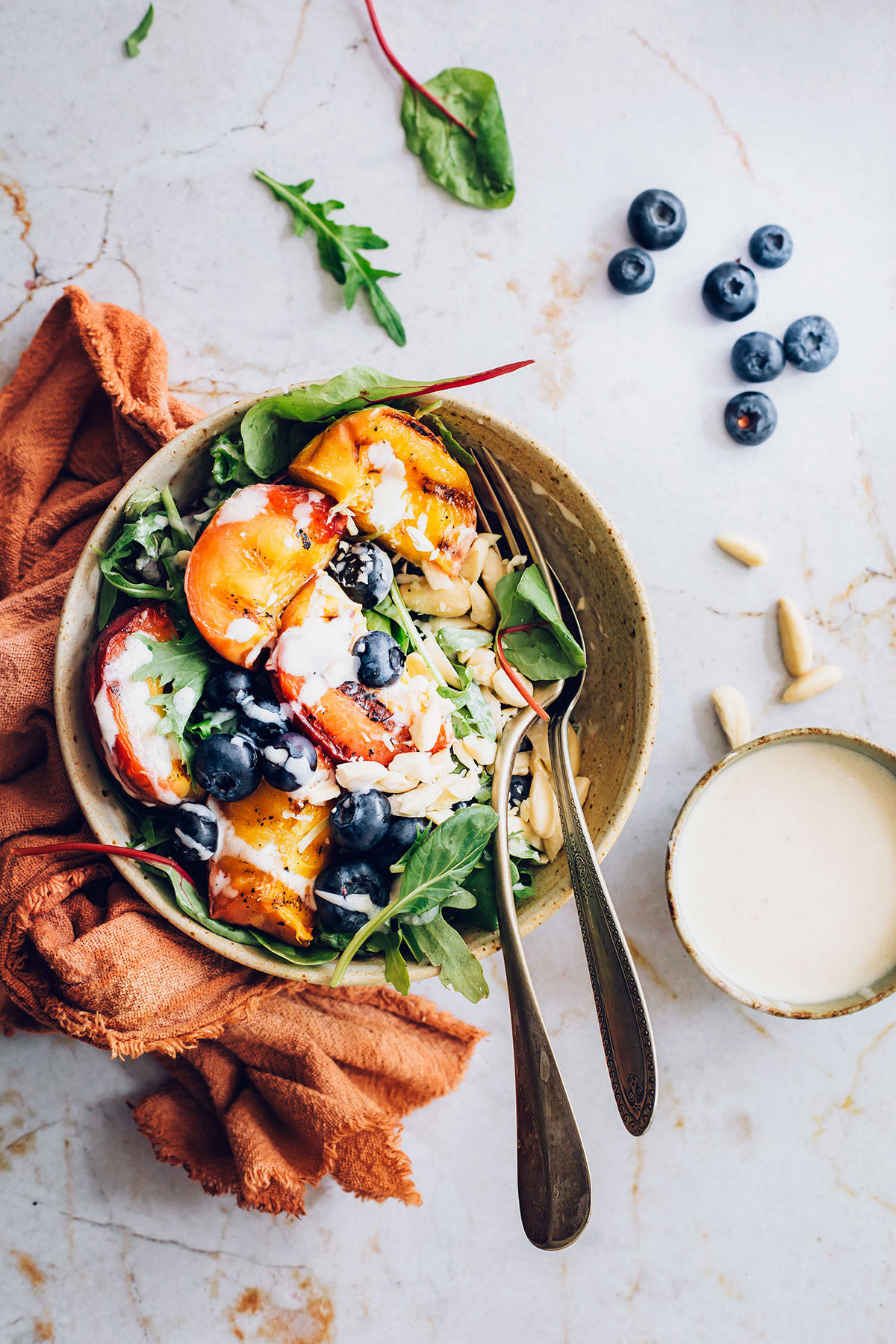 Photography by Ana Stanciu.