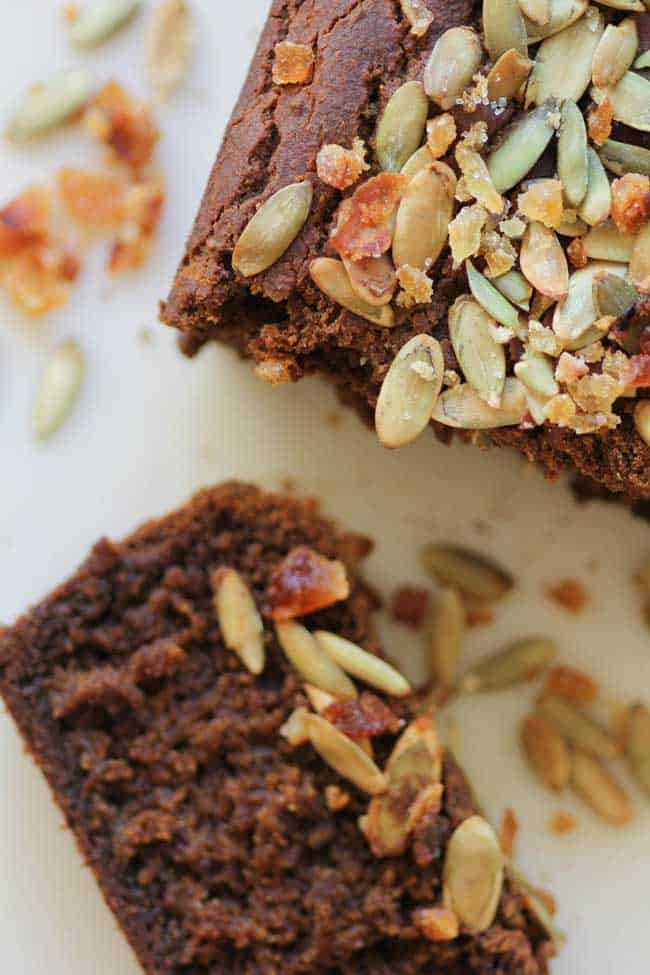 My husband, Todd and I are artists and designers by trade and since we share design ideas with clients every day, sharing the food that helped to heal our family was a natural transition for us. We have learned a lot in the last year and a half of gluten free living and blogging; we learned that both my son and my husband are gluten-intolerant, that we all feel better when eating whole foods and eliminating processed junk foods and that when you cook from your heart amazing things can happen!
I have waited absolutely as long as I could possibly wait to start infusing everything I could think of with fall flavors. You see, I am that person that waits anxiously for Starbucks to release their pumpkin spice latte every year and I am also that person that stock piles mini gourds and mini pumpkins around my house until Christmas when I paint them white and adorn them with glitter. Yes, I do that!
In the fall my family can safely bet that each and every baked good that leaves my oven will either be laced with pumpkin or apple, it's a little predictable, but I am okay with that. Don't get me wrong, I love summer…but man, oh man, I anxiously wait for fall all year! I love the clothes, I love the boots, the crisp cool air, and the produce.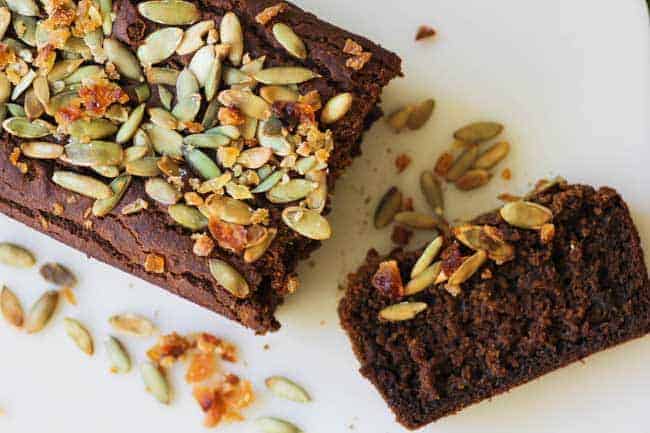 This pumpkin loaf may be good for you, but it sure tastes decadent. The nutty Teff flour pairs well with the warm fall flavors and the puree helps to keep this quick bread moist and delicious. Serve it up for breakfast, dessert, or whenever you have a craving for pumpkin spice.
Gluten Free Pumpkin Loaf Recipe
Ingredients:
1 1/4 cups Teff flour, plus more for pan
1/4 cup flax seed meal
3/4 cup tapioca flour
1 1/2 teaspoon baking soda
3/4 teaspoon salt
1 teaspoon cinnamon
1/2 teaspoon nutmeg
1/2 teaspoon ginger
1/2 cup coconut oil
1/2 cup evaporated cane juice or maple syrup
1 cup pumpkin puree
1 1/2 teaspoon gluten free vanilla extract
1/2 cup Bundaberg ginger beer, you can use another ginger-beer in a pinch, but this brand is my favorite
1-2 tablespoon candied ginger, chopped
1/4 cup raw pepitas
Coconut oil spray for pan
1. Preheat the oven to 375° F. Lightly spray or grease an 8-by-4-by-4-inch pan with coconut oil and lightly dust with Teff flour.
2. In a medium bowl, combine the teff flour, flax seed meal, tapioca flour, baking soda, salt, cinnamon, nutmeg, and ginger. Mix well with a whisk until completely combined.
3. In a separate large bowl, combine the coconut oil, cane juice or maple syrup, pumpkin puree, vanilla extract, and the ginger beer. Add the dry ingredients to the wet ingredients and mix well by hand with a whisk, breaking up any lumps of flour. The batter will be thick, but should be smooth.
4. Pour the batter into the prepared loaf pan. Smooth the top with a rubber spatula and sprinkle the candied ginger and pepitas across the top. Bake for 1 hour and 10 minutes tenting with tin foil during the last 20 minutes to prevent the ginger from scorching. The finished loaf should be golden and slightly firm to the touch and a toothpick inserted into the center should come out clean.