When it comes to entertaining, I always want to make a dish that's really awesome and impressive. But after I've picked up toys and hidden the laundry piles there's usually no time for anything 'from scratch.' Enter the flatbread, my new favorite grocery store solution.
These premade crusts are blank canvases just waiting for tasty toppings. Yes, you could make your own, buy why? For our rosemary-themed workshop we made a simple appetizer pizza that was so darn tasty I can't wait to make it again for a super easy dinner.
Isn't a flatbread really just a pizza? Basically, yes. But a flatbread is a long rectangle with a thinner, crispier crust. A typical pizza usually has a thicker crust and more sauce. Plus, a flatbread is basically license to play with whatever toppings you want, typical pizza flavors be darned.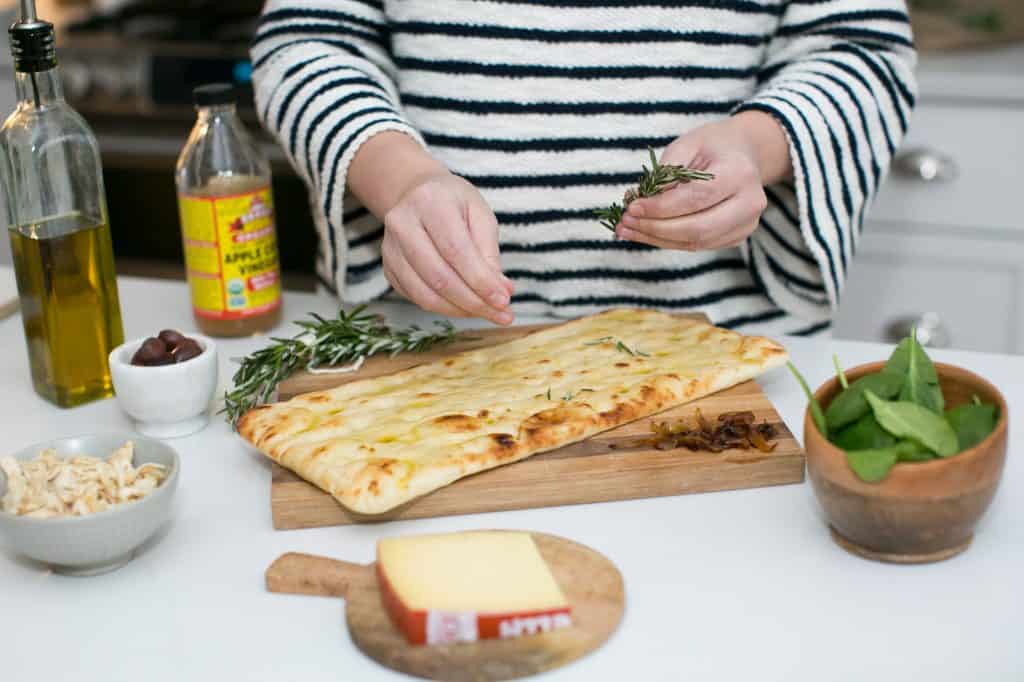 To keep with the rosemary theme, we topped our flatbread with chicken marinated in rosemary, garlic, orange juice and apple cider vinegar. A marinade is such a brilliant way to add flavor without really have to do anything. No watching, stirring, or checking up on it. Just stick it in the fridge and go back to picking up tiny Lego pieces.
Rosemary is a Mediterranean herb that wonderfully infuses into meat before and during cooking. If you don't have a flatbread, just marinating and baking chicken with this rosemary citrus combo makes for a deliciously simple dinner option.
You can add fresh or dried rosemary to your cooking to fight inflammation and act as a natural antiseptic. It contains rosmarinic acid, a potent antioxidant and anti-inflammatory. Use any extra herbs (1 teaspoon dried or 2 teaspoons fresh) to make a tea to help ease upset stomachs or sore throats.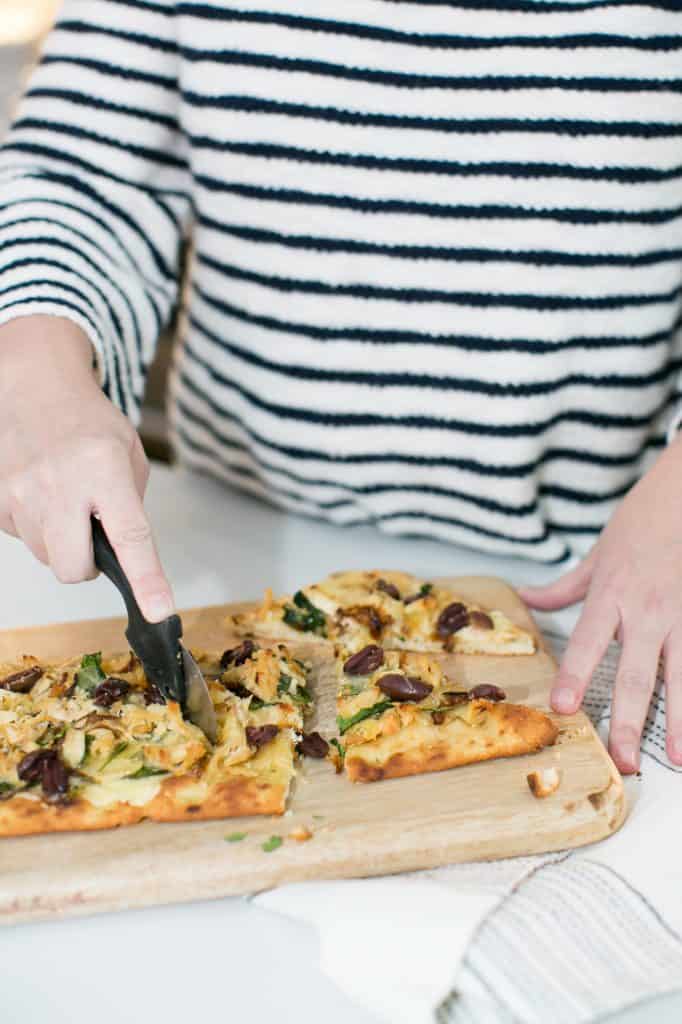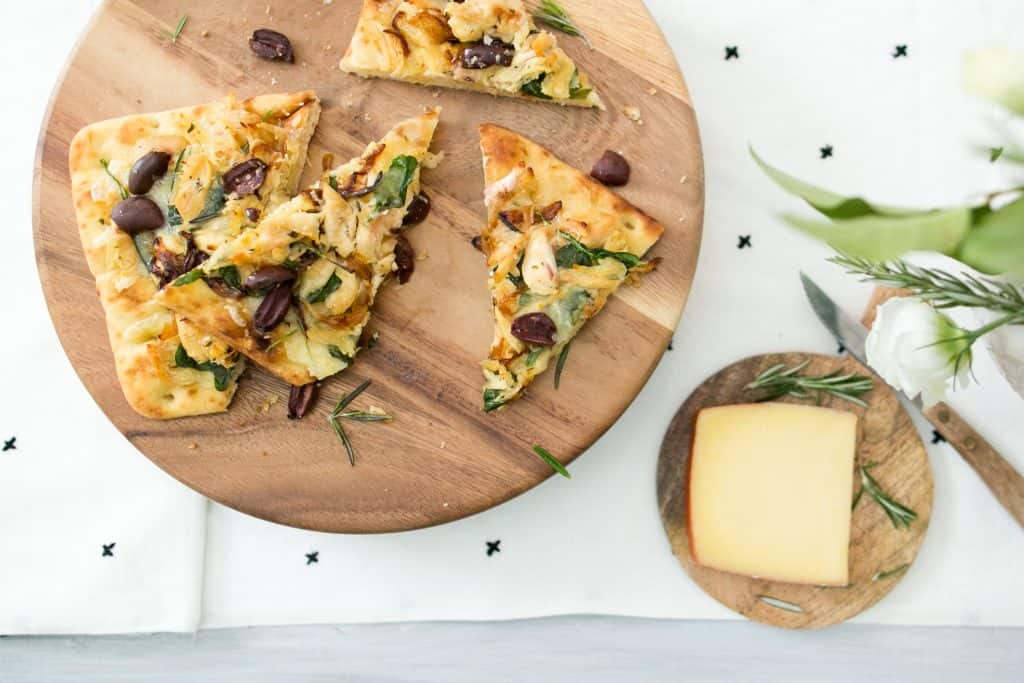 Of course, a flatbread needs cheese. The sharpness of Fontina and Parmesan cheese with kalamata olives is so good. Add a layer of spinach and caramelized onions, and the flatbread is ready to bake.
Rosemary Chicken Flatbread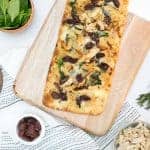 1/4 cup olive oil (plus 2 tablespoons, divided)
1 tablespoon minced garlic
1/2 orange (zested and juiced)
1/4 cup apple cider vinegar
1/4 cup chopped rosemary (divided)
1 package of chicken (tenders or breast cut)
1/2 yellow onion (sliced thin)
1 package of flatbread
1 cup Fontina cheese (shredded)
1/2 cup Parmesan cheese
1/2 cup Kalamata olives (sliced)
1 cup spinach
Preheat oven to 350 degrees
In a medium sized bowl, combine 1/4 cup olive oil, garlic, orange juice & zest, ACV, and ½ of the rosemary. Add the chicken and let marinade for at least 30 minutes.
While the chicken marinades, cook the onions over medium low heat until caramelized.
Remove the chicken from the marinade. Place a sauté pan over medium high heat. Add 1 tbsp. of olive oil and sear each piece for 2 minutes on each side. Place pan into the oven or transfer chicken to a sheet pan and place into the oven.
Cook chicken for 10-15 minutes. Shred or dice the chicken after it cools.
Place the flatbread on a sheet plan. Brush with 1 tbsp. of olive oil and sprinkle with rosemary. Top with cheeses, chicken, olives, caramelized onions, and spinach.
Bake for 15 minutes.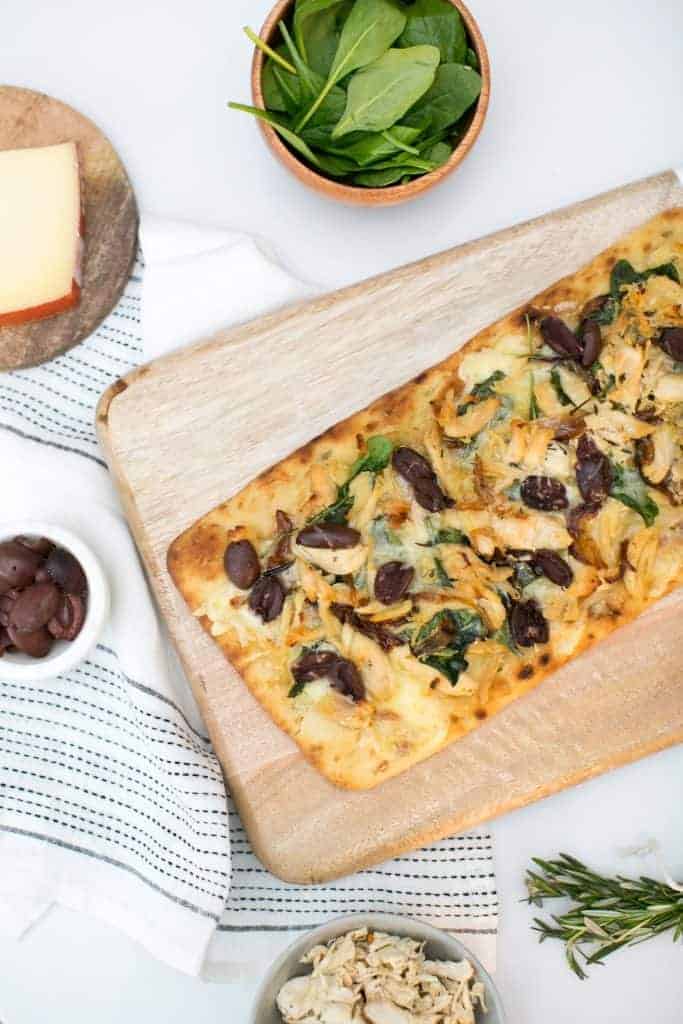 0