Too often in our household when we get busy, chores seem to be forgotten. And unfortunately by the time the weekend gets here, the last thing we want to do after a long work week is to clean. We deserve some relaxation and time with the family – not spending hours scrubbing and wiping. The best way to combat this problem is to make household chores a priority, and do a little bit every day so that when the weekend comes, you can actually enjoy it!
Your Simple Everyday Cleaning Plan
We aren't saying the house needs to be "company ready" throughout the week, but we do suggest a few helpful tips you can follow to make sure it stays clean enough that with just a little effort and a fluff of a pillow, you're ready to greet guests by brunch on Saturday.
Daily Bedroom Tasks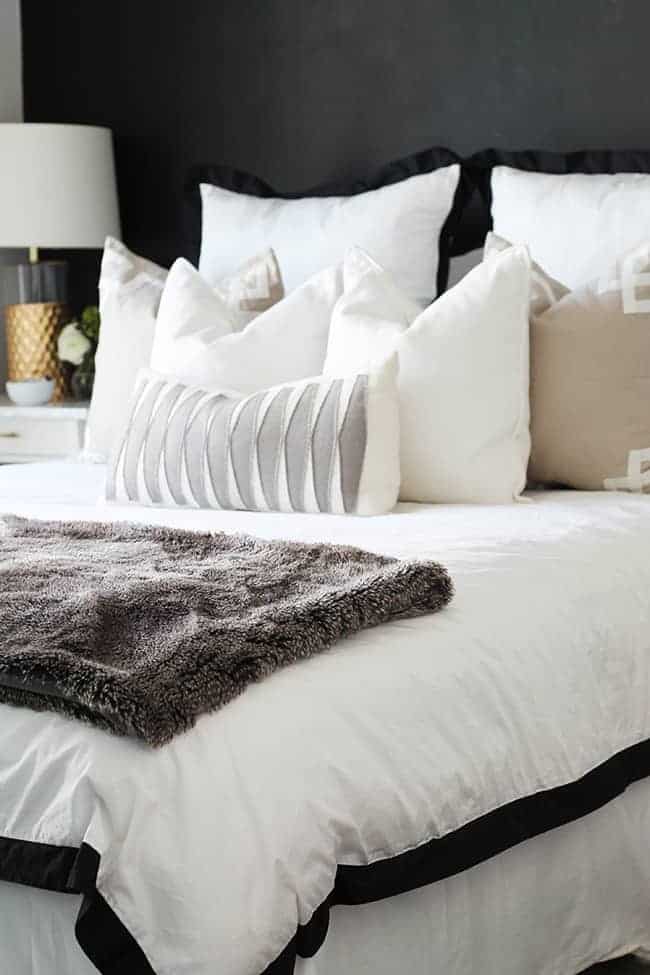 Before making the bed each morning (or pulling up the covers, whichever you can make time for) spritz the linens with linen spray. Y

ou'll thank yourself as you crawl into bed that night.

Keep a dust rag in the drawer of your bedside table and give your nightstand a quick wipe as you grab your phone from the charger.
Keep a reusable bag in your closet for those mornings when you try on items of clothing that just don't work anymore that you should part with. After you accumulate a few items in the bag, make a stop at your local charity shop to donate.
Buy a nice laundry hamper and use it. Dirty clothing strewn across the floor makes no one happy! Carry the contents downstairs to the laundry room every other day to keep things from getting out of control.
Daily Kitchen Tasks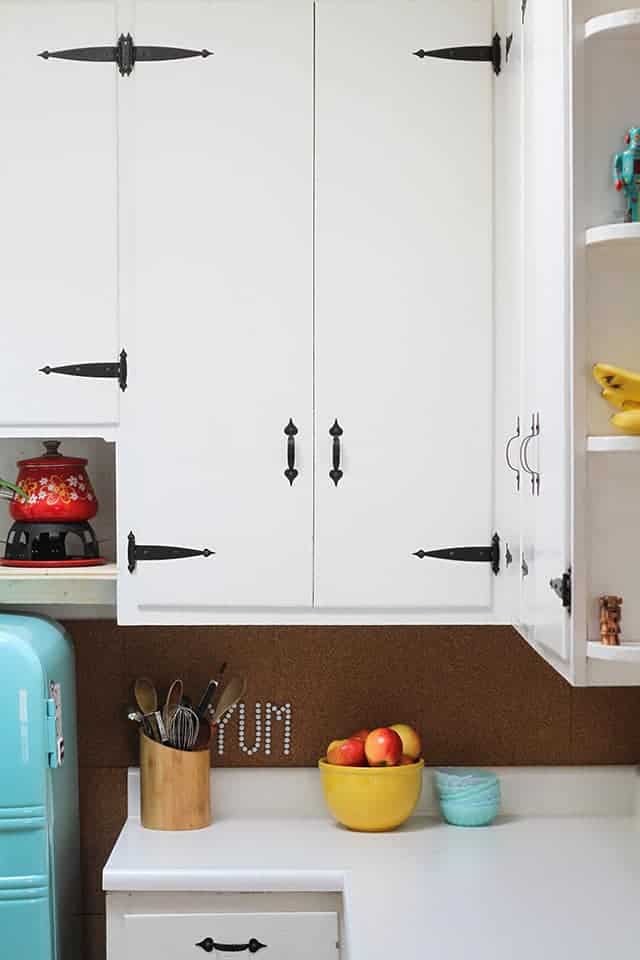 Always, always clean as you go when you cook. When you're done using a bowl, rinse it and place it in the dishwasher.
Each night after dinner load (and run!) the dishwasher, wipe down the countertops, wipe out the sink, and sweep the floor.
Each morning while you're waiting for your coffee to brew, unload the dishwasher.
Keep a chalkboard or notepad next to your keys with reminders of when to stock up on kitchen cleaning supplies.
Daily Bathroom Tasks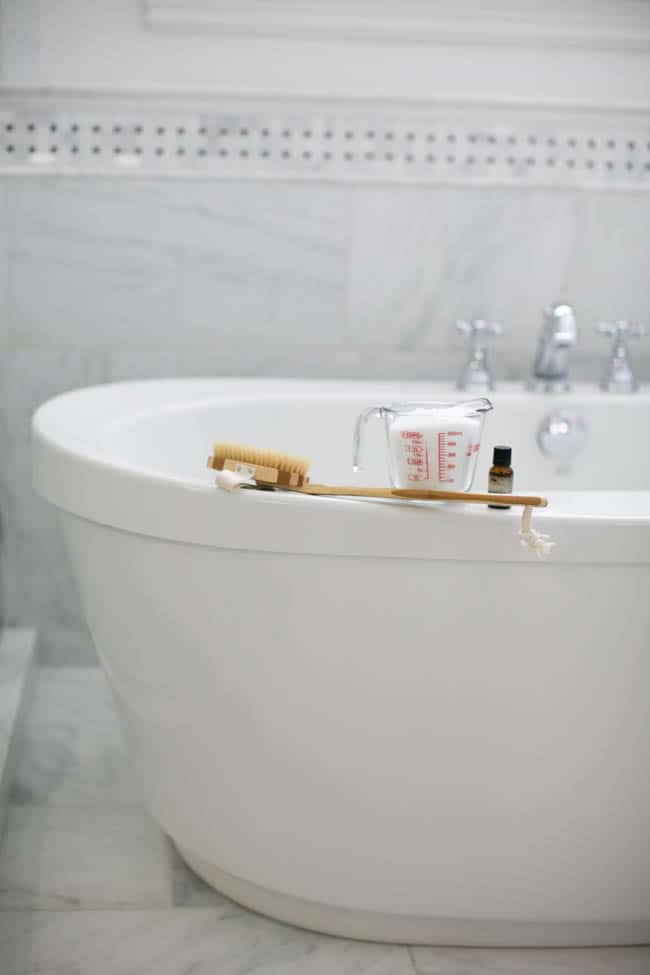 Keep the shower clean by spraying shower cleaner each morning after you get out (assuming you're the last to shower!).
Put everything back in it's place when you've finished getting ready for the day, and try to keep your countertops clear of makeup clutter.
Keep a stash of countertop wipes under your bathroom sink and wipe down all surfaces after you've finished getting ready in the morning.
Check the towel situation and refill any toiletries that are running low.
Daily Laundry Tasks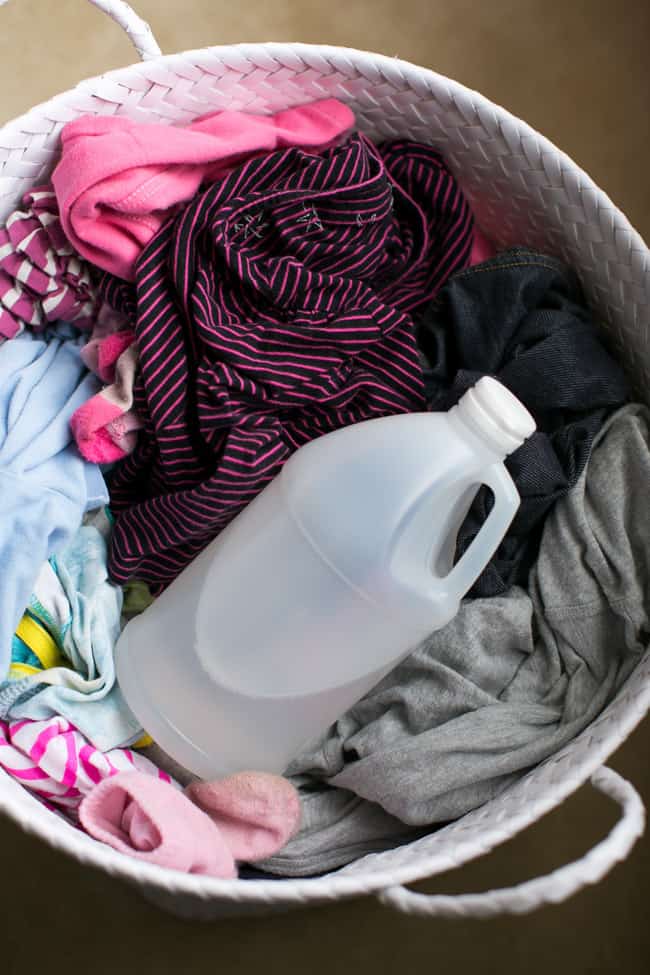 If laundry seems to be a constant in your household, try starting at least one load each morning before breakfast and set a reminder to start the dryer right when you get home from work. Otherwise, designate two days each week to take care of any laundry that needs attention. In our house, we are on a W-F schedule; my husband starts a load, I flip it and fold, and he carries it upstairs. Find what works for you and stick to it. This really is the best way to avoid a mountain of laundry!
Keep a trash can in the laundry room for lint and any other debris that comes out of pockets. Empty it on Fridays.
Keep a stack of extra laundry baskets in the laundry room to easily transport clean laundry.
During the summer months, always be sure to wipe down the seal around the washing machine and leave the door open when not in use. This will help to prevent mildew from growing.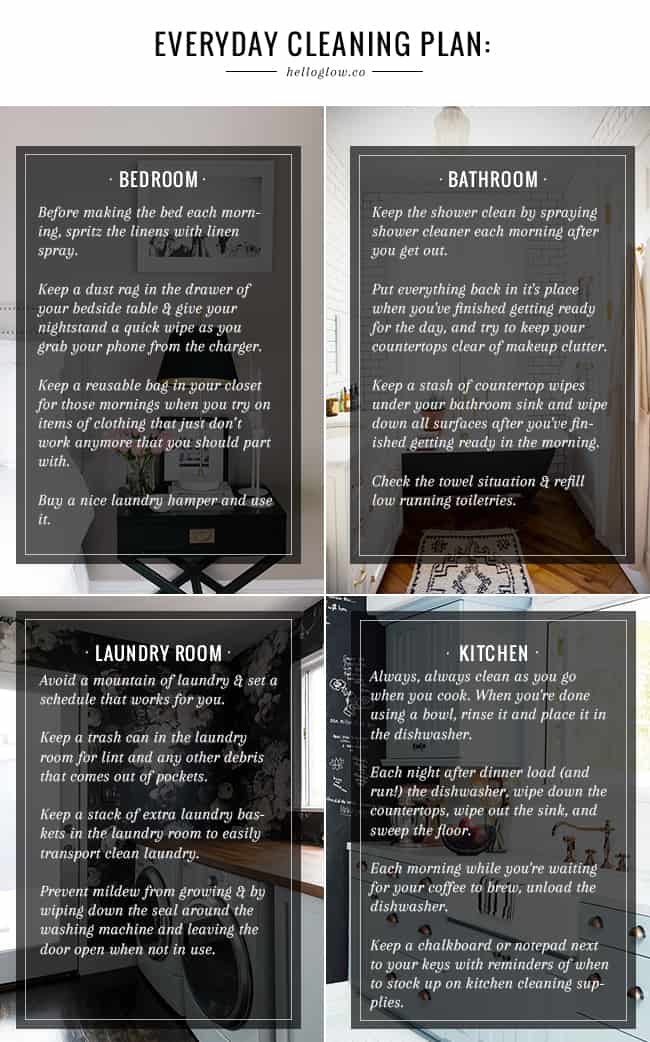 Graphic by Gaby Burger
Images used in the collage: The Everygirl | My Domaine | Apartment Therapy | My Domaine
0