With just over a week to go until Christmas, last minute procrastinators (like myself) are now getting into high gear shopping and making gifts. And, oh man, so many people on the list! Does your list keep getting longer every year, too? Before vacation starts next week I need gifts for 5 teachers, 3 coworkers and 2 babysitters. Sing along with me, 'And a partridge in a pear tree!'
First up, put down the egg nog. Second, whip up a batch of slow cooker apple butter that miraculously cooks overnight. Yes, Virginia, you can get your beauty sleep and make gifts at the same time!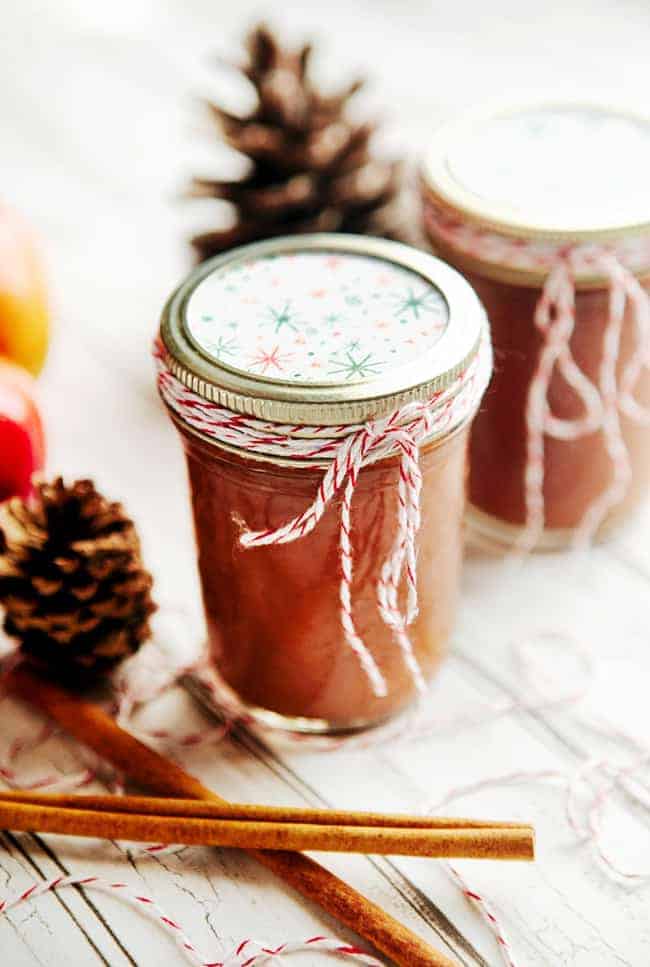 The key to delicious apple butter is using a mixture of apple varieties. Then you'll have a finished product with a rich flavor that's delicious on toast and muffins or with pork chops and chicken. I like it best for breakfast – spread over my waffles, stirred into yogurt or served with oatmeal. Yum!
I used a mix of Granny Smith, Honey Crisp and Gala Apples. Other good choices include Rome, Winesap and Jonathan Gold. Start by peeling and coring about 10 apples then slice them into chunks. A countertop Apple Peeler really simplifies this task!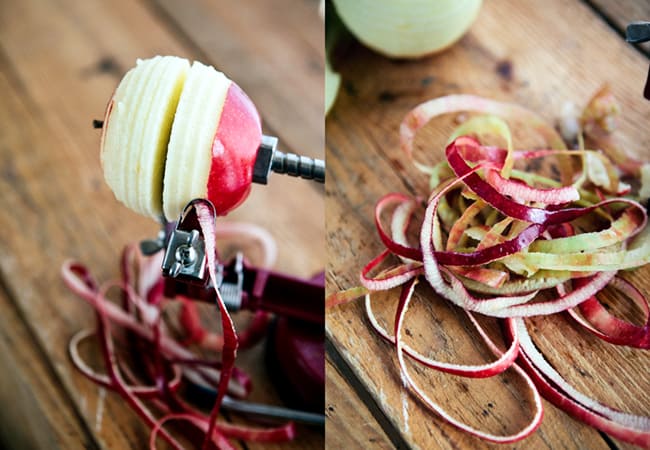 Once your apples are ready, place the chunks and the other ingredients into a 5-quart electric slow cooker. Cover and cook on LOW overnight, or for about 10 hours. When the apples are tender and soft, use a submersion blender to puree the mixture completely smooth. Alternatively, you can use a mesh sieve and press the cooked apples through until smooth.
After blending, cook on HIGH in the slow cooker for another hour, or until the mixture has thickened. Then divide the apple butter into jars and prepare your gifts. Make sure to include a label reminding recipients to keep it in the refrigerator and use within 1 week.
Ingredients
1 cup packed brown sugar
1/2 cup honey
1/4 cup apple cider
1 tablespoon ground cinnamon
1/4 teaspoon ground cloves
1/8 teaspoon ground mace
10 apples peeled, cored, and sliced into chunks (about 2 1/2 pounds)
Instructions
Combine all ingredients in a 5-quart electric slow cooker. Cover and cook on LOW for 10 hours or until apples are very tender.
Using a submersion blender, blend apples until completely smooth. Cook uncovered in slow cooker on HIGH for 1 to 2 hours more, or until mixture is thick. Stir occasionally.
Spoon into a bowl or into jars and refrigerate for up to 1 week.
Overnight Apple Butter Oatmeal with Hazelnuts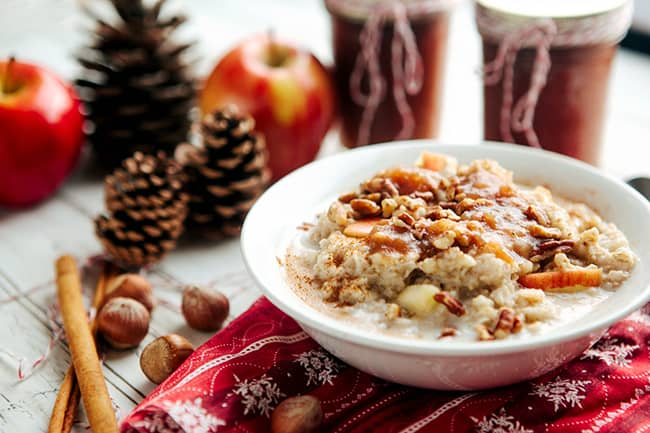 For an extra special touch, include a warm breakfast recipe with your homemade apple butter gift. The smell of this Overnight Apple Butter Oatmeal with Hazelnuts makes it much easier to wake up on a cold a winter morning.
Ingredients
1 1/2 cups milk
1 1/2 cups water
2 Gala Apples cored, and sliced
1 cup uncooked steel-cut oats
1 1/2 tablespoons butter softened
1/2 teaspoon ground cinnamon
1/4 teaspoon salt
1/3 cup apple butter
2 tablespoons brown sugar
2 tablespoons chopped hazelnuts or pecans toasted
Instructions
Combine all of the ingredients, excluding the nuts, in a 3-quart electric slow cooker coated lightly with cooking spray. Stir well and cover. Cook on LOW 7 hours or until oats are tender.
Serve topped with another spoonful of apple butter, a dash of maple syrup, and the toasted nuts.