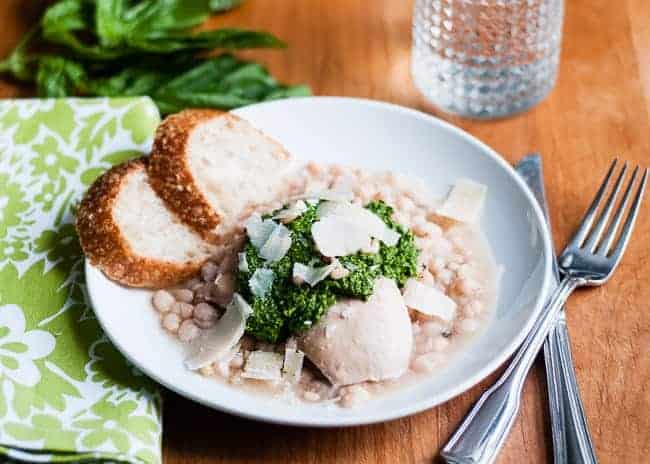 This March, we're going to look at several flavorful ways to eat your greens. First up, pesto! Combine a slow cooker chicken and white beans one-pot meal with kale pesto for a hearty, comforting dinner. Because as you probably already know, the slow cooker is a mom's dinner time best friend. My husband and I trade off on dinner duty, and when it's my turn, I love putting a bunch of things in the slow cooker in the morning and by the time my kids are home from school and homework is done, dinner is ready.
The kale pesto is quite a lovely thing. It's a great way to add some extra leafy green nutrition to your meals in a non-scary sort of way. Two of my kids love kale, but the third prefers to not know it's there!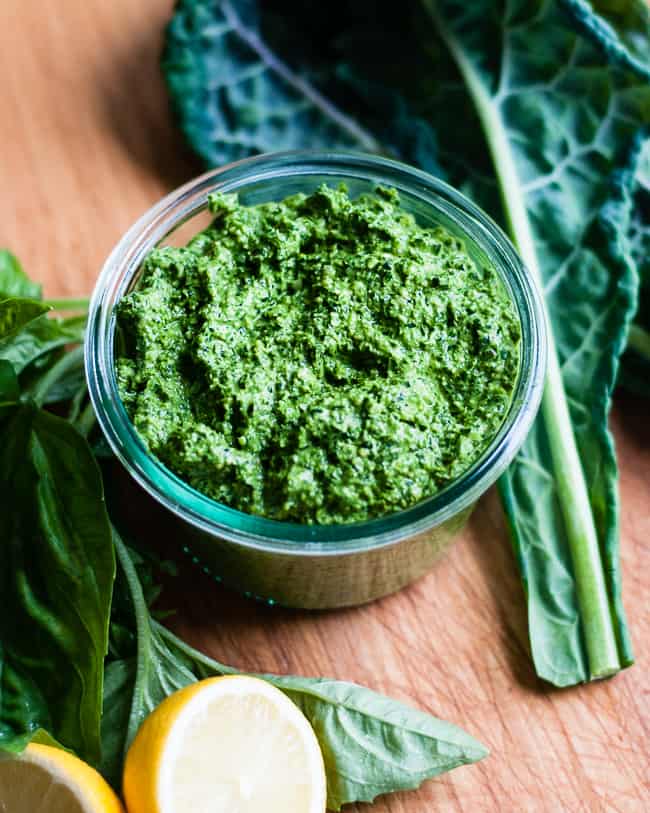 This recipe uses small white navy beans that are cooked with aromatics (onion, garlic, herbs, lemon zest) and chicken thighs. If you have a difficult time digesting beans, try soaking them overnight. That will help make them easier on the tummy. Otherwise, I don't really soak them. It doesn't cut down on cooking time too much when they're cooked in the slow cooker.
By the end of the long cooking time, the beans are creamy and full of flavor and the chicken thighs are ultra tender. Chicken thighs are great because they are more flavorful than chicken breasts and hold up well during the long cooking time. Top the chicken and beans with kale lemon pesto for a whole other dimension of fresh flavor.