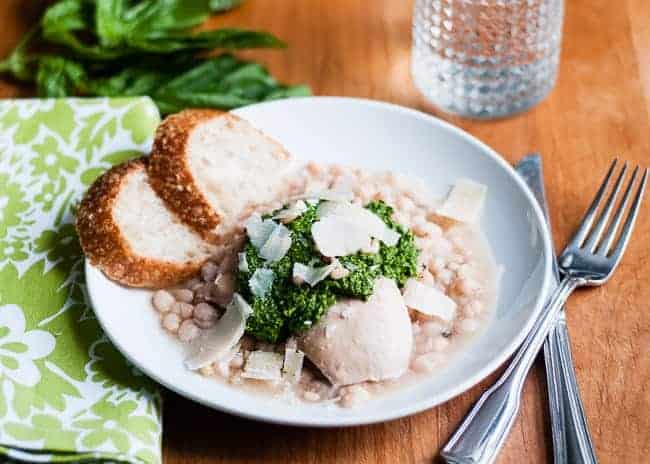 This March, we're going to look at several flavorful ways to eat your greens. First up, pesto! Combine a slow cooker chicken and white beans one-pot meal with kale pesto for a hearty, comforting dinner. Because as you probably already know, the slow cooker is a mom's dinner time best friend. My husband and I trade off on dinner duty, and when it's my turn, I love putting a bunch of things in the slow cooker in the morning and by the time my kids are home from school and homework is done, dinner is ready.
The kale pesto is quite a lovely thing. It's a great way to add some extra leafy green nutrition to your meals in a non-scary sort of way. Two of my kids love kale, but the third prefers to not know it's there!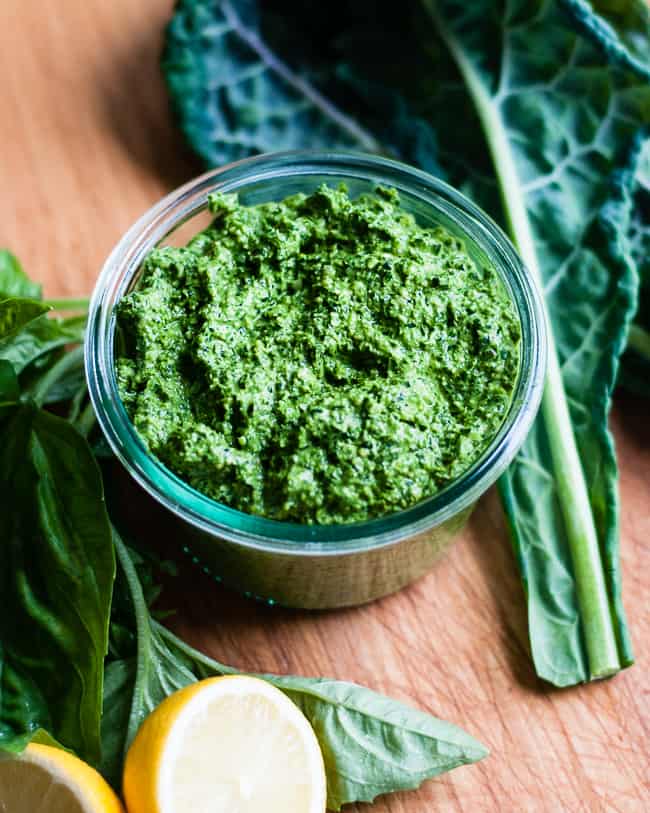 This recipe uses small white navy beans that are cooked with aromatics (onion, garlic, herbs, lemon zest) and chicken thighs. If you have a difficult time digesting beans, try soaking them overnight. That will help make them easier on the tummy. Otherwise, I don't really soak them. It doesn't cut down on cooking time too much when they're cooked in the slow cooker.
By the end of the long cooking time, the beans are creamy and full of flavor and the chicken thighs are ultra tender. Chicken thighs are great because they are more flavorful than chicken breasts and hold up well during the long cooking time. Top the chicken and beans with kale lemon pesto for a whole other dimension of fresh flavor.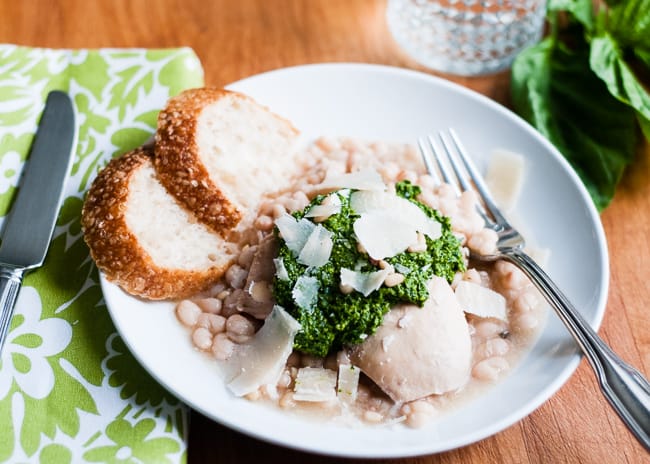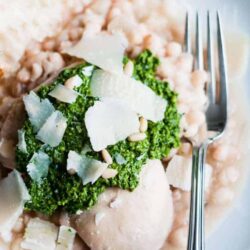 Slow Cooker Chicken and White Beans with Kale Pesto
A quick, easy slow cooker recipe of white beans and chicken topped with a flavorful kale-lemon pesto.
Ingredients
Kale Lemon Pesto:
1/2

cup

pine nuts

or almonds, walnuts, Brazil nuts, etc.

2

cups

packed Tuscan or curly kale leaves

2

cups

packed fresh basil leaves

1/2

cup

Parmigiano-Regiano

grated (optional)

1-2

cloves

of garlic

zest and juice of 1 lemon

1/2

cup

extra virgin olive oil

salt

to taste
Chicken and White Beans:
2 1/2 - 3

pounds

boneless skinless chicken thighs

can use fresh or frozen

2

cups

1 pound white beans, soaked overnight and rinsed well

5-6

cups

water

1

large onion

diced

Zest of 1 lemons

cut into small strips, colored part only

1

bay leaf

2

cloves

garlic

a few thyme sprigs

1

small handful basil leaves
Instructions
For the chicken and white beans:
Heat a little oil in a skillet. Add the onion and garlic. Cook over medium heat until they start to soften. Transfer to a slow cooker along with the other ingredients. Place the chicken on top and cover with lid. Cook on HIGH for 4 hours.
For the pesto:
Combine all of the ingredients in a food processor and pulse until combined.
To serve:
Remove chicken from the slow cooker. Slice or shred. Place a ladle full of beans onto a plate or shallow dish. Top with some of the sliced chicken and top with pesto. Serve with a slice of crusty bread.
Notes
Can be cooked on LOW power for 8-10 hours.
Eat leftovers within 2-3 days.