Quick, someone knock on wood. I think everyone is finally well in our house. That seems to happen about about as often as Hanukkah falls on Thanksgiving. Of course, now that everyone is feeling better a 'wintry mix' storm has forced us to stay home and huddle together for warmth. It's fun to watch the snow fall, but cabin fever is setting in. We're ready to get out and do holiday-ish things like stand in a 3-hour line to see Santa or fight over the last parking spot. Maybe some of it will stick around, and we can venture out to throw snowballs at each other.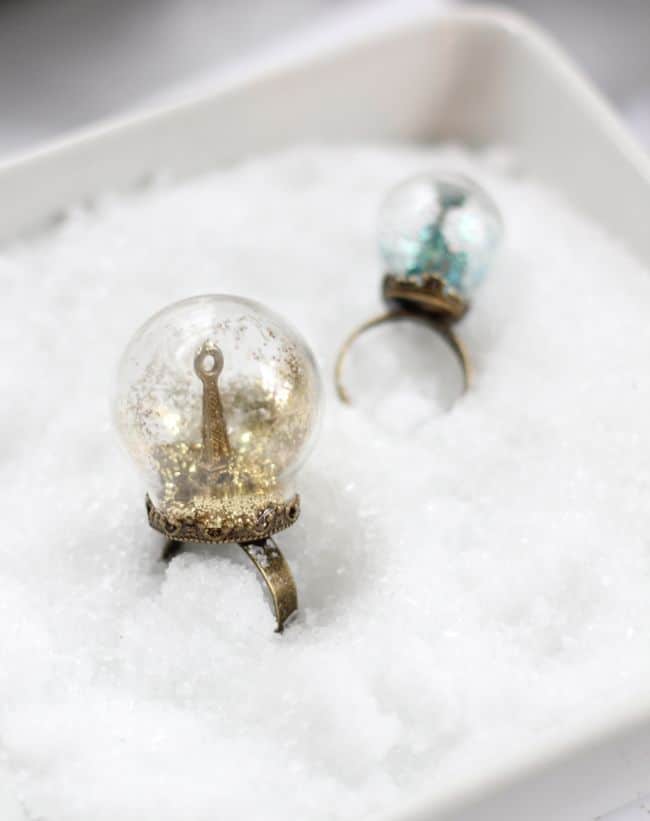 Maybe I'll finally get around to making snow globes out of old jars with the kids. That has been on my to do list forever – especially since I found super cute snow globe rings on Etsy. Filling them with water seemed like a mess waiting to happen so I opted for glitter. We hot glued a tiny – really, really tiny – charm to the ring base and poured glitter into the globe. To put them together you need to be quick. Apply hot glue around the base of the ring and flip the globe onto the base really fast. Voila!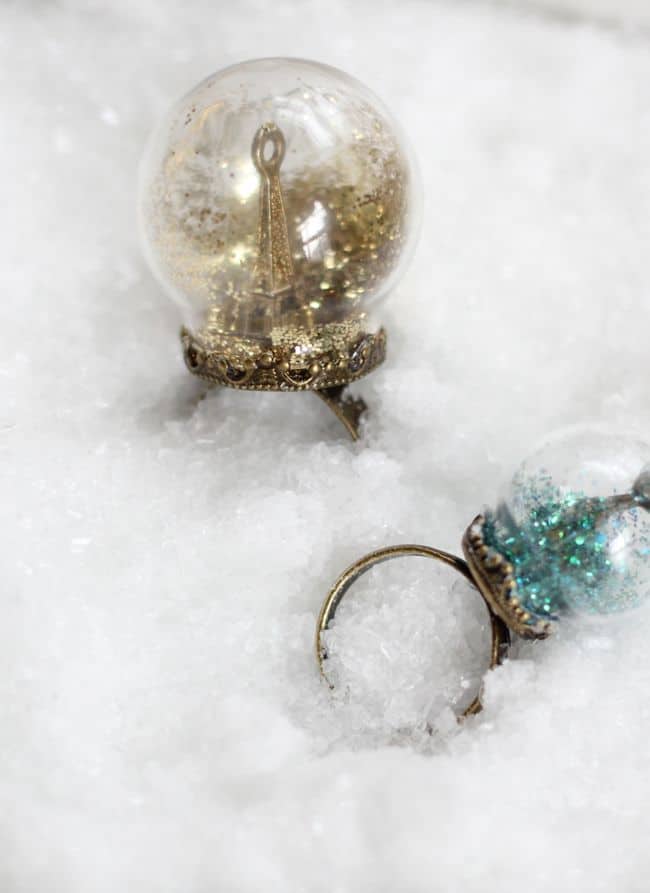 It's easier to see into the larger globe (the one with the Eiffel Tower), but the smaller size is definitely more wearable. You can't really tell but that ring has a tiny giraffe inside. What have you crafted up this week? Here's what happened on the blog this week in case you missed anything!
This week in home
A simple upgrade for your next party
Only Scrooge wouldn't be thrilled with this homemade gift basket
Gift bows can make or break your gift! Here are 25 ways to make them look professional
Gift wrapping can be stylish, affordable and eco-friendly too
This week in food
A hearty white bean vegetable soup + a printable shopping list for your next grocery trip
This cranberry tangerine smoothie is a bright spot in the middle of winter
Check out these 12 gluten free gifts from the kitchen!
When you add bacon, Brussels sprouts go to a whole new level
This week in style
We're thinking about DIY gifts, so we rounded up 25 of our favorite DIYs
Who knew it was so easy to make your own perfume?
Knotted leather bracelets are simple and stackable – and make a thoughtful gift