I stopped eating meat when I was 12 and I spent most of the subsequent years getting irritated with people who asked me, "but where do you get your protein?!" Because really: there are plenty of ways to get protein on a vegetarian diet.
But the truth was, I wasn't getting enough protein. My diet was overwhelmingly carb-based, since, having grown up in the 90s, I was also conditioned to avoid fat at all costs. In recent years, I've found that I do have to be mindful to have a vegetarian source of protein with every meal that I eat. And when I'm getting the protein I need? I feel so much better physically.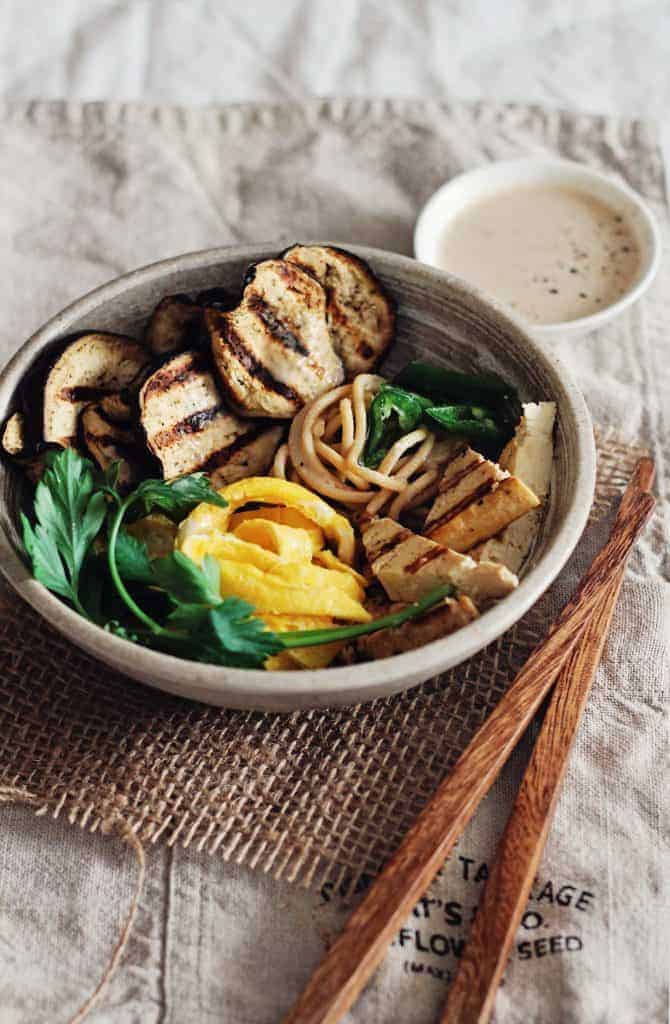 This soba protein bowl is super high in protein, with tofu, eggs, almond butter, and soba. Believe it or not, soba noodles are a good source of protein, with 6 grams per 1 cup serving. Make sure you're buying buckwheat soba, though—it's higher in protein than the soba made from wheat or a blend of wheat and buckwheat. And buckwheat soba also happens to be gluten-free, so it's ideal for all you noodle-lovers who happen to be sensitive to gluten.
If grilled eggplant isn't your thing, try grilling up some zucchini instead. Then when grilling season is over, steamed broccoli or cauliflower, roasted butternut squash, green beans, or any other veggies you have on hand will work too.
The recipe is perfect for in between periods, when your body could use a reset. Good for the body and oh, so tasty, this eggplant and tofu protein bowl is bound to make it to your regular repertoire.
Photo + recipe by Ana Stanciu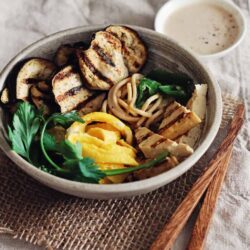 Soba Protein Bowl with Grilled Eggplant, Tofu & Spicy Almond Butter Sauce
Ingredients
For the grilled eggplant and tofu:
1

small eggplant

thinly sliced

1

15-ounce package extra-firm tofu, pressed for at least 30 minutes and sliced

2

tablespoons

low sodium soy sauce

2

tablespoons

grapeseed or avocado oil
For the spicy almond butter sauce:
1/2

cup

coconut milk

Juice from 2 small limes

2

tablespoons

almond butter

1

tablespoon

low sodium soy sauce

1

garlic clove

minced

1/2-

inch

piece ginger

peeled and grated

A pinch of red pepper flakes or sriracha to taste
For assembling:
1

ounce

soba noodles

cooked according to package directions

Fresh cilantro

for serving
Instructions
Heat your grill or a grill pan to medium. Brush the tofu and eggplant slices with oil; drizzle with soy sauce and grill on each side, or until the tofu is warmed through and the eggplant is tender. Set aside.

Heat a non-stick (or well-oiled) skillet over medium heat. Add the eggs and cook until firm. Transfer the omelet to a plate and slice into ribbons.

Combine all of the sauce ingredients in a blender and blend until smooth. Taste and adjust as needed—more almond butter for a richer sauce, additional soy sauce for more umami, etc.

To assemble, divide the grilled eggplant, tofu, soba, and omelet into 2 bowls and drizzle with the sauce. Garnish with cilantro and serve.