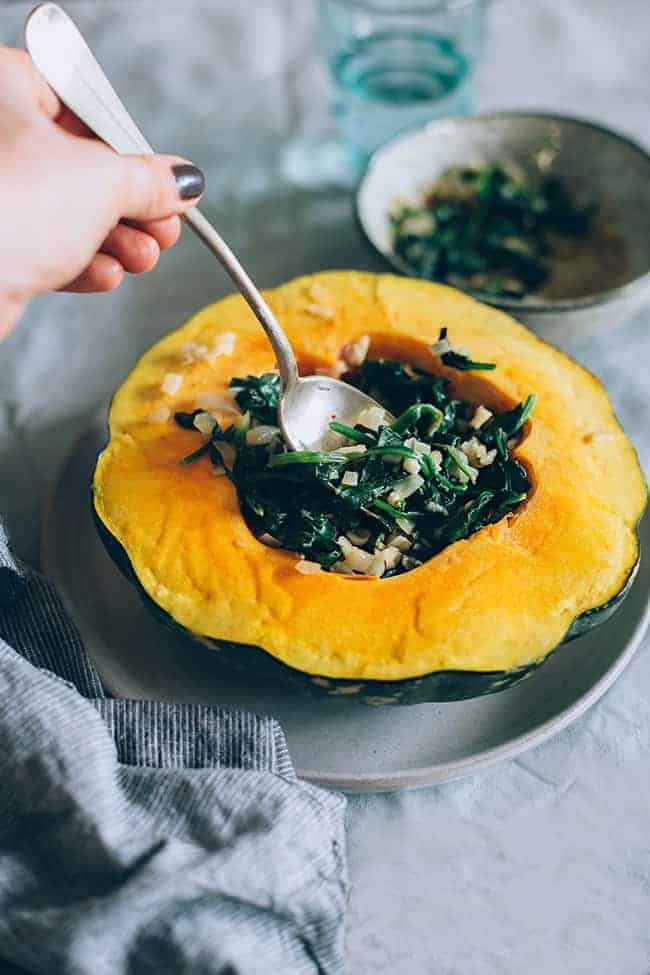 Spinach-Stuffed Acorn Squash Recipe
Who doesn't love acorn squash, especially when it's full of tantalizing ingredients including ginger, cinnamon and yummy veggies?
This spinach-stuffed acorn squash recipe is the perfect cold season meal to thaw your bones, nourish your soul, and push those pesky toxins out of your system. And you can totally put in on your Thanksgiving menu, too. It's stuffed with a rock star ingredient, spinach, which contains loads of fiber to help you release toxin-filled waste; flavonoids, which are warriors when it comes to cancer fighting; and antioxidants including selenium, zinc, magnesium and vitamins E and C.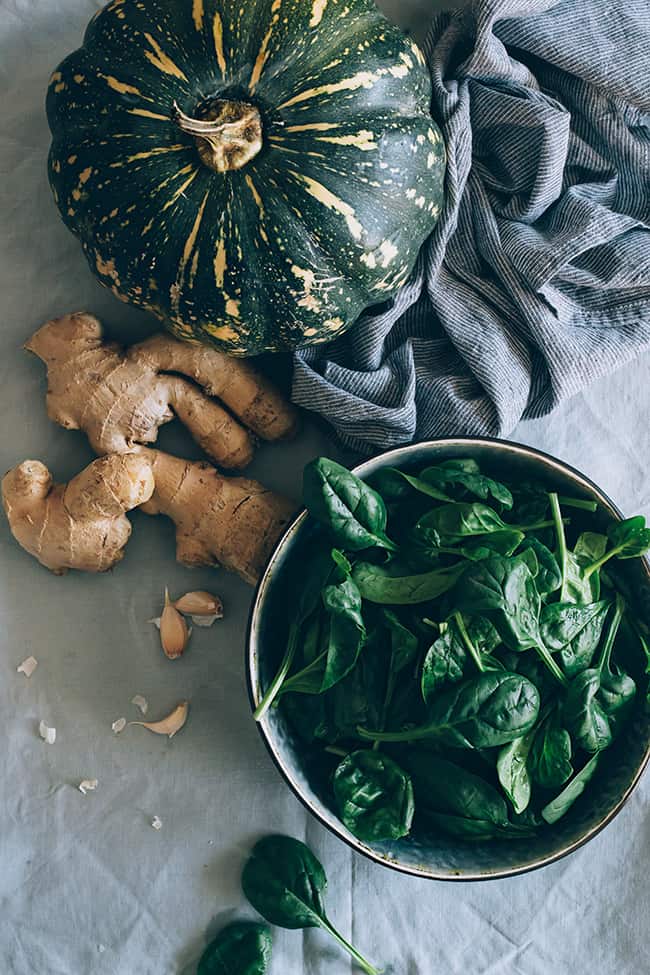 It also contains ginger and garlic. Ginger is fantastic for nutrient absorption, helping your cells get the vitamins and minerals they need. Even more, the garlic we used in this recipe will fight colds and the flu by boosting your immunity.
Let's not forget about the big daddy of the recipe–the acorn squash. Acorn squash is wonderful in the cold months and like garlic, it boosts your immune system. It's also a great choice for healthy carbohydrates, and its vitamins and minerals will make your cells smile (figuratively, of course). Acorn squash also has loads of potassium, which gives the heart a hand, so it doesn't have to work so hard. and thereby lowers blood pressure.
Ready to rock with this recipe and release toxins? Scroll down for the ingredient list and instructions on how to make it!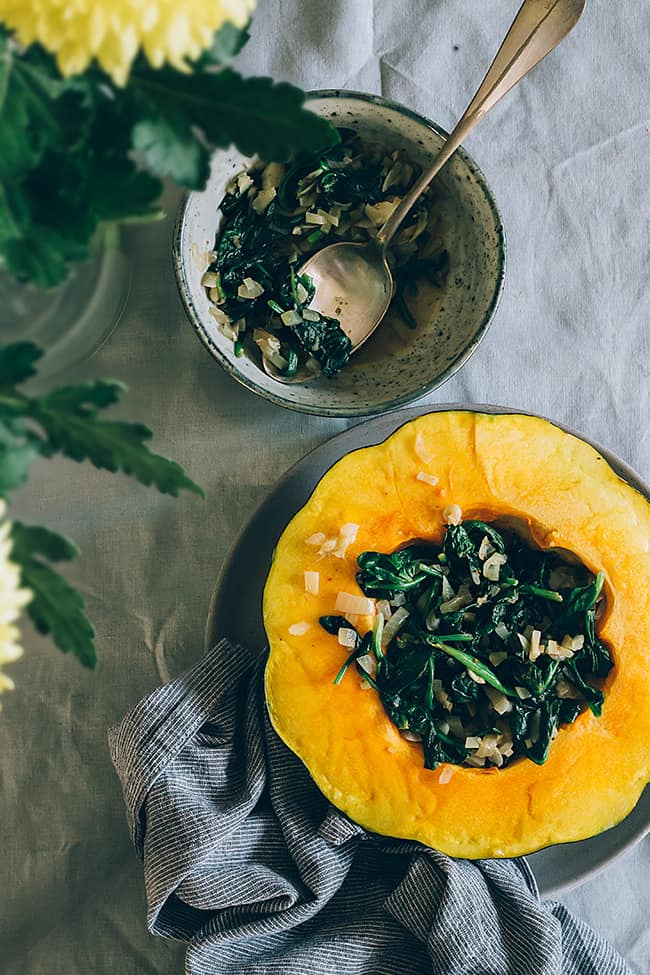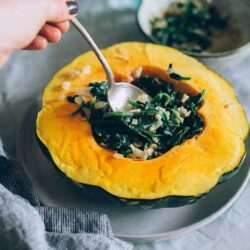 Spinach-Stuffed Acorn Squash
Ingredients
For the Squash
1

large acorn squash

1

tablespoon

coconut oil

1-

inch

piece of fresh ginger

grated (or 1 to 2 teaspoons)

1

teaspoon

ground cinnamon

Pinch

of sea salt
For the Sautéed Spinach
1

tablespoon

coconut oil

1

small onion

chopped

1

clove

garlic

minced

4

cups

spinach
Instructions
BAKE THE SQUASH.
Preheat your oven to 400°F.

Slice the acorn squash in half from the stem to the tip.

Remove the seeds with a spoon.

Add the coconut oil, ginger, cinnamon and sea salt to the flesh of the squash. Bake for 1 hour. Serve with sautéed spinach.
PREPARE THE SAUTEED SPINACH.
Add 1 tablespoon of coconut oil to a sauté pan over medium-high heat. Add the chopped onion and garlic.

Sauté for 3 to 5 minutes. Add the washed spinach.

Sauté for another 3 minutes, until the spinach has wilted.

Remove from the pan and serve with acorn squash.
Photos by Ana-Maria Stanciu