Winter transitioning to spring is my favorite time of year. Yes, I adore fall, but it's this precious transition from the harsh, bitter cold winter to the mild first days of spring that gets me every year.
Maybe it's the sightings of hyacinth and crocus, maybe it's the ducks in our pond, but I think the thing I love most of all about the onset of spring is the abundance of new and exciting produce at the grocery store. Even items that are technically available year round have such a fresh, bright look this time of year. No longer out of place or from far away continents, each vegetable and fruit is ripe, bold, and beautiful.
This leads me to my biggest, and really only, problem: I over buy fruits and veggies!
I simply can't help it. I am greeted with mountains of stunning produce and I go quickly out of control loading up my cart.
This then embarrassingly leads to some of my fruits or vegetables inevitably spoiling before being eaten. But it only takes a few minutes to transfer my produce to the containers and store them in my fridge, keeping them fresh all week long!
No gross wilted leaves leaking into the bottom of a produce bag from the store. No soggy, spoiled greens after just a couple of days in the fridge.
In Season Spring Produce
With all of this talk about seasonal produce, let me run down my favorites and what I am currently storing in my fridge: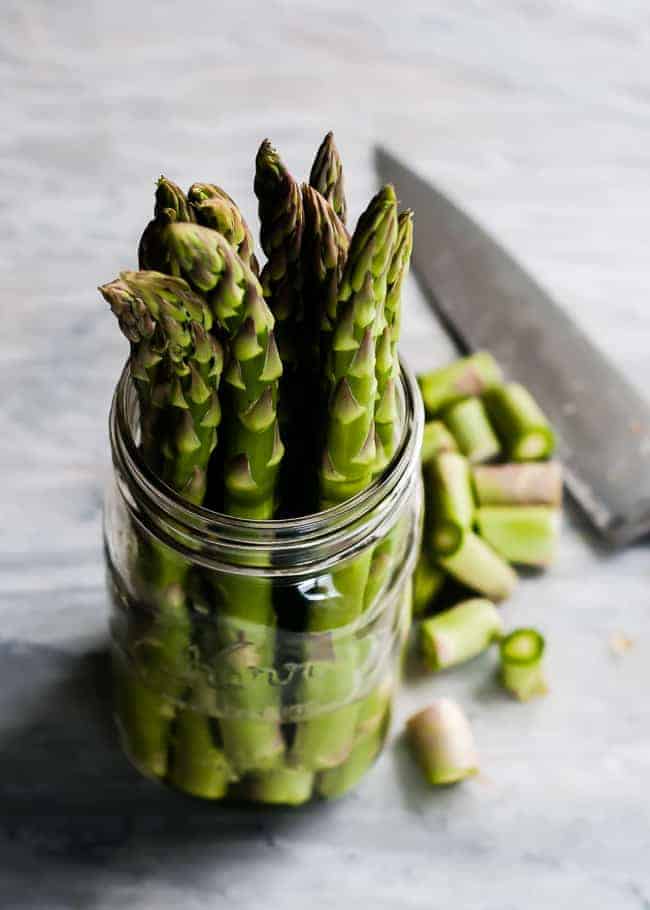 Asparagus
One of the quintessential spring vegetables, but unfortunately it spoils quickly after buying it. I love grilling or roasting asparagus for an easy springtime side dish.
Look for asparagus with tips that are closed and compact—if they look frayed or wilted, they're past their prime.
Try it in: Crispy Asparagus Fries with Lemon-Dill Dipping Sauce
Carrots
While carrots are available year round, they really come into their own in the spring. They are sweet and incredibly flavorful, great for serving on a crudité platter or chopping in salads.
If you purchase carrots with the greens still attached, cut them off before refrigerating. (You don't need to discard them–they make a delicious pesto!) When you're buying carrots, remember that smaller ones taste the best; they should be smooth and firm, without cracks.
Try it in: Crispy Curry Garlic Carrot Fries
Baby Arugula
Tender, peppery leaves that can be sautéed into a frittata or tossed into a salad for some instant flavor!
Look for containers of arugula that are full of bright, vibrant leaves. Avoid packages with wilted or slimy leaves, and discard leaves that are yellow.
Try it in: Fresh Mozzarella and Roasted Red Pepper Panini with Arugula-Walnut Pesto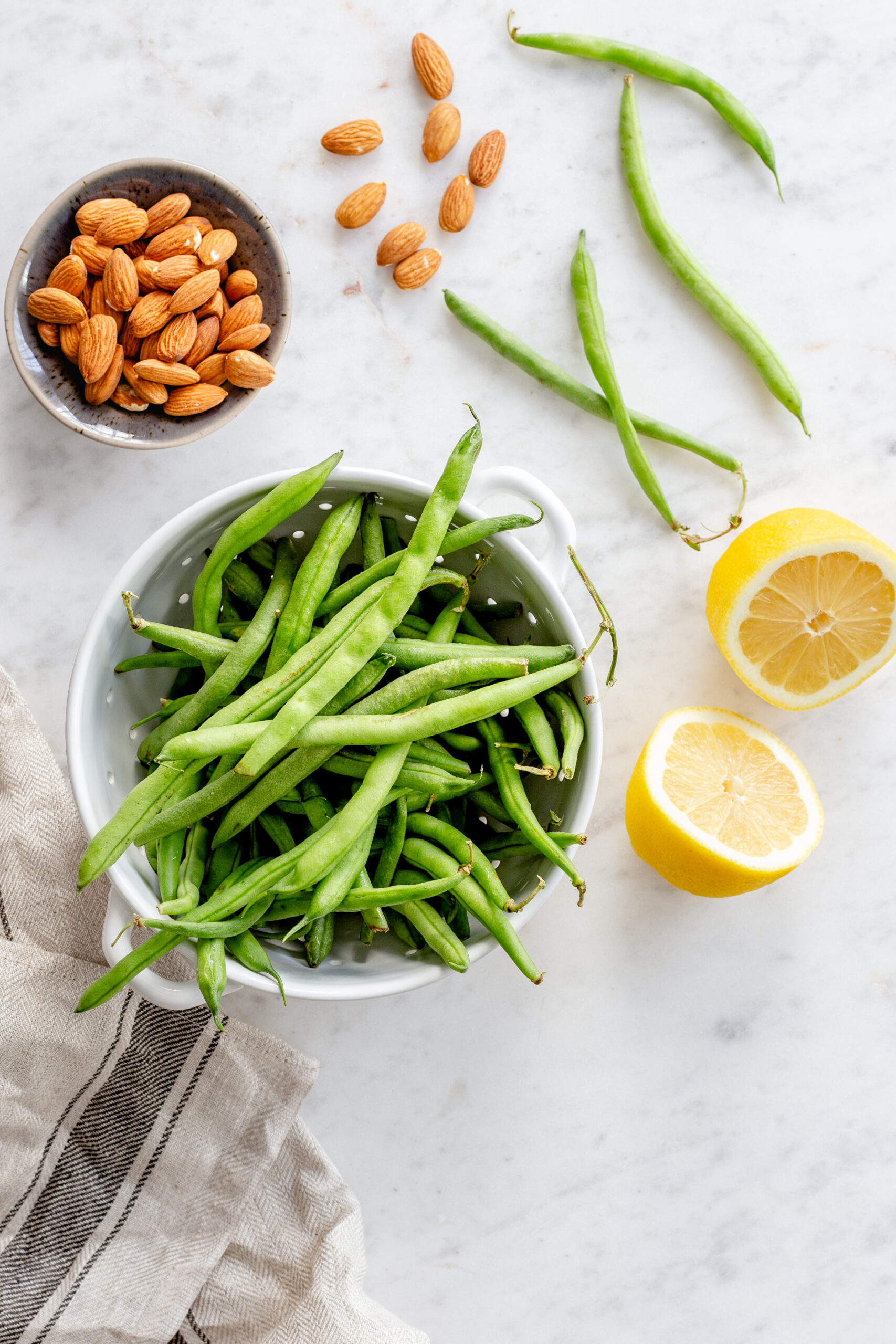 Green Beans
Blanch for an unexpected addition to a spring vegetable tray, or lightly sauté and sprinkle with slivered almonds. Fresh green beans are incredible this time of year!
Thinner beans are the most tender and best for eating. Choose beans that are brightly colored and crisp, not wilted.
Try it in: Lemon-Almond Green Beans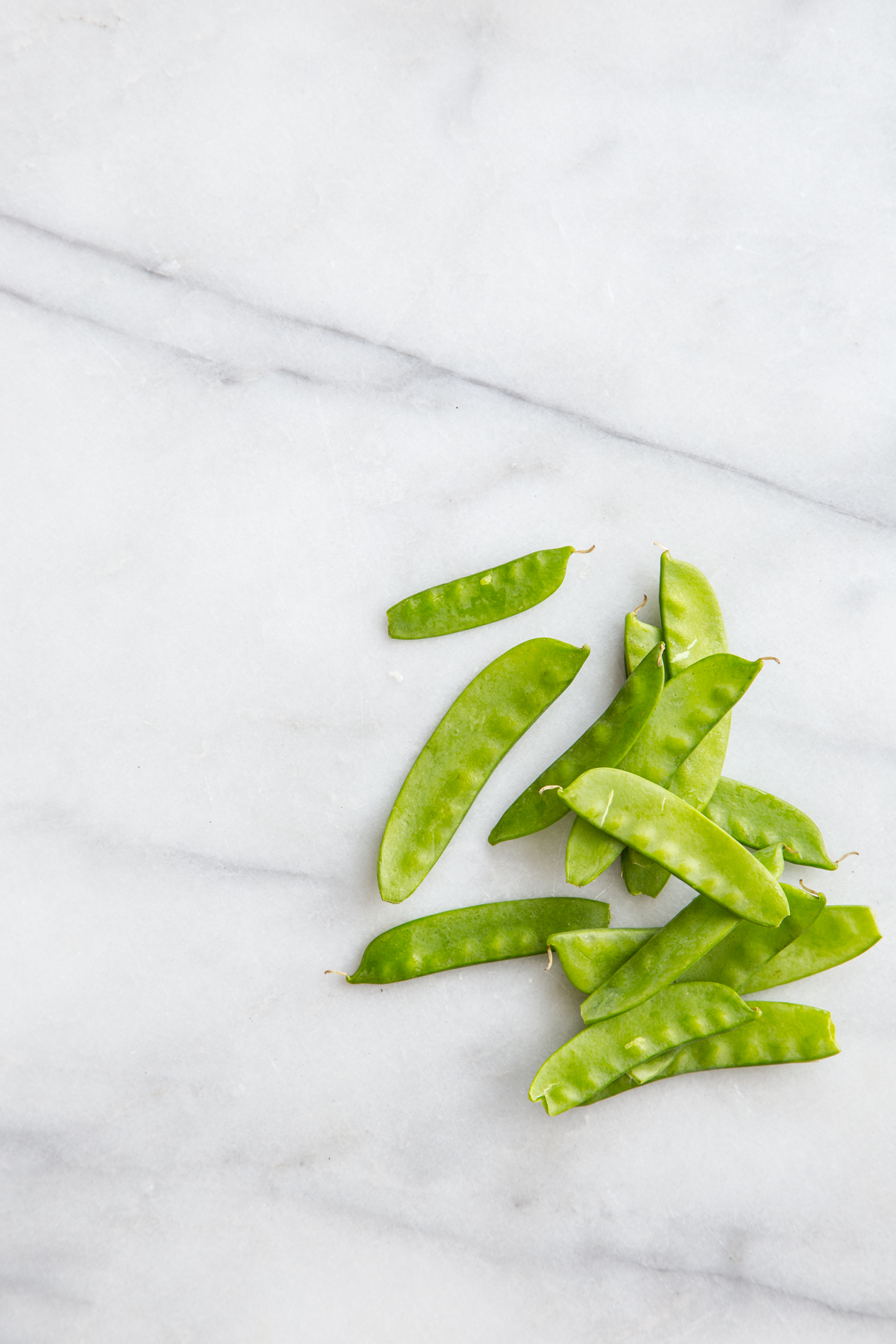 Fresh Peas
You will find several varieties of peas this time of year. I am partial to snow peas and love them in a veggie-packed stir fry.
Peas don't have a long shelf life, so they're best bought right from the farmer. Avoid pods that are yellow or have spots; for snow peas and snap peas, medium- to small-size pods are best for eating and less tough than bigger pods.
Try it in: Spring Vegetable Quesadillas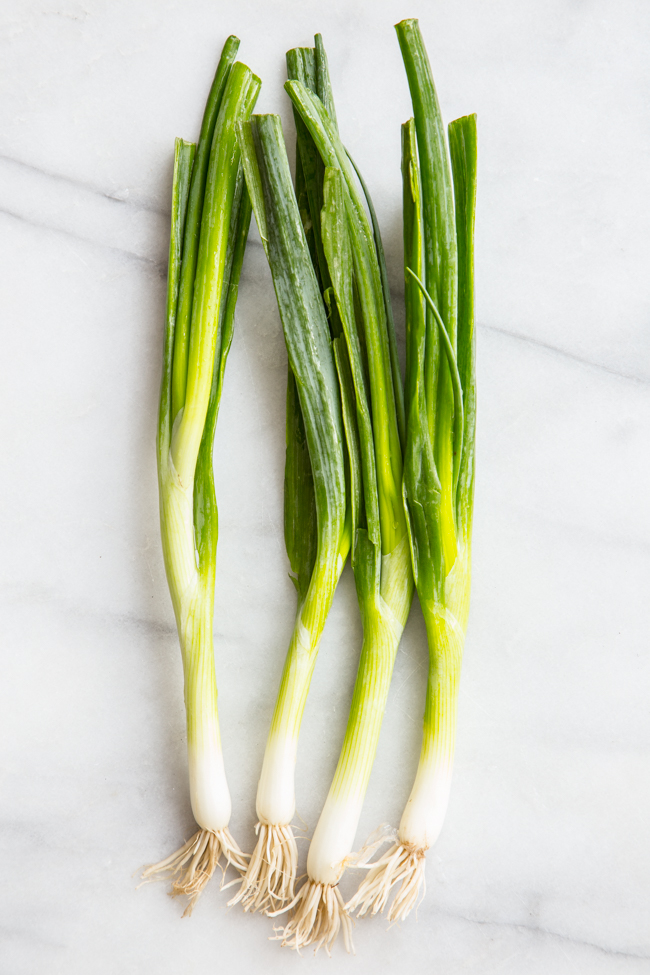 Scallions and Spring Onions
Like carrots, scallions can be found year round, however, they take on a whole new dimension in spring. If you are lucky, you'll be able to find gorgeous spring onions. They look similar to scallions, but their white ends are more bulbous. They have intense flavored green ends and are a real treasure this time of year.
Spring onions and scallions can have lots of grit between the layers, so be sure to wash them thoroughly! Buy them when the green parts are bright and crisp, not droopy and yellow or brown.
Try it in: Nettle Omelet with Scallions and Parmesan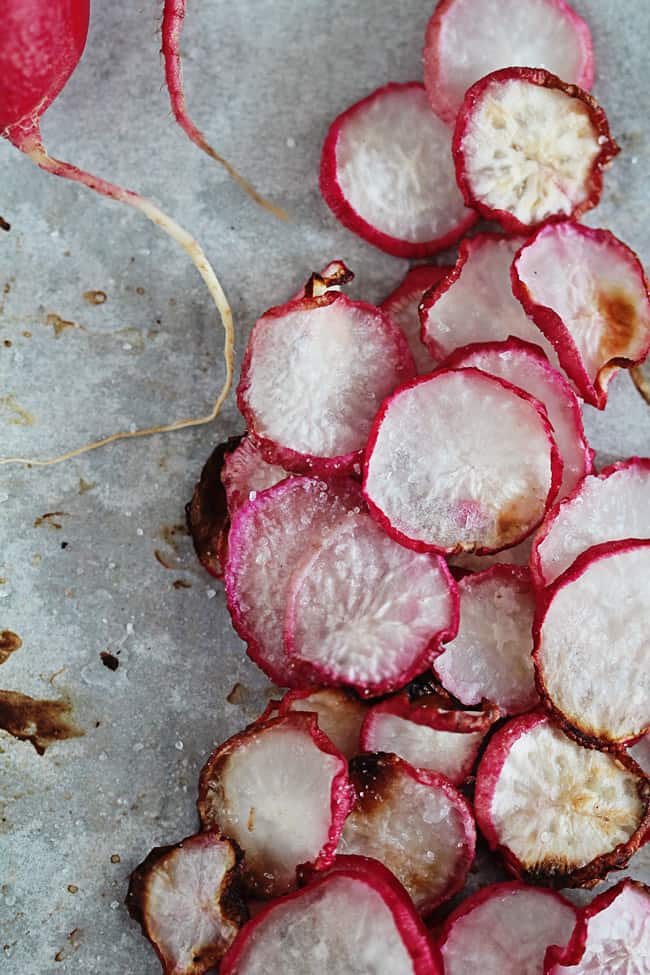 Radishes
Known for their surprising spice, radishes are another classic spring vegetable. They can be sliced in salads, served raw with French butter and salt, or even braised for a new twist.
Like carrots, radishes can be purchased with or without greens; it's best to remove the greens before storing, but they can be cooked or used to make pesto. Radishes should feel firm and the greens should be vibrant, without any wilting.
Try it in: Tofu Poke Bowl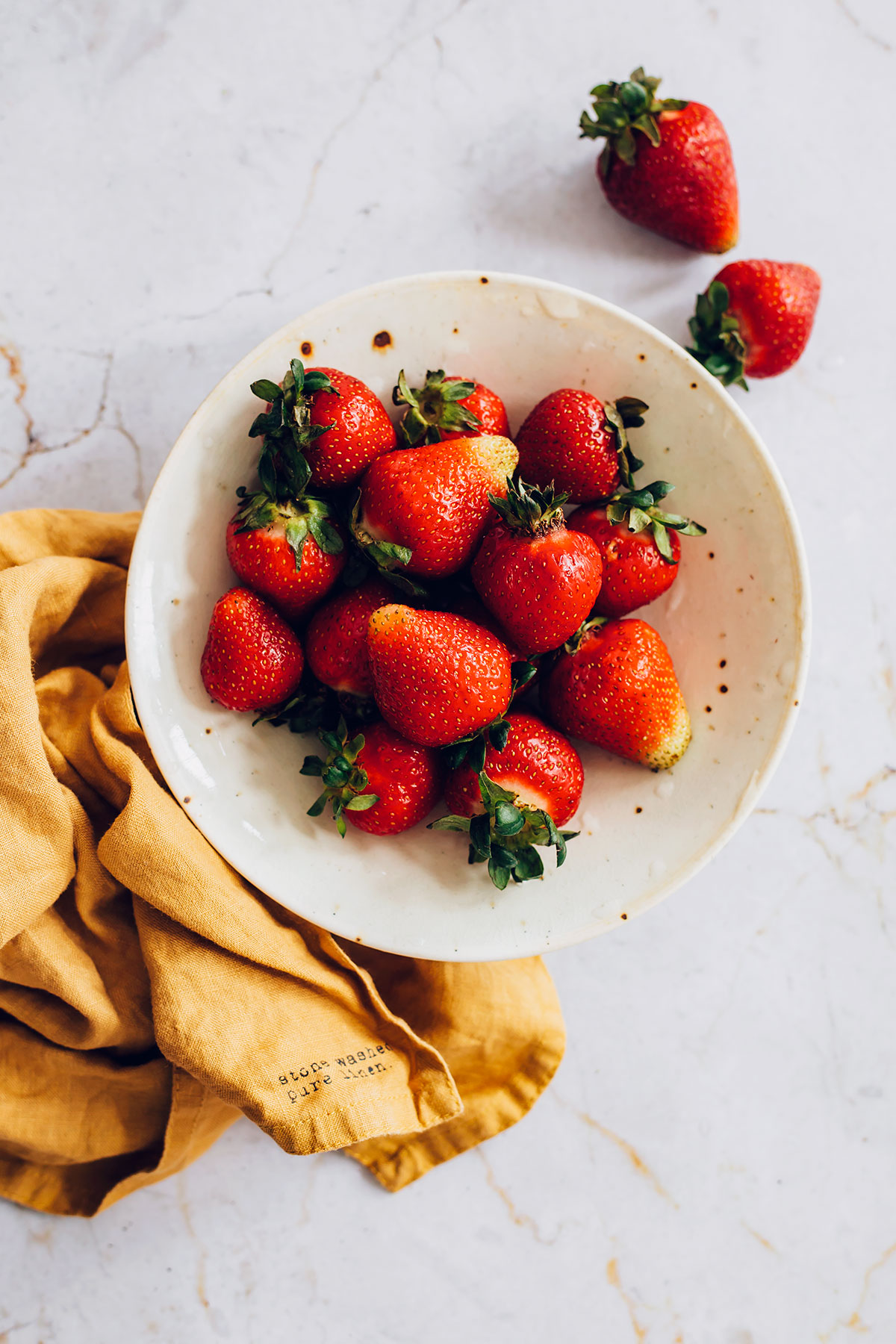 Strawberries
With all of this talk about produce, we need to mention a classic spring fruit: strawberries! Known for their incredible sweetness, they also notoriously have a short fridge life. So many times I have reached for a strawberry out of the store container only to be disappointed to find white fuzzy mold. Don't leave your strawberries in the store container!
Smaller, local strawberries are always the best. Look for berries that are neither too light nor too dark and firm; if you're buying a pint, make sure there isn't any mold in it. Leaves should be green and bright, not brown and dried out.
Try it in: Vegan Strawberry Rosewater Ice Cream
What are your favorite fruits and vegetables this time of year?