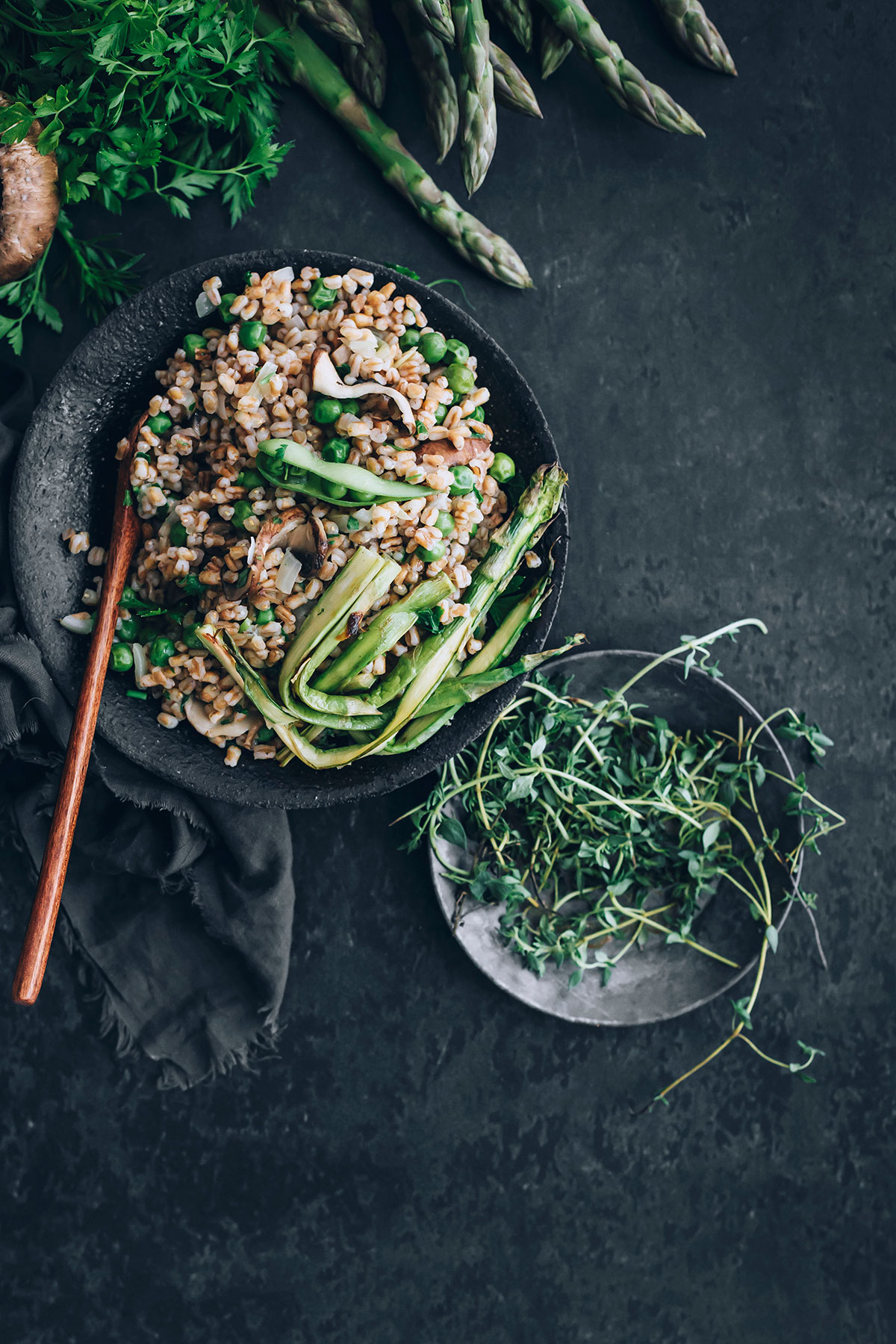 Risotto is truly a labor of love, but rice just doesn't seem worth all that effort to me. I'll order risotto in a restaurant once in a while, but would I make it myself? Rarely. I'd much rather make quinoa risotto, whether for spring or autumn, or use rice in different, less hands-on recipes.
Farro risotto is, however, a favorite in our household. Farro has a special place in my heart – and in my kitchen. It's more filling than rice, it's pleasantly chewy, so it takes a bit longer to eat, and it's just more satisfying on the whole. Farro risotto is a dish I don't mind spending a lot of time on.
Spring Vegetable Farro Risotto
Like traditional risotto made with arborio rice, farro risotto is made creamy and perfect by standing at the stovetop and stirring in ladles of stock one at a time. Once the liquid is absorbed, you stir in another ladleful, repeating until you run out of stock. It can be a relaxing process if you've got the time to spare.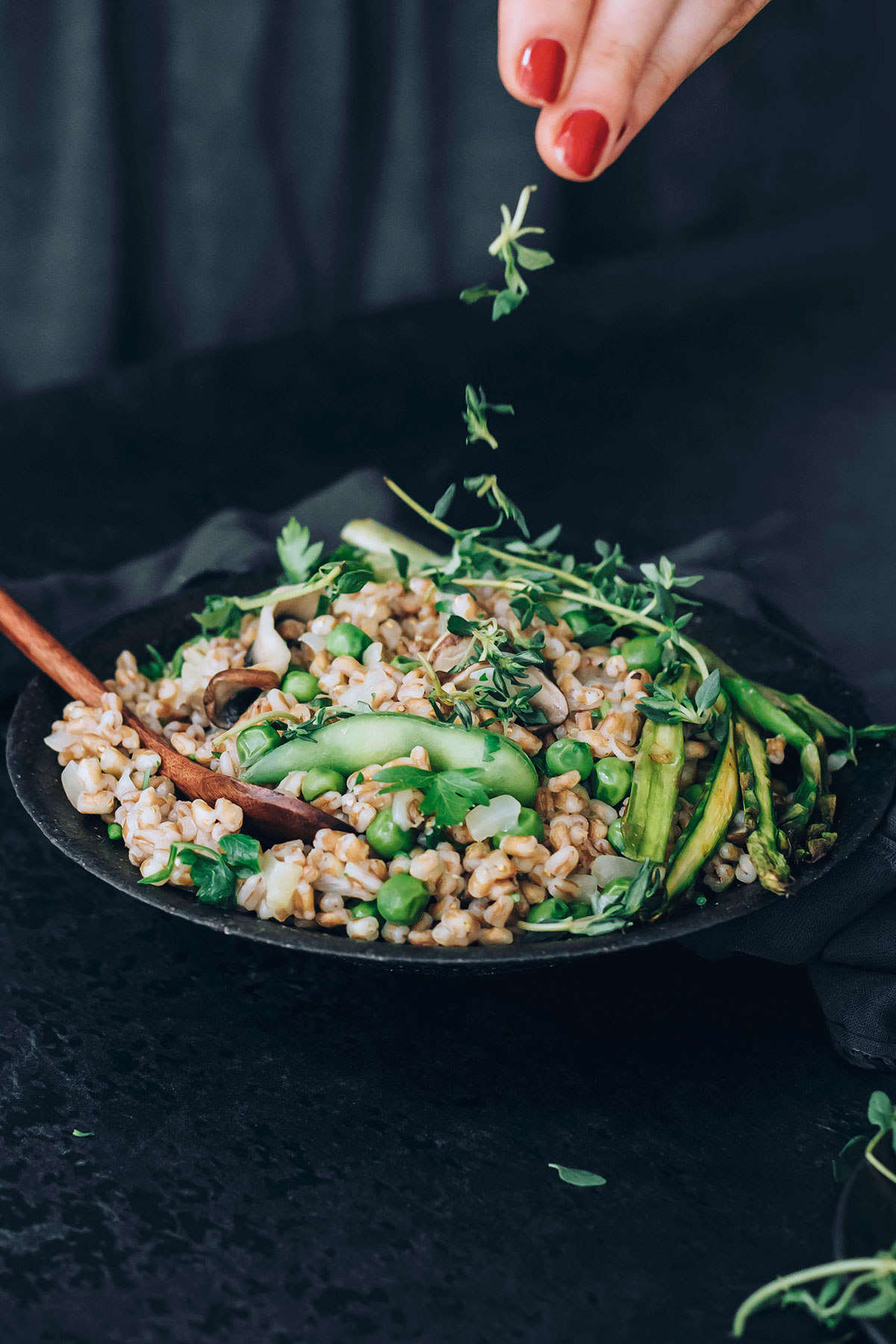 I've seen rice risotto made with all different kinds of cheese, but I like farro risotto best with Parmesan–it's an assertive cheese that stands up to the nutty flavor of the whole grain. (If you're in the United States, Whole Foods 365, Organic Valley, and Sartori all sell vegetarian Parmesan. Outside of the US, substitute a vegetarian hard cheese.)
The real decision comes when it's time to add the vegetables. In the fall, roasted butternut squash is quite nice. Summer? Zucchini, sun-dried tomatoes, or even corn would be tasty. But since it's spring, I went with a combination of peas (use fresh if you can get your hands on them!), asparagus, and mushrooms. And it's a winning combo, if I do say so myself.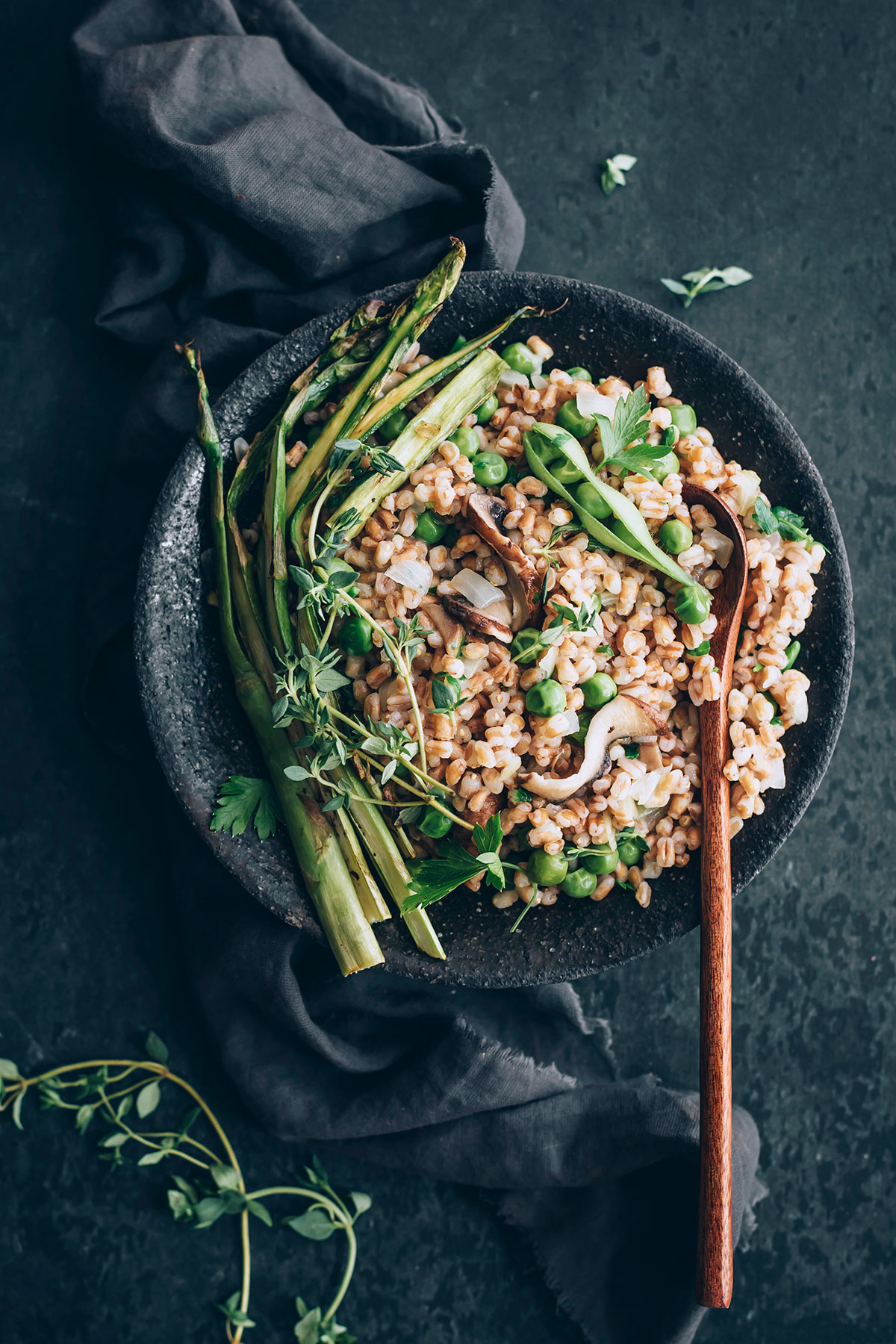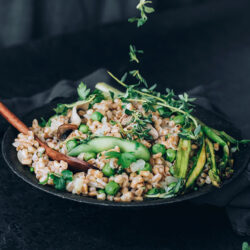 Spring Vegetable Farro Risotto
Ingredients
1

pound

asparagus

tough ends removed, cut into 1-inch pieces

3

tablespoons

extra-virgin olive oil

divided

5 1/2

cups

vegetable stock

1 1/2

cup

uncooked farro

1

small onion

chopped

2

cloves

garlic

minced

4

ounces

sliced shiitake mushrooms

1/2

cup

dry white wine

2

teaspoons

chopped fresh thyme

3/4

cup

fresh or frozen peas

1/4

cup

grated Parmesan cheese

1/4

cup

chopped parsley leaves

Salt and pepper

to taste
Instructions
Preheat oven to 425ºF.

Toss the asparagus and 1 tablespoon of olive oil on a sheet pan. Roast for 10 minutes or until tender and just beginning to brown in places, stirring halfway through cooking time.

Bring the stock to a simmer in a small saucepan; reduce heat to low to keep it warm.

Heat the remaining olive oil in a Dutch oven over medium heat. Add the farro and onion; cook for 5 minutes, stirring occasionally. Add the garlic and cook 1 minute more or until fragrant, stirring constantly. Stir in the mushrooms. Cook for 5 minutes or until the mushrooms have released their juices. Add the wine and thyme; cook until the liquid almost evaporates.

Pour 1/2 cup of stock into the pot; cook over medium heat for about 4 minutes or until the liquid is nearly absorbed, stirring occasionally. Add the remaining 5 cups of broth 1/2 cup at a time, stirring occasionally until stock is absorbed before adding the next. (This takes about 40 minutes.)

When adding the last 1/2 cup of broth, stir in the peas and cheese. After the broth is absorbed completely, fold in the parsley and roasted asparagus. Season to taste with salt and pepper, then serve immediately.
Nutrition
Serving:
1
/6 of recipe
Calories:
309
kcal
Carbohydrates:
46.1
g
Protein:
9.9
g
Fat:
8.8
g
Saturated Fat:
1.4
g
Fiber:
8.2
g
Sugar:
6.7
g
Photos by Ana Stanciu