There aren't many recipes easier to put together on a weeknight than a stir fry. Stir fries are a great way to use up odds and ends in the fridge. But this Sticky Stir Fry with Brussels Sprouts relies on two of my favorite ingredients, specifically purchased for this recipe: sprouts and tempeh.
Tempeh is by far my favorite vegan protein. It's versatile and delicious. Because tempeh holds up well, it's great to toss into a stir-fry. Brussels sprouts have had a kind of the Renaissance the last few years. The days of mushy boiled Brussels sprouts are long gone as we've all come to realize they better suited for roasting, stir-frying, thinly slicing, and quick-cooking methods which preserve their natural sweetness and delicate texture.
I love candied Brussels sprouts, which plays up that natural sweetness, and this stir fry draws inspiration from that while taking on its own identity as well. Brussels sprouts and tempeh are a great match in flavor and texture.
How To Choose Brussels Sprouts
When buying Brussels sprouts, I like to choose sprouts that are on the smaller side. They tend to have a milder, sweeter flavor and the leaves are more tender. In any case, choose sprouts that look plump and juicy with uniform color. Pass by the ones that are yellowing, look dry or shrunken.
For recipes like this stir fry, I prefer to quarter the Brussels sprouts if they are large. Halving is fine for smaller sprouts. They cook more evenly that way and are easier to eat. Don't trim away all of the stem end so they hold together.
I used beautiful purple Brussels sprouts here for extra color. Some of the purple fades as they cook, but there's still a hint around the stems and edges.
A Wok is Worth the Investment
If you want to take your stir fry game to the next level, I highly recommend purchasing a wok. A well-seasoned cast iron skillet will work fine too. Whatever you use, make sure it's non-stick and able to handle high heat.
I bought my wok a few years ago and I'm still working on seasoning it to perfection. The more often it's used, the better that non-stick surface becomes. Woks aren't that expensive either. Check your local Asian market or cooking stores.
It's All About The Sauce
Sauces are key when it comes to stir fries. As the name implies, the sauce for this stir fry is sticky and sweet. I love using maple syrup or honey as my sweetener here because it results in a wonderfully sticky sauce. I do like to thicken it with a little cornstarch too, as is done with most stir fry sauces.
The sticky and sweet needs some balance, which comes from rice vinegar for a tart element, and crushed red pepper flakes, for heat. I love the strong elements in the sauce and how they hold up to the flavor of the sprouts; tempeh adds a delicious earthy, umami flavor.
The tempeh is marinated in the sauce, then removed and stir fried, the sauce reserved. This helps give the tempeh an extra boost of flavor, but also creates a slight "coating." The reserved marinade is added in at the end where it thickens and coats the tempeh and Brussels sprouts and turns into a delicious, sticky sauce.
And that's all it takes for a quick and easy, healthy vegetarian stir fry dinner!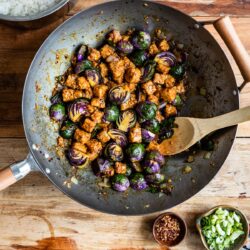 Sticky Stir Fry with Tempeh and Brussels Spouts
This quick and easy stir fry combines tempeh and Brussels sprouts with a deliciously sticky-sweet and spicy sauce.
Ingredients
For the sauce:
1/4

cup

Tamari or soy sauce

1/4

cup

vegetable broth or water

2

tablespoons

honey or maple syrup

1

tablespoon

rice wine vinegar

1

tablespoon

toasted sesame oil

1

tablespoon

minced or grated ginger root

2

teaspoons

cornstarch

1

teaspoon

crushed red pepper flakes
For the stir-fry:
Two

8-ounce packages tempeh, cut into small cubes

2

tablespoons

coconut or avocado oil

1/2

cup

diced yellow onion

1

tablespoon

minced garlic

1

pound

Brussels sprouts

ends trimmed and quartered

Hot cooked rice

for serving

1/4

cup

green onions

thinly sliced

Toasted sesame seeds

for garnish
Instructions
Combine the sauce ingredients in a medium mixing bowl. Add the cubed tempeh. Stir to coat and let sit for 15-20 minutes.

Heat a wok, a heavy-duty non-stick pan or a cast iron skillet over medium-high heat. Add the oil and heat until you see small wisps of smoke rise from the oil.

Add the onions and 1 tablespoon minced garlic to the wok, and stir-fry for 1-2 minutes. Use a slotted spoon to transfer the tempeh to the pan, leaving the sauce behind.

Stir-fry the tempeh for 3-4 minutes, then add the Brussels sprouts. Continue stir-frying until sprouts are bright green and tender crisp. Add the reserved sauce to the pan and stir well to coat. Continue stir-frying to allow sauce to thicken and caramelize slightly.

Remove from heat and serve on top of hot, cooked rice. Garnish with green onions and toasted sesame seeds.