What really sets a yoga practice apart from so many other styles of movement is the focus on the breath. It can be a wonderful practice to build mindfulness and can help us to balance the relationship between the mind and the body. Of course what draws many of us to yoga is that it can also be a very strong physical practice. Some styles that are more fast-moving and dynamic can offer the added benefit of fitness and conditioning, whereas slower movements and longer holds can help to build strength and stability.
Here are a few of my favorite strong yoga poses which target different areas of the body and also serve to strengthen our largest muscle groups so they can work hard at burning fat—even post-practice when we are at rest.
1. Chair Pose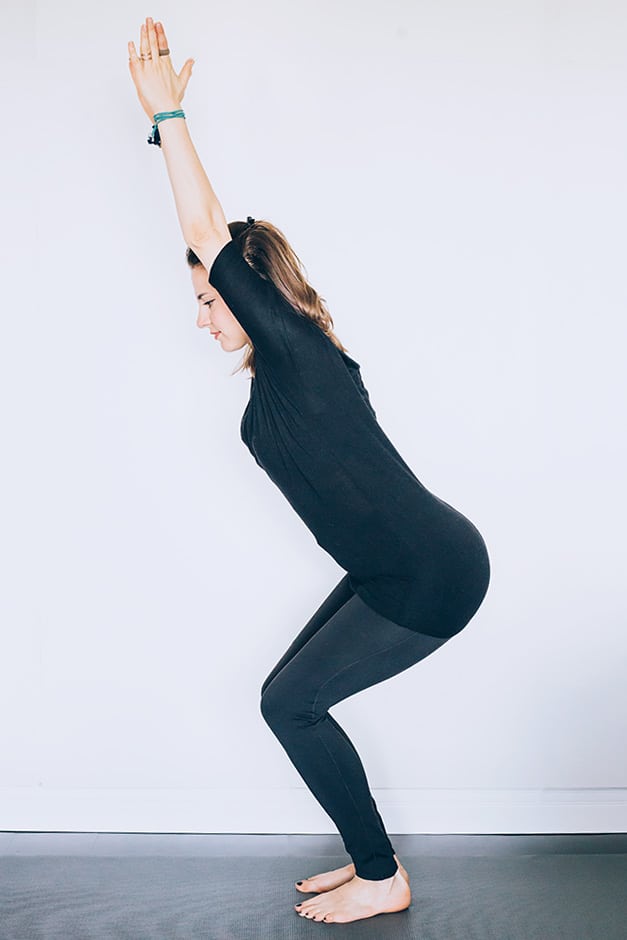 Chair pose is one of those poses that many practitioners love to hate. It takes a lot of work for the body to sink down and lift up at the same time, making this one a great choice for all-around muscle tone.
Step your feet hip distance apart, keep your legs parallel, and sink your hips down towards the floor as if you were sitting in a chair. Lift your arms up by your ears and lift your breastbone upwards towards the ceiling. Stay in the posture until you feel challenged, then see if you can hold on for three more breaths!
2. Plank/Dolphin Plank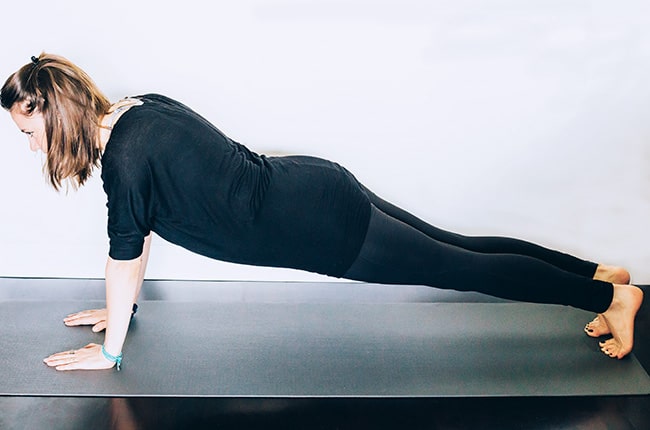 Plank pose and dolphin plank (plank with forearms down) are challenging because they work so many different muscle groups at the same time.
Place your hands beneath your shoulders and step your feet back to the top of a push-up position. Keep your hips in line with the rest of the body and lengthen the back of the neck. If you have sensitive wrists, practice your plank on your forearms with your elbows stacked beneath your shoulders.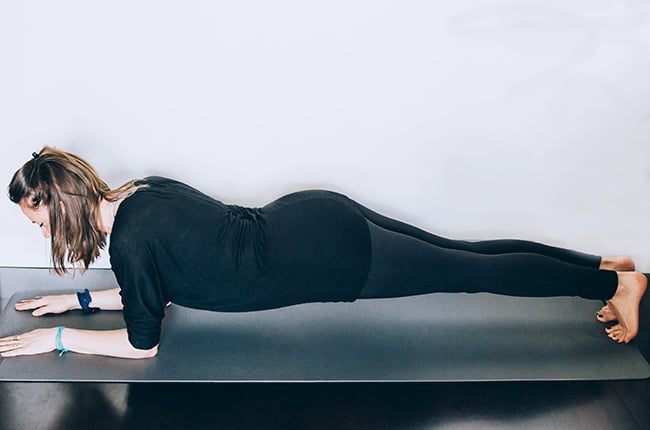 Whichever variation you choose, you'll want to stay toned in the glutes and the abdominals, and be careful not to let the hips sag towards the floor. If you feel a drop in your lower back, let your knees come to the floor to help bear some of the weight. Set a timer and see how long you can hold the pose with good form. Each time you practice, see if you can hold for another five seconds.
3. Goddess Squat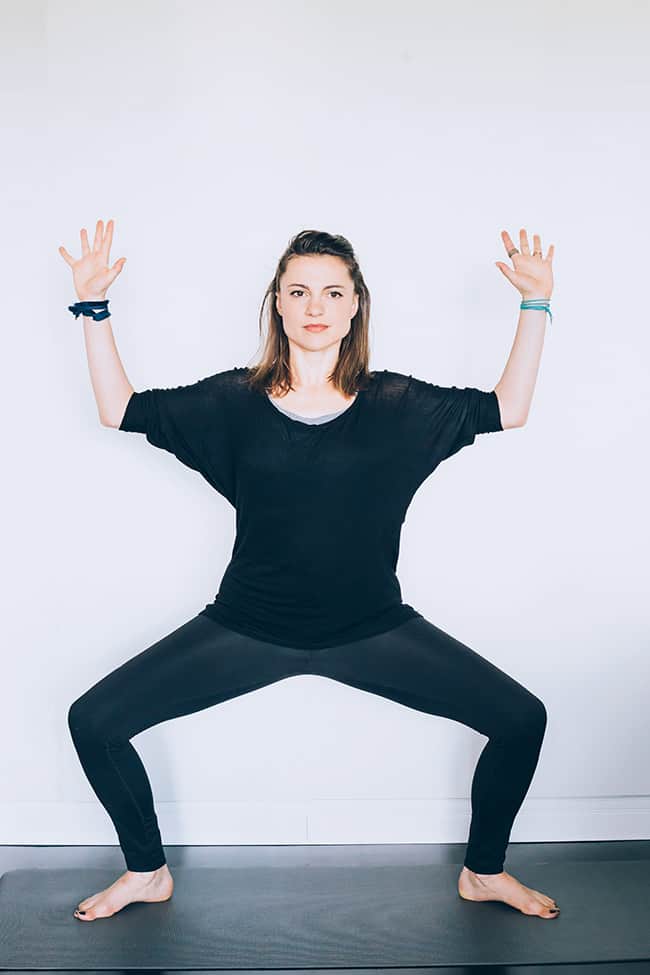 The great thing about squats is that they target the largest muscle groups in the body (quads and glutes) so even when you are at rest, these muscles will continue to burn fat. Strong glutes are also very important in supporting spinal health, and quad strength will help to protect the knees. So many good reasons to squat!
Step your feet out wider than your hips, allow your toes to turn out slightly, and lower your hips downwards towards the floor. Take a look at your knees and make sure that they are gliding straight over the feet in the same direction as your toes. If your knees drop inwards, step in a bit and adjust your feet so you an ensure a proper alignment. Keep your torso upright as you being to pulse your hips up and down. Make sure you return all the way up to standing in between squats, and give your glutes a little hello squeeze at the top of each one! Practice as many reps as you can, and then see if you can take three more.
4. L-Shape (half handstand)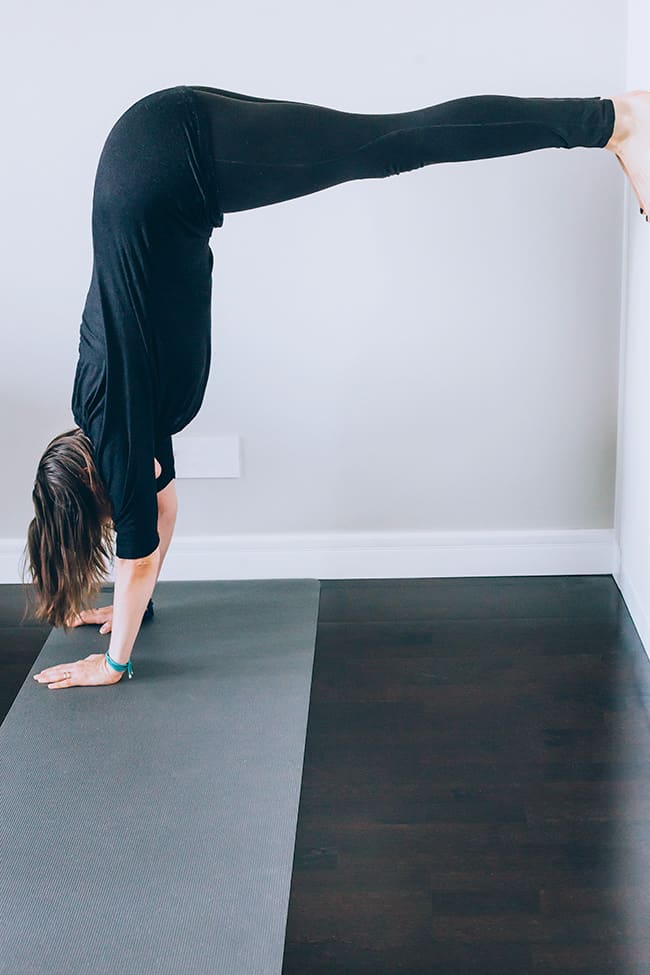 Even though this is a half-handstand and not a complete inversion, it's actually more challenging for the body than a handstand because it's more inefficient.
Come to downward-facing dog with your heels to the wall. Step your feet up the wall until they are hip height, and your shoulders are stacked over your wrists. If you find your spine sinks into a banana shape, draw your ribs and hip-bones together and cinch your waist by activating your abdominals. Hold until you feel the need to come down, and give your wrists some little circles to release.
Beginners may find that they need their hands to be a bit further away from the wall, but eventually the goal is to be able to have the feet on the wall and the wrists stacked directly beneath the shoulders which will be directly beneath the hips, finding a true "L" shape.
5. Warrior 3 (and variations)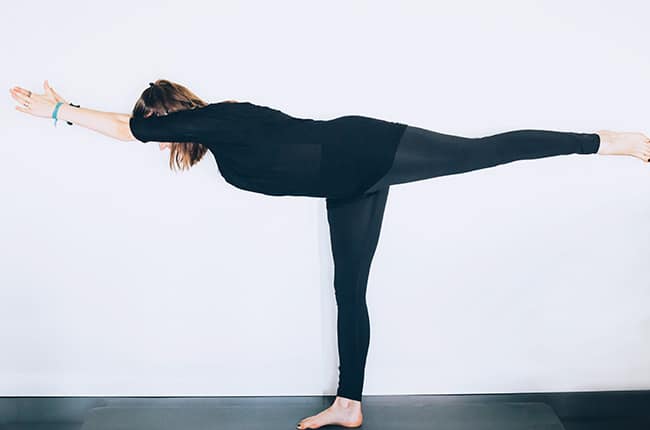 Along with chair pose, Warrior 3 is another pose that can make many practitioners groan. It is a posture that simultaneously works the abdominals, glutes, hamstrings and upper back.
Balancing on one leg, tip your torso forward until it floats parallel to the floor. Straighten your other leg back, also keeping it parallel to the floor (imagine your body forming a capital T shape). Arms can reach back behind you or, for an additional boost of strength, reach them forward. Keep your pelvis balanced and neutral, avoiding the tendency to lift one side up higher than the other. Press down strongly into your standing leg, and push back through the heel of your floating leg. You'll need to be aware of the tendency to collapse into a banana-back here as well; cinch the waist and lengthen the spine.
If this feels too challenging to work as a balance, try resting your hands on blocks directly beneath your shoulders, keep your spine straight and focus your work on the lower body. For a boost in the hamstrings, lower your floating leg to the floor and lift it back up, working through 5-10 reps. For additional outer-hip strength, lower your floating leg beside the standing one, place your hands on blocks, and lift your leg up and out to the side as high as you can for 5-10 reps while keeping your hips level.
If you're looking for ways to push past your yoga plateau and build more muscle strength and tone, try these five turbo-charged postures. Once you've worked these poses to your edge (with attention to form, of course!), give yourself a sweet yoga treat: child's pose followed by legs up the wall would make a great dessert!
Photos by Ana Stanciu
2