If there's one fail-proof way to make sure your family has healthy eats throughout the week, it's setting aside some time to plan and prep your meals. It's a bit of a chore, but you can bet that your tired Thursday-evening self will be thanking your organized Sunday-afternoon self for getting the job done and saving your family from cereal for dinner. If planning and prepping a week's worth of meals at a time sounds overwhelming, fear not. We've broken it down into simple, easy to follow steps to help you get the ball rolling.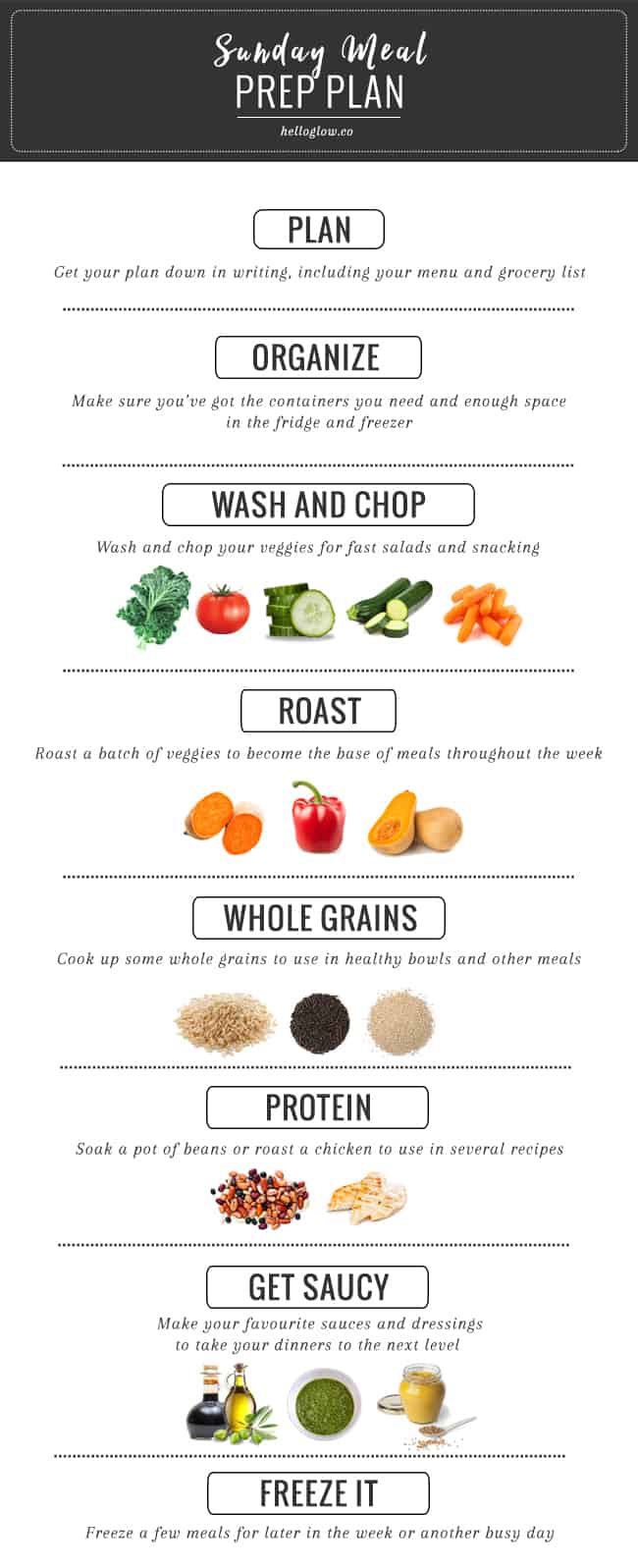 Plan
First, assess your week. How many meals do you actually need? If you know you've got a dinner out or a special event coming up, you can leave that night out of your plan. Or, maybe you know you'll be feeding a crowd one night so you'll need to come up with a larger than usual meal. Every week will be different, so take some time at the start of your planning session to see what you've got going on, and make some notes.
Next, get your plan down in writing, including your weekly menu and grocery list. If you can, do your grocery shopping the day before your prep day, so you've got everything ready to go and one big task out of the way. I started ordering my groceries online (except for fresh produce, which I want to choose myself) and having them delivered once a week, and it's been a total game changer.
Organize
Before you start prepping, make sure you have all the food storage containers you'll need–mason jars, freezer bags, Bee's Wrap and Tupperware-style containers are all great. Take a look through your fridge and freezer to see what you've already got, and ensure you're organized with enough space to hold all of your meals.
You'll also need to come up with a strategy for your cooking. Are you going to be making separate meals for each night of the week? Will you be prepping some ingredients that will become the bases for several meals throughout the week?
Both strategies have their merits. Pre-cooking separate meals takes a bit more work up front, but means on a busy weeknight all you've got to do is pull something out of the fridge or freezer and heat it up. Bulk-cooking basics like grains, proteins, and produce means that you'll have to do a bit of work each night to get dinner on the table, but it'll be a 15-minute job rather than an hour.
Wash, Chop, and Roast
No matter what strategy you've decided to employ or what you're making, tackle your produce first. Wash, spin, chop, or shred your veggies for the week, whether they're going to be left raw for salads and healthy snacking, or used in a cooked dish. Remember that heartier greens like kale and collards stand up well to being prepped in advance, but those that are more delicate, like spinach and lettuce, are better left for the last minute.
Try to chop all at once; if you know you'll need diced onion for three different dishes, dice enough for all three recipes, portion it out, and label so you know which recipe each portion is for. The same goes for any other produce that'll be used in multiple recipes.
Roasted veggies are great to use throughout the week in a variety of meals if you're going that route. They can be used in burrito bowls on Monday, be stirred into a pasta sauce on Wednesday, and form the base of a soup for Thursday.
Cook
If you're cooking up basics to use throughout the week, start with some whole grains. Healthy whole grains like brown rice, kamut, or wheat berries take longer to cook than refined grains, so it's best to have them cooked and ready. If you cook up a big batch of brown rice, for example, it can be the base of those burrito bowls we talked about for Monday, and then become a quick and easy fried rice dinner on Tuesday, and get served alongside that soup on Thursday. Cooked whole grains freeze brilliantly, so you can always cook more than you need, portion into freezer bags, label, and toss into the freezer for another time. Your future self will thank you!
This is also the time to prep a protein or two. Cook up a big pot of beans or lentils to use through the week (Burrito bowls! Soup! Salad!) and portion as needed. Cooked legumes also freeze really well, so just like with whole grains, you can cook extra, portion into freezer bags, and have them on hand whenever you need. Also remember that canned beans are perfectly fine, just give them a good rinse! Roast a chicken to be used in several recipes (Burrito bowls! Fried rice! Soup!) as you go. Other proteins can be pre-marinated and kept in the fridge or freezer until needed.
Get Saucy
Homemade sauces and dressings will transform even the most basic meal into something special. I like to whip up a big batch of hummus once a week and use as a spread in wraps or sandwiches, to dollop into salads or grain bowls, and so on. Homemade pesto freezes like a dream and will breathe life into pasta, pizza, and even soups. And quick shaken-up salad dressings will last a week in the fridge to make your salads and sides next-level good.
Freeze It
Not all food will last the whole week in the fridge, so be sure to freeze some of it. If you're whipping up prepared meals for each night of the week, aim to pop at least one or two of those meals into the freezer. Soups and stews freeze and reheat really well, and things like baked pasta dishes, enchiladas and burritos can be made up to the point of baking, frozen, and then baked on the day they are to be eaten. Many slow cooker meals can be frozen before cooking, so if you're making something for the slow cooker make a double batch and toss one batch in a freezer bag for another time.