I used to eat just a granola bar for breakfast in the morning, and would always wonder why I was famished by 10 a.m. I feared that if I ate more than that, I'd feel sluggish and would set myself up for overdoing it on calories the rest of the day. Turns out I couldn't have been more wrong!
When I told my naturopath about my habit (and the fact that the granola bars I was eating were pretty much just empty calories), she challenged me to eat a protein—and healthy fat-focused breakfast every morning—and it worked!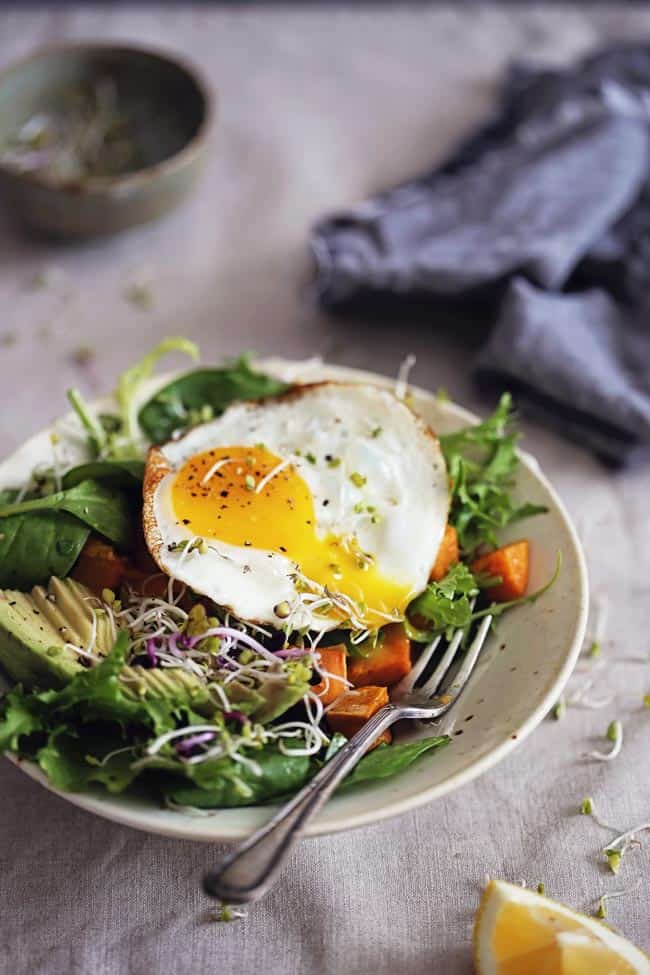 Sweet Potato Hash for Breakfast
By getting a lot of my calories in the morning, I didn't feel nearly as hungry around lunch and dinner. I was still snacking, but without all that sugar in my system early in the day I was more likely to turn to healthy snacks like veggies rather than giving in to chips.
It is important to get some carbs in the morning, though (they do provide energy after all), which is why this sweet potato hash has been a lifesaver. The protein, healthy fats, healthy carbs and fiber give you energy and make you feel full longer, while the whole thing's super easy to throw together in about 10 minutes if you roast the sweet potatoes ahead of time.
The texture and flavors feel like a real meal, which for me sets the tone for the day and makes me less likely to give in to convenience foods later. (Or if I do, hey, at least I ate a healthy breakfast!)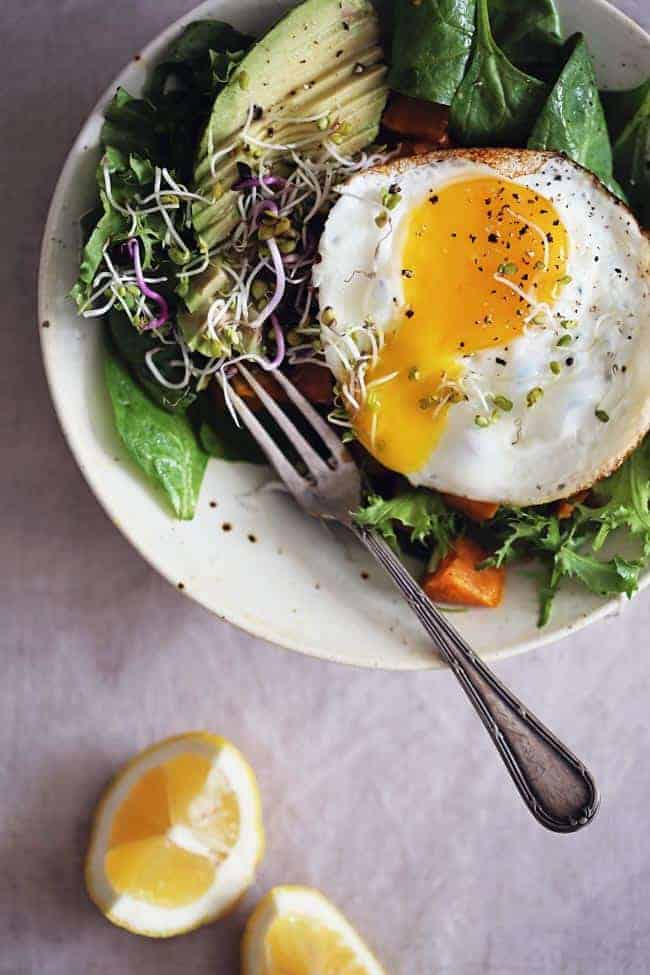 The diced sweet potatoes can be roasted up to 4 days ahead of time—if you go that route, just reheat and crisp them up a little before serving. I like to roast 2 or 3 potatoes at a time, and keep them in containers in the fridge so I can just toss in the pan when I'm ready to make breakfast (or any other meal). The hash isn't exactly grab-and-go material, but if you have the time to sit down and enjoy a quick-ish healthy breakfast, this is the way to go!
Can't get enough sweet potatoes? Try stuffed sweet potatoes for breakfast, lunch or dinner, our favorite sweet potato latkes, or an easy weeknight sweet potato quesadilla.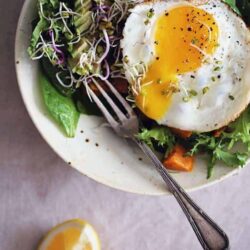 Sweet Potato Breakfast Hash
Roast the sweet potatoes ahead of time, and this healthy hash will only take about 10 minutes to throw together.
Ingredients
1

sweet potato

diced and roasted with a little olive or avocado oil (add salt, pepper or other spices as desired) at 400°F for about 40 minutes, or until tender and just browning

1

tablespoon

olive or avocado oil

2

large handfuls spinach

or your favorite baby greens mix

2

eggs

1

avocado

halved and sliced or diced

Sprouts

if desired

Salt and pepper to taste

Hot sauce

Thai peanut sauce, or your favorite vinaigrette
Instructions
If you've just roasted the sweet potatoes, divide in half and place on 2 plates.

If you roasted them ahead of time and refrigerated them, heat 1/2 tablespoon oil in a medium skillet over medium heat. Pour diced sweet potatoes into the pan, toss in the oil and heat until just crisped up a bit. Divide in half and place on 2 plates.

Heat a medium skillet (or use the same one, if you crisped the potatoes) and toss greens for about 20-30 seconds, or until just starting to wilt. Divide greens and place on plates over sweet potatoes.

Heat remaining oil (you can also use butter) in the skillet and cook eggs until yolks are just firm, but not solid—they should be somewhere around over easy.

Place 1 egg on each plate over greens and sweet potatoes. Top with avocado, sprouts, hot sauce or another savory sauce like peanut—or even just your favorite vinaigrette or a squeeze of lemon juice. Season to taste with salt, pepper and other spices. I recommend Trader Joe's 21 Spice Salute blend!
Notes
You can cook the eggs longer, but the runny yolks mixed in with the greens makes it extra delicious! Use whatever sauce or condiments from your fridge that you like. Anything spicy or savory is great.
Photos by Ana Stanciu