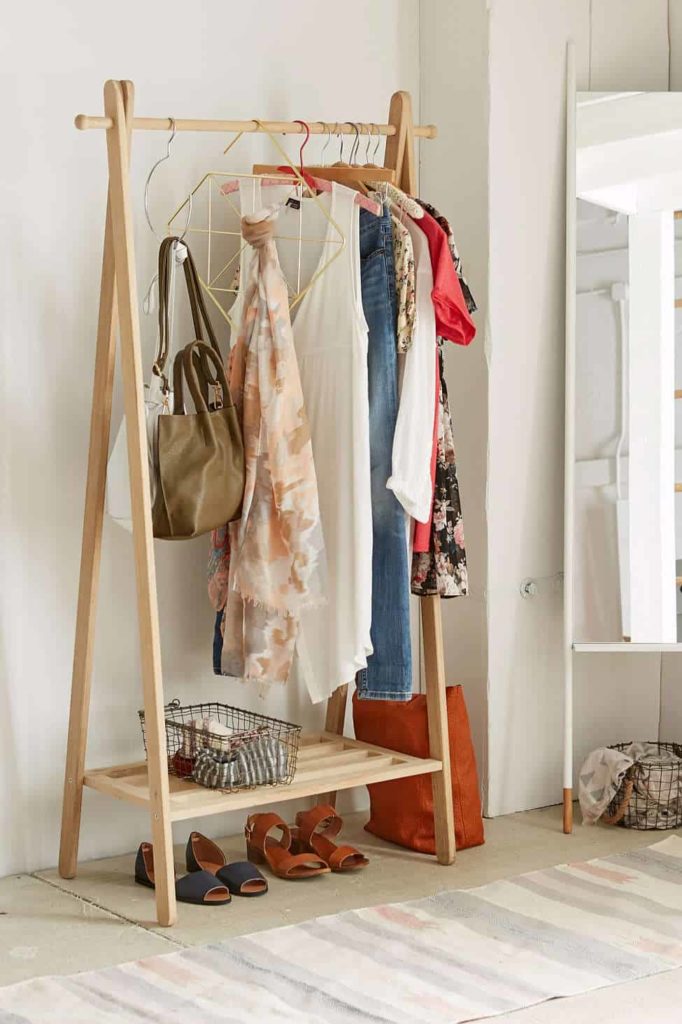 Wooden Clothing Rack from Urban Outfitters
You're a functioning adult, so you know how to clean out a closet. This post isn't about what to do to take control of your closet, it's more about the how—the finer details. I'm not an organizing expert, but I do speak from experience: when we moved a few years ago, I had to downsize from a ginormous walk-in closet (which I had completely filled!) to a 1920s-style closet that was about 4 feet wide and deep—oh, and I had to share it with my husband. Quelle horreur, right?
3-Stage Purging Process
I've found that the best way to clean out a closet is to do it in phases, going through all of my clothes three times.
If It Doesn't Fit, You Must Get Rid
First things first: get rid of the stuff that doesn't fit you. You can make an exception for things that are one-size down if you really love them, but anything that's several sizes smaller than you're currently wearing, get rid of it. Because a) it's going to make you feel lousy every time you see those clothes in your closet, and b) if you lose enough weight to fit into those size 2 pants again, you need to treat yourself to some new clothes. You deserve it! Also, it's 2017 and the low-rise jeans you bought from Forever 21 in 2004 are an embarrassment! (Sorry, someone had to say it.)
Ditch the Stuff You Don't Wear
Clearance sections are my downfall, but the cold, hard truth is that a lot of times, clothes are marked down for a reason. I had so many things in my closet that I bought because they were cheap and then I never wore because the fit was weird or they didn't go with anything else in my wardrobe. If you haven't worn something in the past year—or at all—it's time to let that stuff go.
The Frenemy Test
If you've read The Life-Changing Magic of Tidying Up, you might also think of this as the "spark joy" test.
You've purged the things that don't fit and that you don't wear. This step is the hardest: now it's time to purge the things you do wear, but don't feel good about wearing. Allow me to use a personal anecdote to illustrate this:
I have a pair of jeans that's super comfy, but hideous. Online, they looked like nice boot-cut jeans, but when they arrived on my doorstep and I tried them on, I realized they were a few pleats away from being the mommest mom jeans that ever mommed. They weren't even made with real denim! They were made with that thin faux denim stuff! And did I mention they were also about an inch too short? Because that. But I kept them because: super comfy. Suuuuper comfy and soft.
Whenever I wore these jeans, I'd feel like a total schlub and I pretty much only wore them around the house. One day, my daughter and I were feeling stir-crazy, so I decided we'd take a walk to the library—I was wearing the jeans, but I figured, well, no one I know will see me! Everything went according to plan until we left the library, after successfully procuring every Olivia book they had, and I saw my snobby neighbor sitting outside at the cafe next door.
And she saw me.
In my head, I was shouting a string of expletives, but on the outside, I gritted my teeth and smiled, making small talk. Me in my horrific, too-short mom jeans, snobby neighbor in her perfect post-workout Lululemon. Ugh.
The moral of the story is this: you might want to keep something because you wear it and it's comfortable, but if you don't feel good wearing it, get rid of it. If you wouldn't want your snobby neighbor or your ex-boyfriend from high school to see you in it, it's not worth keeping. Because guess what? Clothes that are comfortable and make you feel good do exist!
I realize this is hard to do because if you wear something a lot, it feels like a waste to get rid of it, but it'll kind of revolutionize your life. Seriously. You're worth having nice clothes that you feel confident wearing.
Extra Credit: Create a Capsule Wardrobe
If you want to go one step further, you can create a capsule wardrobe. I won't go into details here, but there are plenty of resources out there to help you along the way. While I haven't taken that step personally, I have made a conscious effort to buy fewer clothes, focusing on pieces that are well-made and that will work with what I already have. Quitting the fast fashion and clearance rack habit has been hard, but I'm actually spending less money on clothes now that I buy things that are more expensive—I don't have the budget to make impulse buys.
Maintain
After all that purging, your closet should be totally under control. Now you need to keep it that way!
Plan For Future Wardrobe Purging
I saw this on the Becoming Minimalist Facebook page and it's pretty ingenious: turn all of your hangers backwards, then when you wear a piece of clothing, put it back in the closet facing the right way. In six months, get rid of any clothes on hangers that are still backwards—you don't wear them, so there's no reason to keep them.
One Piece In, One Piece Out
For everything new you buy, get rid of something. This will force you to really think about whether you need a piece of clothing before you buy it.
Get Organized
I'm not really big on home organization products because, as a minimalist, I don't like to let my belongings get so out-of-control that I need to organize them. But there a few organizational things that I've found really useful in my closet. Check them out below:
[shop_products]
2