Who doesn't love a good gift basket this time of year? Maybe it's just me—and I'm 100% weird—but there's something so fun about assembling a zero waste gift basket for the holidays. I get a bit giddy picking out the gifts to include, arranging everything just so, and tying it all together with a pretty bow.
The best part is that you can make multiple baskets (assembly-line style) and give them to a bunch of people on your list. You don't even have to tailor the baskets to each recipient (although you can!). Just pick a universal theme that most people will love, like this zero-waste gift basket, and you're good to go.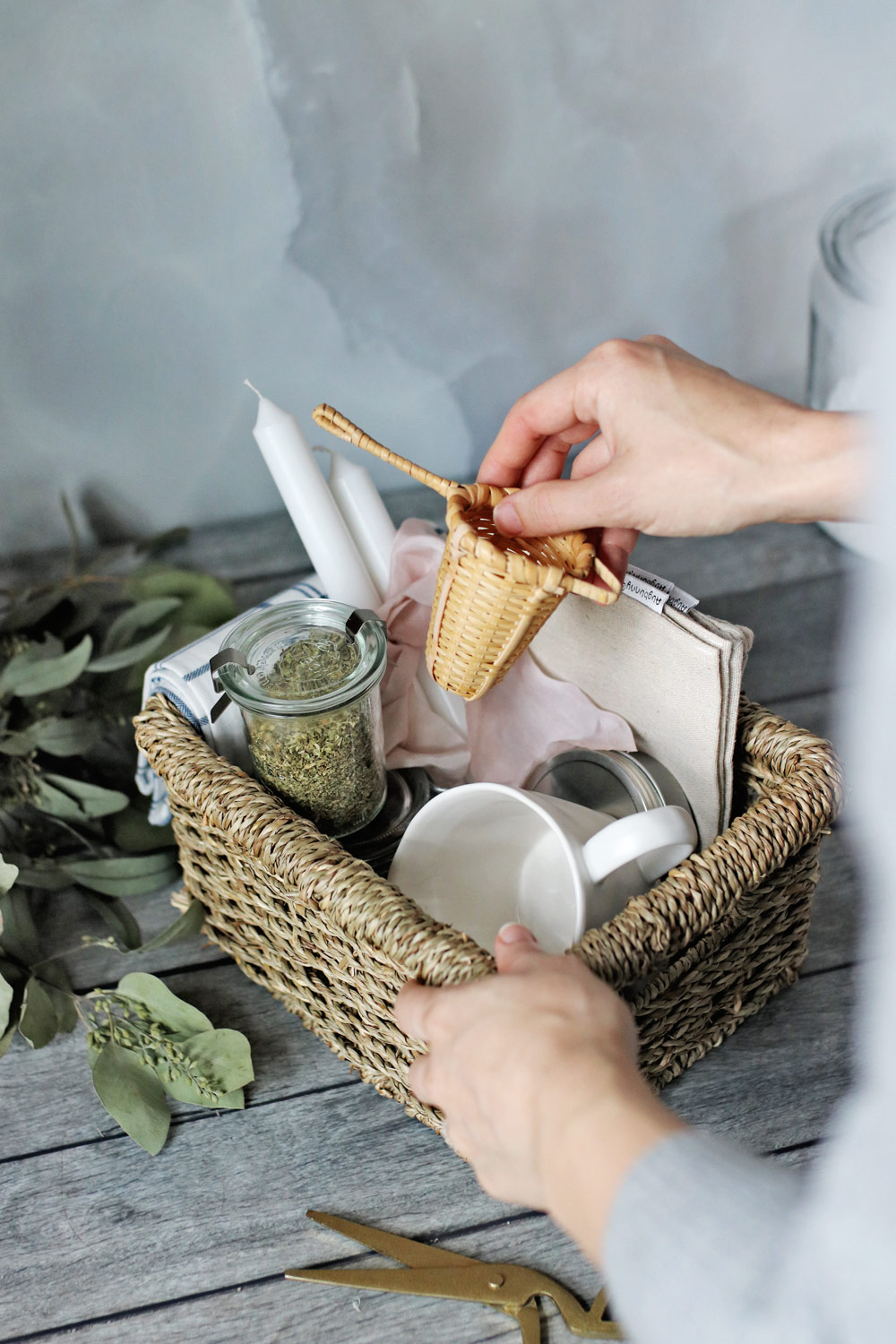 How To Make Zero Waste Gift Basket
Do you ever feel like the holidays have turned gift-giving into an obligation? You know, like a hurry-up-and-buy-something kind of event? Before I really became aware of how much I was buying (and wasting) each year, I was that person who'd make multiple trips to Target for Christmas gifts. It seems like people are getting harder and harder to shop for, and I was desperate for anything I could slap a gift tag on, just so I could call it a day.
That's when I realized I'd completely forgotten the meaning of gift giving during the holidays. So it was a breath of fresh air when I finally started giving greener gifts.
This basket is a great gift for practically everyone, but I love giving them to my green-loving girlfriends. Everything in it is both useful and plastic-free so I know I'm not contributing to the mountain of trash we're all guilty of making during the holidays. And my friends love knowing they're not contributing to it either.
When choosing zero-waste gifts, it's best to go handmade, homemade, secondhand, or with items that help someone produce less waste. And I do try to abide by those guidelines most of the time, but I'm not a total stickler about it. Not everyone appreciates zero-waste living like I do—and that's okay. Choose gifts that you know your friends will love, even if they're not 100% waste-free.
And the best part? Because zero-waste is often about reusing items, don't be afraid to use things you have lying around like glass jars, fabric, ribbon or even old gifts you've never put to use. As a society, we've turned re-gifting into a faux pas, but when it comes to zero waste, re-gifting and reusing is the name of the game. Just choose your recipients wisely and only re-gift items you're sure they'll love.
Here's what went into our DIY Zero Waste Gift Basket – and how to use them:
Soap nuts
I love these things. Soap nuts (also called soap berries) contain saponins, which are a natural soap-like substance that produce a lather when mixed with water. Not only do they clean clothes as well as store-bought laundry detergent, but they're also chemical-free, super cheap and they last forever.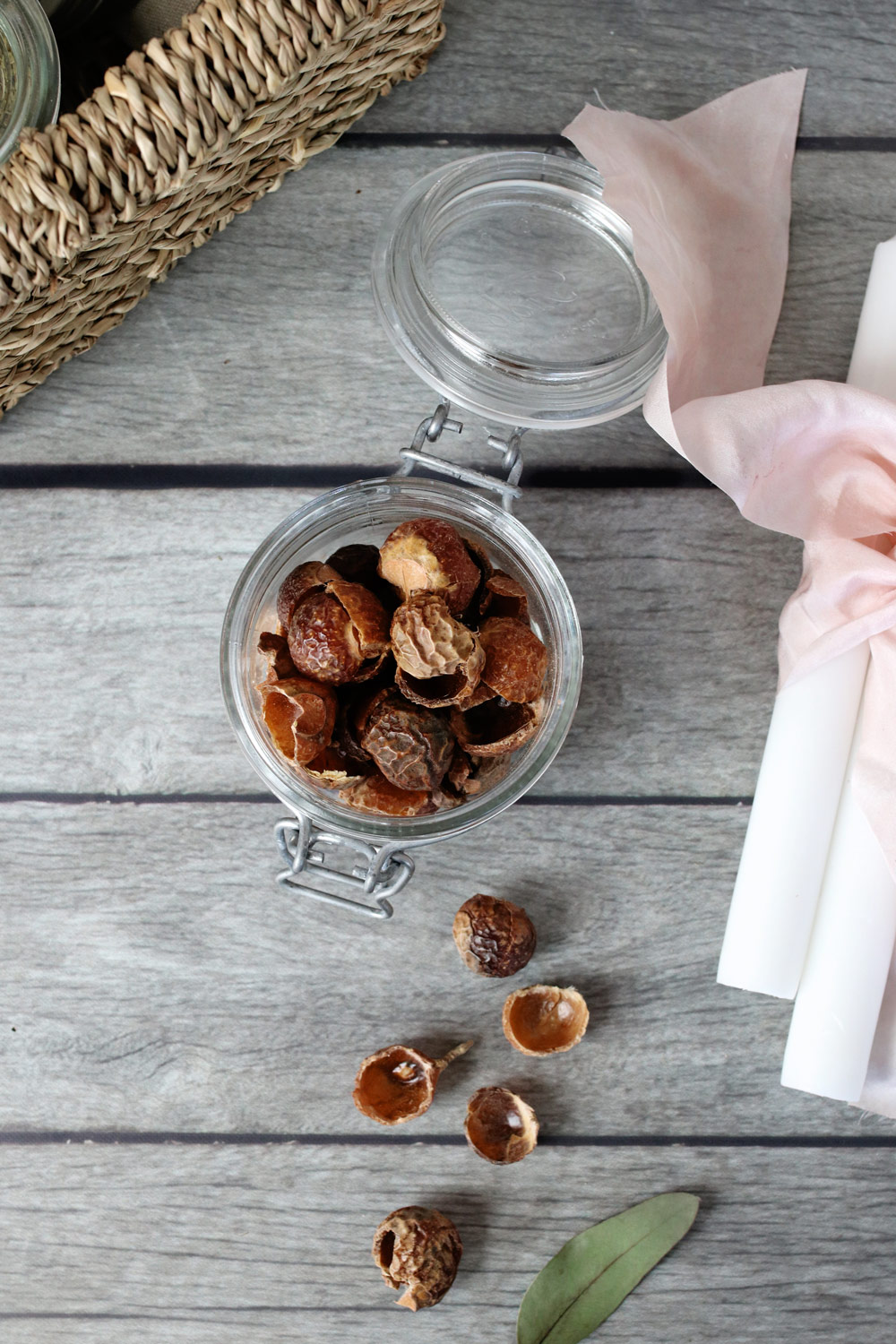 Cotton dish towels
Paper towels are often one of the hardest zero-waste swaps to make. They're just so convenient! But reusable cloth kitchen towels can get the job done just as well—from wiping down counters to mopping up spills to cleaning the oven and windows.
Beeswax candles
Most candles are made of paraffin, a waste product of the petroleum industry. Some can actually emit black soot made up of polluting polyaromatic hydrocarbons. Beeswax candles, on the other hand, are derived from renewable sources that burn clean and don't fill the home with toxic chemicals. If anyone on your list happens to be vegan, swap the beeswax candles for soy-based candles instead.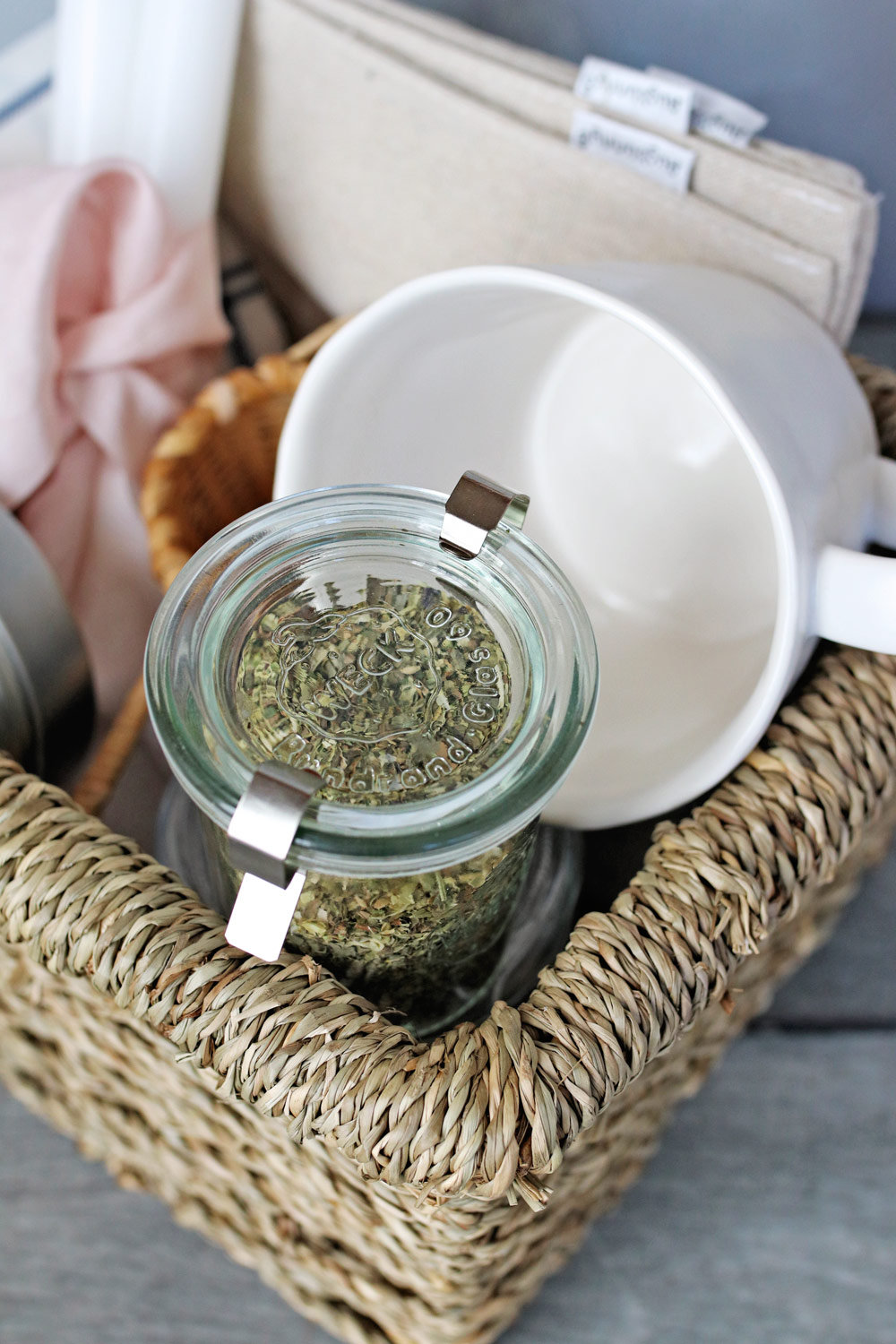 Loose tea and a grass strainer
I love giving and receiving tea as a gift. But sadly most tea produces a lot of trash—either in the form of plastic wrap, paper filters, or metal staples. Instead, pick up loose tea in the bulk bins at your local health food store and package it up in a glass jar. Then add a pretty reusable strainer (I found my grass strainer at World Market for a few dollars, this one is similar) to round out the gift.
A pretty mug
A reusable coffee cup is a zero waste essential. Over 500 billion disposable coffee cups are produced every year, most of which end up in the landfill or worse, the ocean. Instead, a reusable mug will last years and help keeps thousands of disposable cups out of our landfills.
Fabric produce bags
Plastic produce bags are a huge problem because they're difficult to reuse and almost impossible to recycle. Just tuck a few cotton produce bags into your gift basket to help your friends make the switch. They're washing machine friendly, so you can store them in your fridge or purse without worrying about them getting stained. And they actually help keep produce fresh longer, since they're made with breathable cotton.
40