Jalfrezi is a very common Indian curry popular in Bombay and parts of the UK. One of the spicier curries, it rivals masala and vindaloo. The base of Jalfrezi is a spicy tomato sauce traditionally simmered with onion, red bell pepper, and green chiles. The flavorful sauce makes it an excellent match for tofu, hence this Tofu Jalfrezi recipe. Tofu is a versatile culinary chameleon, taking on the flavor of any sauce or marinade in many different cuisines from around the world.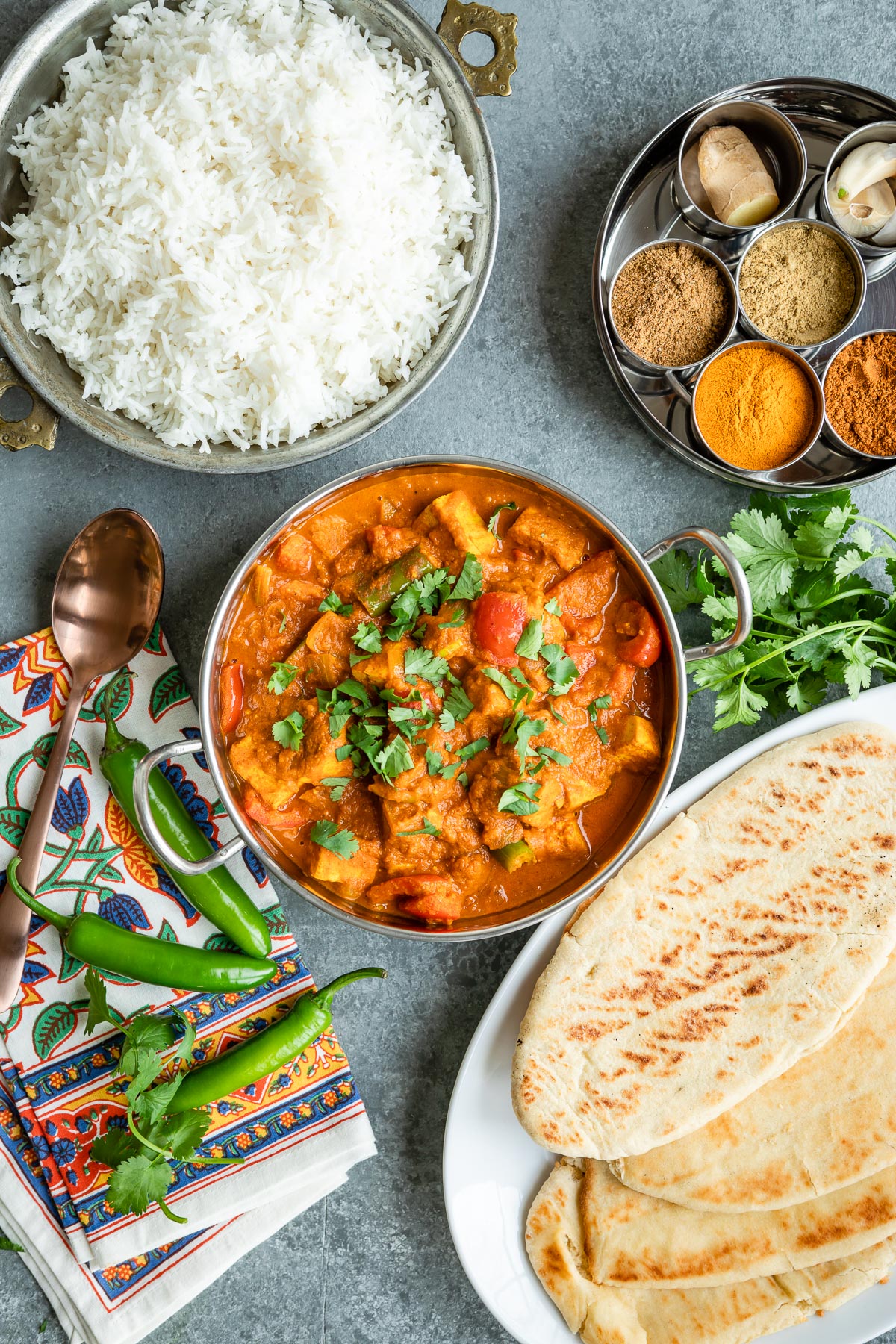 I know a lot of people love curry…but I LOVE curry. I could (and sometimes do) eat curry every day. My obsession with curries of all kinds started when I was a kid eating Japanese curry made from those soft cubes that come in golden packages. The next curries were Indian and made at home by friends who used freshly ground spices using recipes they knew by heart. I was in heaven.
Fast forward a few years and Indian was my go-to for date night with my now-husband, quick buffet lunches, and at-home dinners. (Thanks to Trader Joe's simmer sauces for filling in here and there.) My first cookbook of my very own? You guessed it – Indian! After my first child was born, I begged my husband to leave the hospital (in the snow) and get me a curry from across the street at our favorite restaurant, Bengal Tiger. The nurses thought I was insane. That same first baby tasted mango chutney and curry before sampling that bland jarred stuff. And she LOVED it. After growing up in a culinary wasteland of sorts, curry is what makes my world spin. I LOVE IT. Learning how to make curry, especially Indian curries, was part of my foray into the culinary world and continues to be closest to my heart. (I make pretty good Thai curries too, FTR.)
Making curries is one of the simple joys in life. Humble ingredients such as potatoes and carrots can be turned into some of the tastiest dishes out there just by combining different proportions of spices and herbs. It's alchemy! Now that I've droned on about how much I love curry, let's get down to business: this Tofu Jalfrezi recipe.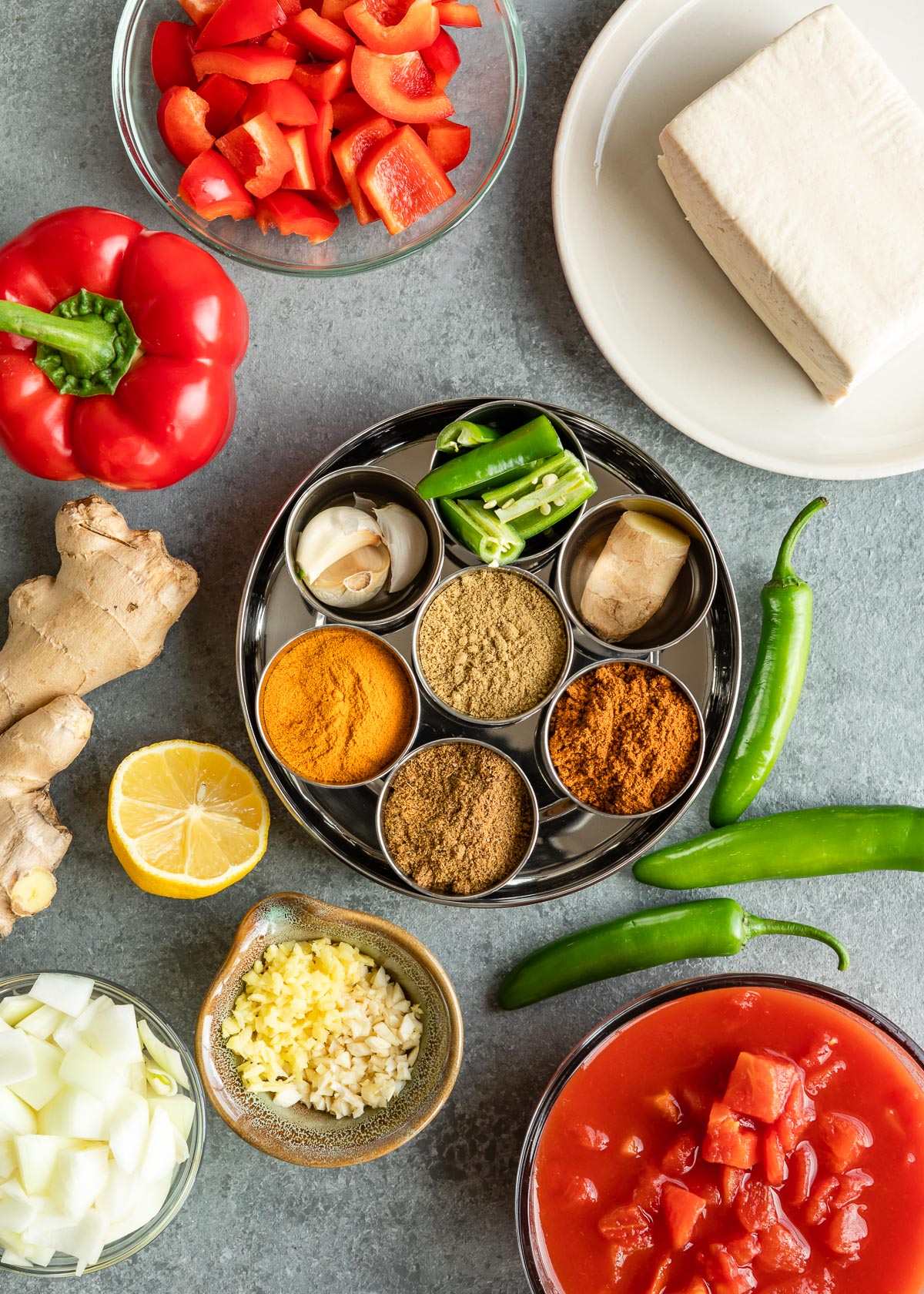 This recipe for Tofu Jafrezi sticks pretty close to the traditional non-veg preparation, and lends itself nicely to experimentation by adding in extra vegetables. The level of heat can be easily adjusted by adding fewer or extra green chiles, or removing the ribs and seeds of the chiles. Like most stews and curries, the flavor is even better the next day. Make a double or triple batch so there are plenty of delicious leftovers for later in the week.
There are three main stages to making Tofu Jalfrezi. The first is to marinate the tofu in a blend of spices. The longer the marinating time, the more flavor the tofu itself will have. This can be done in as little as 30 minutes, or as long as overnight. I don't press the tofu as I would in other recipes because the extra liquid that seeps out helps create the marinade. Firm or Extra-Firm is the preference here, as it stands up well to simmering and stewing. I like high-protein tofu too because it's extra filling.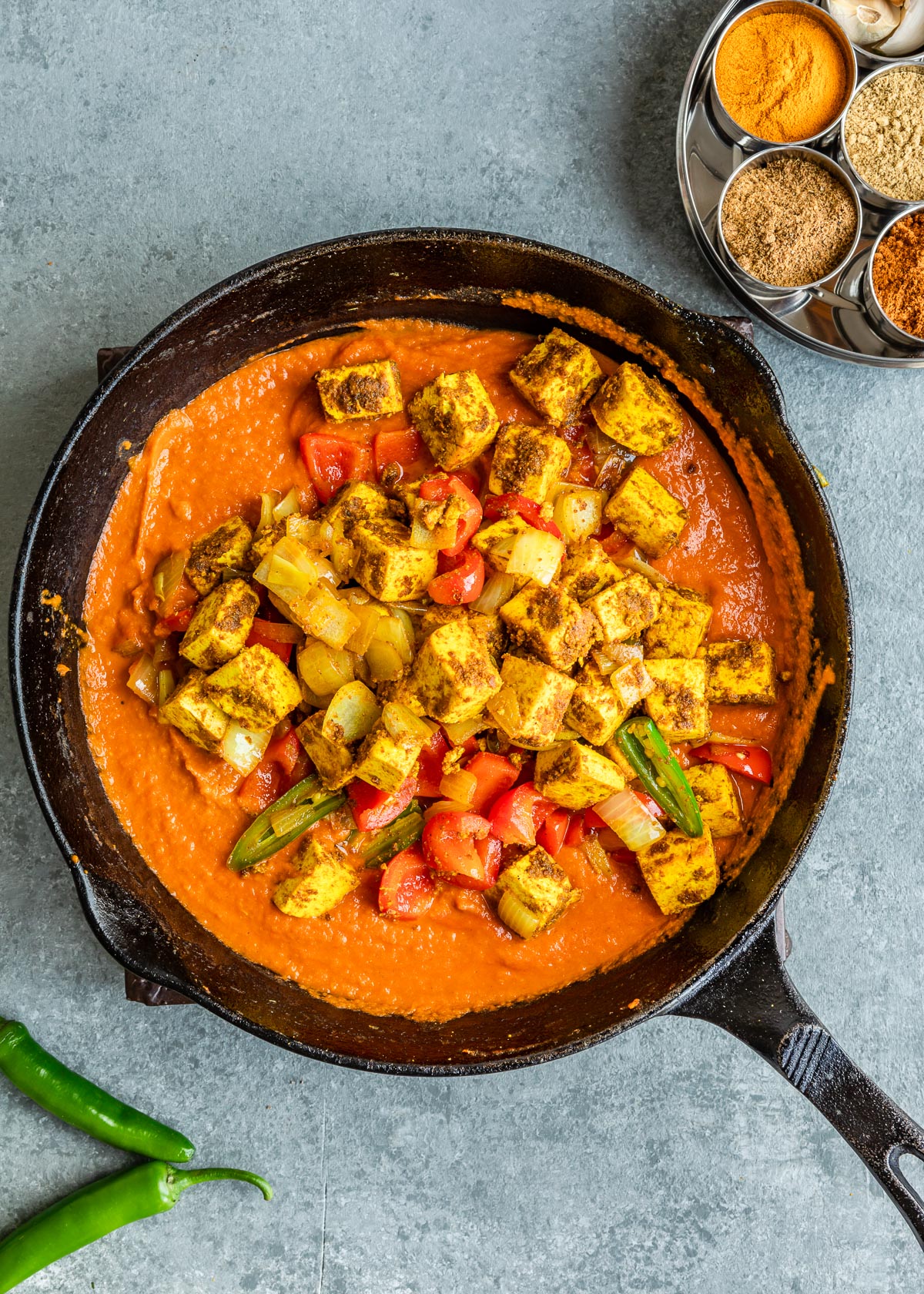 The second stage is to create the flavorful jalfrezi paste base. A blend of fresh ginger and garlic, along with the same spices used in the marinade are sautéed in hot oil or ghee which helps the flavors bloom. Tomatoes and green chiles are added and simmered with the aromatics, then blended until smooth. At this stage, the jalfrezi paste can be refrigerated or frozen to use later. (Pro tip: make a quadruple batch and separate into small freezer-safe containers to pull out for quick meals.)
The third stage of making Tofu Jalfrezi involves frying the marinated tofu in a bit of oil or ghee until lightly golden, removing the cubes from the pan, sautéing more onion, bell pepper, and green chiles. Everything is added back to the pan in the final step, and simmered to allow the flavors to blend.