Sometimes a girl just needs to indulge. A good peanut butter, a rich brownie or a dollop of mayonnaise in my favorite sandwich – I love all of them! But you know me, I can't stop searching for healthier alternatives. And there's one superfood with the power to turn any heavy and unhealthy food into a nourishing one. Yes, you guessed it, I'm talking about coconut oil.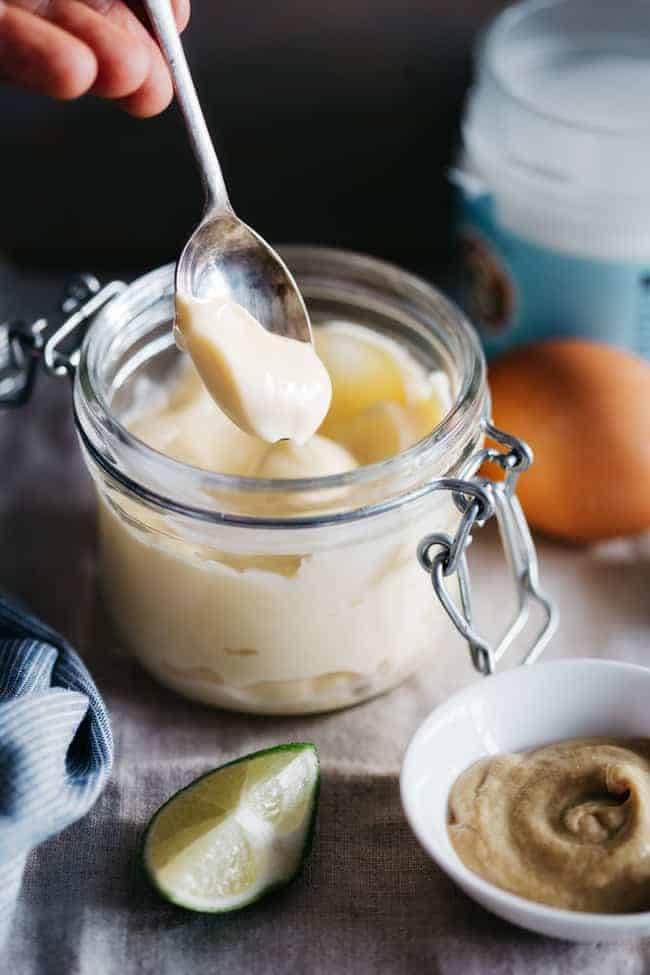 Why Should You Make Coconut Oil Mayonnaise?
The magic thing about coconut oil is its combination of medium-chain fatty acids with potent medicinal properties. They are metabolized differently from other fats, going from the digestive system straight into the liver, where they are metabolized to monolaurin, which has antibacterial and anti-fungic properties, and also into ketones, which have a role in reducing the risk of degenerative diseases and in reducing the appetite. The metabolic result of coconut oil also improves the cholesterol levels, reducing the risk of heart disease.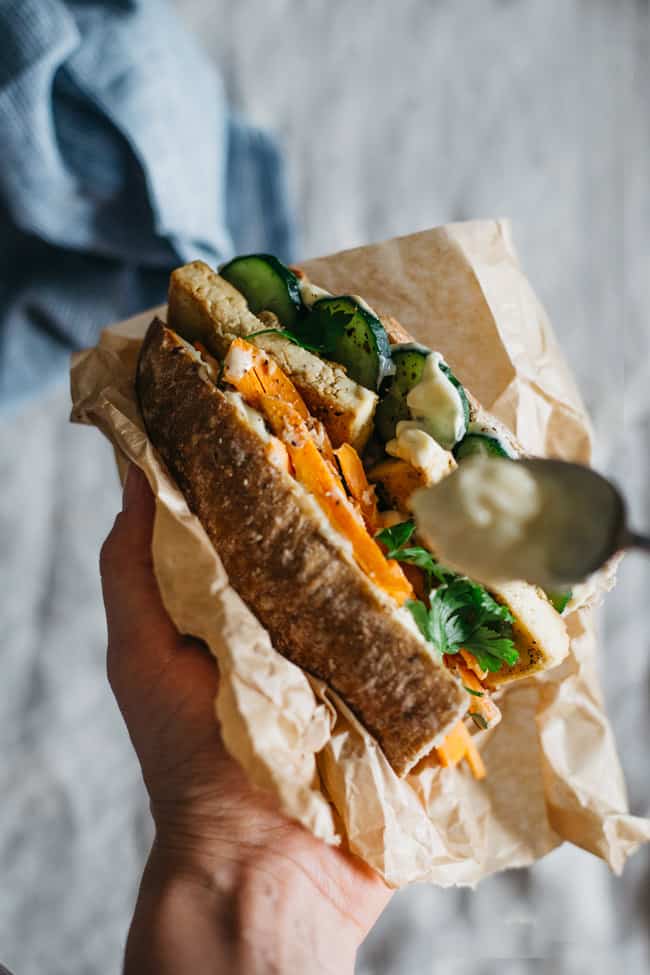 Add in coconut oil's spectacular effects on skin and hair and it's easy to understand why coconut oil is a superstar ingredient. Coconut oil mayonnaise gives a delicious twist to this vegetarian Banh Mi sandwich, which is made with tofu, cucumber, fresh parsley and cilantro.
I tried different versions of this coconut oil mayonnaise, and found I got the best texture when I combined olive and coconut oils. Using just coconut oil gives makes the mayo texture too thick when refrigerated.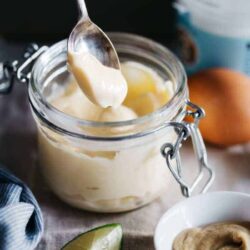 Healthier Coconut Oil Mayonnaise + A Vegetarian Banh Mi
Ingredients
For the Coconut Oil Mayonnaise
2

egg yolks at room temperature

1/3

cup

extra virgin olive oil

1/3

cup

unrefined coconut oil

1

tbsp

lemon juice

1

tsp

good quality mustard

regular or Dijon

A pinch pink Himalayan salt
For the Banh Mi Sandwich
1

small whole wheat baguette

sliced into sandwich sized halves

1/2

cup

extra firm tofu

2

carrots

cut into thin stripes

2

cucumbers

cut into thin slices

Fresh cilantro or parsley leaves

2

tbsp

tamari

1

tsp

coconut oil

1

tsp

rice vinegar

4

tsp

coconut oil mayonnaise

Freshly ground black pepper
Instructions
Make the coconut oil mayonnaise - add the egg yolks into a blender and whisk until smooth.

Add the lemon and mustard, and process to incorporate.

Add gradually the olive oil while processing at low speed. Continue the same with the coconut oil.

Season with salt, transfer into an airtight jar and refrigerate.

Add the diced cucumbers and carrots into a bowl, together with the rice vinegar and freshly ground pepper, mix and set aside.

Mix the tamari and coconut oil into a small bowl, cut the firm tofu into 1/2 inch slices and soak into the mixture.

Heat a non stick skillet over medium heat, then add the marinated tofu slices and cook for four or five minutes on each side, until golden. Remove and set aside.

Assemble the sandwiches with tofu, marinated cucumbers, carrots and mayonnaise.

Add fresh cilantro or parsley leaves, then serve.
1