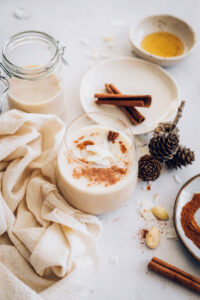 How To Make Vegan Eggnog
Yield 2
A simple and easy vegan eggnog recipe without cashews, made with almond butter and banana for creaminess, and coconut milk for a delicious flavour. 
Ingredients
2 cups coconut milk
1 ripe banana
1 tbsp almond butter
1 tsp cinnamon powder
1/2 tsp nutmeg
To serve
(Optional) 2 tbsp coffee liqueur
Coconut flakes, cinnamon powder - to garnish
(Optional) 2 tsp maple syrup
Instructions
Add all the ingredients into the blender and process to obtain a smooth, creamy liquid. Optional, you can add the coffee liqueur and maple syrup and pulse to incorporate.
Divide into serving glasses, garnish with coconut flakes and cinnamon powder and serve.
You can serve it chilled, over ice or warm, according to your preferences.
Courses Drinks
Cuisine American
Recipe by Hello Nest at https://hellonest.co/vegan-eggnog-recipe/