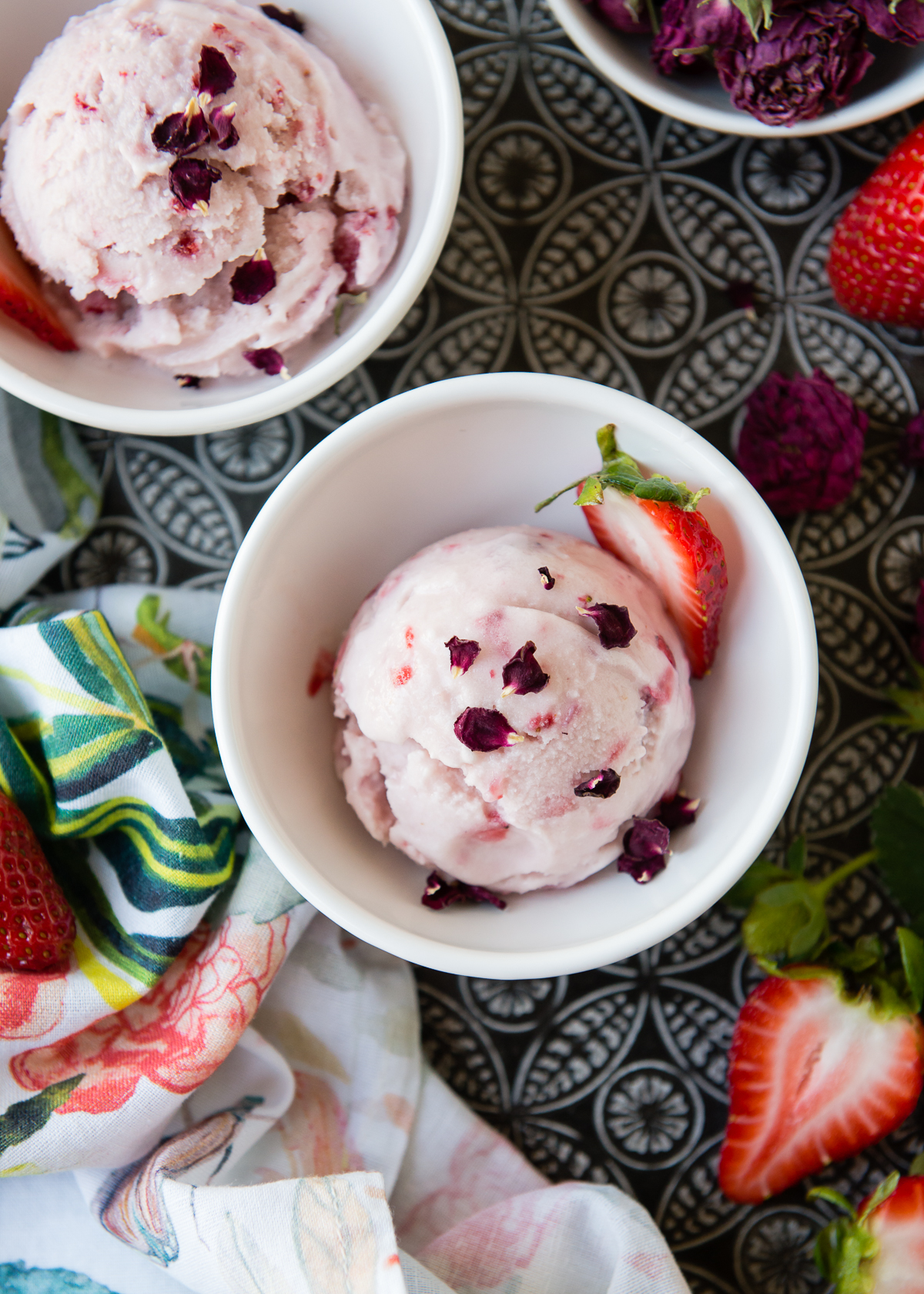 Eating well is about so much more than grabbing the organic version of your favorite potato chips or buying non-GMO tomatoes…in the middle of winter that were shipped from another country. My eating habits have evolved over the years, particularly after having a child and moving to an area where local agriculture is a big deal.
For me, it's not enough to buy organic or natural foods—I seek out foods that are locally sourced, seasonal, sustainable, and/or produced by small businesses or individual makers.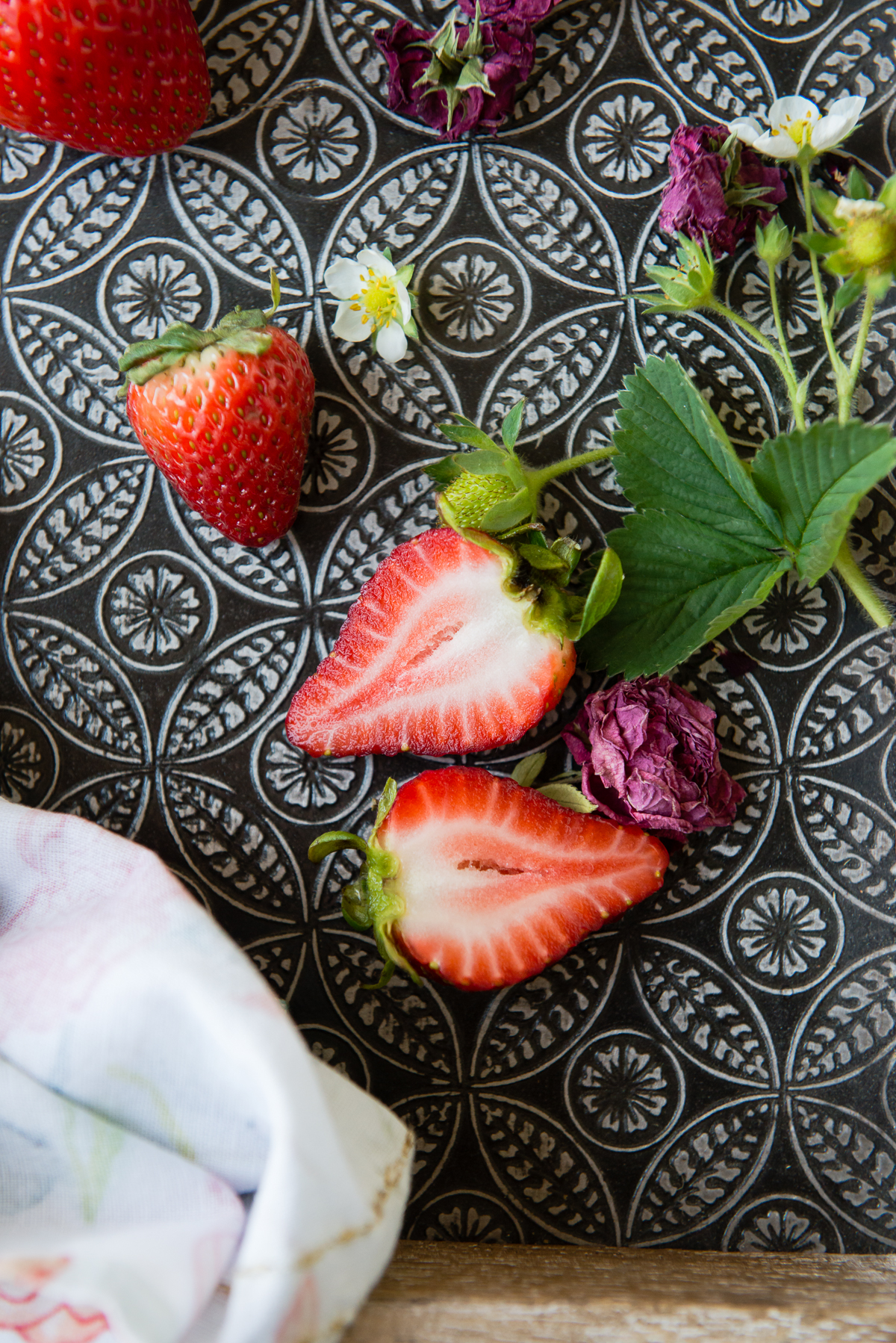 Planning my family's meals around what's in season helps me feel connected to nature—and connected to the people who grow the food we eat. When Anna from Comestible contacted me to see if she could share a few issues with us, I was super psyched because it combined two of my passions: seasonal eating and independent publishing. (Sidenote: I used to work at a library that collected zines!)
Comestible is a beautiful zine with illustrations and stories about food, where it comes from, and the people who grow it. This Vegan Strawberry Rosewater Ice Cream recipe, shared below, is one of the recipes from last summer's issue—it comes from Helen Williams, who just launched her own plant-based ice cream company this spring. (It's called Best One Yet and you should totally check it out if you're in Colorado!)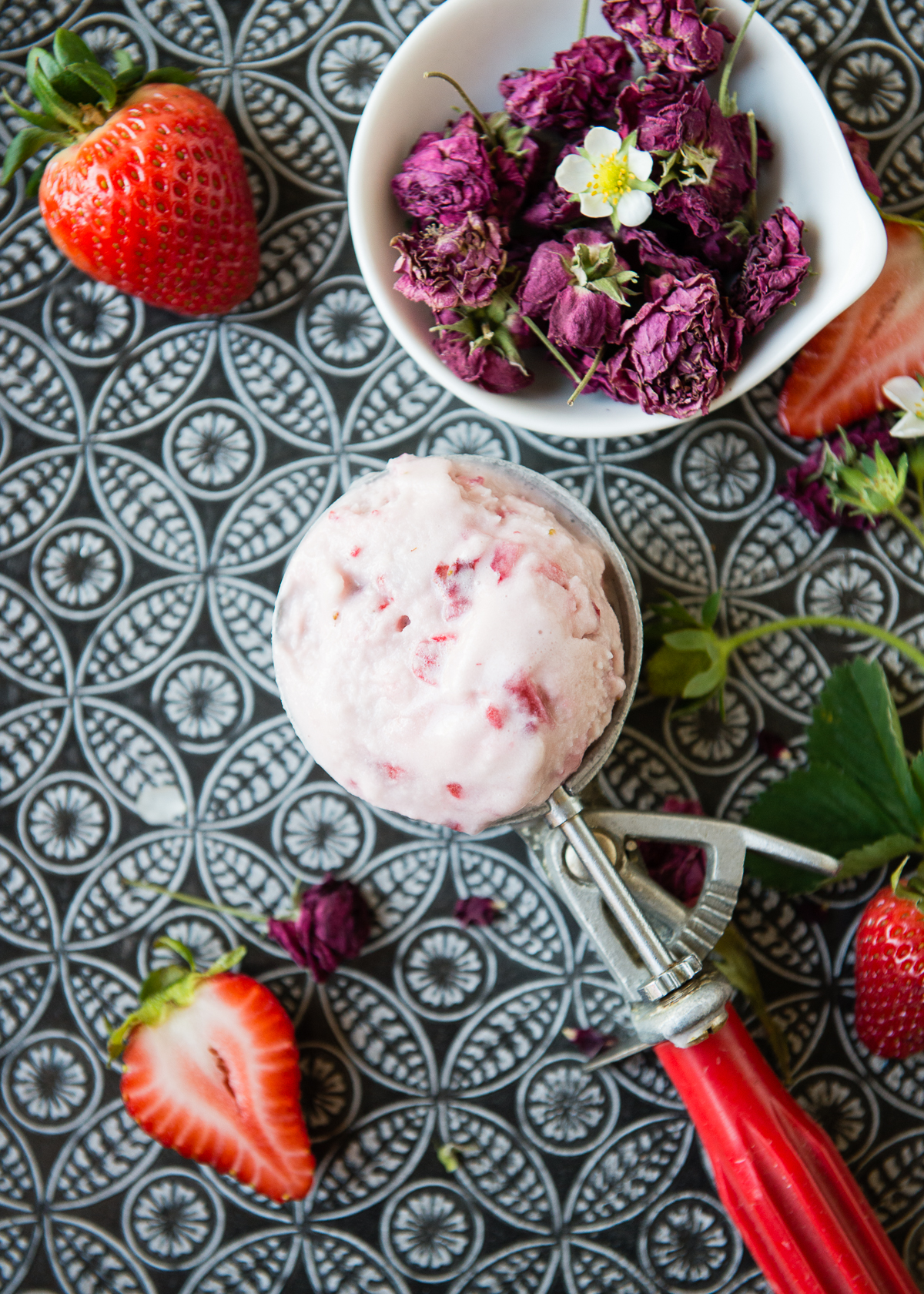 Depending on where you live, strawberries are either in season now or will be shortly–we even got a pint in our CSA box! So it's the perfect time of year to find a u-pick farm or local farmers market, gather up a bunch of fresh strawberries, and make them into completely irresistible, creamy, dreamy vegan ice cream.
Oh, and you can make your own rosewater too! We've got instructions here.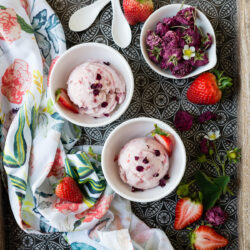 Vegan Strawberry Rosewater Ice Cream
Ingredients
2

15-ounce cans organic full-fat coconut milk

1/2

cup

granulated sugar

2

tablespoons

rosewater

1 1/2

teaspoons

arrowroot powder

1

cup

fresh strawberries

hulled and chopped

1-2

tablespoons

beet juice

for color (optional)
Instructions
In a medium stockpot, add your coconut milk, sugar, and rosewater. Hint: add the rosewater in 1/2 tablespoon increments, tasting with each addition just to make sure it isn't too much. Bring this mixture to a light simmer over medium heat, whisking vigorously to make sure the sugar is dissolved and everything is evenly incorporated.

Put a few tablespoons (two to three) of your warm mixture into a separate small bowl. Add your arrowroot powder and whisk together until completely smooth. Add the arrowroot mixture back to your base. Whisk together for about one minute more (add your beet juice here if you're using it) and bring back to a simmer. Remove from heat. Transfer your ice cream base to a large bowl and refrigerate for about 3 to 4 hours or up to overnight.

Once completely chilled, it's time to churn: add to your ice cream maker of choice and follow the given instructions for your appliance. Overall, the goal in this stage is for it to resemble a soft serve variety and be easily scooped into a freezer safe container. If you do not own an ice cream maker, place the batter in a baking pan in the freezer. Every 30 minutes, remove it from the freezer and stir vigorously. Repeat a few times until the ice cream is relatively smooth and creamy. You won't achieve the full consistency of ice cream, but it will still be a delicious frozen treat.

Fold in your chopped strawberries and transfer your ice cream to a freezer-safe container. Place your container to the very back of your freezer to harden completely. This should take about 4-6 hours, depending on the coldness of your freezer.

Scoop, top with a few more strawberries if you like, serve and enjoy!