I'll admit, I love a good casserole. I know they vary in popularity, but at my house, there are casseroles, and they are always delicious. My favorite casseroles involve anything in the Tex-Mex spectrum. I grew up eating a version of enchilada casserole that I still make today for my own family.
This Taco Bake is one such casserole that is now part of our monthly rotation. It's easy and quick to put together, and everyone loves it. The secret ingredient is neat mexican mix, a vegetarian meat alternative that makes my heart sing.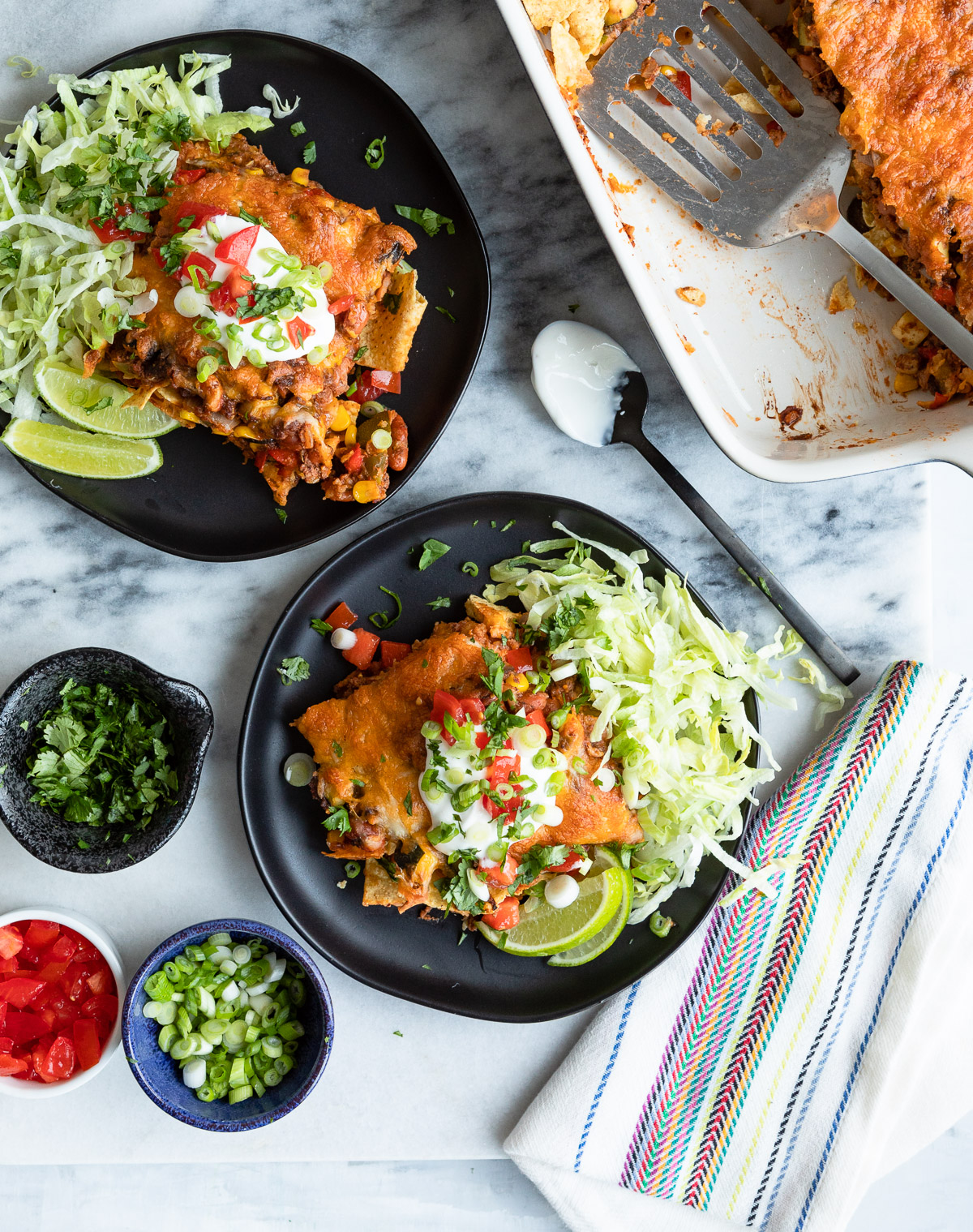 Being the only (predominantly) vegetarian in my house plus the one who prepares all of the meals means it's important to me to use ingredients that my non-veg family enjoys too. My family members are tough critics when it comes to plant-based meat alternatives. We all agreed that all of the products we've tried from Atlantic Natural Foods blew any others out of the water.
The neat meat replacement mix made up of 100% plant-based protein is a particular favorite. What makes neat so special? The ground beef alternative is made of pecans and garbanzo beans (chickpeas) – swoon! The texture and flavor is unmatched. neat mexican mix comes in a 5.5-ounce shelf-stable pouch. The mix is dry. When combined with water, the mixture is cooked and browned in a pan for 7-9 minutes, and used like ground meat in recipes. neat replacement mix can be made into patties, meatballs, used for chili sliders and much more, too.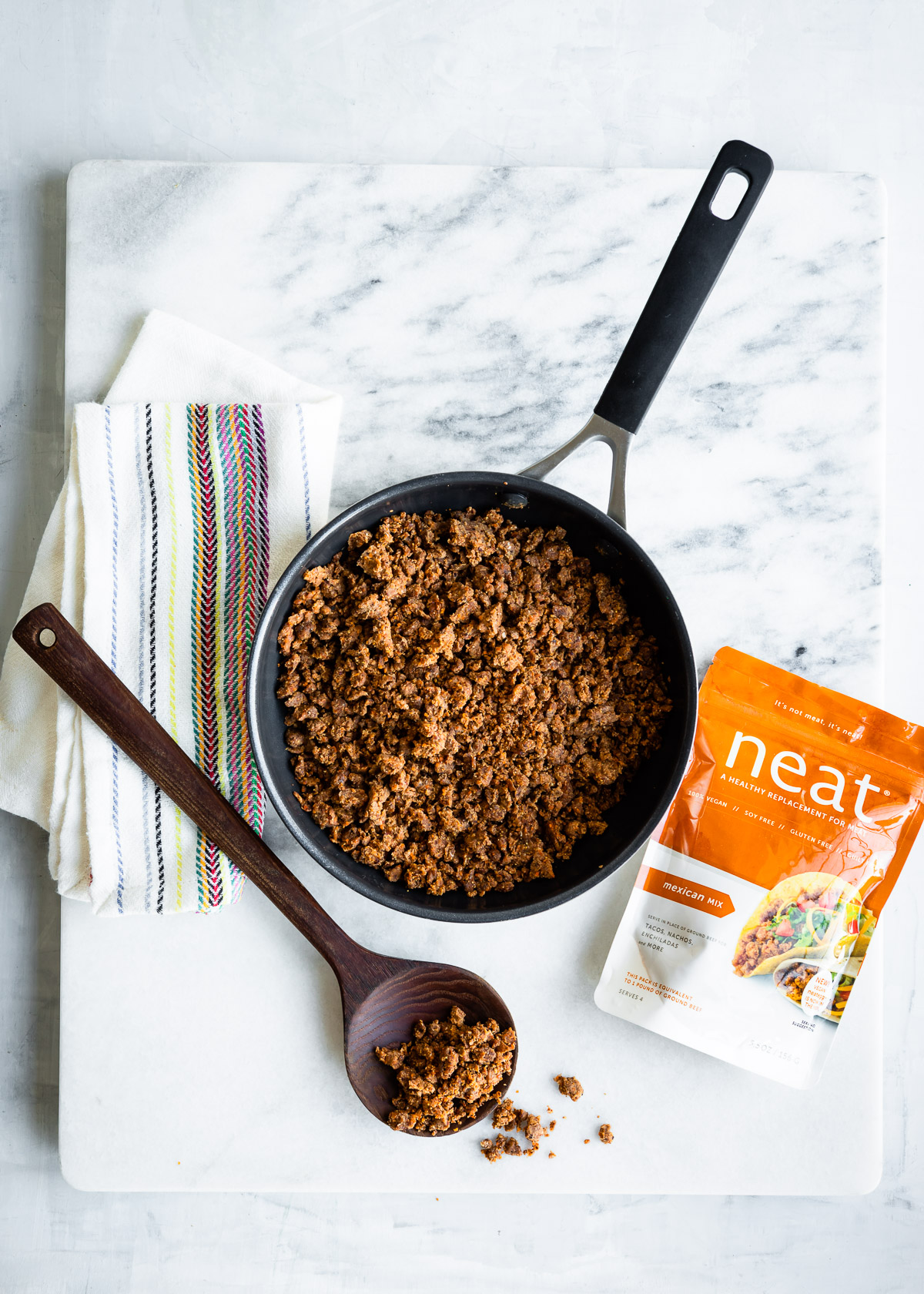 neat is soy, cholesterol-, and gluten-free, non-GMO certified, sustainable, and 100% plant-based. One of the ingredients in the mexican mix is the plant-based neat egg substitute (a staple in my kitchen!). Each 4-serving pouch contains all the protein of meat, but with 60% less saturated fat.
Because neat is shelf-stable, you can use a single serving's worth or use the whole bag. One pouch is equivalent to 1 pound of ground beef. neat meat could be turned into sloppy joes, tacos, nachos, enchiladas, quesadillas, veggie burgers, and so much more. And think about this: neat can be taken along and cooked up over a campfire. It's hard to find veg-friendly camping meals!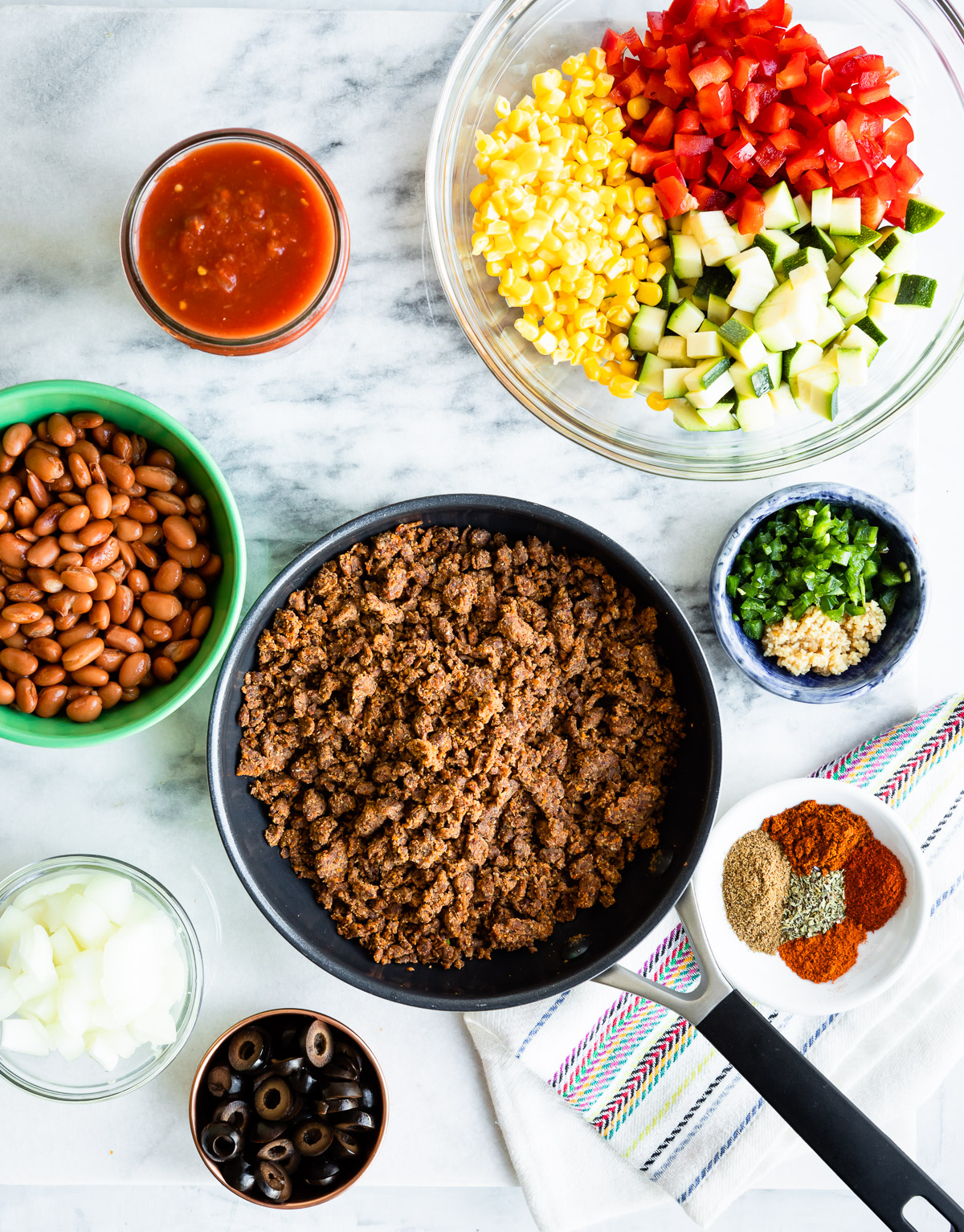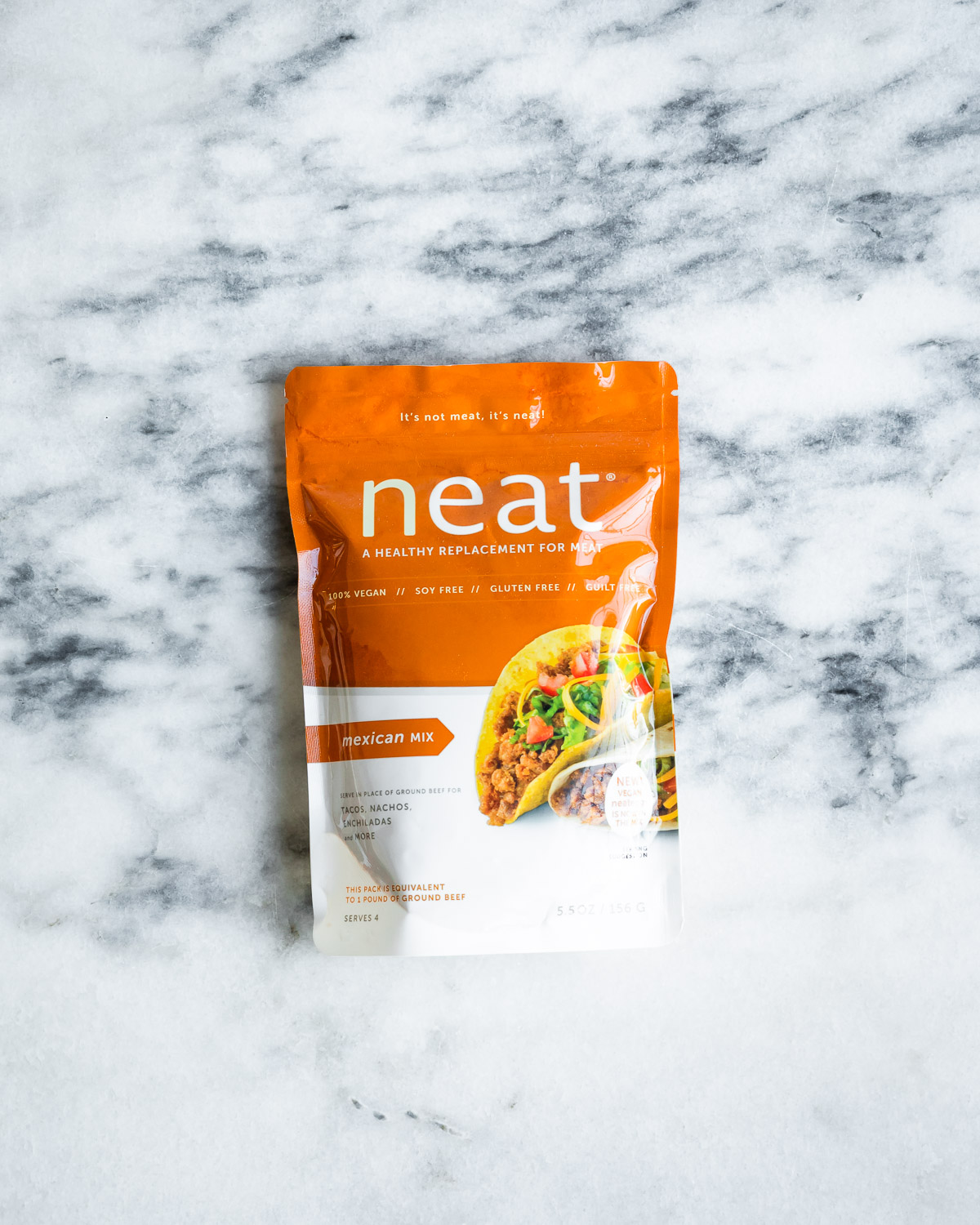 Back to the taco bake! It's basically like loaded nachos baked in a casserole dish layered with tortilla chips, a saucy veggie and neat mixture, and plenty of cheese. Pass around favorite toppings and let everyone create their own "taco" combo. Total crowd-pleaser!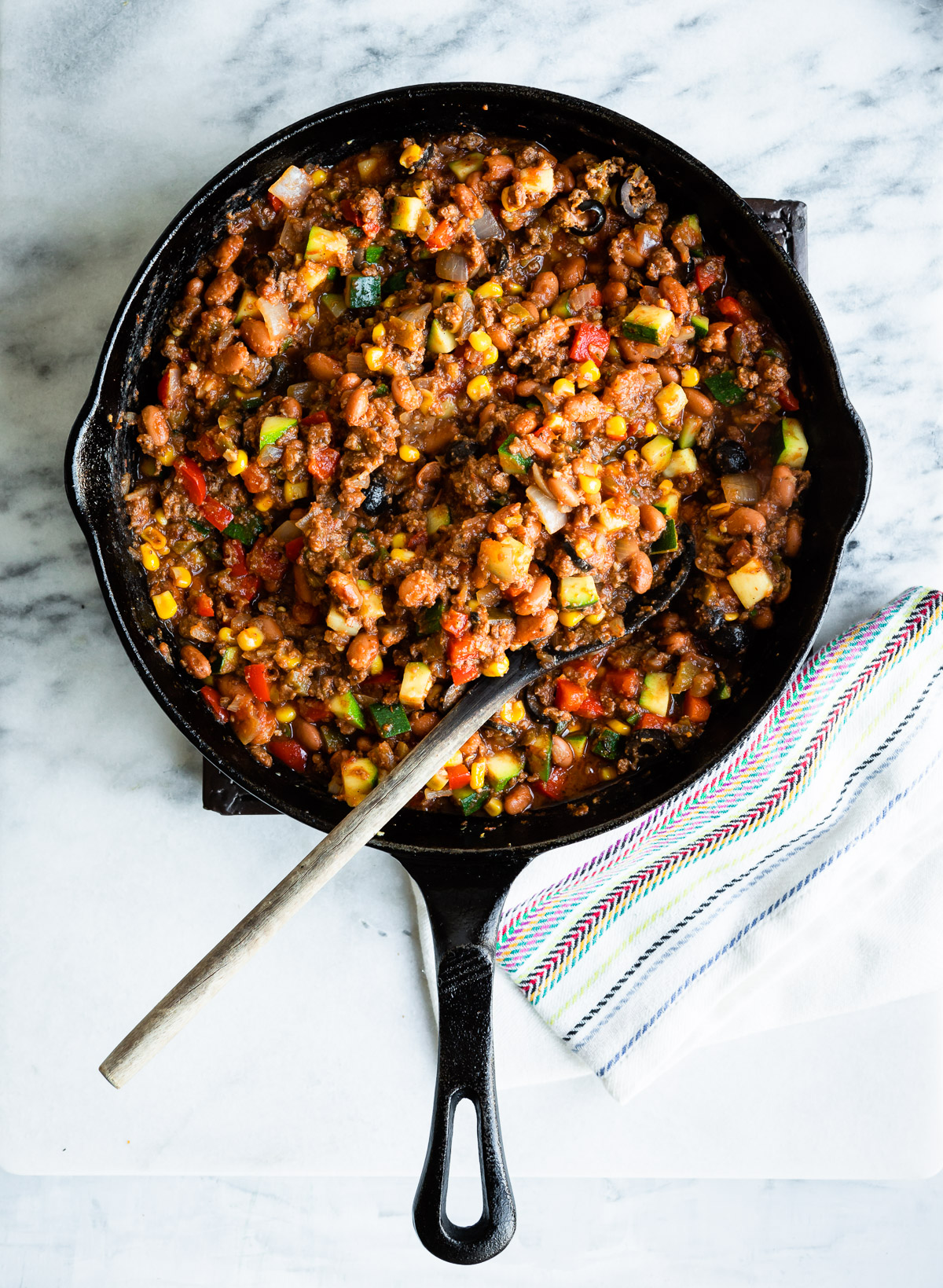 In this taco bake recipe, I combined neat with an array of color vegetables, pinto beans, olives, and a bit of spice. It's quite the tasty combination. Once the filling is cooked, the casserole is so easy to put together! This is a legit 30-minute meal.
First, create a bottom layer of tortilla chips.
Then filling and a good sprinkling of cheese are next.
Then more chips…
And finally the rest of the delicious filling and the more cheese.
A quick stint in the oven is all that's required to melt and toast the cheese to golden deliciousness.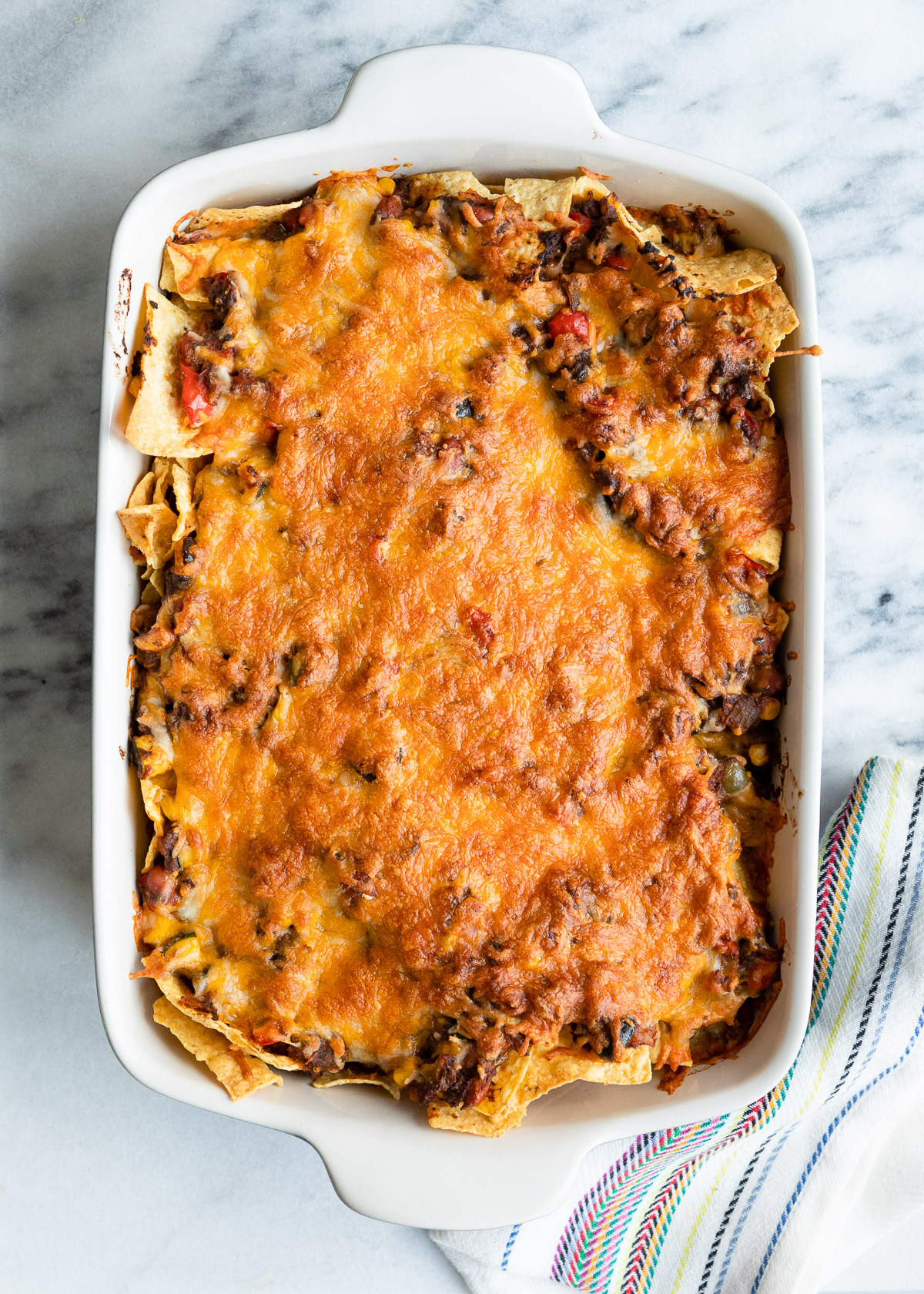 I like to serve the Taco Bake with a side of shredded lettuce and an array of "taco" toppings.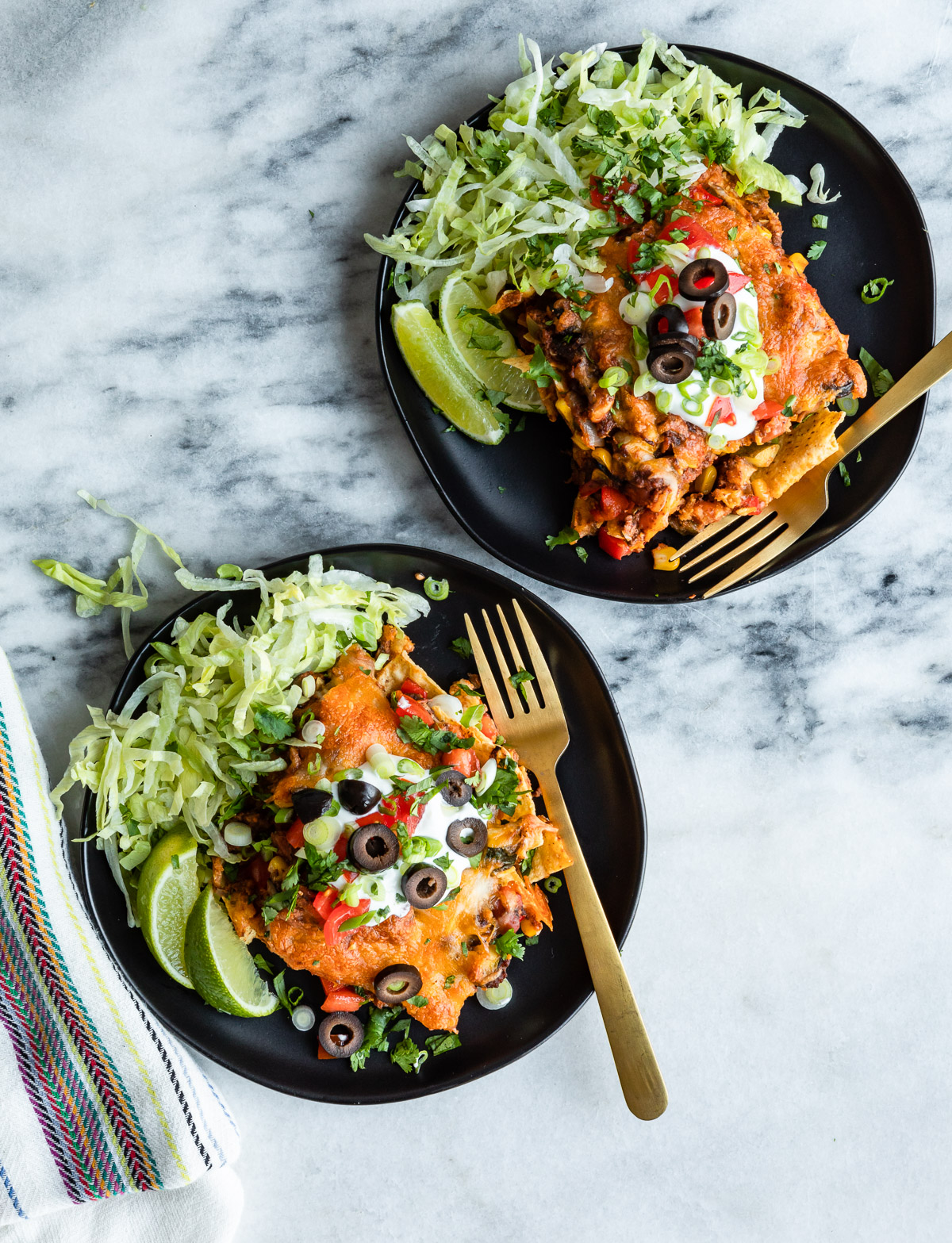 One last thing – this casserole can be prepped in advance without sacrificing quality. Prep the filling in advance and assemble later, prep and bake later, or assemble and bake to reheat and serve later. So versatile! The tortilla chips will soften a bit more when prepped ahead, but it doesn't affect the taste in the least. This is one casserole you'll be making over and over again.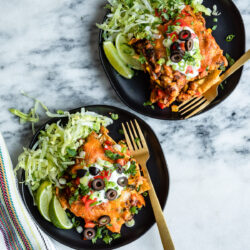 Easy Vegetarian Taco Bake
An easy, quick casserole made with plant-based protein and an array of colorful vegetables.
Ingredients
1

tablespoon

olive oil

1

medium yellow onion

diced

2

cloves

garlic

minced

1

jalapeno

minced

1

bell pepper

diced

1

cup

frozen corn kernels

1

zucchini

diced

1

teaspoon

chili powder

1

teaspoon

ground cumin

1/2

teaspoon

smoked paprika

1/2

teaspoon

dried oregano

1/4

teaspoon

cayenne pepper or more to taste

optional

One 5.5 ounce package neat mexican mix

prepared according to package directions

One

15-ounce cans black beans, drained

1/2

cup

black olives

sliced, plus more for topping

2

cups

16 ounces jarred chunky-style salsa

8 to 9

cups

about 7 ounces corn tortilla chips

3

cups

Mexican blend shredded cheese

1/2

cup

green onions

thinly sliced

1/4

cup

fresh cilantro

chopped

Suggested toppings: diced tomatoes

sour cream, guacamole or diced avocados, sliced olives, hot sauce
Instructions
Preheat oven to 400°F. Lightly grease a 9-by 13-inch baking dish.

Heat a large skillet over medium heat. Add oil and heat for 30-60 seconds until shimmering. Add the onion. Saute for 5-7 minutes, or until it starts to soften. Add the garlic and jalapeno to the pan. Cook, stirring constantly, for 1-2 minutes.

Add the bell pepper, corn, and zucchini. Continue cooking for 3-5 minutes. Add the spices and stir well. Cook for 30-60 seconds to toast the spices, then add Neat Mexican, beans, and black olives. Cook for a few minutes, then add the salsa. Bring just to a simmer, then remove from heat.

Place half of the tortilla chips on the bottom of the pan in an even layer. Spoon half of the veggie and Neat mixture over the chips. Sprinkle with half of the cheese. Repeat with the remaining chips, Neat mixture, and cheese.

Bake for 20-25 minutes, or until cheese is bubbly and the casserole is warmed through. Sprinkle the top with green onions and cilantro. Serve immediately with other toppings on the side.
Notes
To make a vegan taco bake, simply omit the cheese or use a high-quality vegan cheese.