I'm so excited that tomato season has begun. Our CSA has been delivering some honkin' size heirloom tomatoes. Even some pretty cool cherry tomatoes. And I'm content to just have them sit out on the counter because I love looking at their weird red/purple/yellow hues.
But, alas, they must be eaten. Letting fresh produce rot and go to waste is just sad, and there's only so many salads and tomato-mayo sandwiches one can eat! And that's where tomato gazpacho comes in to save the day!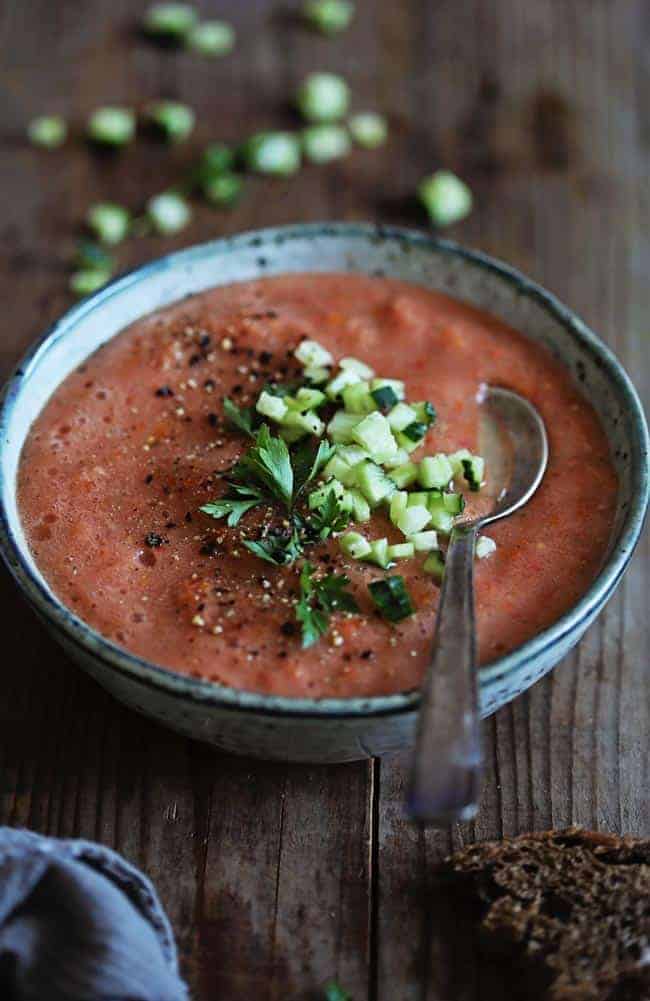 Cold soup generally turns me off, but I loved this strawberry soup. And I'm an even bigger fan of foods that require nothing more than hitting the puree button. Especially when it's hot outside and turning on the stove is a total bummer.
Cue this easy tomato gazpacho. Not only is it delicious, but the lycopene in tomatoes can also help your skin delay aging and wrinkles. And by the way, you can also use tomatoes with salt as an easy acne scrub if you have some leftover.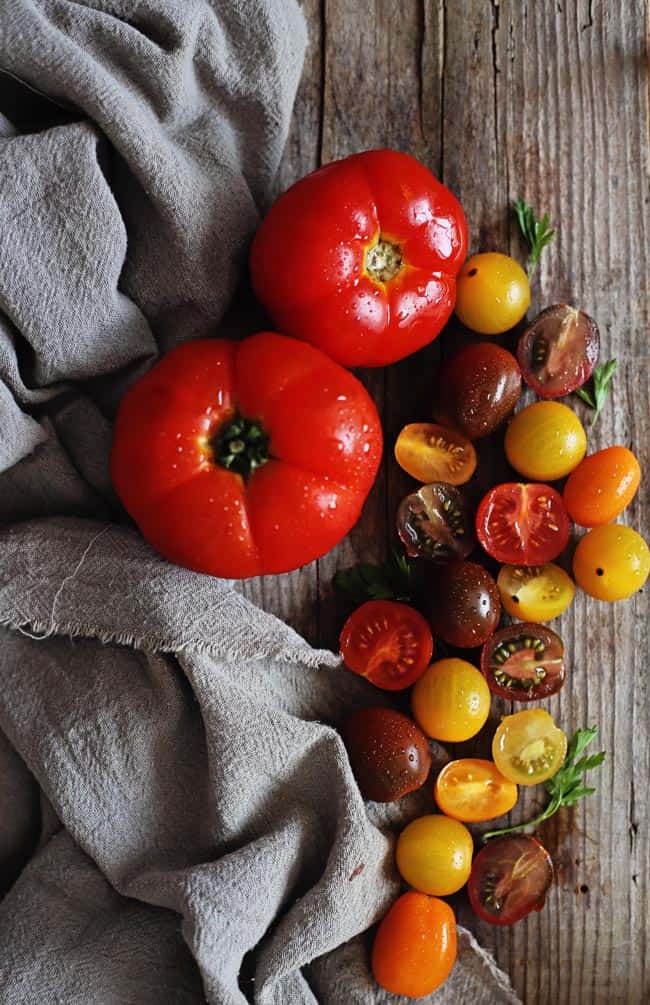 How do you use up your tomatoes? We can think of at least eight more great recipes that use heirloom tomatoes!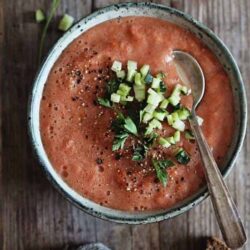 Simple Heirloom Tomato Gazpacho
A perfect way to use up CSA tomatoes!
Ingredients
2

pounds

tomatoes

heirlooms if you can get them, roughly chopped

1

red bell peper

roughly chopped

1/2

small red onion

roughly chopped

1

clove

garlic

1

cucumber

1/2 roughly chopped, 1/2 finely chopped

1/4

cup

olive oil

2

teaspoons

red wine vinegar or sherry vinegar

Kosher salt and black pepper

2

tablespoons

cilantro

Bread

for dipping
Instructions
Dump tomato, pepper, onion, cucumber and garlic in the food processor, and puree away. Work in batches if your blender or processor is small.

Transfer to large bowl and add in oil, vinegar, 1 1/2 teaspoons salt, and 1/2 teaspoon black pepper.

Refrigerate for at least 1/2 hour and up to 1 day.

Top gazpacho with chopped cilantro and cucumber. Drizzle with a bit more oil if you want (I did not). Serve with bread.
Notes
Based on a recipe from Real Simple