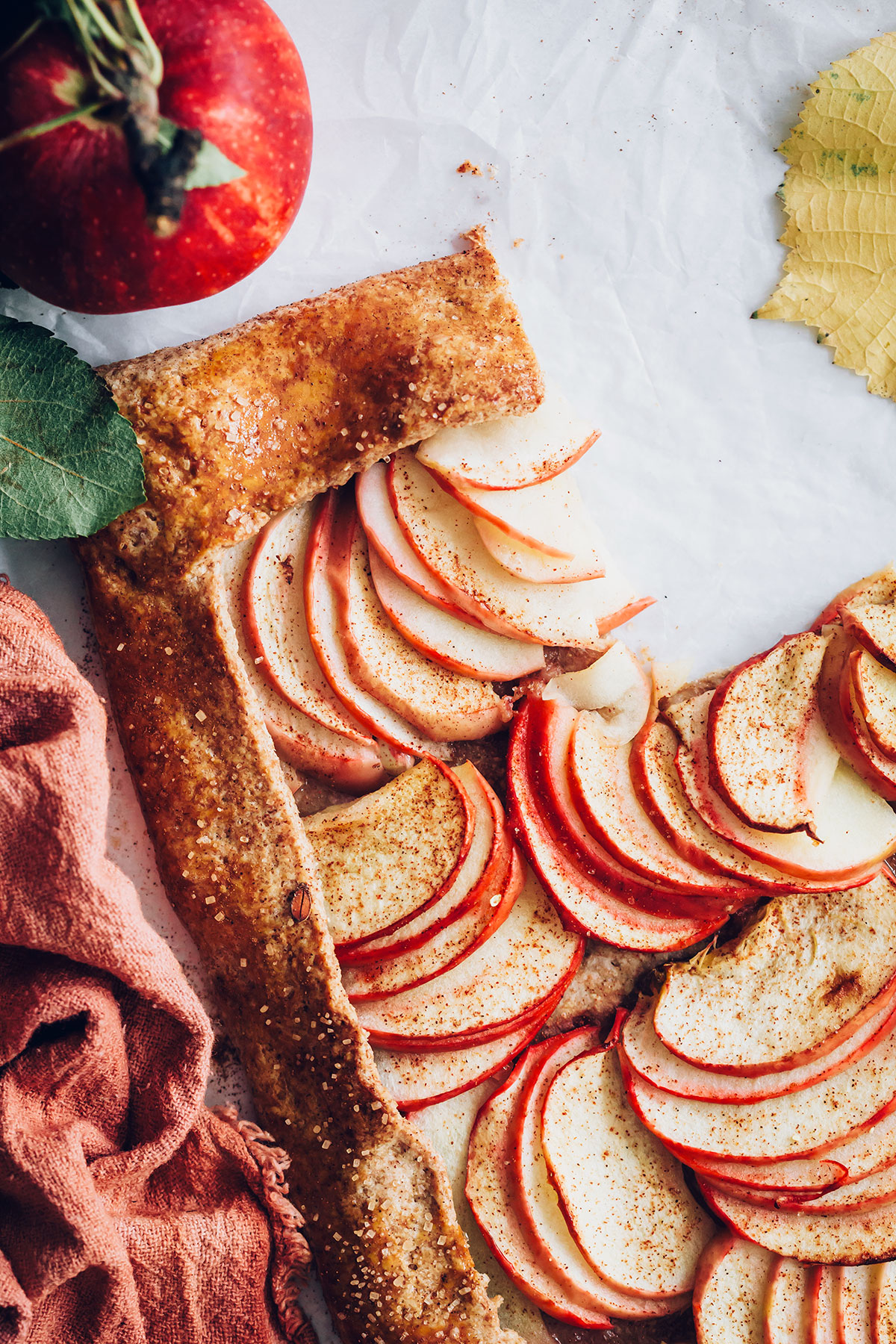 Baking season is on which means the holiday season is closer and we can't wait for all that cinnamon and pumpkin spice flavours that will fill our kitchens! Rehearsal already started and we tried a very easy pie crust recipe made with whole wheat flour, in an attempt to turn our holiday treats healthier and easier to digest.
This will definitely not be your grandma's perfect pie crust, but one adapted to our modern needs – packed with fiber, still flaky and requiring no skills at all!
WHAT KIND OF PASTRY IS USED FOR PIES?
To get your pies flaky and melting in your mouth, you will need a puff pastry which requires enough quantity of fat (usually we use butter, but if you want to go all vegan you can use coconut oil instead) and needs to be chilled before baking. Filo pastry is usually used for crunchy pies (like spinach pie) and shortcrust pastry is more crumbly and is mostly used for quiche or tarts.
To make our whole wheat pie crust, we only used 5 ingredients:
Whole Wheat Flour
Butter
Sugar
Salt
Iced Water
Using whole wheat  flour only gives your pie crust a darker brown color and a rich, nutty taste. If you are not familiar with the taste and want to gradually make the transition to whole wheat flour, use equal quantities of plain flour and whole wheat flour.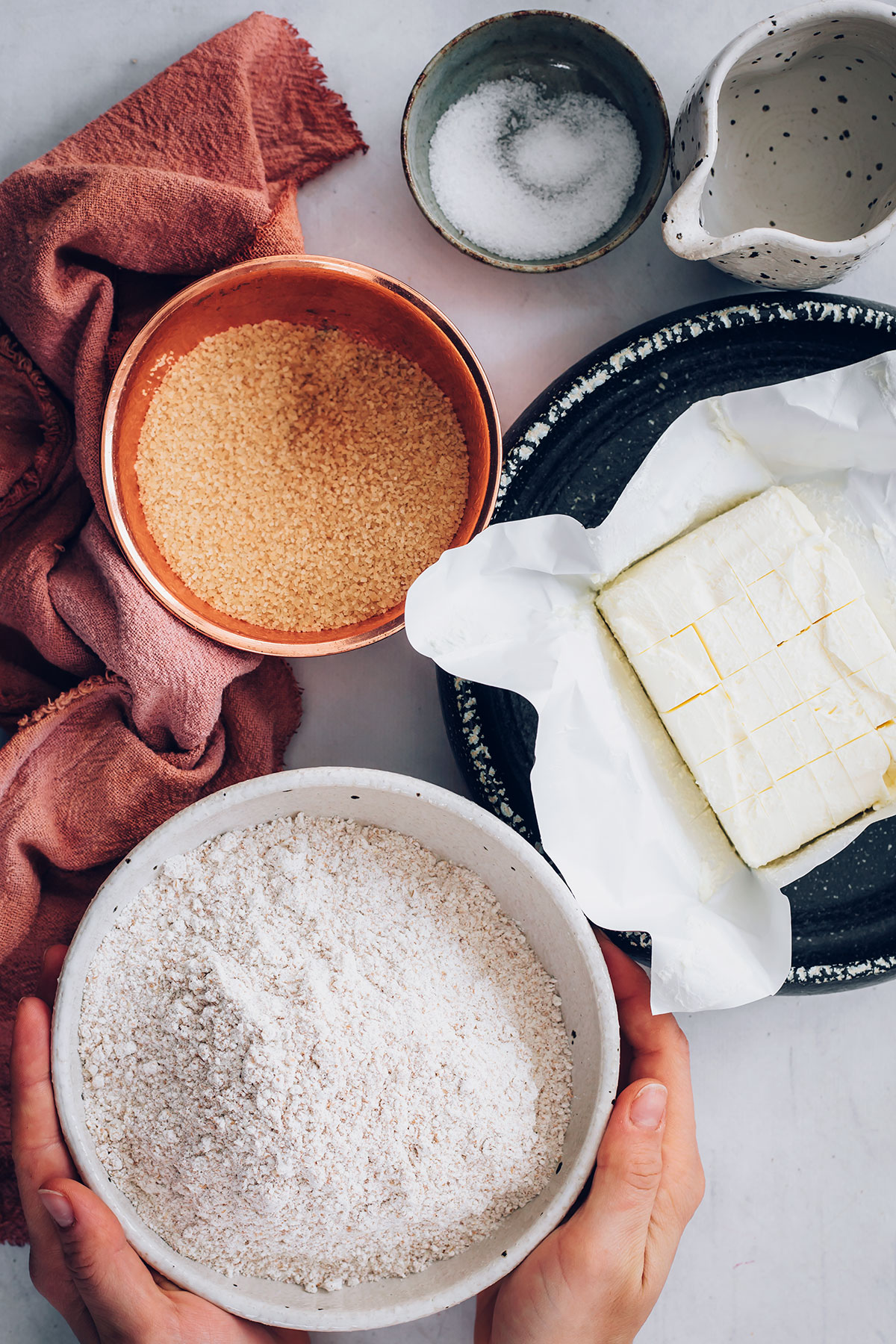 WHAT IS WHITE WHOLE WHEAT PASTRY FLOUR?
While both whole wheat flour and white whole wheat flour are made from whole grains, the white variety is milled from white, softer whole wheat and has a milder taste, while the whole wheat variety is milled from red harder wheat and has a richer nutty taste.
Both are made by having the bran, germ, and endosperm ground, and have the same nutritional values. You can use any of these to substitute all-purpose flour in any recipe, using half of all-purpose flour called for in the recipe.
HOW TO MAKE A WHOLE WHEAT PIE CRUST
As stated at the beginning, making the pie crust is a very simple process that doesn't require kitchen skills.
Start by mixing the flour, salt and sugar into a large bowl or into the food processor (we like to get our hands dirty:)
Add the cold butter cut into cubes and process or use your finger to obtain fine crumbles. If wondering why the fat should be cold for the pie crust, the answer is simple – it's the no-fail way to get the flaky texture.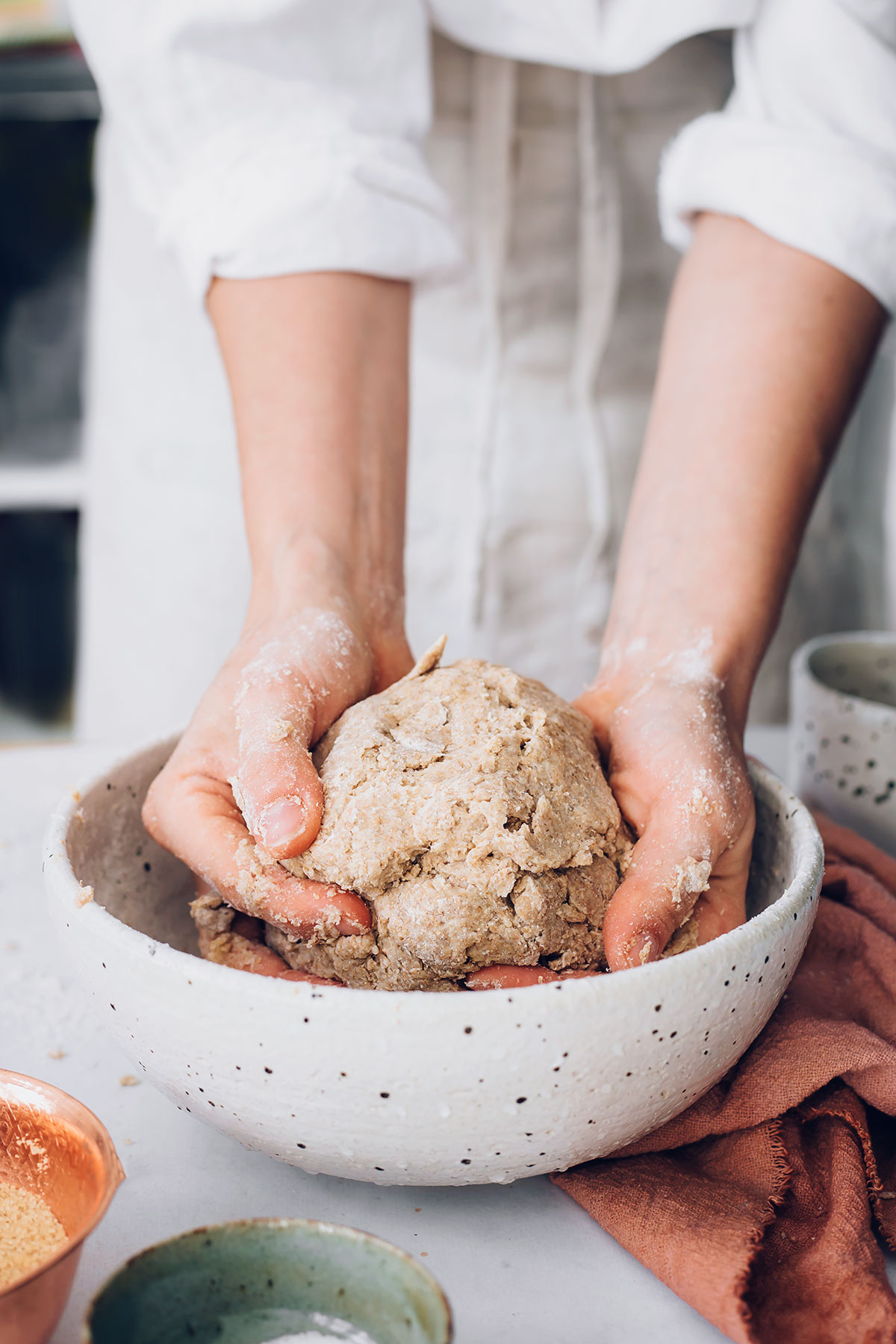 3. Add the ice cold water and pulse or use your hands to obtain a dough. Don't over-process, as you don't want to activate the gluten. The dough should come together easily and without being too sticky. If swirls of butter are visible inside the dough, is a good sign that flakiness is on its way!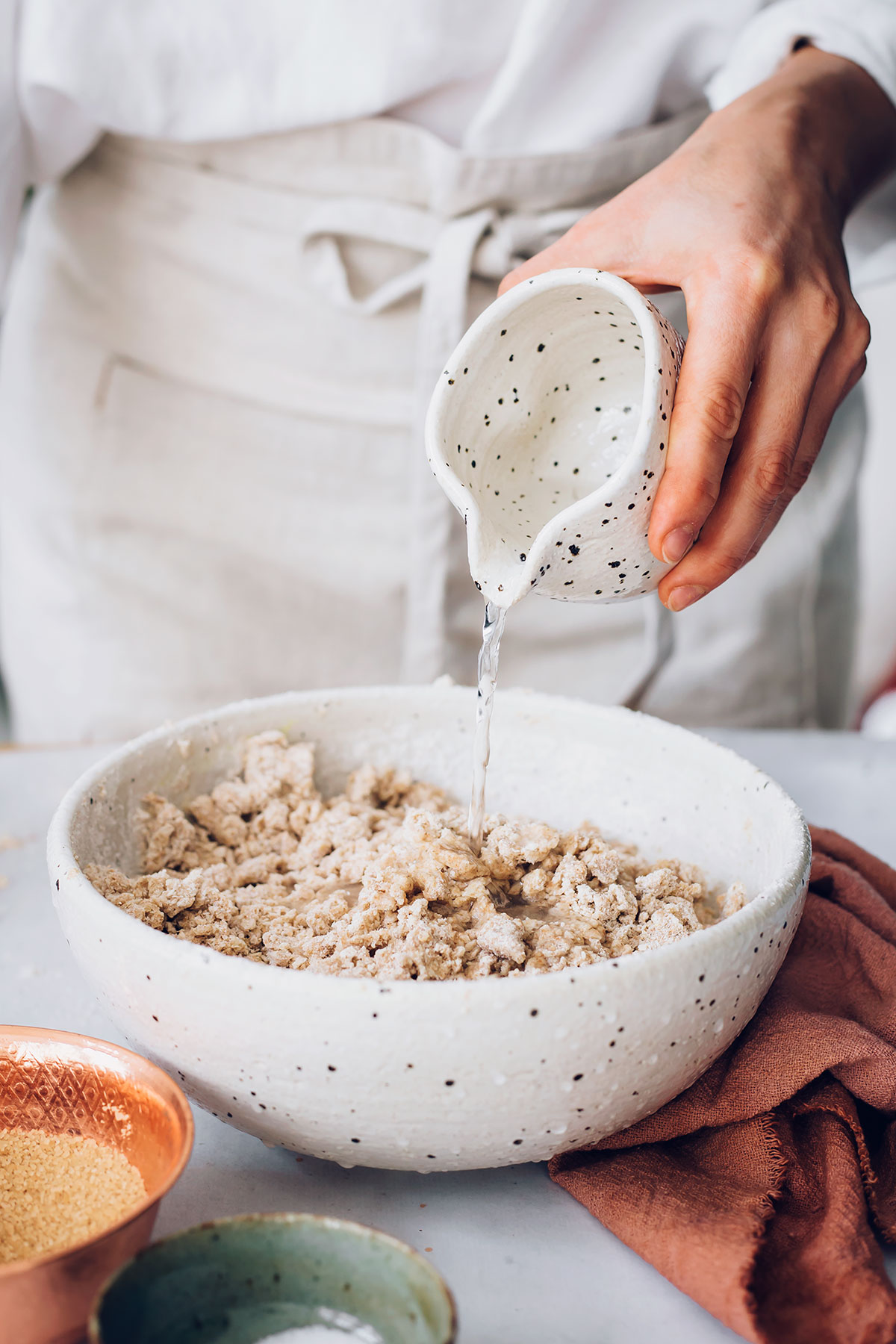 4. Cover the dough in plastic foil and refrigerate for at least 2 hours.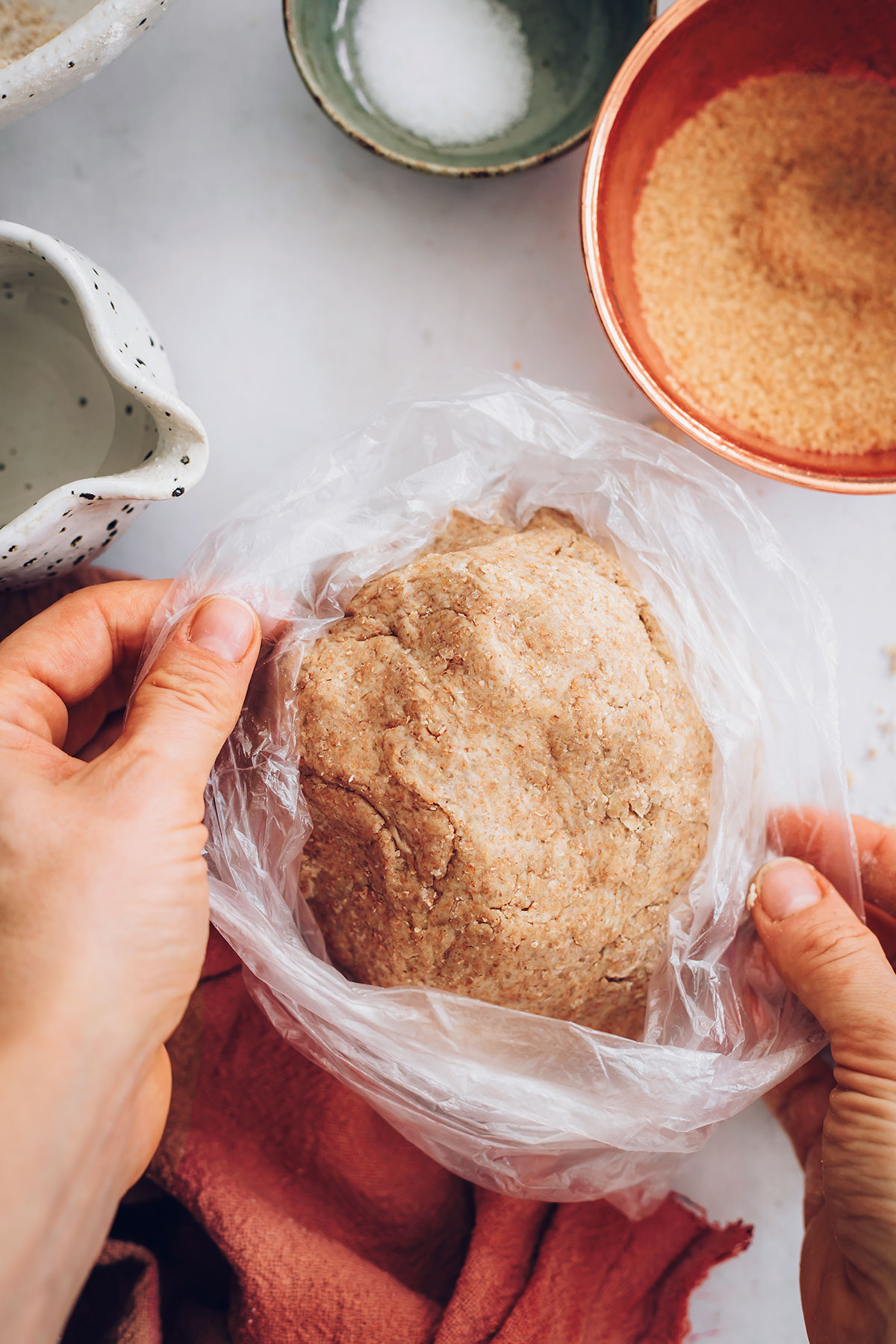 5. Roll and use for your baking projects!
We decided to use our whole wheat pie crust to bake a very easy apple tart which turned to be the perfect idea. We only used some red apples, a bit of ground cinnamon, fresh lemon juice, our signature whole wheat pie crust and egg yolk to give it a nice shine.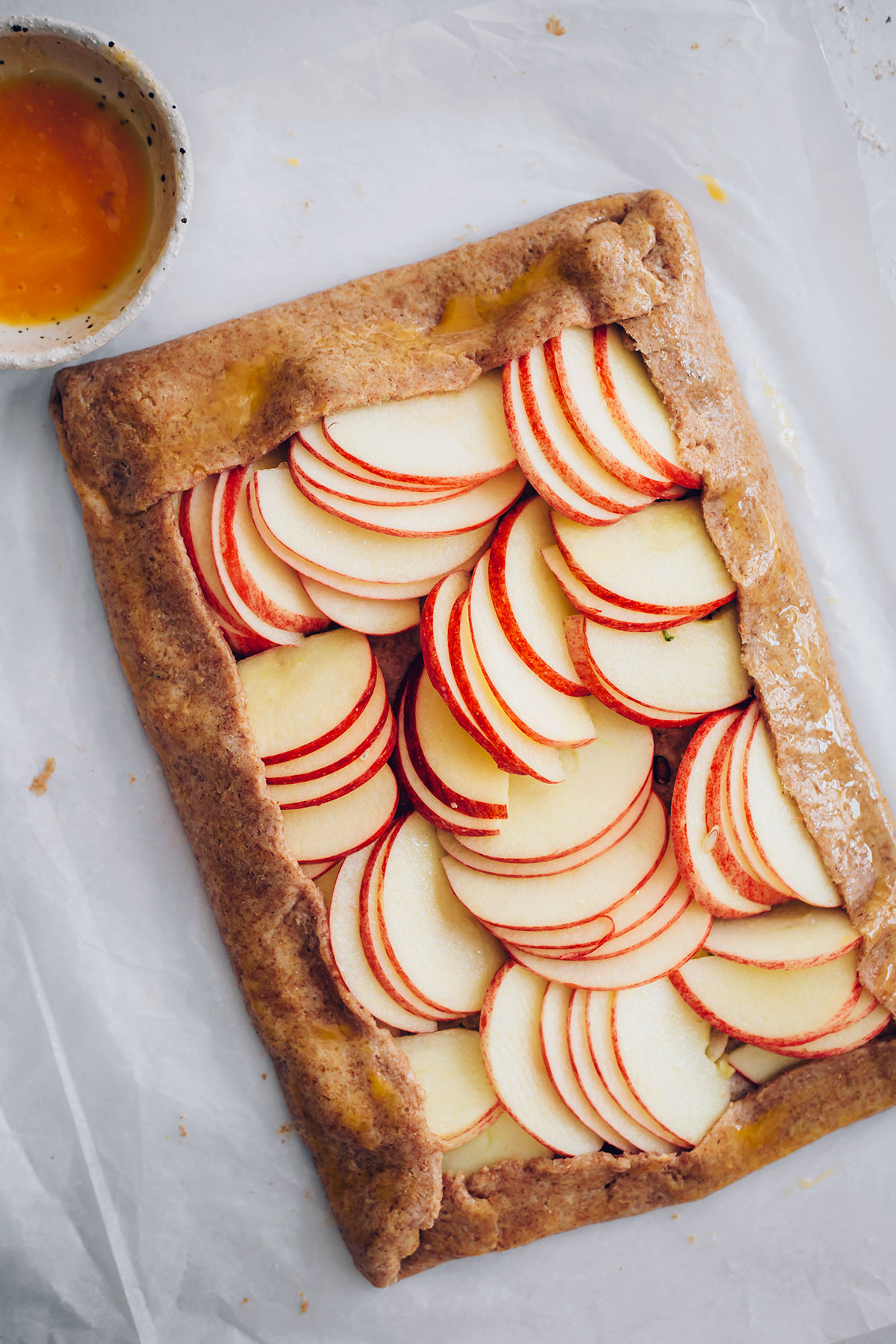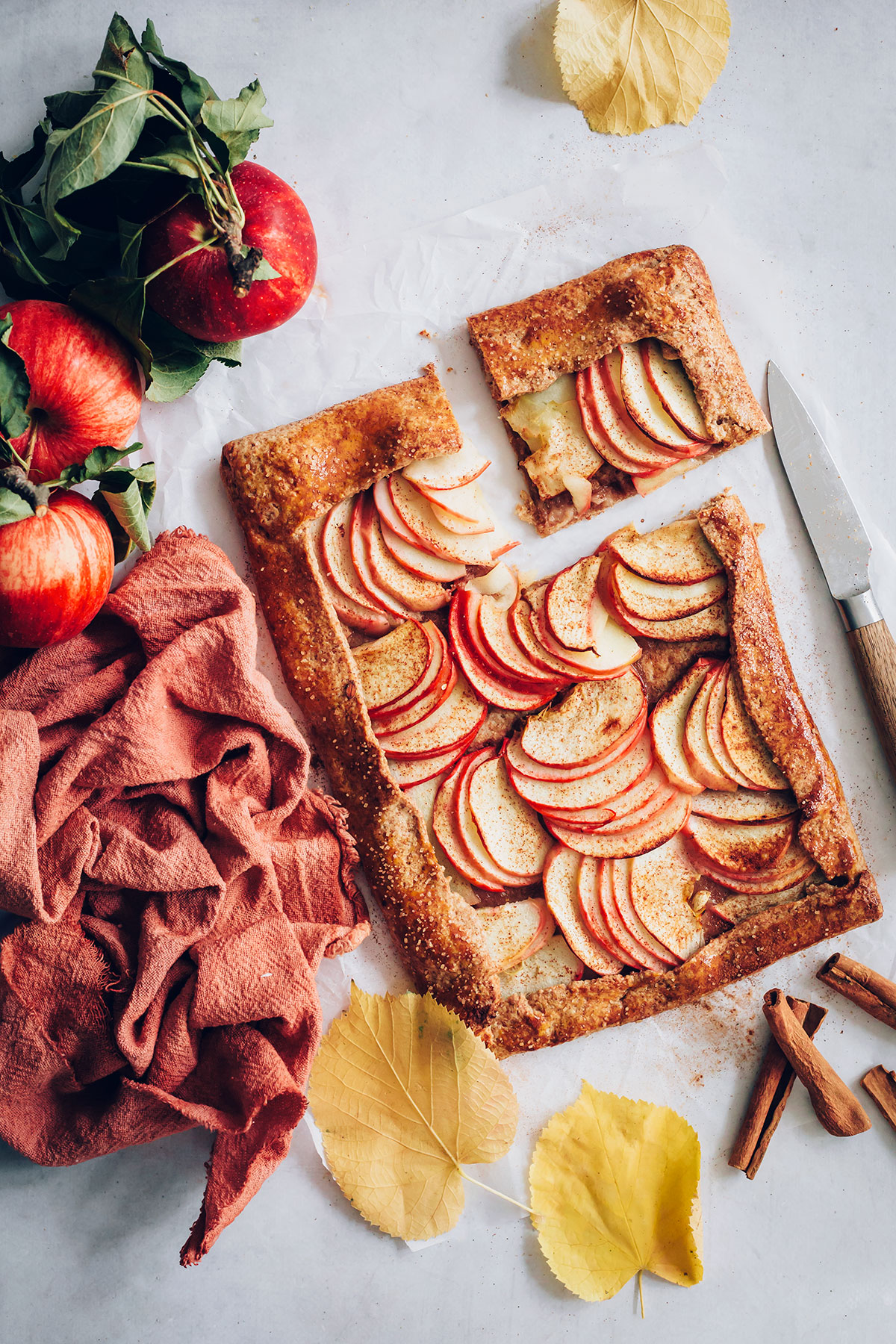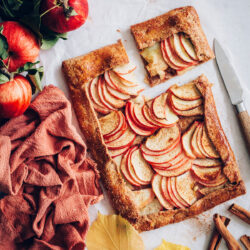 Very Easy Apple Tart with Whole Wheat Pie Crust
Turn your baked goods into healthier treats by using our fibre-rich whole wheat pie crust. We picked some red apples and a dash of cinnamon and created the easiest apple tart with whole wheat crust, the perfect autumn treat!
Ingredients
For the whole wheat pie crust
1

cup

whole wheat flour

1/2

cup

unsalted butter

chilled and cut into cubes (use coconut oil for the vegan version

1

tbsp

brown sugar

1/4

tsp

salt

5

tbsp

ice cold water
For the Apple Tart
4

red apples

core removed, cut into very thin slices

1

tbsp

freshly squeezed lemon juice

1

tsp

ground cinnamon

1

tsp

brown sugar

1

egg yolk
Instructions
To make the crust, mix the flour, sugar and salt into a large bowl or into the food processor.

Add the cold butter and pulse or mix to obtain a crumble.

Add the ice cold water one tablespoon at a time, and process or knead to obtain a dough.

Cover in plastic foil and refrigerate for at least 2 hours.

Preheat the oven to 200 C/390F.

Line a baking sheet with parchment paper.

Roll the dough onto a floured surface to obtain an approximate 8'x11' rectangle. Transfer onto the lined sheet.

Arrange the apple slices onto the dough to create a pattern, leaving 2' of dough free for folding.

Drizzle the apples with lemon juice and sprinkle the cinnamon on top.

Fold the dough border to create the crust. Brush with beaten egg yolk, sprinkle with sugar and bake for 30 minutes, until golden and flaky.

Remove from the oven and let cool for 10 minutes before serving.
5