For years I didn't like carrot cake. This judgement was based solely on the idea that if it had vegetables in it, then it must not taste good. So.not.true! My tastes have definitely changed from those picky days. Now I'm an unabashed lover of carrot cake. In fact, I can't imagine spring without it.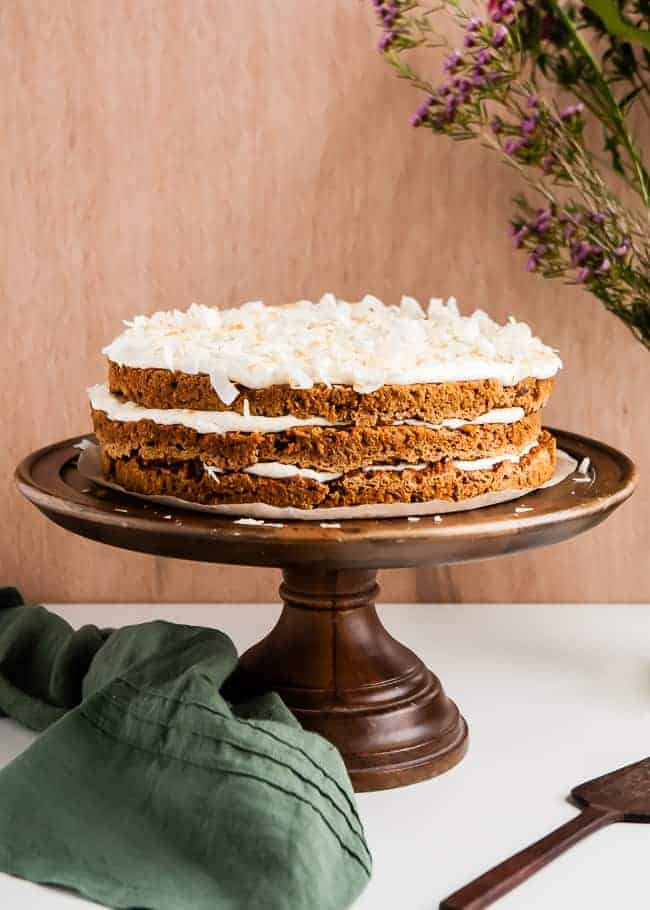 Now that I'm gluten-free, it kills me to make my favorite carrot cake not have a bite. But I love it because it's more like a dense pudding, full of chopped dried fruits, coconut and spices in addition to a lot of finely diced carrots. (I gave up on shredding them.)
It was time to convert my favorite recipe to one that's a bit more healthy – less oil and sugar, no dairy and gluten free. And guess what, my family, who aren't always fans of my gluten-free baking adventures, couldn't tell the difference! For reals.
I've been experimenting with coconut flour and almond meal to replace the typical GF grain and starch blend I love. I knew it would work here because the cake is so moist (gah, I hate that word) and the flavors would be great all melded together. I cut out a bunch of the oil and used melted coconut oil instead of canola. I also cut out refined white or brown sugar by substituting dark coconut sugar and pure maple syrup.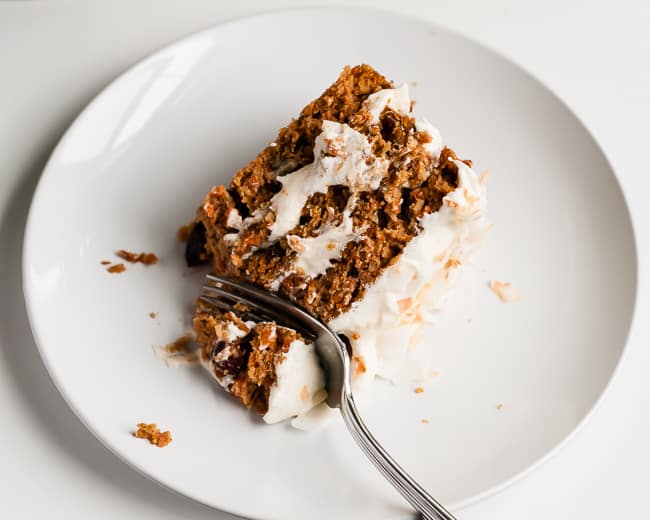 Fortunately, carrot cake doesn't need to be super sweet since it's topped with ultra-sweet cream cheese frosting. The only alteration I made to the frosting recipe was to use a coconut oil-based non-dairy cream cheese and non-dairy butter (granted, not super healthy). If you're not dairy-free, then totally use butter and regular cream cheese.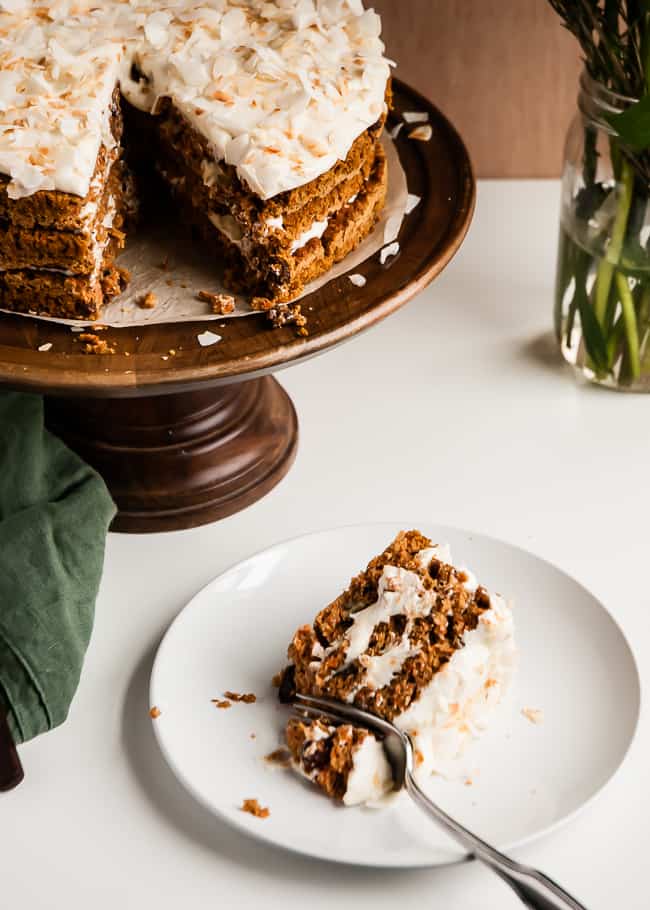 I'm still working on a cashew or almond based cream frosting. If you're not down with the super sweet powdered sugar frosting, this is a good alternative.
If you make this, know that it behaves a little differently than cake made with wheat flour. It's a much thicker batter. The boiling water at the end helps thin it out and makes it very moist (there's that awful word again!). It doesn't rise up but stays about the same as when you spread the batter in the cake pans. Give it a nice long baking time and you'll end up with a really great cake.
Handle is very carefully as it is more apt to crumbling – not because it's dry, but because I didn't add any gum stabilizers. Still, it held together pretty well and was incredibly delicious. It can also be made in a 9- by 13-inch baking dish. Coconut flour can absorb a lot of liquid. I added the extra water for that reason.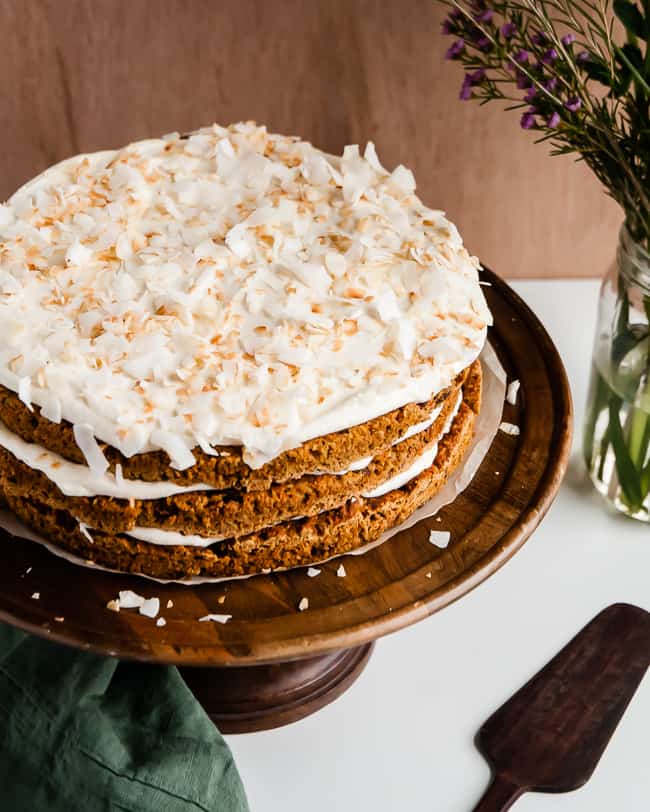 If you substitute another GF flour for the coconut flour, I can't guarantee that you'll have the same results. I did search around and notice that some recipes called for 3 cups of almond meal and did not use any water or liquid. Just an FYI on that. Otherwise, enjoy!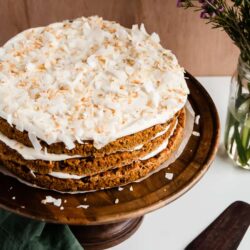 Healthier Grain-Free Carrot Cake
A healthier version of carrot cake that is gluten-free and dairy-free. Loaded with dried fruit, nuts, and carrots, and topped with a creamy maple frosting.
Ingredients
For the cake:
1

cup

almond meal

1

cup

coconut flour

2

teaspoons

baking soda

1

teaspoon

sea salt

2

teaspoons

ground cinnamon

1

teaspoon

ground ginger

1/4

teaspoon

ground nutmeg

1/2

cup

melted coconut oil

1/2

cup

coconut sugar

1/2

cup

pure maple sugar

5

large organic cage free eggs

2

teaspoons

pure vanilla extract

3

cups

finely chopped or grated carrots

3/4

cup

desiccated coconut or ground in a food processor

1

cup

dried fruit

we used raisins and dried cranberries

1/2

cup

chopped pecans

1 1/2

cups

boiling water
For the frosting:
8

ounces

cream cheese

we used non-dairy

1

stick

butter

or non-dairy alternative

2

tablespoons

pure maple sugar

3-4

cups

powdered sugar

toasted coconut for garnish
Instructions
Preheat oven to 325 degrees F. Grease three 9-inch round cake pans and line the bottoms with waxed or parchment paper that has been cut to fit.

Over a large mixing bowl, sift together almond meal, coconut flour, baking soda, sea salt, and spices. Set aside.

In a medium bowl, whisk together the coconut oil, sugar, maple syrup, eggs, and vanilla extract. Add to the dry ingredients and stir well to combine. The mixture will be thick. Add the finely chopped carrots, coconut, dried fruit, and nuts. Stir well to combine. Add in the boiling water all at once and mix well. (Switch to an electric hand mixer if that's easier, but you should be able to combine it with a large wooden spoon or spatula.)

Divide the batter between the prepared pans. Each one will have roughly 2 heaping cups of batter. Spread it evenly and smooth the top. Bake for 50-60 minutes, or until it feels set. The outer edges will start to pull away from the sides of the pan and it will look drier on top. It will be very moist and looked baked through.

Remove from oven and let cool for 5-10 minutes in the pan. Run a thin knife around the edge of each pan to loosen the cakes. Carefully turn out onto a cooling rack and let cool completely.

Prepare frosting - Beat the cream cheese with the coconut oil and add the powdered sugar until it reaches a spreadable consistency, but is not runny.

To assemble cake - Place one of the cakes on a cake plate or stand. Spread 1/3 of the frosting over the top of the cake. Place another cake layer on top and frost it with another 1/3 of the frosting. Top with the final layer and spread the remaining frosting on top. Sprinkle with the toasted coconut. Chill for 30-60 minutes before cutting into wedges and serving.
Notes
Keep leftovers refrigerated. Yield: One three-layer, 9-inch cake to serve 8-12
0