Cauliflower rice isn't just for people going gluten-free. Think of it as another clever way to incorporate more veggies in your daily diet routine. I personally like to prepare the cauliflower rice any time I feel like getting a gentle detox. With spring right around the corner and after the long, fresh nutrient-deprived winter months, a green, nutrient-loaded cauliflower rice makes for a simple, healthy spring dinner.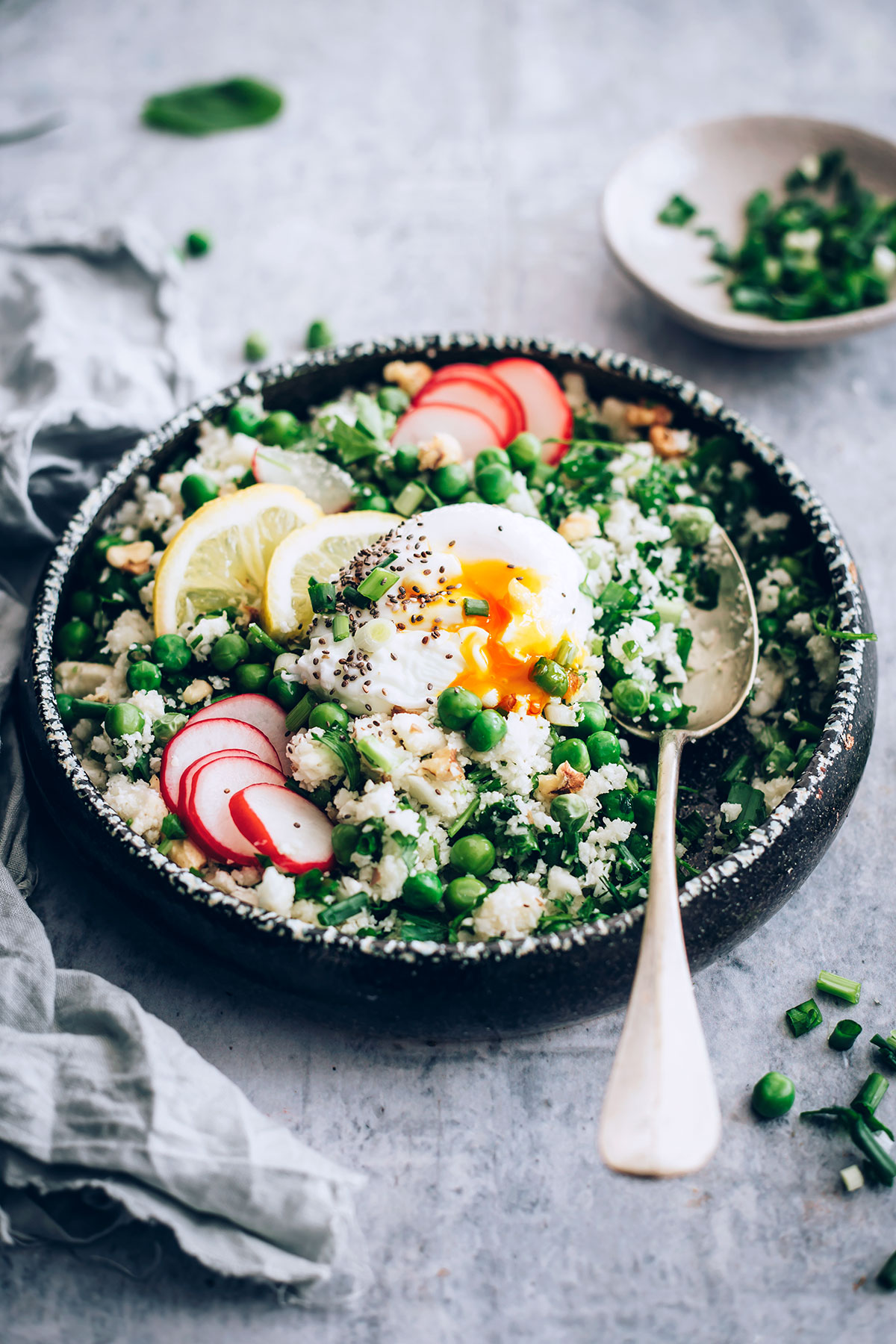 Like all its cruciferous family relatives, and despite is humble, colorless appearance, cauliflower is packed with exceptional nutrients. You're getting a range of antioxidants – especially vitamin C and beta-carotene, sulphur-based glucosinolates that play a key role in fighting inflammation and preventing chronic disease, B and K vitamins, omega 3, fiber and minerals. That makes cauliflower a very cheap choice for a healthy staple!
How to make cauliflower rice
In terms of cooking, the best way of getting the most of its nutrients is having it raw, but sautéing is also a good alternative which will preserve most of its key active substances. Boiling is definitely the most undesirable way to cook your cauliflower, because only 3 minutes of submerging into hot water will destroy most of its nutrients, especially the antioxidant and anti-inflammatory compounds. This is why serving cauliflower in the form of rice is a great choice, as you can simply sauté it and ensure your family will get the benefit from most of its nourishing powers.
To make cauliflower rice you only need an S blade food processor, or a good knife and a little patience. Using a processor will result into a fine rice texture that you can trick your kids with, while manually cutting the cauliflower will get a chunkier texture. You can sauté it, or steam cook it for a few minutes, without turning it mushy or loosing its nutrients.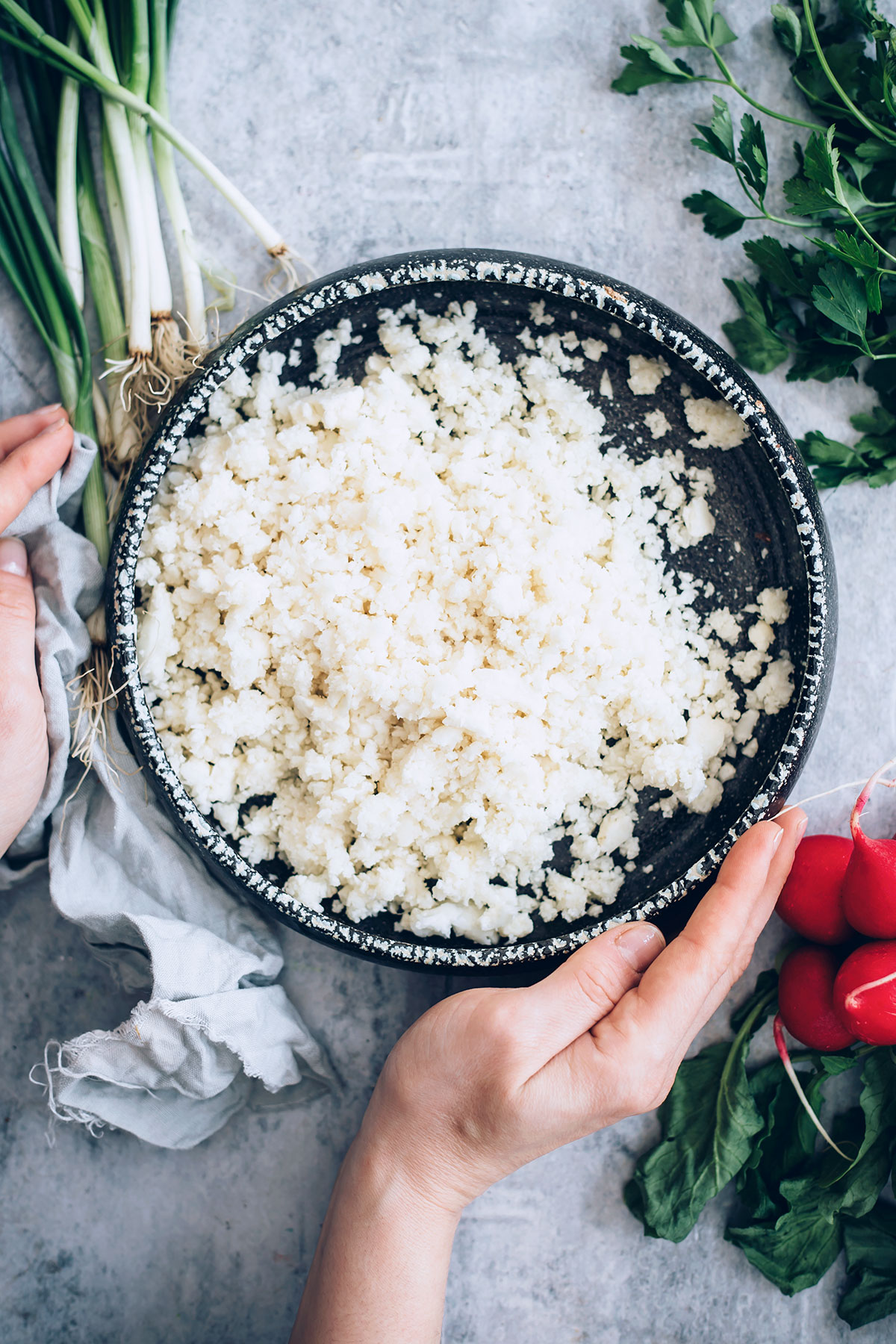 You can also serve it seasoned with spices as a side dish for your curries and stews, or combined with greens and veggies, as a salad. We used the fresh spring greens we found at the farmers' market and created a light and healthy spring cauliflower rice with poached egg.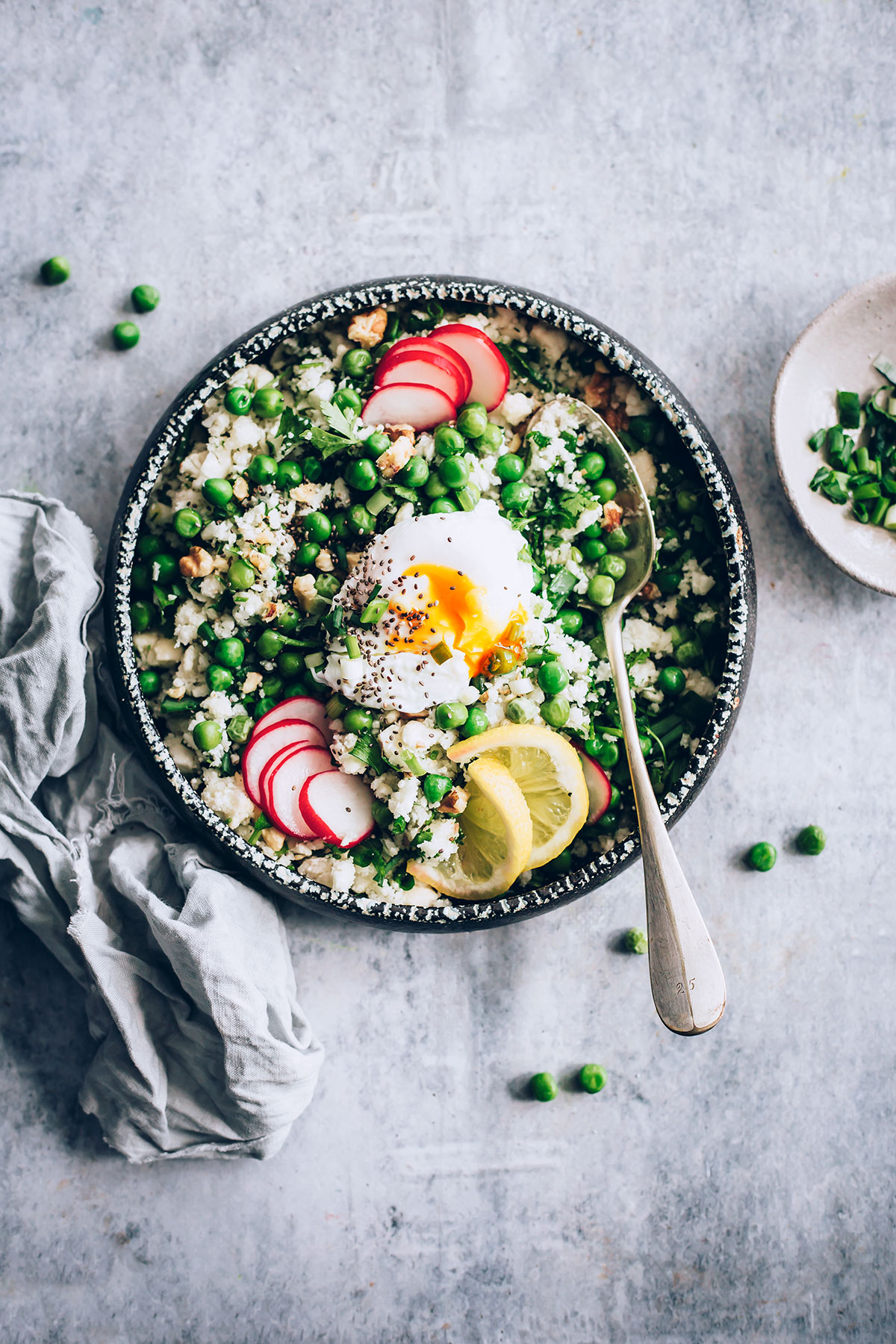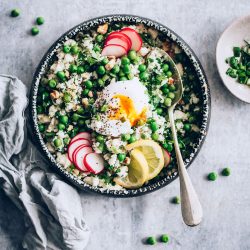 Spring Cauliflower Rice
Start the spring season fresh and healthy with this green cauliflower rice, made with farmers' market greens, peas and radishes, and served with runny poached egg.
Ingredients
For the cauliflower rice
1

medium cauliflower head

1

tbsp

extra virgin olive oil

1/2

tsp

salt

Freshly ground black pepper
To assemble
1

bunch fresh parsley

chopped

1

bunch ramsons

diced (if available)

4

radishes

cut into thin slices

1

cup

frozen peas

left at room temperature for 15 mins, to defrost

3-4

scallions

diced

1

tbsp

fresh lemon juice

1/4

cup

lightly toasted walnuts

crushed

2

poached eggs

To garnish: chia seeds
Instructions
Cut the cauliflower into florets and rinse well.

Transfer into an S blade food processor and pulse to obtain the rice texture, or use a knife and finely chop the florets.

Heat the oil into a cast iron skillet and add the cauliflower and peas. 

Cook for 5-6 minutes over low heat, stirring frequently. 

Season with salt and pepper, then transfer into a large bowl.

Add the veggies, peas and nuts, drizzle the lemon juice and toss to combine.

Divide into serving bowls, top with a poached egg, garnish with chia seeds and serve warm.
1