Chilaquiles Verdes are one of my very favorite meals, hands down. The first time I had chilaquiles was at a restaurant in a predominantly Mexican neighborhood in New York. I thought I had died and gone to heaven.
What could be better than fried tortillas smothered in delicious sauce and topped with eggs and cheese?! For real though, that was a life-changing meal. I started ordering chilaquiles every time we ate a Mexican restaurant, and then I realized I could actually make them at home.
While I love all chilaquiles variations, my heart is really happy when I make Chilaquiles Verdes. I adore salsa verde and it's really perfect for chilaquiles. The tanginess of the tomatillos paired with other ingredients helps to balance the flavors.
Now these Chilaquiles Verdes are made with a few shortcuts. First, I think it's perfectly acceptable to forgo making salsa verde from scratch. Using a favorite bottled salsa verde is a huge timesaver. If time isn't an issue, make salsa verde from scratch for an extra special meal.
The second shortcut is to use tortilla chips. Traditionally for chilaquiles, leftover corn tortillas are cut into strips or wedges and fried, then tossed with the sauce. Using packaged tortilla chips means less time and less mess. They also seem to hold up a little better than corn tortillas.
Because chilaquiles are typically a brunch food, it's common to serve eggs with chilaquiles. Sometimes we do poached eggs, but usually we do fried eggs because they are a little quicker to cook up.
I prefer the fresh Mexican cheeses like queso fresco or cotija crumbled over the top, but feel free to substitute cheddar, Monterey Jack, or blend of Mexican cheeses instead. The avocados are pretty mandatory, though.
Crema Mexicana is something worth seeking out, if possible. It can be found at most grocery stores near the other Mexican dairy products. Crema Mexicana is different than sour cream, though sour cream mixed with a little milk works as a substitute for the crema.
Crema Mexicana has a richer flavor because the fat content is a little higher than sour cream and isn't as tangy. It's more analogous to creme fraiche. The crema is also thinner so it's perfect for drizzling allll over the chilaquiles verdes.
This recipe for chilaquiles verdes is easy to switch up, too. You can easily use another kind of salsa or enchilada sauce instead of the salsa verde. Make your own tortilla strips to use in place of the tortilla chips. Cut corn tortillas into wedges or strips, brush with oil, and bake at 400°F for 5-6 minutes, or until crisp.
To make this dish vegan, omit the eggs and add beans. Serve with homemade cashew cream-based lime dressing.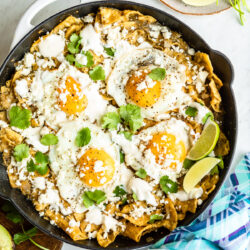 Chilaquiles Verdes
Make this Mexican favorite to serve for breakfast, brunch, or dinner. Use bottled salsa verde to make things quick and easy, or if you've got a bit more time, it's worth the effort to make homemade salsa verde. 
Ingredients
2

tablespoons

avocado or olive oil

divided

1

medium yellow onion

diced

1/2

teaspoon

ground cumin

24

ounces

salsa verde

store-bought or homemade

1

10-ounce bag tortilla chips

4

large eggs

1/2 to 3/4

cup

crumbled queso fresco or cotija cheese

Sliced avocado

Crema Mexicana or sour cream mixed with a little milk

Lime wedges

Cilantro
Instructions
In a very large cast iron pan or heavy duty skillet, heat 1 tablespoon of the oil. Add the diced onion and cook, stirring occasionally, until the onion starts to soften, about 5 minutes. Sprinkle the cumin over the onions. Cook for 30-60 seconds until cumin is fragrant and lightly toasted. Add the salsa verde and bring to a simmer; reduce heat to low and continue to cook for 8-10 minutes. (Don't allow the sauce to thicken too much, but if that happens, add a few tablespoons of water or broth to thin it out.)

Add about 1/3 of the tortilla chips to the salsa verde. Toss to coat. The chips will soften a bit. Stir in the next 1/3 and toss again; repeat with remaining chips. Leave heat on low and loosely cover the pan.

In a separate cast iron or nonstick skillet, heat the remaining 1 tablespoon of oil. Crack the four eggs into the pan. Sprinkle with salt and pepper. Cook according to preference. (The photos show sunny side up eggs.)

Uncover the pan with the tortillas and turn off heat. Carefully place the fried eggs on top of the chilaquiles. Top with the crumbled cheese, sliced avocado, a drizzle of crema Mexicana, and a sprinkle of cilantro. Serve immediately with lime wedges on the side.
Notes
To make this vegan, omit the cheese and eggs. Add a 15 ounce can pinto or black beans to the chilaquiles before serving.
To make homemade tortilla chips: cut the tortillas into wedges or strips, brush with a little oil or spray lightly with nonstick cooking spray, and bake at 400°F for 5-10 minutes, or until crisp and golden.
To make salsa verde from scratch, follow this recipe. 
This recipe can also be made with a red chile sauce (enchilada sauce), if desired. Substitute 3 cups enchilada sauce for the salsa verde and proceed with recipe as written.
0